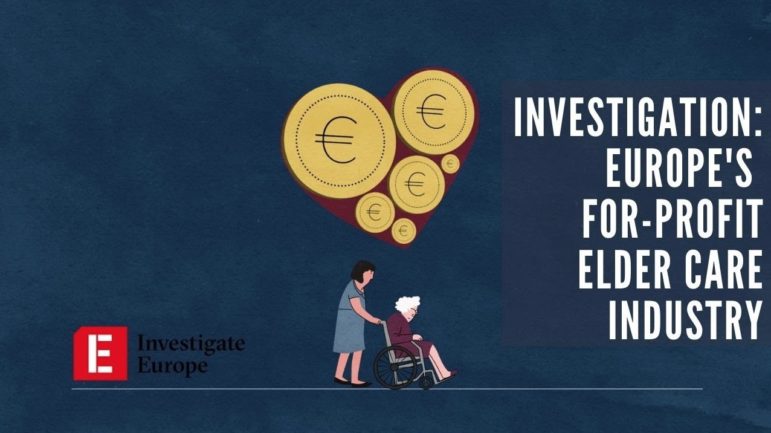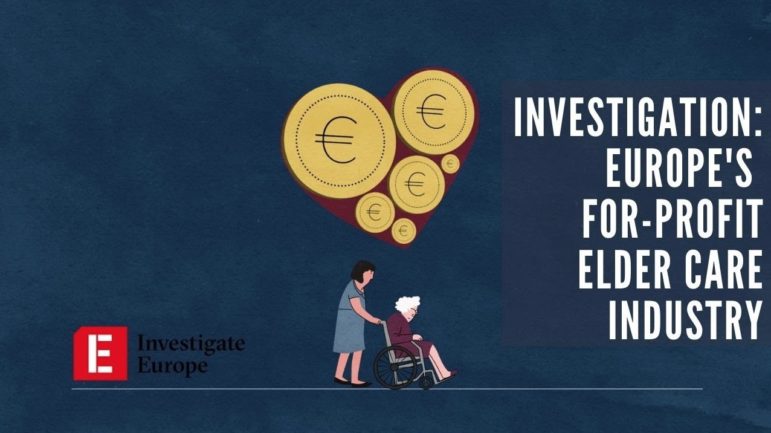 How They Did It: Inside the For-Profit Takeover of Europe's Elder Care Homes
Read this article in
The ongoing COVID-19 pandemic and a rapidly aging population have combined to make elder care homes an increasingly in-demand — and potentially profitable — sector across much of Europe. As a result, international corporations and private investors have flooded into the market and now dominate the industry.
In fact, more than 80% of care homes in Spain are owned by for-profit companies as well as more than three-quarters of those in Great Britain. But what are the consequences of such a seismic shift, not only on the elderly residents themselves, but on the facility staff and the governments publicly subsidizing the costs?
Over four months, Investigate Europe (IE) examined these complex questions in a series of investigative reports titled Grey Gold: The Billion Euro Business of Elder Care. The nonprofit, multinational journalism cooperative — which joined GIJN in December — questioned how these massive businesses operate. IE was founded in 2016 by a group of investigative journalists, was hosted and incubated by another GIJN member, the nonprofit Journalism Fund, but has been independent since 2019. Today it is a European Cooperative Society, owned by its team and registered in Germany as a charity, though members of the team are distributed across Europe, collaborating remotely.
For this investigation, its core team of journalists, supported by research and editorial partners, examined the elder-care industry across 15 European countries, from France and Italy to Poland and Norway. Taking a pan-European perspective allowed the team to combine, compare, and analyze national data on this sector and identify concerning patterns. Data from the Organisation for Economic Co-operation and Development (OECD) studied by IE suggests that €220 billion (approximately US$231 billion) of public funds goes to care operators in Europe each year. Analysis of commercial data and individual company websites shows that the two French companies that dominate the for-profit elder care market — Orpea and Korian — control more than 1,700 facilities and 150,000 beds across Europe.
The investigation also looked at who's investing in the care sector in Europe and identified 30 private equity funds "active in the market," including instances where tax avoidance on profits earned through public money is in play. Through its cross-border team, IE was able to track the complex flow of investments and money, including a German-based care home operator with Scandinavian investors that had funds flowing through tax havens like Luxembourg and Jersey as part of its corporate financing model. "It's interesting that Swedish and Danish pension funds invest in a private equity company who then invests in care homes, and that can hurt other pensioners," says Harald Schumann, reporter and founding member of IE, who acted as coordinator for the Grey Gold investigation.
IE's work explored the impact of the for-profit elder care model on staff and residents, including the effect of low pay and job cuts in many countries on workers, and actions by some corporations to prevent employees from unionizing or pushing for better working conditions. According to 2021 data used in the investigation, the leading 28 privately-owned care home operators in Europe manage 5,000 facilities with places for 450,000 residents. Across the continent, the for-profit share of the market is only 13%, but it is significantly higher in Spain (81%), the UK (76%), Germany (43%), France (24%), and Belgium (21%). With workers stretched and regulatory bodies inadequately staffed, IE heard from care inspectors in three countries about challenges to the quality of care while for-profit owners reap the financial rewards.
"I don't think the elderly deserve to be treated like that," a former care home inspector in Germany told IE. "Nobody deserves that. But I was broken by it… then the following year it was the same again. And nobody cared. No one cared." Stories of the mistreatment and neglect of residents in individual care facilities were also reported, highlighting the inadequacies in regulation in some European countries and the pressure added by the COVID-19 pandemic.
Tapping into Investigate Europe's Roots
This cross-border story is the kind of project IE was made for. Launched in September 2016, IE is "a child of the Euro crisis," of 2008 says Schumann. The fallout of that recession, he explains, created a divide between "the Germans and the Greeks, or the northerners and the southerners." That narrative, he says, was repeated by the media in France, Germany, and elsewhere in northern Europe. This led to more narrow, national-focused reporting of the crisis and its consequences and is something IE strives to avoid. "This outdated method of reporting about European issues from the national perspective — my minister, my government, my national interest — after 30 years of the single market, this is really nonsense," Schumann emphasizes.
Many of the founding members were journalists with an economics background frustrated by coverage of the European financial crisis in their national outlets, adds IE's editorial director and co-founder Elisa Simantke: "We said we need a team of European journalists who work together and investigate together and, at the same time, check each other's national biases."
IE's cross-border, collaborative approach is one of its greatest strengths — a model that builds on the pioneering work of the International Consortium of Investigative Journalists (ICIJ) and other reporting networks since the late 1990s. "Individual team members do contribute from the countries where we live," says IE journalist and head of investigations Ingeborg Eliassen. "The thinking is that where you live is where you can go really deep with your understanding."
"Our methodology is different from the instinctive journalistic one where you have a story tip and then you start digging from there and expand," Eliassen adds. "Since we need to collaborate on a European level, we seldom start there. We have to start on top where things are the same, which, for most people in the group, is the EU's structures."
IE pursues stories that tackle national biases and challenge transnational structures and organizations on issues relevant to a European-wide audience. Previous investigations include an interrogation of the state of Europe's railways and a probe on how Europe is quietly sabotaging its publicly stated climate goals. The site works with media outlets across Europe, publishing with such partners as Aftenposten (Norway), Der Tagesspiegel (Germany), Le Monde (France), The Guardian (UK), and Vice.
IE is funded by both donors and readers, but has ambitions to move completely towards the latter in the years to come. It has an annual budget of approximately €800,000 (US$840,000), which includes small donations and article sales. In 2021, its biggest funders were the US-based Reva and David Logan Foundation (US$60,000), Germany's GLS Treuhand foundation (approximately US$160,000), and a Norwegian foundation focused on freedom of expression and the arts, Fritt Ord (approximately US$80,000). A new round of hiring is currently underway that will bring the team to 19, including part-time staffers, grantees, and freelance contractors.
Launching the Investigation
The idea that sparked the Grey Gold investigation came from a report released by the Corporate Europe Observatory, a nonprofit research and campaign organization, in January 2021. This analysis examined the creeping privatization of healthcare in Europe and its impact on the sector's ability to deal with the COVID-19 pandemic. Schumann saw the story as "a major wave" that was under-reported. "In Spain, the result of this privatization was that many more old people died in care homes [during the pandemic] because of a lack of staff," he says. "Nobody cared about those who needed our care the most. I thought, this is probably not only a Spanish problem, so I dug deeper and realized it is not a French or Spanish or Italian or German issue. It's a pan-European issue."
However, Schumann's idea first had to beat out other pitches submitted for IE's next investigation. In this process, new ideas are submitted via a form that asks questions about the pitch, which must also meet some broad criteria: the topic is under-reported, or IE's reach and multiple European perspectives can add to coverage of the issue. The pitch also needs to be relevant to most of the countries IE works in, and have an element that makes it a cross-border story. Schumann's pitch was strengthened by focusing on such a vulnerable population: "These are the people who need the most care from the rest of society because they cannot help themselves," he points out. "It's exactly these [situations] where international financial investors make their money at their expense and our governments do nothing about it."
Work began in April 2021, with a research plan and the team working in smaller groups that focused on three topics: private equity, public money, and regulations and oversight. Each working group came up with a research plan and a series of questions to answer. For example: Why do private equity groups invest in care homes? How much public money flows to for-profit operators? And under what conditions? The teams built new datasets as part of the investigation, obtaining information from company websites, inside sources, and commercial data providers, on both Europe's largest care home operators and the biggest private equity companies in the sector.
Uncovering the Human Impact
The investigation also needed the voices of nurses, facility staff, trade union leaders, and families to report on the full impact of privatization on the quality of care and working conditions. As part of efforts to source these more personal stories, the team ran a social media callout asking for experiences from its audiences, but this was less successful than anticipated. Eliassen says patient and family sources were reluctant to air grievances in real-time "because they were afraid that it might make it even worse for family members in care homes, unprotected."
An additional challenge involved gaining access to care homes during the pandemic, Schumann says. "COVID-19 meant we had nearly no access to care homes," he explains. "I convinced a local care home manager in Berlin to let me enter one of their homes, but from a usual reporter's perspective, it was completely insufficient. I should have gone to those homes where the conflicts were but it would have been illegal at the time. We could only meet with staff outside because COVID-19 was still so dangerous and most reporters were still only [single-shot] vaccinated at this time."
Research results from the sub-groups were shared across the team, while a lead researcher and Eliassen collected relevant data, quotes, lines of argument, and elements of reportage. With this, they produced a "wiki," a shared online document created for each IE investigation and which forms the backbone of the project. It's intended to be "an encyclopedic and systematic collection of what we have found," says Eliassen, containing all the elements needed by individual reporters to produce their stories for national media partners.
Simantke adds: "Knowledge-sharing is already a very complex undertaking and we are coming from very different language backgrounds. The idea is to have something that is the backbone to everyone's story with enough room for national storytelling."
"You put weight on different parts of the investigation, but there needs to be something everyone uses," she says. "It can't be too long for people to read, update, or fact-check. It's a method that we improve each time."
IE began publishing its findings in July 2021 with exclusive stories on its website and through 14 other media partners, bringing both the European-wide story and domestic angles to different regional audiences. Every draft was written by an IE journalist, then read by at least two IE colleagues and an independent fact-checker before being shared with media partners.
The German and French elements of the investigation were "permanently under threat" from a strategic litigation against public participation (SLAPP) lawsuit, an onerous legal tactic frequently used by wealthy parties to suppress criticism and intimidate investigative journalists. For a story published with Der Tagesspiegel, Schumann recalls a lengthy back-and-forth with a care home company's lawyers, "subtle or not-so-subtle threats," and, finally, responses to questions that came just 24 hours before publication.
"Until the very end, I was not sure whether they would file a lawsuit against our media partners or us," says Schumann.
Initial Impact and Follow-Up Stories
Schumann says the immediate impact of the investigation was relatively muted, including politically, but that everyone who deals with the issue comes across IE's stories. "From the feedback we've had from readers, it's still outraging for many people to see this story, to see what's happening here and how much money is extracted from a sector that is completely underfunded," he says.
The "indirect" impact, however, has been much more positive. Smaller organizations focused on elderly rights have invited the team to present their work and trade unionists and company insiders have come forward with more information. Parts of the investigation have had a ripple effect in individual countries — there's been "a big fuss" following IE's reporting and publication with MediaPart on Europe's leading for-profit care home operator, Orpea, says Eliassen. IE's work has been reflected in reporting on the elder care sector in other publications as well. "The number of reports on individual scandals has inflated," says Schumann, adding that there are now more reporters looking at the subject. "We have become the experts who others call."
Additional Reading
Operation Car Wash: An 11-Country Project on Cross-Border Corruption  
Investigative Journalism: It's All About Cross-Border Cooperation
---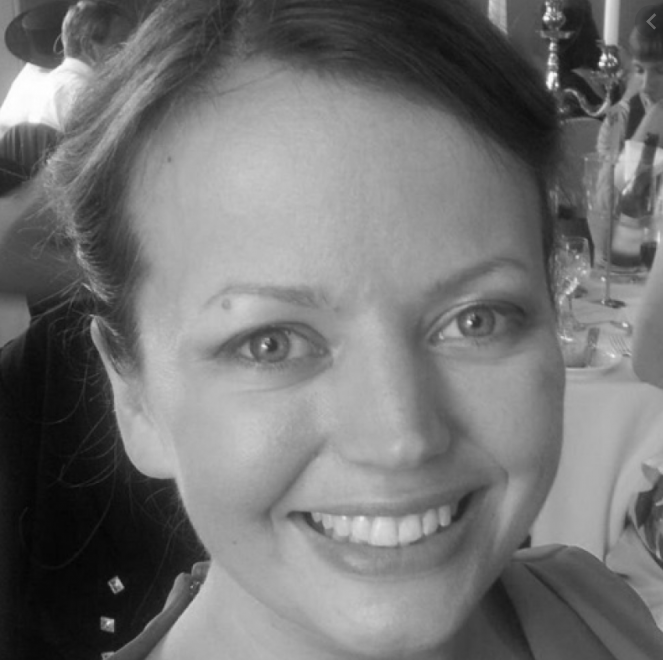 Laura Oliver is a freelance journalist based in the UK. She has written for the Guardian, the BBC, and The Week, among others. She is a visiting lecturer in online journalism at City, University of London, and works as an audience strategy consultant for newsrooms.