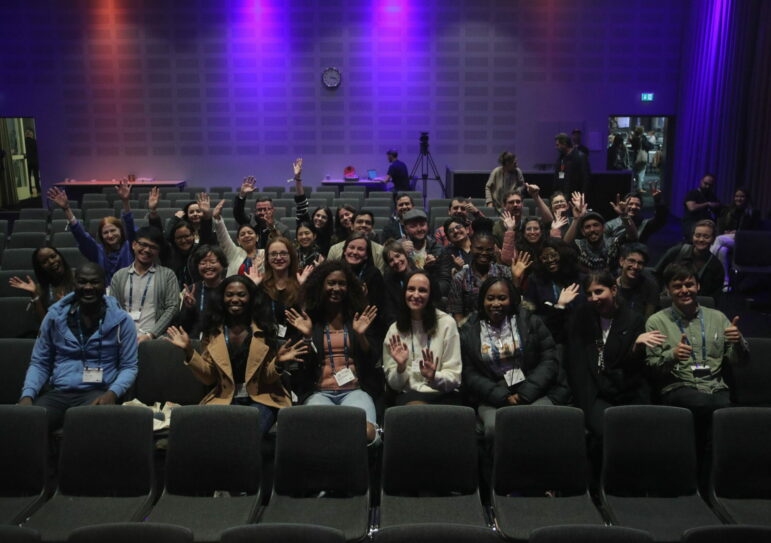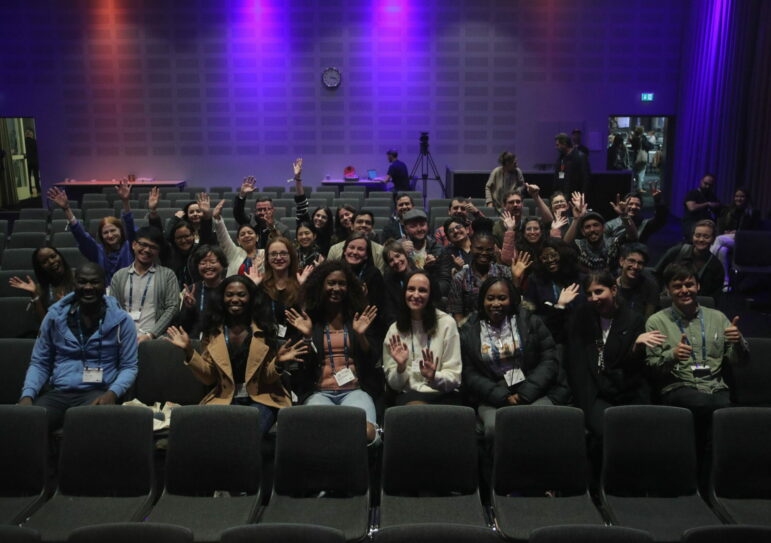 A gathering of some GIJN fellows at the GIJC23 closing event. Image: Leonardo Alexis Peralta for GIJN
Global Ripple Effect: How GIJC23 Impacted GIJN Fellows Around the World
Read this article in
On Thursday evening, a day before the Global Investigative Journalism Conference was to end, Mariusz Sepiolo, a Polish reporter from the independent investigative outlet VSquare approached Bastian Obermayer, a Pulitzer Award-winning journalist from neighboring Germany who was part of the team that investigated the Panama Papers — a certified rock star of investigative journalism. Sepiolo had a simple request: he wanted Obermayer to say something about their independent outlet.
"We planned to gather such short videos and publish them on our social media," Sepiolo explains.  And he was somewhat surprised when Obermayer agreed "in the blink of an eye."
It was moments like these that stood out for many of GIJN's fellows at the 13th Global Investigative Journalism Conference (#GIJC23), where they met other journalists and colleagues whose work they had admired or looked up to. The conference is one of the main gatherings of investigative journalists throughout the world, and this year more than 2,100 journalists from 130 countries attended. It boasted dozens of panel discussions on investigative techniques as well as numerous workshops and networking sessions.
For each conference, GIJN also raises money to bring journalists from developing countries to the conference for free. The fellows are chosen through a competitive process, based on the kind of journalism they are practicing in their own countries. Each fellow is provided airfare, lodging, and a ticket to attend the conference.
At GIJC23, GIJN sponsored more than 100 fellows from dozens of developing and transitioning countries. GIJN partners and affiliated groups also sponsored hundreds more. For many of these journalists, it was their first time attending GIJC and it provided them with invaluable access to other reporters, tips, and tools that they would otherwise never see or know about.
"I haven't seen so many great investigators from different parts of the world in one place. On the one hand it looked like an anthill. On the other hand, everything was well organized," says Alexander Yarashevich, a GIJN fellow currently working in exile in Czechia for the Belarusian Investigative Center.
Strengthening Data Journalism
For some fellows, especially those coming from small newsrooms in developing countries, the conference was a rare opportunity to acquire new skills, particularly in data journalism.  The conference offered a wide variety of workshops and panel discussions — starting from the basics, like training with Microsoft Excel — to more advanced topics such as data visualization techniques and the use of tools like Flourish.
"I learned a lot of tools," says Rifthi Ali, a fellow from Sri Lanka, "a lot of new things for data journalism and how I can use it in my stories.. So I plan to use what I have learned from the conference."
For Ali, a session on using right-to-information laws to create more transparency and public awareness led to the idea that he could initiate something similar in his own country Sri Lanka. After that session, he was able to speak face to face with one of the speakers, who offered advice on how he could set up a center for RTI advocacy in Sri Lanka.
Chat GPT and AI
Even though data journalism was a top priority for most fellows, the conference also took the conversation beyond simply using data as part of investigations. For some fellows it was their first exposure to how new AI tools like ChatGPT can aid in their investigative work.
Natalija Jovanovic, GIJN fellow from Serbia, says those panels stood out for her. "We added to our own growing list of tools and things that we use to pursue our stories," she explains. "So we are already using and applying the knowledge, in particular when it comes to ChatGPT and creating shortcuts for going through Google and finding the documents that we need and translating the documents from foreign languages and just applying all that to our daily work."
Mercedes Bluske, a GIJN fellow from Bolivia, echoed Jovanovic's comments, saying that the conference training helped her feel confident enough that she would try to incorporate the use of AI in investigative work into her reporting going forward.
Fostering Collaboration for Better Investigation
Another key aspect of the GIJN's global conferences is encouraging collaboration, thanks to both regional networking sessions and panels where journalists talk about how transnational collaborations can be made more effective.
For Yian Lee, a fellow from Taiwan, he has seen almost immediate results from attending the conference. "I am already working on a story with a journalist I got to know during GIJC23 as well as using some of the tools and databases I learned from some of the workshops," he says.
One Nigerian fellow whose work focuses on women, children, education, and persons with disabilities says GIJC23 showed her how she could expand the scope of her work. "There are two major collaborations that I have been able to make as a result of the conference, apart from being able to discuss different story ideas," Blessing Oladunjoye explains, adding that the workshops and panels also helped generate leads for stories she can replicate in Nigeria.
In addition, the conference provided Oladunjoye more connections and informal mentors for her work. "I have made friends, journalists from different countries, and if I ever need anything I can always reach out to them and can get help," she says.
Global Community 
Investigative journalism can be a lonely endeavor. For many fellows, attending GIJC23 was a rare moment of kinship and solidarity, when they recognized that there were many others like them who were trying to investigate and dig deep into stories and issues, despite growing challenges to press freedom throughout the world.
"The benefits of attending are the tools that are being shared by colleagues, but also the opportunity, the access you have to journalists all over the world," says Bluske. And not just colleagues; she points out that she was able to meet potential funders at GIJC23 as well. "This was a global community welcoming you and supporting you to achieve bigger goals together," she says.
Yarashevich agreed, saying the sessions he attended offered new insights on how he could generate more funding for investigative projects that are just starting their newsrooms.
It was this sense of belonging to a larger community that was the most energizing and rewarding aspect of the conference for many of GIJN's fellows. "You sit behind your desk, you call people, sometimes travel and meet them, you dig into Excel spreadsheets," says Sepiolo of his daily work as a journalist. In that day-to-day work, it's rare that you feel the work you're doing is relevant and that you're part of something larger, he adds, but at GIJC23: "I felt I'm not alone."
---

Amel Ghani is GIJN'S Urdu editor and a journalist based in Pakistan. She has reported on various issues, from writing about the rise of the religious political parties in the country, the environment, labor rights, to covering tech and digital rights. She is a Fulbright Fellow and holds a Master's degree in journalism from Columbia University, where she specialized in investigative journalism.