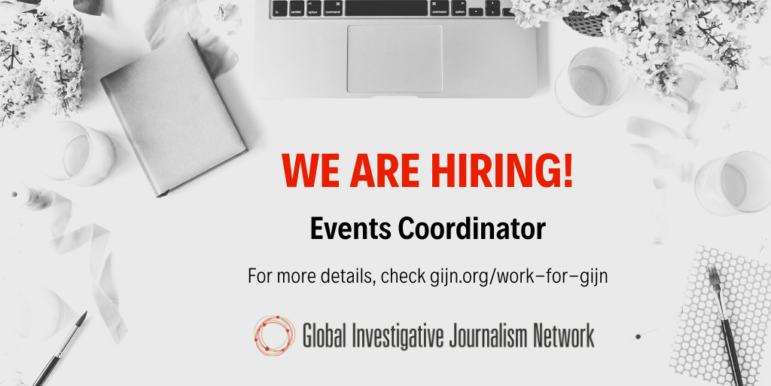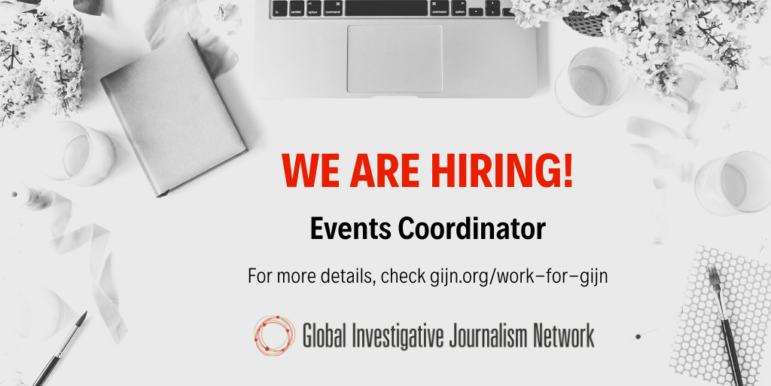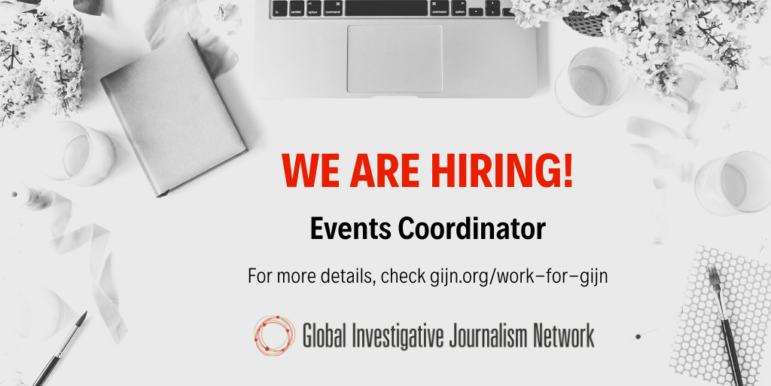 This job post is now closed.
The Global Investigative Journalism Network, a fast-growing nonprofit that provides support to investigative reporters worldwide, is looking for a full-time events coordinator. He or she will work on organizing GIJN events ranging from online workshops to our big international conferences.
GIJN is an association of more than 200 organizations in 80 countries dedicated to spreading and advancing investigative journalism around the world. This is a unique chance to be at the center of the global hub servicing the world's investigative journalists at a time of unprecedented opportunities and challenges. You'll work with a dynamic international team training journalists to expose corruption, lack of accountability, and abuses of power.
Major duties center on working with our staff, co-hosts, and partners on GIJN's international conferences, including logistics, sponsorships, registration, and supervising various technical aspects. First up will be helping organize our Global Investigative Journalism Conference (GIJC) online for the first time, on Nov. 3-6 this year. Next year we will hold the GIJC in person in Sydney, Australia.
You will also serve as a resource for conferences by GIJN member organizations held in Africa, Europe, Latin America, and elsewhere.
Applicants must have solid and demonstrated experience in organizing conferences or other large events. Experience in organizing online events is helpful. Familiarity with journalism or nonprofit media is a plus.
Work duties:
Overseeing conference planning and organization, with attention to deadlines;
Liaison with local and international teams on all aspects of logistics;
If necessary, engage with local suppliers, ask for and overview quotations regarding various conference needs (venue, A/V, IT, transportation, etc), or support co-hosts in these tasks as needed;
During conferences, serve as contact point to assure operations run smoothly (transportation, arrivals/departures, venue, accommodation, registration, technical needs, catering, entertainment, etc);
Plan and overview transportation logistics for conference speakers, fellows and staff (airfares, accommodation, insurance, etc);
Identify and oversee revenue, sponsorship and partnership opportunities for online and in-person conferences (exhibition spaces, marketplace, sponsors);
Stay up to date with latest online events tools and platforms;
Plan, organize and overview all aspects of online events: liaise with speakers, develop communication materials, communicate with participants, troubleshoot, ensure meetings run smoothly and on time.
Assist with international workshops and training logistics where applicable;
As time permits, assist on other GIJN tasks.
Requirements:
At least three years of demonstrated work as a conference or events organizer;
Strong organizational skills, clear and comprehensive English, and a detail-oriented personality;
Ability to work remotely and comfortably in a global, virtual team;
A high comfort level in working in a cross-cultural environment and collaborating with people from diverse cultures and languages;
Self-motivated with good communication skills;
Ability to multitask and meet deadlines;
Ability to travel (when it's safe) and form partnerships and business relationships in other countries;
Also helpful: familiarity with journalism, nonprofit media, or international nonprofits.
Location: Flexible. The successful candidate can be based almost anywhere with strong bandwidth.
Salary: Competitive with international NGOs and commensurate with experience.
Check out GIJN's other available positions.