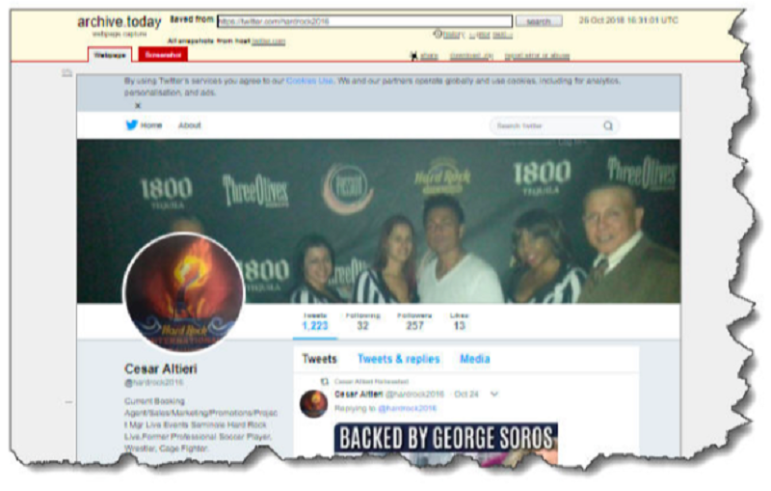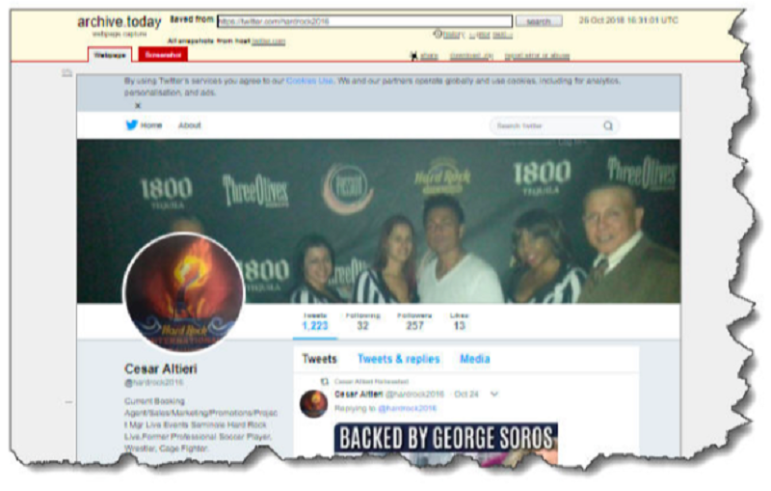 Finding People Online: A Tipsheet From Paul Myers
Read this article in
GIJN hosted two webinars with Paul Myers, a leading international expert in online investigation. More than 500 people from some 80 countries joined as Myers, who works for the BBC and is a big favorite at GIJN conferences, shared his tips on the best tools and strategies for digging up information about people. Check out his tipsheet — based on the webinar — below. It was updated in July 2019 to reflect changes to Facebook's search functions.
---
Please note: The mention of products and services does not constitute an endorsement; other products and services are available.

Googling
Google's advanced syntax can help you search for the right person. For example:
1. Use quotation marks to link words together.
A search for John Major without quotes produces 2 billion hits, but most of them are irrelevant pages that just contain the words "major" and "john."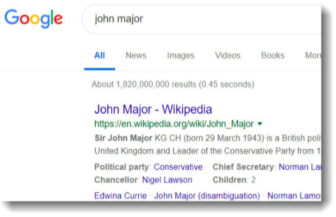 The same search performed with quotation marks produces less than 2 million hits, but they all contain the exact phrase "John Major."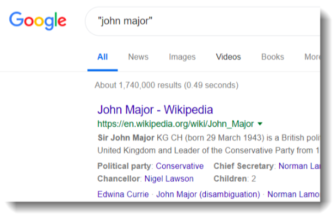 2. Use OR to build optional keywords into your search.
For example, a search for the co-pilot of German Wings Flight 9525.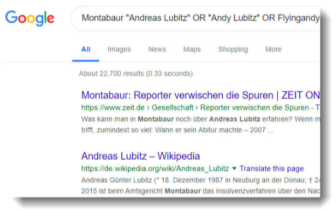 The search above allows us to find pages with his hometown, and either spelling of his name or his username.
3. Use site: to specify a domain or part of a URL.
For example, focusing the search on sources within the Federal Aviation Authority: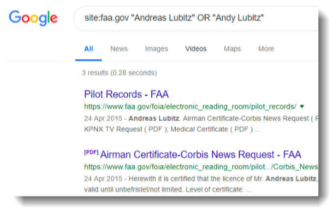 Time Travel
Sometimes you need information that has been removed from the web, such as a deleted tweet, website or Facebook account. There are a number of tools that can help bring the information back.
1. Search engine caches
If information has only recently been deleted and still comes up in a Google search, try clicking on the little black triangle next to its entry in the search results. This might give you access to a stored copy in the search engine's cache.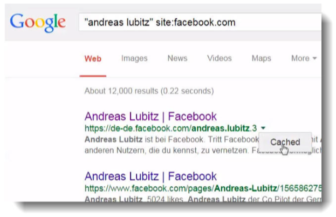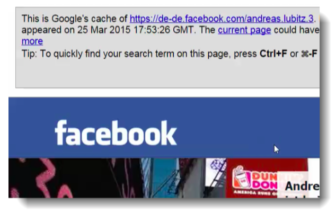 Even though Andreas Lubitz's Facebook page had been deleted by the time his name was revealed, a copy still existed in Google's cache.
2. Date range searches
Some personal information can be buried by later news coverage. To go back to the time before a big news story broke, click on "Tools" and choose a date range from the time drop-down box: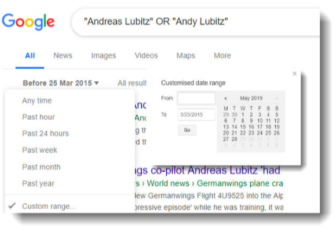 3. Archives
Online archives are a great source for deleted or changed material. Among the best options:
Archive.is is especially good for finding deleted social media posts and accounts.
And the Wayback Machine, which is great at bringing back web content.
Searching by Image
The same photo can appear on many different websites, often with different captions.
Identifying where an image is found online can lead you to information that will identify the person in the image.
Google's reverse image search can be found by clicking on the camera icon in Google Image's search box.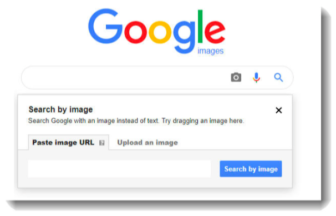 Identifying the Right Person
As names are often very commonplace and sometimes incomplete, it is best to gather as much information as possible about the person you are looking for. This includes various factors that can be built into web and social media searches.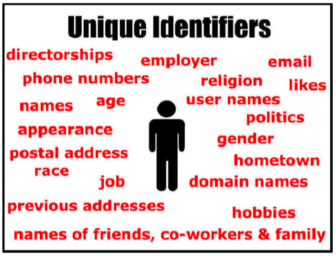 Think about the following issues.
Their name:
• Have you got the right spelling?
• Could it be a shortened name like Dave instead of David?
• Different ways of transliterating other alphabets.
• Would they use different parents' surnames?
• Did their name change after marriage?
• Usernames.
Relationships:
• Family members' names may appear on friends lists.
• People sometimes share the same friends across different networks.
Employment:
• What job do they do?
• Which company do they work for?
Connected places:
• Where were they born?
• Where do they live or work?
Email address:
• Email addresses can be diagnostic.
• You can find peoples' details via Skype, Whatsapp, etc.
• You can devise somebody's work email address with sites like Email Format.
Phone number:
• Sites like truecaller.com and sync.me allow you to search databases of billions of phone numbers.
• However, they have been hit by General Data Protection Regulation (GDPR) and many EU numbers are missing.
Domain name registration:
• GDPR has also hit our ability to look up who owns a domain name.
• However, historical details are provided by sites like domaintools.com.
• You can also look up currently redacted information on online archives.
• Some authorities allow you to appeal to find domain information.
•Some registration companies will release information.
Also think about what the person looks like, as well as their interests, causes and hobbies.
People Research Tools
Some online resources gather personal data into a searchable resource.
• Plugins like Lusha, contactout, jobjet, etc., augment sites like LinkedIn and provide contact details for the account you are viewing.
• Pipl Pro, Spokeo, etc., are dedicated people research sites and provide a wealth of personal information on the subject of your investigation. Pipl can be searched by phone number, email name and other factors. Spokeo is similar in some respects but focused on US citizens.
Searching Social Media
People have different social networks for different aspects of their lives. Each will have different followers:
• Twitter accounts might have thousands of strangers as followers.
• LinkedIn might draw in more business people.
• Facebook may be closer associates, family, friends.
Searching Twitter
Twitter has a very useful, flexible advanced search form. Other resources are also available, including:
• Tweepsect will show follows, followers and follow-backs.
• Followerwonk compares followers of two or three accounts.
• Tweetbeaver has loads of useful Twitter search tools.
Searching Facebook
• Facebook's search box performs a rudimentary keyword search across various areas including posts, people, photos, videos, pages, and groups.
• Groups and pages also have their own built-in search which helps you find your way to a particular post.
• Facebook's People tab is one of its most useful features. You don't even need to search for a name. Just enter a few details about the sort of person you are looking for. For example, you can simply search for a profession, a company, a town, or a university. You can also find filters on the left-hand side of the page that allow you to specify aspects relating to your search.
• The Posts tab lets allows you to search for keywords in Facebook posts. The filters allow you to specify a source, a date, and to search Facebook Groups.
• You may have heard about advanced Facebook Graph searches. Sadly, Facebook blocked general access to these searches on June 6, 2019. Some workarounds do exist, but these might break Facebook's conditions, so exercise caution.
Copyright (c) Paul Myers 2019. For more information, follow Paul Myers on Twitter at @paulmyersbbc.
---

Paul Myers is the lead consultant of the BBC's Investigation Support initiative. He has worked at the sharp edge of online research for nearly 20 years, and has trained fellow journalists since the turn of the century. Outside of his BBC work, Myers has helped investigators at the UNDP, World Bank, Guardian, CNN and many other investigative teams. He runs the researchclinic.net website.