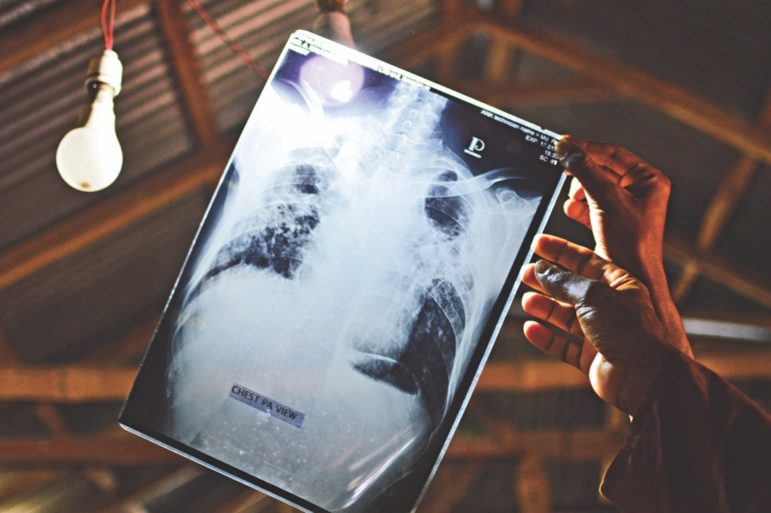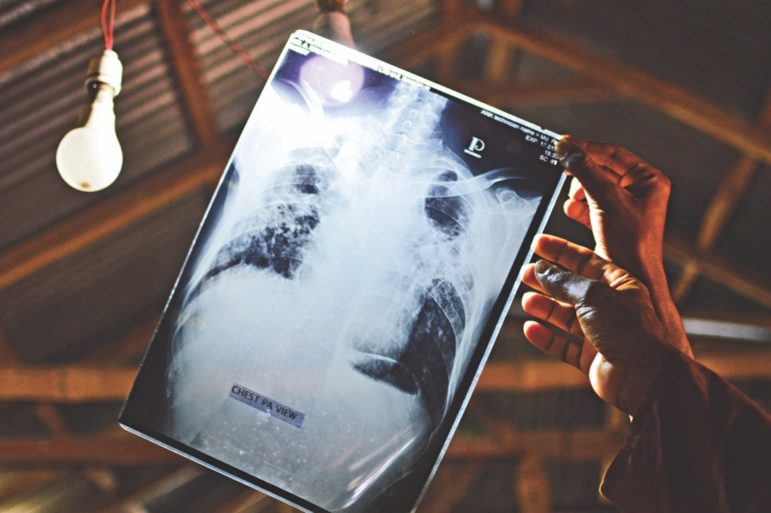 An X-ray shows the lungs of a silicosis patient. The Daily Star dug deep into the court rulings against compensation claims filed by patients with the incurable disease. Photo: Zyma Islam/The Daily Star
Editor's Pick: 2019's Best Investigative Stories from the Bangla-Speaking Region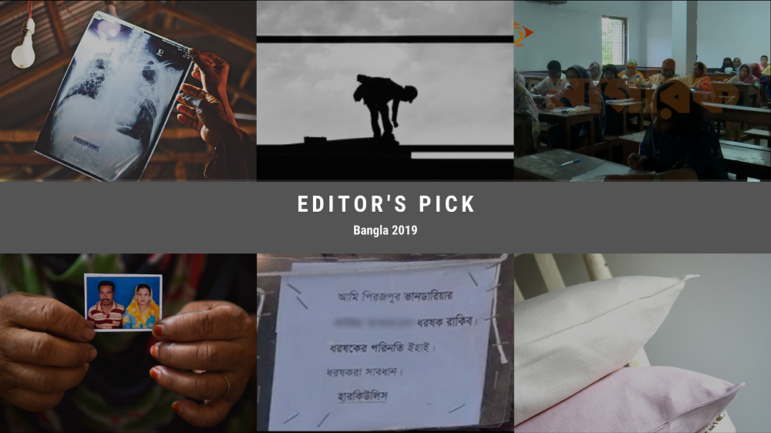 A crossborder collaboration exposing modern-day slavery in Malaysia, an investigation into how courts failed Bangladeshi quarry workers who contracted lung disease, a search for the murderer carrying out extra-judicial killings of alleged rapists — these are just a few of the stories that marked the year 2019 in investigative journalism in the Bangla-speaking region of the world, which includes Bangladesh and parts of eastern India.
These stories came out during a difficult year, when hundreds of journalists in Bangladesh have lost their jobs and many others left journalism entirely amid high self-censorship, low trust in media, declining revenue, and professional uncertainty. Bangladesh currently ranks 150th in Reporters Without Borders' World Press Freedom Index (out of 180 countries).
The Bangla-speaking region has also been under the spotlight of international media outlets including The New York Times, BBC, VICE, and others, which have produced significant investigations on human trafficking, child prostitution, refugees, and migration.
Here are some of the top investigative stories of 2019 from this region.
Slavery, Inc.
In one of the major investigations of the year, Kaler Kantho, a leading Bangladeshi daily, and Malaysiakini, the most popular news site in Malaysia, exposed how countless Bangladeshi migrant workers are trapped into modern-day slavery and revealed the network of companies behind this.
With a series of 11 articles, Kaler Kantho revealed how employers are trading these workers from one company to another and exploiting them by refusing to pay the amounts written in their contracts, forcing them to stay in inhumane conditions, and snatching passports on arrival so that they cannot leave.
Kaler Kantho developed a database of labor consignments from Bangladesh to show how a handful of recruiting agencies profited from 273,000 workers, as well as who got the biggest slice of this billion-dollar trade. Reporters interviewed around a hundred workers and their relatives; gathered tons of evidence including payslips, visa pages, employment contracts, photos, and videos; and analyzed the records of more than 30 agencies involved in corrupt practices. The series pointed out how policies and negligence from both governments allowed for this exploitation, which has resulted in the deaths of two Bangladeshi workers every day in Malaysia.
Malaysiakini, which played a key role in this investigation by digging into Malaysian companies and interviewing authorities, also published a four-part series.
This investigation ignited a public outcry in both countries, leading to investigations, raids on companies, and reviews of recruitment policy by both governments.
The Special Speakers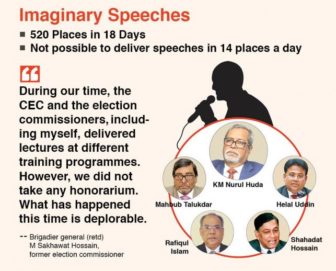 The Election Commission (EC) of Bangladesh organized trainings for election officials ahead of the national election held on December 30, 2018. Leading Bangladeshi daily Prothom Alo found that the top EC officials received over Tk 20 million (about US $240,000) as "special speakers" in those training sessions, even though this was part of their duties.
Prothom Alo analyzed the records of the EC secretariat and found that "special speakers" delivered speeches in 520 locations around the country in just 18 days. Four "special speakers" were supposed to be present at each training center, meaning each of them would have had to speak at 14 different places on a single day. The reporter used the Right to Information Act to gather public records, and also studied media reports published about EC officials during this period. These revelations created a huge public outcry in Bangladesh.
Failed by the Court
This Daily Star investigation digs deep into the court rulings against 65 compensation claims filed by patients with the incurable lung disease silicosis. These patients used to work at stone-crushing yards in Burimari, a village in Bangladesh bordering the Indian district of Cooch Behar.
The court rejected 56 out of 65 applications. A lawyer representing the victims described the main reason as being that "most of the workers never showed up to court." Reporters for The Daily Star's weekend magazine went through court records and interviewed many of those victims, their lawyers, and activists. They revealed that some of the petitioners had been too sick to attend 20 hearings at a courthouse that is an 8.5-hour journey from their home. According to the Daily Star's investigation, some of them said they never received notice of these hearings, and others were rejected despite attending hearings.
The Daily Star also reported that in a few cases, the court ordered the stone-crushing companies to pay compensation to the patients, but that the companies ignored this. Civil society organizations are now reviewing the rejected cases and planning to claim compensation again at a court closer to Burimari village.
PillowGate
Bangladesh's first nuclear plant is being built in Rooppur, nearly 216 kilometers away from the capital Dhaka. This project, to be completed with $12.65 billion in Russian credit, was already fielding criticism for its high cost. But no one expected what Desh Rupantor, a relatively new Bangla daily, revealed in the most talked-about scoop of the year.
A total of 19 apartment buildings are being built for the officials of the power plant. As some neared completion, Bangladesh's Public Works Department purchased furniture and other household items for these apartments. Desh Rupantor got hold of one of those contracts. According to this contract, an electric kettle was purchased for 5,313 Taka (about $62) but it took another 2,945 taka ($34) just to carry that kettle to the apartment.
The story was not only about the high price of these items, but also about their astonishing carrying cost. The report revealed at least 50 items — including stoves, washing machines, and electric irons — where the cost of carrying was around 50% to 75% of the price of the item. But readers reacted most to what was listed as a "pillow." According to the documents, it took around $10 to carry this pillow to an apartment. This scoop went viral on social media as "PillowGate," or "BalishKando" in Bangla.
Authorities later investigated and found irregularities in the purchase of items (worth around $4.2 million total) and suspended 16 officials. Following this scoop, several other media outlets started publishing similar stories of abuse of public funds, with some comparing whether the irregularities they found were bigger or smaller than in the PillowGate scandal.
Exam, Expose, and Expel
In another viral exposé, a ruling party member of Bangladesh's parliament was found to have hired lookalikes to take exams in her place. The private broadcaster Nagorik TV confronted one of the women posing as the MP in the exam hall. In the video, the lookalike can be seen leaving the hall with an aide to the member of parliament. The story immediately went viral on social media.
The MP was studying for a bachelor of arts degree with Bangladesh Open University. According to the investigation, she attended none of her 13 exams and hired eight look-alike women to sit for her. The reporter also got hold of an exam attendance sheet that shows different signatures on different days. After the report, the MP was expelled from her program, as well as from the ruling party. This story also attracted the attention of international media.
Finding "Hercules"
In just two weeks in late January and early February, an unknown attacker killed three alleged rapists in Bangladesh, leaving a note on the body that read "I am the rapist of [victim's name]. This is my punishment." Each note was signed "Hercules" — as in the Roman God who fought monsters.
Bangladeshi daily Prothom Alo decided to investigate. Its reporters interviewed eyewitnesses and collected photo evidence showing the license plate of a car that was used to abduct one of the victims. They confirmed the ownership of the car from registration documents, and examined the surveillance techniques that the killer used to track the alleged rapists. Prothom Alo's investigation revealed that the car belonged to the headquarters of a law enforcement agency, and cited other evidence that also pointed in this direction. The newspaper did not disclose the name of the agency in their report.
Since the story's publication, "Hercules" has not reappeared.
Stripped of Citizenship
This story involves hundreds and thousands of ethnic Bengalis and thus has great significance for the Bangla-speaking region. Type Investigations and its partner VICE published an investigation into the fate of ethnic Bengalis in India's Assam state, where "an opaque court system" is declaring many of them to be foreigners. Reporters analyzed over 500 rulings from the Foreigners Tribunals and revealed nearly nine out of 10 cases were against Muslims, and almost 90% of those Muslims were declared illegal immigrants — as compared with 40% of the Hindus tried. They found these tribunals rife with bias, inconsistency, and error; three-quarters of the orders were issued without the accused present.
A total of 31.1 million people were included in the final National Register of Citizens (NRC) in Assam, leaving out 1.9 million people. Last year, an initial list left off 4 million people — most of them Bengali, a group that makes up a third of Assam's population. Since then, the NRC has become a hot topic of debate in India.
---

Miraj Ahmed Chowdhury is the editor of GIJN in Bangla. He also oversees programs and communications at the Management and Resources Development Institute (MRDI), a leading media development organization and GIJN member in Bangladesh. He has 14 years of experience in journalism, mainly in broadcast.