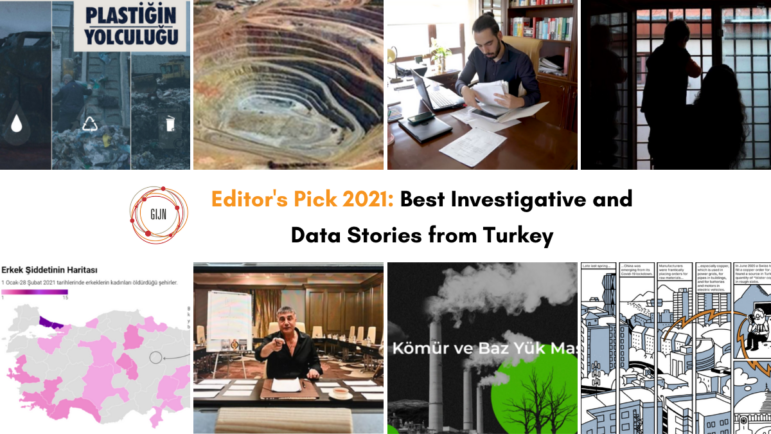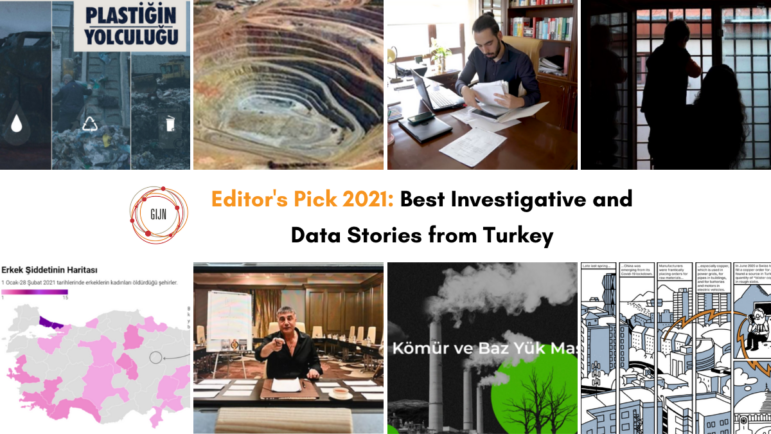 Editor's Pick: 2021's Best Investigative and Data Stories from Turkey
Read this article in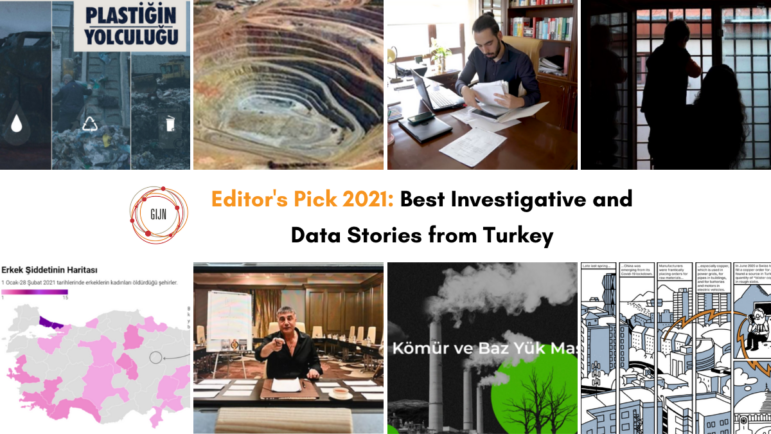 In the last 20 years, journalists in Turkey have faced censorship, threats, violence, detention, trials, violations of personal rights, news manipulation, and more. The Turkish press is now enduring a period when the most basic journalism practices are hindered due to the state of emergency, the pandemic, and many other factors.
In an environment where even the most basic level of data is difficult to access, media finances keep changing hands under new corporate owners, and the press itself is being turned into a propaganda tool, independent journalism faces an almost impossible test. Despite this, GIJN Turkish found several praiseworthy stories produced by independent journalists this past year.
Below, we include eight remarkable examples of investigative journalism and data journalism in 2021. The following stories are not just a list of impressive investigative reports, but stories chosen for their significance and public interest, their use of investigative tools, data sources and techniques, and their commitment to social accountability. — Pinar Dag, GIJN Turkish Editor.

The Journey of Plastic exposé is a collection of visual and written content by the online independent outlet Medyascope and Doğu Eroğlu, a multimedia watchdog reporter. The investigation consists of a 78-minute video documentary accompanied by articles that examine the climate cost and lasting effects of plastics. The investigation draws attention to the fact that single-use plastics have created much more environmental pollution during the pandemic. The investigation found that only 10% of recyclable waste is recycled in Turkey, while the energy used in the industrial production of single-use plastic creates significant greenhouse gas emissions.
In this investigation, Bloomberg revealed that insiders at a Turkish company were involved in a complex, $36 million scam to send spray-painted cobblestones abroad disguised as slabs of copper. The investigation found that Geneva-based Mercuria had agreed to buy millions of dollars worth of copper from a Turkish supplier. But when the first of eight cargo shipments arrived at a Chinese port, inspectors found worthless copper-colored stone and concrete had been secretly substituted for the metal. The scam was first revealed when officials from a Chinese company shared news of the fraud with Turkish authorities. And in a new twist on the standard investigative format, Bloomberg used cartoon illustrations by Dorothy Gambrell to help tell this larger-than-life heist story.
Amid an ongoing crackdown on independent newsrooms and journalists, DW Turkish was the only Turkish-language news outlet to take part in the Pandora Papers investigation, which involved a massive leak of 11.9 million documents revealing thousands of secret, offshore accounts owned by world leaders, celebrities, and wealthy elites. The investigative team of Pelin Ünker and Serdar Vardar, from the Turkish language service of the German state-owned DW, looked into the Pandora documents and revealed that Turkish billionaire and construction tycoon Erman Ilicak had ties to two offshore companies — both of which were listed in the name of his mother in 2014. Both companies held assets from the family's construction conglomerate and, one of them, Covar Trading Ltd., earned $105.5 million in income from dividends during its first full year of operations. The money was later stashed in a Swiss account and then mysteriously disappeared as a "donation" but financial statements do not describe who or what received the money. By the time of publication, Ilicak did not respond to requests for comment. Notably, Ilicak's company, Rönesans Holding, was responsible for building the much-talked-about 1,150-room presidential palace for Turkish President Recep Tayyip Erdogan.
Investigative journalist Ece Göksedef from BBC Turkish looked into the past 25 years of efforts to fight organized crime in Turkey. Her investigation, which also draws attention to the deaths of journalists throughout this period, reveals how laws, power, and money have been turned into tools of abuse in the country's recent history. Rather than weakening, organized crime has evolved and actually become stronger. Göksedef's reporting questions why the power and influence of these criminal organizations have not yet been effectively addressed. "The struggle takes place on the basis of law and justice, not on the basis of discourse, not with shouting," she writes. "Why are legal instruments not coming from the parliament? Why is it blocked?"
Investigative journalist Sahra Atila from the independent news site Medyascope investigated the living conditions of children growing up in prison in Turkey. She questioned how 2,466 children have grown up in the country's prison system in the last four years when there is the option of confining mothers at home using ankle monitors. Her investigation revealed that children are not being provided with a proper education and that there are very few activities and playgrounds. Atila also found that children staying in prison are not given a separate bed and are expected to sleep in bunk beds with their mothers. Her reporting revealed that one 21-month-old child twice fell out of a bunkbed, while a four-month-old baby was poisoned by bleach while crawling on the prison floor. Atila's investigative series is ongoing and has opened up for public discussion the substandard prison conditions in Turkey.
Journalist Şeriban Alkış used data visualization, maps, and scraping to collect data from the online local newspapers of the provinces where 44 women were killed as a result of male violence in January and February of 2021. The investigation found roughly half of the stories decontextualized the gender-specific nature of the violence, while nearly as many misrepresented aspects of the attacker and attack, and roughly a quarter effectively re-victimized the women with sensationalized coverage. This data investigation offered a revealing look at how the Turkish media often ignores or minimizes male violence, which should be the main focus in coverage of femicide.
İklim News Site (Climate News Site) conducted an investigation called Coal Tales which methodically debunked false industry claims that coal is clean, cheap, and comes from domestic sources. Coal Tales reminded its audience that a typical coal power plant operates at only 34% efficiency and that there is not a single power plant that promises to contain the carbon emissions of coal. "The economic rationality of coal-fired power plants is actually completely gone, but coal advocates resort to empty tales to delay this end," said İklim editor-in-chief Barış Doğru. "With Coal Tales, we try to show that none of these tales reflect the truth."
Video journalist and activist Hakan Tosun from Gezegen24 (Earth Journalism News Site) investigated the environmental destruction said to be caused by gold mining company Alamos Gold, which has been in dispute with the Turkish government over licensing. The tree harvesting carried out by Alamos Gold as part of its mining project sparked widespread outrage, prompting tens of thousands of people to travel to the region to protest. The on-the-ground rallies that followed Tosun's reporting on the mining activities have now continued for more than a year. Alamos Gold, which insists it met the highest environmental management standards, announced it would file a $1 billion lawsuit against the Turkish government for "unfair and inequitable treatment," claiming the government failed to grant a routine renewal of the company's mining licenses.
Additional Resources
A Curated List of GIJN's Top Stories from 2021
How Exiled Journalists Keep Investigating in China, Burundi, Venezuela, Russia, and Turkey
How Turkey Silences Journalists Online, One Removal Request at a Time
Follow GIJN Turkish on Twitter
---

Pinar Dag is GIJN's Turkish Editor. She is also a lecturer in the new media department of Kadir Has University and the co-founder of the Data Literacy Association (DLA), Data Journalism Platform Turkey, and DağMedya. Since 2012, Pinar has been organizing workshops for journalists on these issues and, for the past two years, has been on the pre-jury of Sigma Data Journalism Awards.