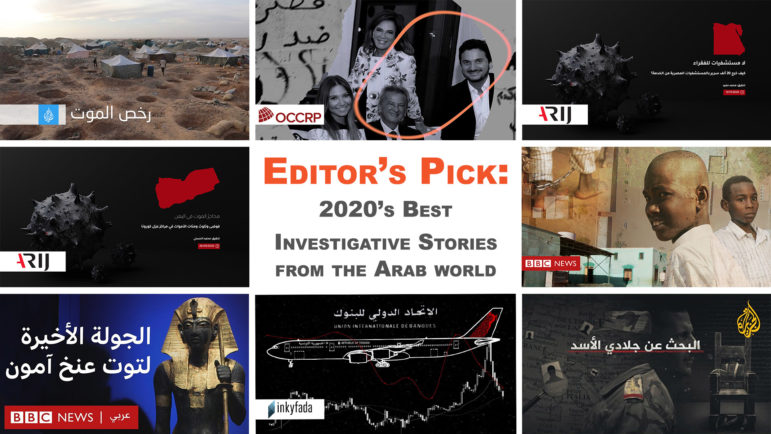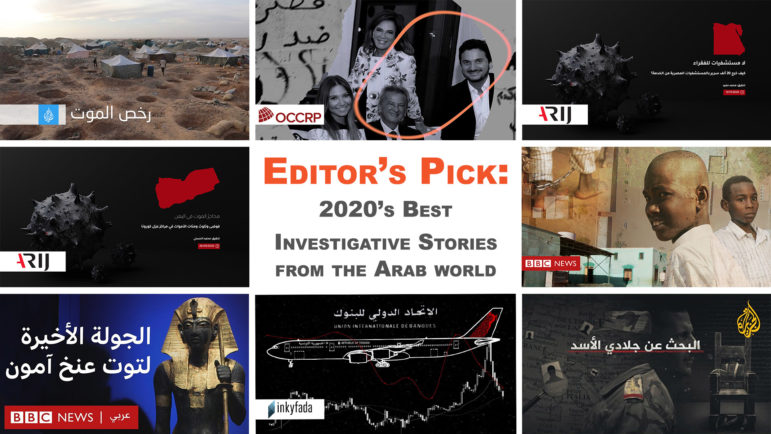 Editor's Pick: 2020's Best Investigative Stories from the Arab World
Read this article in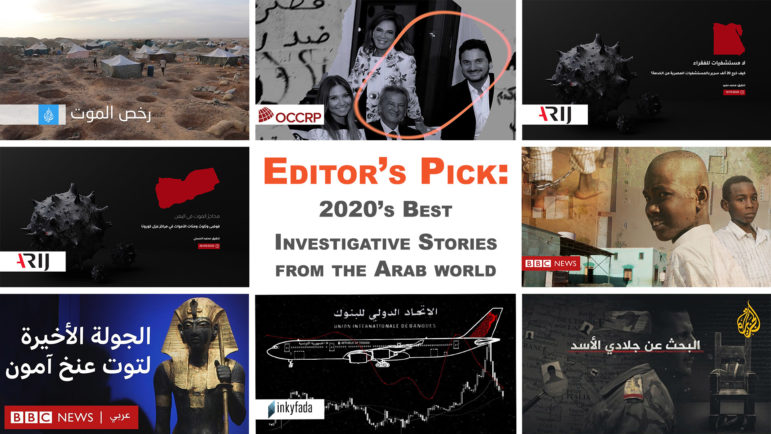 Journalists in the Arab world face problems much like those of their colleagues around the world: the decline of press freedom, difficulties in obtaining basic information from authorities, and a lack of financial and editorial resources. The year of COVID-19 made reporting in repressive countries in the region — including Jordan, Morocco, and Egypt — even more complicated. Some governments enacted "state of emergency" crackdowns, adding an additional hurdle which effectively blocked even the most basic journalism work.
Despite this, GIJN Arabic found praiseworthy stories produced by independent journalists. Often, the best of these stories were supported by regional organizations such as Arab Reporters for Investigative Journalism (ARIJ), Daraj, and BBC Arabic, or through international networks such as the Organized Crime and Corruption Reporting Project (OCCRP) and the International Consortium of Investigative Journalists (ICIJ).
The pandemic, of course, dominated the headlines this year. An investigative report in Egypt documented how antibody testing devices were erroneously used to detect COVID-19 infections, resulting in inaccurate results that contributed to spreading the virus. Another story showed how Jordan went from being one of the countries that had best handled the crisis to a hotspot.
The year ended with ARIJ's annual conference, held virtually and attended by more than 3,000 journalists, mostly from the Arab region. Then came news that Algerian authorities were blocking a new investigative website, Tawala. The move highlighted the paradox faced by journalists in the region: New initiatives in investigative journalism are often immediately met by hostile authorities intent on shutting them down.
The following stories, selected by GIJN Arabic, are not just a list of impressive investigative reports from 2020. We chose them for their significance, their use of investigative tools and techniques, and their commitment to social accountability.
A BBC News Arabic collaboration with ARIJ uncovered systematic child abuse inside Islamic schools in Sudan. According to the report, boys as young as five were routinely chained, shackled, and beaten by the "sheikhs," or religious men in charge of the schools. The investigation also found evidence of sexual abuse. For 18 months, reporter Fateh Al-Rahman Al-Hamdani filmed inside 23 schools across the country, finding many children suffering from malnutrition and the sick left untreated, while other children were forced to sleep on the floor in extremely hot weather.
Offshore companies owned by the governor of Lebanon's Central Bank allegedly invested in assets overseas worth nearly $100 million in recent years, even as he encouraged others to invest in his economically-devastated country. Rumors of Riad Salame's offshore wealth have swirled around Beirut for years, but the extent of the investments by one of Lebanon's most prominent public officials had remained secret. OCCRP and its Lebanese partner, Daraj.com, tracked Salame's vast overseas investments, reporting multiple real estate deals in the United Kingdom, Germany, and Belgium made over the course of a decade. Company accounts suggest the investments were often financed by borrowing tens of millions of euros, sometimes secured without collateral, according to the investigation. Salame denied the charges, telling OCCRP that he had broken no laws, and that he amassed "significant private wealth" before he joined the Central Bank in 1993, and that "nothing prevents me from investing it."
The extent of the damage caused by former Tunisian dictator Zine El Abidine Ben Ali — who was forced to step down amid protests in 2011 — is still being uncovered. In January, independent media outlet Inkyfada showed how, between 2008 and 2009, two important transactions involving a national airline benefited the presidential family. According to its investigation, the entire company would be run based on the whims of the former head of state, whether that was related to a decision to sell shares to Ben Ali's relatives or to buy a new presidential plane. Since the time these suspicious transactions took place, the company has experienced a series of difficulties and financial losses. It is unlikely those responsible will face legal consequences; Tunisia's so-called reconciliation law passed after the fall of the regime has made it possible to bury this case and shelter the key figures involved.
An investigation conducted by ARIJ and Zatmasr shows how, over a period of 20 years, the Egyptian government closed 476 government hospitals, while 60 rural clinics — or "hospitals for the poor" — were out of service after they turned into mere departments of central hospitals, with the implementation of the health reform plan. Now, when health infrastructure is most needed, vulnerable populations are struggling to find empty beds for the sick.
Until the COVID-19 lockdown, London's Saatchi Gallery had been hosting the hit exhibition Tutankhamun: Treasures of the Golden Pharaoh. The artifacts on loan from the Egyptian government attracted large crowds despite high ticket prices. But an investigation by Egyptian journalist Gehad Abbas and BBC Arabic found that the deal by the Egyptian government to lend the artifacts to a commercial events company may have breached laws designed to protect priceless ancient treasures. Turns out the event company lending the artifacts was run by an Egyptian archaeologist and the former minister responsible for overseeing the country's antiquities. According to the report, the London exhibition was visited by approximately 580,000 people before the COVID-19 crisis hit, generating £18 million GBP — some $24 million — in ticket sales. 
This investigative report by Al Jazeera, Finding Al-Assad's Executioners, tracks stories about the Syrian "shabihas" — Syrian President Bashar Hafez Al-Assad's supporters — who have murdered and tortured protesters since 2012. Using photographic evidence, the report alleges that Al-Assad's family was involved in the torture of detained protesters inside hospitals, and that an organized militia collected information on Syrian refugees in European countries. This "militia," the report says, was made up of pro-Assad military personnel who immigrated to Europe in 2014. After a human rights activist posted their backgrounds on a Facebook page called Criminal Refugees, the "shabihas" deleted their social media profiles, along with anything related to their support for the Syrian regime.
Produced by ARIJ, this investigation documented 16 cases of Yemenis who allegedly bribed their way out of quarantine and isolation centers. The centers were run either by the internationally-recognized Yemeni government or the Houthis, who control the current regime in Sana'a. The patients were discharged after making arrangements with authorities working in the centers, or people connected with the staff inside these centers, without ever being tested. The action violates the country's Public Health Act. In one of the cases, a man told reporters that he stayed no more than two days in quarantine, paying 500 Saudi riyals — about $133 — for his release.
Produced by Deutsche Welle and ARIJ, reporters showed how weapons and armored vehicles manufactured in the United Arab Emirates and Turkey were sold to warring factions in Libya, in violation of the UN Arms embargo on Libya. Using tracking tools and open source data, the report uncovered how guns are trafficked into Libyan conflict zones. This investigation built on dozens of videos published on social media platforms. The videos show footage of various areas in Libya where military equipment from different manufacturers and different origins were used, including Emirati armored vehicles used by forces under General Khalifa Haftar, whose supporters are fighting with the Government of National Accord, led by Fayez Al-Siraj. Al-Siraj's faction received armored vehicles and and other military hardware from Turkey. The report managed to track four maritime shipments arriving in Libya, one of which sailed from Saudi Arabia to Libyan ports loaded with guns.
At least 160 Mauritanians were killed after authorities allowed citizens to dig for gold in the desert three years ago. License to Die, a collaboration between Al Jazeera and ARIJ, revealed that the deaths were due to lax safety protocols. While the government swung open the door for gold mining, it left out the need for basic qualifications of those undertaking the mining process. To illustrate the flaws in the system, reporters applied for a mineral extraction license; without any type of experience in mining, they found a license was simple to obtain.
---

Majdolin Hasan, GIJN's Arabic editor, is an award-winning journalist who has worked with Global Integrity, 100Reporters, and Arab Reporters for Investigative Journalism. She was the director of an investigative journalism unit in Jordan and was the first Jordanian to file a case against the Jordanian government for denying her right to public information.