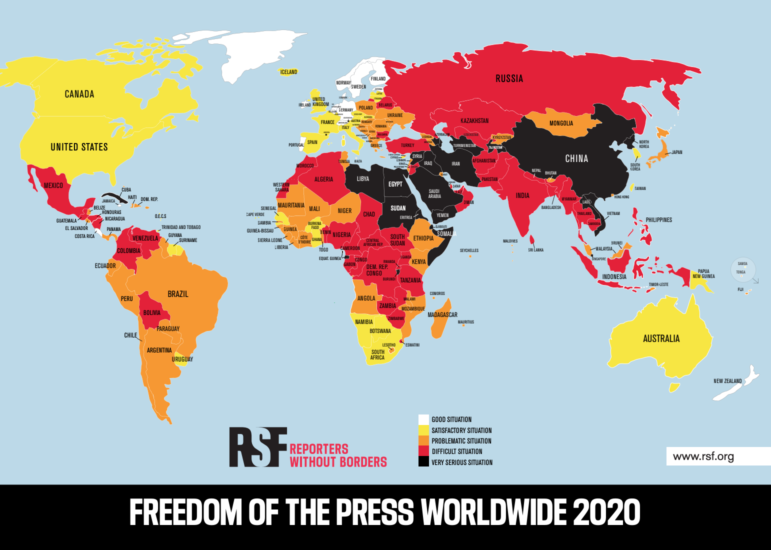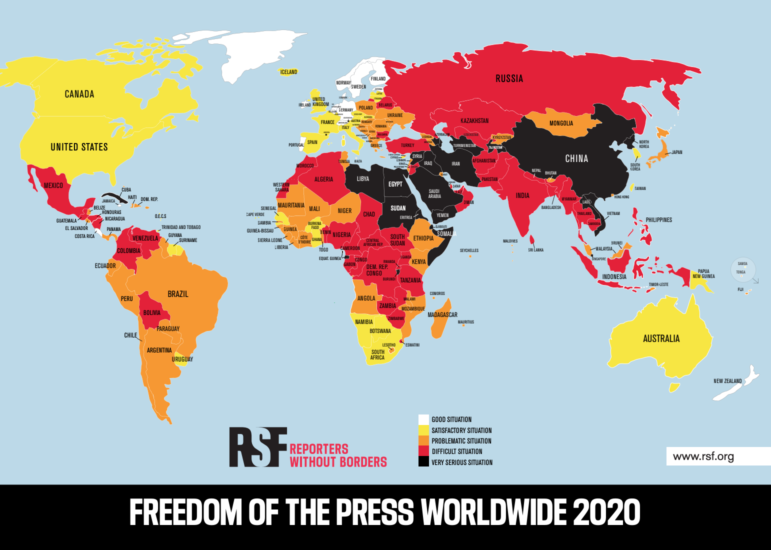 Document of the Day: World Press Freedom Index in the Time of Coronavirus
The 2020 World Press Freedom Index, compiled by Reporters Sans Frontières (RSF) and launched this week, shows that the coming decade will be decisive for the future of journalism, with the COVID-19 pandemic highlighting and amplifying the many crises that threaten the right to freely reported, independent, diverse, and reliable information.
This 2020 edition of the Index, which evaluates the situation for journalists each year in 180 countries and territories, suggests that the next 10 years will be pivotal for press freedom because of converging crises affecting the future of journalism:
Geopolitical crisis due to the aggressiveness of authoritarian regimes.
Technological crisis due to a lack of democratic guarantees.
Democratic crisis due to polarization and repressive policies.
Crisis of trust due to suspicion and even hatred of the media.
Economic crisis which is impoverishing quality journalism.
These five areas of crisis are now compounded by a global public health crisis.
"We are entering a decisive decade for journalism linked to crises that affect its future," RSF Secretary General Christophe Deloire said. "The coronavirus pandemic illustrates the negative factors threatening the right to reliable information, with the pandemic itself an exacerbating factor. What will freedom of information, pluralism and reliability look like in 2030? The answer to that question is being determined today."
For more, check out the report.
This is an edited excerpted from a story which was first published on the Reporters Sans Frontières website and is reproduced here with permission.
---

Based in Paris, Reporters Sans Frontières is an independent NGO with consultative status with the United Nations, UNESCO, the Council of Europe and the International Organization of the Francophonie.