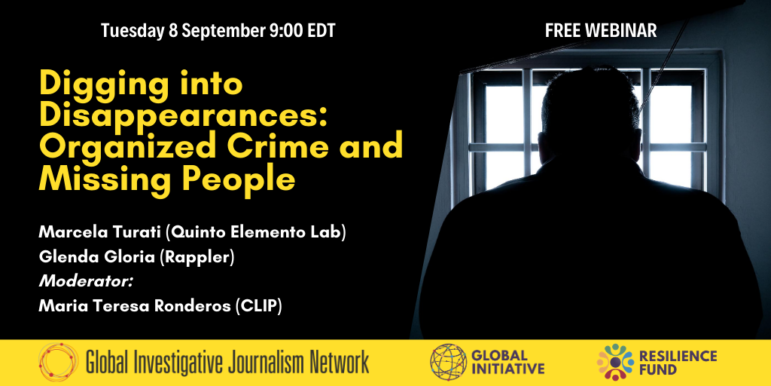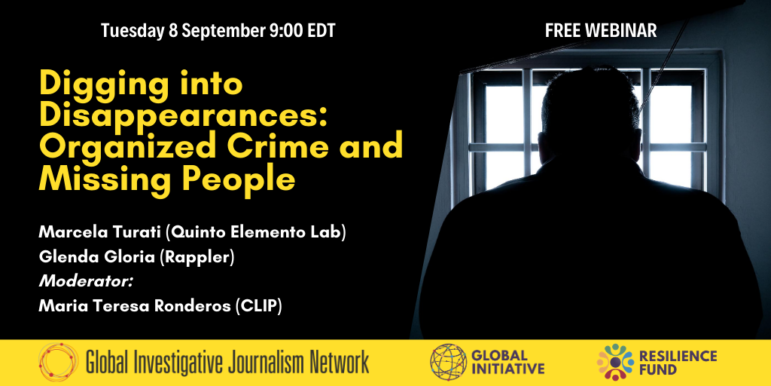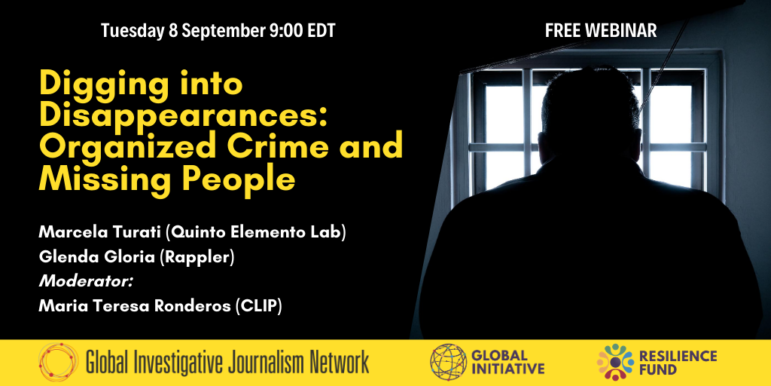 Editor's note: This webinar has now taken place. You can see the recording on GIJN's YouTube channel.
Millions of people go missing every year, according to the International Commission on Missing People, and organized crime is involved in many of these cases. "Disappearances" are today a key tool of criminal organizations, which have become increasingly transnational, network-based, and integrated into local economies.
Journalists play a key role in combating the role of organized crime, acting as both a deterrent and as public-minded investigators, particularly where the state and rule of law have broken down. In order to investigate disappearances connected to criminal gangs, journalists must first understand how to look for a missing person and then how organized crime affects the investigation.
In this GIJN webinar, Digging into Disappearances: Organized Crime and Missing People, on Tuesday, September 8 at 9:00 am EST, we bring together two senior investigative journalists with experience both in investigating missing people and in supporting other journalists doing this work. They will share their strategies and tips on how to investigate a disappearance, how to manage sources, victims, and authorities, as well as raise some of the broader considerations of investigating criminal organizations.
Marcela Turati is a freelance investigative journalist covering the Mexican drug war and a founding member of nonprofit Quinto Elemento Lab. She is renowned for her investigations into missing people, enforced disappearances, massacres of migrants, mass graves, and cases of violence. She founded Periodistas de a Pie (Journalists on Foot), which is dedicated to training local journalists. Turati has long helped journalists cope with trauma and grief. Among her books is: "Cross Fire: Victims Trapped in the War on Drugs."
Glenda Gloria is the managing editor of Rappler, the Philippines' leading online news site, and has worked for the Philippine Daily Inquirer, Manila Times, Philippine Center for Investigative Journalism, international news agencies and at ANC, the ABS-CBN News Channel. She has investigated cases of missing people herself and oversees Rappler's work on enforced disappearances in the Philippines. Gloria has also co-authored two books, one on the conflict in Mindanao and another on military corruption.
This webinar will be moderated by Colombian journalist Maria Teresa Ronderos, director and co-founder of the Centro Latinoamericano de Investigación and the former director of the OSF Program on Independent Journalism.
This series, Digging into Disappearances, will also include:
This series is in partnership between the Global Investigative Journalism Network and the Resilience Fund of the Global Initiative Against Transnational Organized Crime. Watch our Twitter feed @gijn and newsletter for details on future events.