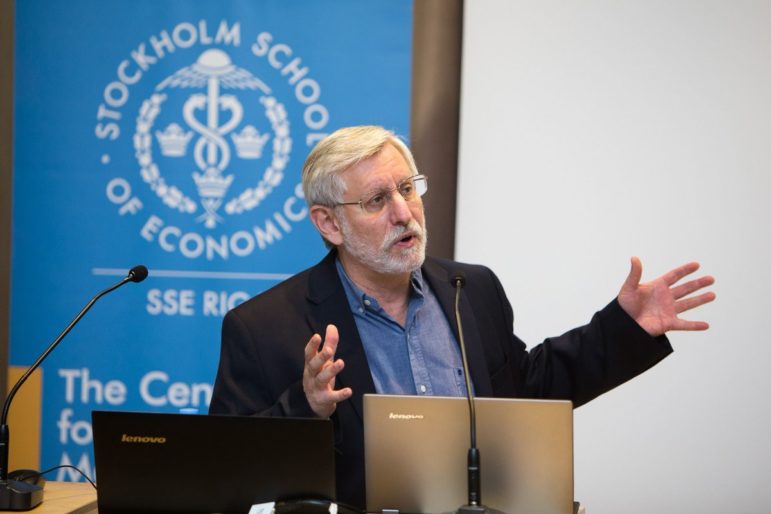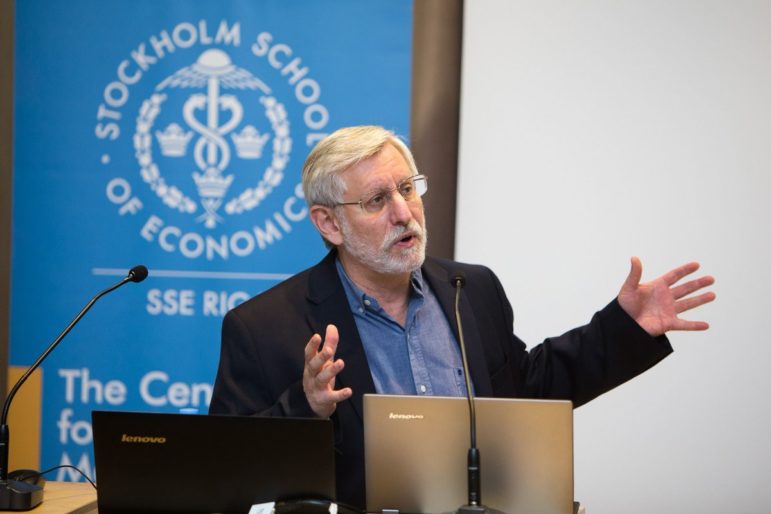 David Kaplan to Bid Farewell at Global Conference in September
Read this article in
After more than a decade of leadership of the Global Investigative Journalism Network, Executive Director David Kaplan has announced he will retire from his position in September 2023.
Kaplan was among those representing 30 member organizations that founded the Network in 2003 and became its first full-time executive director in February 2012.
"Dave has been instrumental in the development of GIJN as the premier organization for the training and networking of investigative journalists around the world," said Brant Houston, chair of the GIJN Board of Directors. "Through his tireless efforts, we have built an association of 244 media nonprofits in 90 countries that share ideas, resources, stories, and a passion for exposing systemic corruption and changing the world for the better."
"This has been an extraordinary job with an extraordinary mission, supported by extraordinary people," Kaplan said. "It's been an honor to work with so many talented, committed, and gutsy journalists around the world. Every day we've seen the impact that investigative journalists are having."
Among GIJN's achievements under Kaplan:
Transforming a loose network with no funds into a global nonprofit with an annual budget of US$2.4 million and staff in 24 countries.
Establishing the key role that investigative journalism plays in international development and democracy. GIJN and its members made a convincing case to international aid agencies and major foundations that accountability journalism is as essential to development as are good schools, honest judges, and sound economic policy.
Creating a global "network of networks" linking together the world's most enterprising journalists through social media and e-newsletters in a dozen languages. Starting with a few hundred followers in 2012, GIJN today has more than 400,000 social media followers worldwide who each day get the latest news on tools, techniques, and opportunities.
Bringing the methods and standards of investigative reporting to journalists worldwide. Since 2012, GIJN has trained over 15,000 journalists at its conferences, workshops, and webinars. Its translation program has produced core training materials in 32 languages.
Expanding GIJN's membership from 49 nonprofits, largely in Europe and North America, to five times that number — 244 groups in 90 countries — with over half of those in developing or transitioning countries.
Creating a Help Desk, free to journalists worldwide, that has responded to nearly 15,000 requests for assistance since 2012.
Tripling the size of GIJN's Global Investigative Journalism Conference, launching the Asian Investigative Journalism Conference, and supporting regional conferences worldwide. Since 2013, GIJN has awarded more than 1,000 fellowships to journalists from developing and transitioning countries to attend its conferences.
Developing a multilingual Resource Center with over 1,500 tip sheets, reporting guides, and videos, accessed by journalists in 140 countries per day.
"I'm deeply humbled and gratified by what we have built together," Kaplan reflected. "GIJN would not be here today were it not for the support, vision, and commitment from so many people — the network's founders Brant Houston and Nils Mulvad; GIJN's staff, especially Deputy Director Gabi Manuli, who's been with me from the start; our board of directors, member groups, donors, and friends and allies worldwide. Heartfelt thanks to them all."
"Because of their efforts," Kaplan added, "our global community has never been more vibrant and diverse."
Kaplan will say farewell at the 2023 Global Investigative Journalism Conference, in Gothenburg, Sweden, on September 19-22, 2023.
Houston said that although Kaplan had generously provided early notice of his departure, a search for a new executive director would begin immediately.
"It is no easy task to find a successor to lead GIJN in its coming years," Houston said. "We expect the search to take several months — and we also want to have sufficient orientation time for the new executive director."
Kaplan said he looks forward to working with the new executive director, and then to spend more time on his favorite pastimes of playing music, cooking, and travel. "It's time to ease up on the accelerator a bit," he noted. "I will miss the amazing staff we've assembled, and the daily reward of helping colleagues around the world. But it's time to pass the torch."