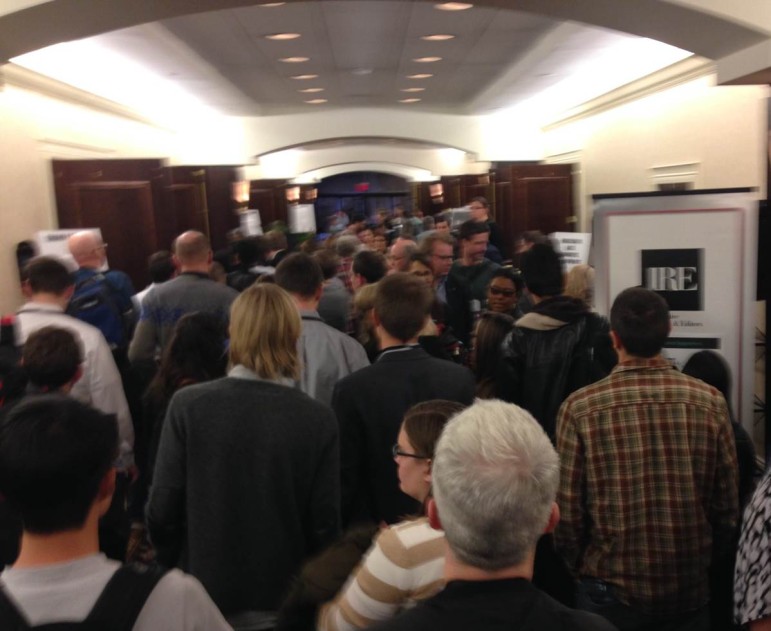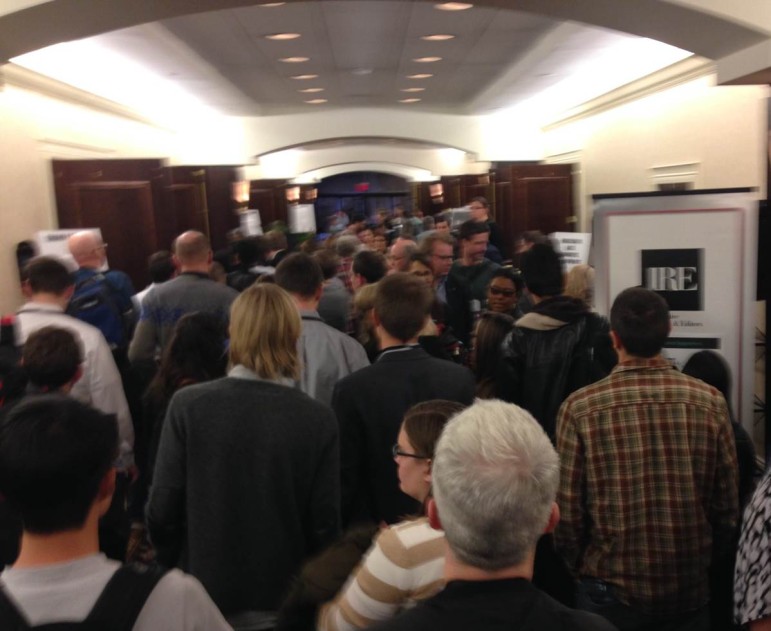 Data Journalists from 20 Countries Gather for Cutting-Edge NICAR14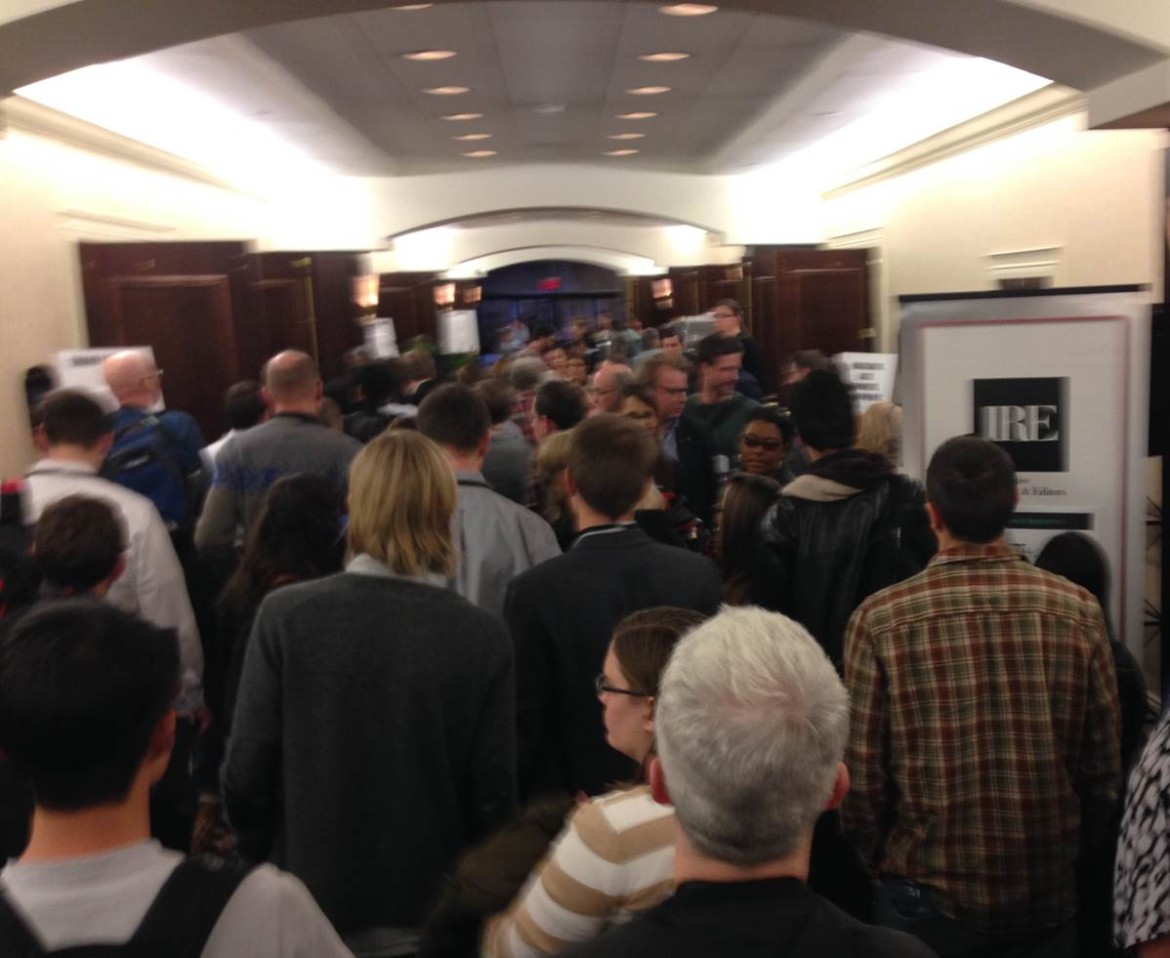 A record 950 journalists, data experts, and students from 20 countries gathered last weekend for NICAR14, the annual data journalism conference organized by Investigative Reporters and Editors (IRE). The five-day gathering, twice the size of last year's conference, has tripled in size over the past five years.
"It shows the industry is waking up to the value and importance of data in every aspect of what we do," said Mark Horvit, executive director of IRE. Horvit noted how diverse the attendees are this year. "There are teams from big media outlets, lots of students, and now small papers getting into it." And lots of hiring, he added. Data is hot.
It's been a long road. NICAR — the National Institute of Computer-Assisted Reporting — which pioneered data journalism in the 1990s, was a modest project when first launched by IRE, and its annual gatherings seldom drew more than 300 people.
That's a far cry from the nearly thousand investigative reporters, data editors, journalists, programmers, web designers, hackers, and students who just descended on Baltimore, Maryland, from February 26 to March 3. NICAR14 presented a dizzying array of more than 150 sessions on cutting edge techniques to gather, analyze, visualize, and present data.
More than 100 of the attendees came from outside the United States, and nearly half of those from Scandinavia.
"The size, the sophistication, the level is something you don't see at other conferences," said Nils Mulvad of Kaas & Mulvad, a Denmark-based consultancy that specializes in data journalism. Mulvad was named European Journalist of the Year in 2006 for his work on EU subsidy data. He and partner Tommy Kaas brought a delegation of 15 Danish journalists to the conference.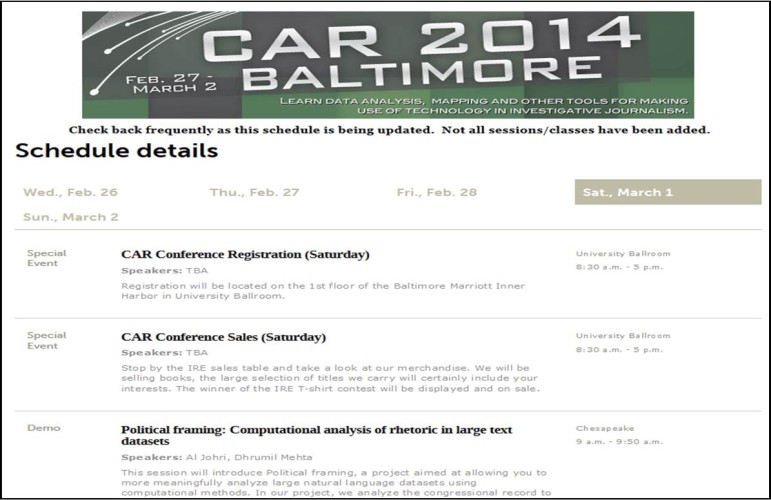 "It's a large group of people who have been working with these techniques for many years," he said of the conference. "You can follow data journalism elsewhere but this is the main event right now." Mulvad has been coming to NICAR gatherings for more than a decade, and he particularly appreciates the ethic of sharing that permeates the conference. "You see all these skills being pulled together. People want to use this for great investigative journalism. They're so happy to share, you can see it when you walk around."
Another who makes the annual pilgrimage to the NICAR conference is Helena Bengtsson, the database editor for news and current affairs at SVT, the Swedish Public Broadcasting network. "This is the one week of the year where I can talk about my job, while the rest of the year I have to explain my job," she says. "I think that's true even for the Americans who come here, because we're still in the minority in the newsroom. But there are more and more of us. Danish Public Broadcasting now has a data person, Finnish Public Broadcasting has two, and we have five people at SVT."
Bengstsson has been coming to NICAR since 1997, and she, too, finds it like no other gathering. "NICAR doesn't shy away from the complicated and difficult when it comes to technical matters," she says. "The focus is on the people who know this and want to learn more. The way they're teaching advance technical programming tools like JavaScript or D3 is something I haven't seen before. You can't come here and slouch – you have to concentrate."
This is the tenth NICAR conference for John Bones, the veteran Norwegian data journalist. "In the beginning I came to learn new skills," he says. "I was primarily going to hands-on sessions. Now I'm going to get inspiration and to meet people."
"More and more editors realize they need to know about these techniques," adds Bones, a senior staff writer at the daily Verdens Gang. "It's been a long road, but it's changing. They realize data journalism is giving the media exclusive stories."
With more than 5,000 members, GIJN-member IRE is the world's largest and oldest association of investigative journalists. IRE's next big event will be its annual conference in San Francisco this June, with plenty of data sessions. Want to know more? Check out NICAR14's tip sheets and tutorials.