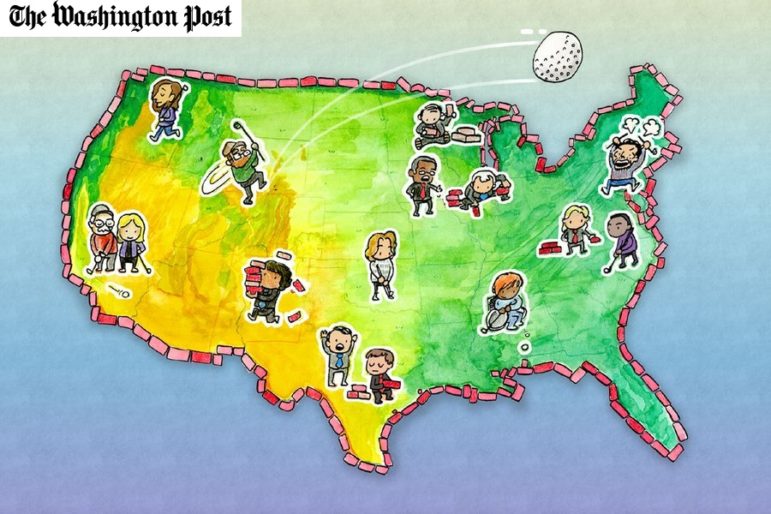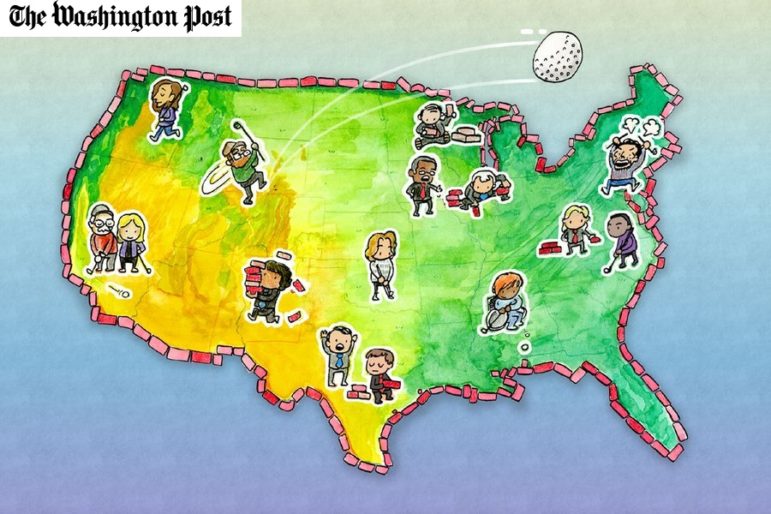 Data Journalism Top 10: Wordle Wins, Djokovic Drama, and UK's Partygate Scandal
Read this article in
If you're a word puzzle addict and active on Twitter, you'll have come across the latest craze — Wordle. Al Jazeera Labs analyzed the puzzle's word bank to give tips on how to tackle the game strategically. Our weekly NodeXL curation of the most popular data journalism stories on Twitter also features an analysis of shopping habits during the pandemic, an examination of vaccination rates among elite athletes, details on the scandal shaking UK politics, and an interactive mini-golf game illustrating how gerrymandering — the manipulation of electoral boundaries — plays out in various US states.
Pandemic Shopping
How has the pandemic influenced our collective shopping habits? Using Google Trends data, this project by Schema Design, Google Trends, and Axios visualizes and categorizes online shopping trends during the COVID-19 pandemic. Based on searches carried out in the United States, the project shows how demand for products like bleach and tequila surged at various points in the last two years. Designers sorted the products into three demand categories: "normal," "unusual," and "new normal." The latter features products like dishwashers, cat treats, and loungewear, which saw a rise in demand and continue to be popular. Demand for items like jigsaw puzzles and toilet paper increased early in the pandemic but has since returned to normal, so features in the "unusual" category.
https://twitter.com/AlbertoCairo/status/1483433547004354566
Gerrymandering and Golf
Gerrymandering — altering the boundaries of election districts in order to give one political party advantage over another — is an ethically dubious tactic used by politicians around the world. Taking a creative approach to illustrating the problem, The Washington Post designed an interactive mini-golf game that uses the often-ridiculous shapes of US House of Representatives voting districts as golf holes. Graphics reporter and cartographer Dylan Moriarty detailed the process of creating the game in this tweet thread. For fun, check out The Post's TikTok on this, or if you live in the US, look up your address in this interactive map to see if the boundaries will change in your community.
https://twitter.com/AdrianBlancoR/status/1480900028751355906
Double Fault
Novak Djokovic, the world's top-ranked men's tennis player, lost the chance to defend his title in this year's Australian Open and was deported from the country after days of drama over his lack of a COVID-19 vaccine. He was first denied entry into the country on January 5, but his visa was later reinstated before being cancelled again. The Economist compared vaccination rates among men in elite sports to the vaccination rates among adults in their host country. It found that vaccine hesitancy is not uncommon in Serbia, Djokovic's home country, where only 45% of adults have received two COVID-19 vaccine doses. Data journalist James Fransham explains this piece in a podcast.
Winning at Wordle
If boxes of green, mustard yellow, and gray have been flooding your Twitter feed, welcome to the world of Wordle. The simple, yet addictive word game created by software engineer Josh Wardle for his partner has taken Twitter by storm. Players are given six guesses to figure out the featured five-letter word of the day. To devise a strategy to tackle the game, Al Jazeera analyzed all the words in the word bank to determine which letters of the alphabet appear most frequently. Steer clear from this piece if you hate puzzle spoilers! Bonus: Jacob Silver, data and digital investigator with Memetica, is building a bot to guess your Wordle attempts.
https://twitter.com/AJEnglish/status/1479784395900870656
Death Comes at the End
What percentage of the world's population will die of cancer, in an accident, from cardiovascular diseases, suicide, or dementia? According to a study cited by GIJN member Republik, a Swiss reader-funded online site, people usually underestimate how often people die of cardiovascular diseases and dementia, while overestimating the number of deaths from traffic accidents and suicide. The digital magazine looked at the leading causes of death in Switzerland according to different age groups and genders.
https://twitter.com/felixmichel/status/1480428375206420483
China and the Border
Reuters reports that China is constructing six settlements along its disputed 477-kilometer (300-mile) border with Bhutan. This report was based on an analysis of Planet Lab's satellite images and Capella Space's images generated using synthetic aperture radar — known as SAR — technology. According to Reuters, all six settlements appear to be built in territory contested by both countries.
'Partygate' Scandal
UK Prime Minister Boris Johnson and his team have been battling fierce criticism after claims that they hosted staff parties during the pandemic — even as rigorous COVID-19 restrictions were in place across the country. The Guardian put together a timeline tallying the parties alleged to have been held in the PM's residence, No 10 Downing Street, and other government properties, against the UK's rising death toll.
https://twitter.com/PorcelinaD/status/1481993733168107522
A Year of Climate Extremes
The New York Times analyzed temperature data from over 7,800 weather stations across the US and found that more heat records were broken in 2021 than in any year since 1948. The Times also looked at the margins in some of these new records, and found a few had been shattered by double digits. Also, don't miss the Times' beautiful graphics in a chilling piece on melting ice shelves in Antarctica.
https://twitter.com/EnvDefenseFund/status/1483060788835328004
Interactive Projects
Italy-based information designer Federica Fragapane is no stranger to GIJN's Top 10 Data Journalism column. And last week her tweet thread on several interactive projects she produced in collaboration with graphic designer Alex Piacentini and front-end developer Paolo Corti caught the attention of the data journalism community. The thread includes pieces on how Europeans think and feel about migration, Scottish food stories, and how migrants have contributed to the COVID response.
https://twitter.com/fedfragapane/status/1481617550513475590
Land Grab in Karachi
Gutter Baghicha was established as a sewage farm in the 18th century, and later used for cultivation. Comprising 1,016 acres in Karachi, the largest city in Pakistan, this land is technically designated as a public amenity space for parks and playgrounds. However, more than half of the land has now been encroached upon and converted to other uses. Using old maps and documents, The News International created a timeline to show how land grabbers have gobbled up what was once the largest urban green space in Asia.
https://twitter.com/zubairrashraf/status/1483007939917004802
Thanks again to Marc Smith and Harald Meier of Connected Action for gathering the links and graphing them. The Top Ten #ddj list is curated weekly.

---

Eunice Au is GIJN's program manager. Previously, she was a Malaysia correspondent for Singapore's The Straits Times, and a journalist at the New Straits Times. She has also written for The Sun, Malaysian Today, and Madam Chair.
For a look at NodeXL's mapping on #ddj and data journalism on Twitter, check out this map.