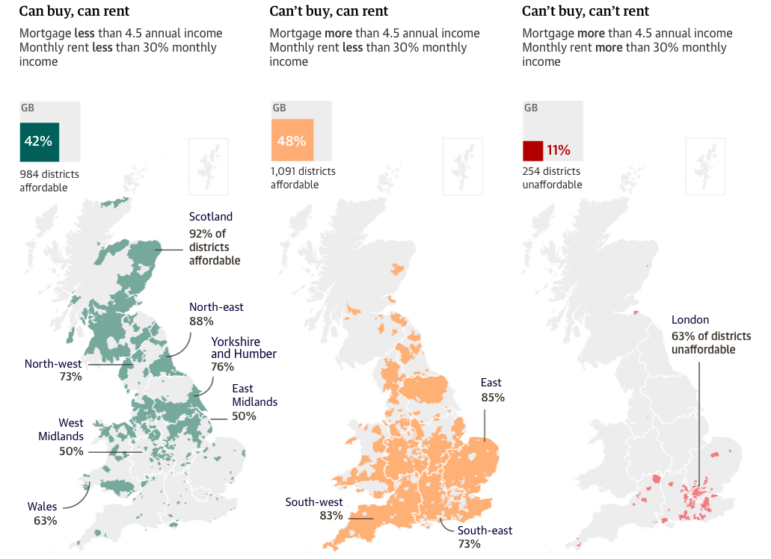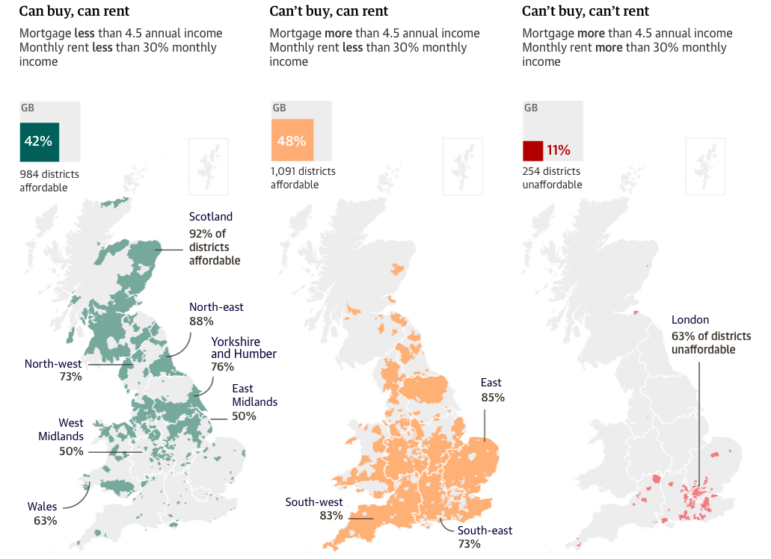 Image: Screenshot, the Guardian
Data Journalism Top 10: UK Housing Affordability, Russian Casualty Count, US Book Bans, and Redefining Poverty
Read this article in
As the war Russia is waging against Ukraine drags on, the Russian army's losses are also accumulating. BBC and Mediazona collected information from various sources in an attempt to factually tabulate the deaths of Russian forces. This week, GIJN also highlights an interactive map showing readers where they can afford to live in the UK, an analysis of books being banned in the US, a ranking calculator to determine the best schools in Portugal, and a visualization of data on the global flow of refugees.
Where Can You Afford to Live in the UK?
The British are said to have a national obsession with home ownership. But with borrowing costs for buyers and monthly fees for renters soaring, the Guardian created an interactive map to show the scale of the affordability problem. According to its analysis, close to half the districts (48%) included in the research are "rental traps" where a family can no longer afford to buy a mid-price property. Using property asking price and rental price figures, and earnings data from the Office for National Statistics, the tool allows readers to input their own financial fundamentals to see where they can (or can't) afford to live.
Counting Russian Casualties in Ukraine
Moscow has "a history of extraordinary secrecy over its wartime losses," according to the reporters behind this collaboration between the BBC and the independent Russian media organization Mediazona. The project has involved counting and verifying the country's military deaths in Ukraine using tips from the Russian public, media reports, and social media posts written by relatives of fallen soldiers. The group also monitored war memorials across the country for new names. So far they have identified 25,000 named individuals – considerably higher than the 6,000 or so Russia concedes — as having died in combat. Analysis of the deaths also reveals how Russian fatalities have changed over time: where at the start of the war those killed fighting were predominantly officers and enlisted soldiers, now more non-professional soldiers including Wagner recruits, prisoners, and conscripted civilians are dying in far greater numbers. Also interesting: Swiss news outlet NZZ tries to estimate Russia's military losses using a mathematical model.
US Banned Books
What does a book by US Supreme Court Justice Sonia Sotomayor and the children's book "Dim Sum for Everyone!" have in common? They're both included on a list of 1,626 titles banned by school districts across America last year. Data scientist Arman Madani used data from PEN America and the American Library Association, plus open source data scraped from publishers, to see what the books had in common. His findings show 45% of banned titles prominently discuss civil rights struggles (like "I am Martin LutherKing, Jr."), almost a quarter are LGBTQ+ focused, while 19% feature books that touch on race and ethnicity, including a book by Maya Angelou, a one-time recipient of the Presidential Medal of Freedom.
DIY Portuguese School Ranking
School league tables are often based on one simple statistic: academic performance. But a team at the Portuguese news site PÚBLICO decided to create a more bespoke ranking allowing readers to find the top schools near them based on their personal wish list. Is your child is more into extra-curricular activities or the arts than pure academia? There's a toggle for that. Ditto if being closer to home is the main priority. Journalists created an algorithm that calculates a list based on "six major school indicators," and data from the Ministry of Education.
Manipulating Poverty Statistics in Russia
In 2020, Russian President Vladimir Putin ordered the country's poverty rate to be halved. But rather than implementing drastic policy changes to address the problem, officials opted instead for "simple statistical manipulation" to cut the rate to record lows, according to this data-led analysis by The Insider, a Russian online publication specializing in investigative journalism, fact-checking, and political analytics. According to The Insider, while official figures suggest that the number living in poverty decreased by 1.7 million in 2022, the number would have increased by 2.3 million over the last two years if the old criteria had been used. The team used data and analysis to establish how the government manipulates poverty statistics and tried to determine the real poverty line in different regions of the country.
Costs of Police Misconduct
How much money from taxpayers are used to settle claims of police misconduct in your city? Mission Local, an independent news site that covers the Mission District in San Francisco, analyzed data from the San Francisco City Attorney's office and records from court documents to find out. It found that the city settled some 1,750 lawsuits to the tune of US$70 million over 13 years, with more than half of the money paid out for improper detention and wrongful death cases. Readers can explore the settlements by date, type of wrongdoing, and department.
Analyzing EU's Border Management
Last week, a boat carrying hundreds of people sank off the coast of Greece with at least 78 deaths and some 500 people still missing. The Greek Coast Guard is facing mounting criticism for not intervening earlier and preventing such a tragedy. In the wake of this disaster, Solomon, a nonprofit journalism outlet in Greece, took a look at the funding allocated by the European Commission to Greece for border management between 2021 and 2027. In a detailed infographic, it highlighted that of the €800 million budget (US$880 million), only €600,000 (US$660,000) is designated for improving search and rescue capacity. The rest of the funds are mostly for the procurement of equipment to strengthen the country's borders, such as drones, vehicles, thermal cameras, helicopters, and automated surveillance systems.
Analyzing Violent Lyrics
Rammstein, a Neue Deutsche Härte (New German Hardness) industrial metal band from Berlin, is making waves on social media and German news as police have opened an investigation into sexual assault allegations against the band's frontman. The accusations have cast the lyrics of the band's music in a new light, particularly those that describe explicit sexual violence against women. German news site Der Spiegel did a sentiment and cluster analysis of the band's 92 tracks from eight records to determine the mood — positive, neutral, and negative — as well as the main topics covered in each individual line of the songs.
Remote Worker Migration
The New York Times' Upshot team analyzed US census migration data and found that people who had remote jobs during the pandemic became significantly more likely to move homes. Another trend journalists spotted: the higher a person's income, the more likely that the person works from home. Also, check out San Francisco Chronicle's analysis on the urban exodus and Reuters' look at the changing landscape of work post-pandemic.
Global Flow of Refugees
According to the UN Refugee Agency (UNHCR), there were 35.3 million refugees worldwide at the end of 2022. More than half of them come from just three countries: Syria, Ukraine, and Afghanistan. Al Jazeera visualized the data on where refugees originate from, the significant incidents that displace people and the volume of refugees over the past eight decades, and the countries where refugees end up settling.
Bonus: Share Your Go-To Dataviz Tools
Data visualization consultant and trainer Andy Kirk is updating his resources catalogue and surveying data visualization folks on Twitter for their current go-to tools. Add your essentials to his tweet thread here.
GIJN's Data Journalism Top 10 list is curated weekly. Send your suggestions to us.

---
Laura Dixon is an associate editor at GIJN and a freelance journalist from the UK. She has reported from Colombia, the US, and Mexico, and her work has been published by The Times, The Washington Post, and The Atlantic. She has received fellowships from the IWMF and the Pulitzer Center.
Eunice Au is GIJN's global team manager based in Budapest, Hungary. Previously, she was a correspondent for Singapore's The Straits Times, and a journalist at Malaysia's New Straits Times. She has also written for The Sun, Malaysian Today, and Madam Chair.