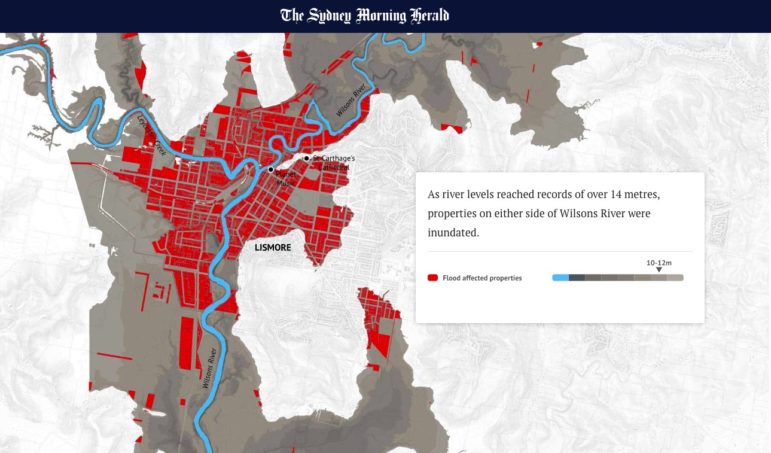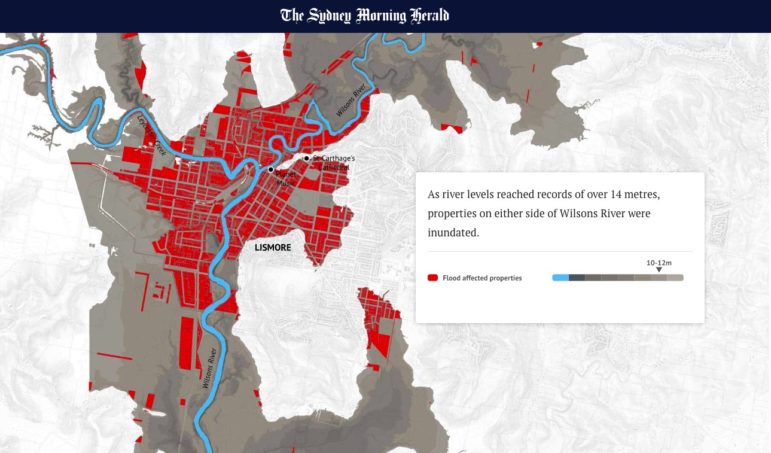 The Sydney Morning Herald and The Age mapped the timeline of historic flooding in Lismore, Australia. Image: Screenshot
Data Journalism Top 10: Russian Propaganda, India's Cyber Mercenaries, Australian Flooding
Read this article in
As the Russian army continues its scorched-earth offensive in eastern Ukraine, the battle for hearts and minds of citizens on both sides of those countries' borders continues. Ukrainian President Volodymyr Zelensky has vowed to retake the city of Lysychansk, recently captured by enemy forces. Meanwhile, a story by investigative news site Proekt illustrates how the military achievements of Russian President Vladimir Putin's forces have been overestimated or falsely portrayed. In this week's edition of the top 10 stories in data journalism, we also feature India's cyber mercenaries, a look at the link between carbon footprints and food choices by the Financial Times, and the main takeaways from the Australian census.
Russian State Propaganda on the War
In the months since Russia's Vladimir Putin launched an attack on Ukraine, state media in Moscow and other cities have served an increasingly skewed version of the war to viewers in the country. Severely limited on what they can report by a law that effectively criminalizes independent war reporting, broadcasters and digital outlets rarely admit any Russian losses on the battlefield or mention atrocities such as the recent massacre in Bucha. In addition, the Russian Ministry of Defense has been reporting on major military victories, which according to Proekt Media, aren't actually backed by data. Proekt's recent investigation digs deep into the rhetoric — and dubious mathematical abilities — of Russia's military leaders.
Rich Belarusians in Dubai
With its spectacular skyscrapers, sandy beaches, and reputation for financial secrecy, Dubai has become an attractive real estate option for well-known Belarusian businesspeople and celebrities. The Belarusian Investigative Center analyzed a large data leak obtained by C4ADS, a US-based nonprofit investigating international crime and conflict, and identified five noteworthy property owners, among them "close associates" of the Belarusian president.
Chronology of a Flood Disaster
In February, the city of Lismore in Australia's state of New South Wales experienced the worst flooding in that country's modern history. However, just days before the disaster, residents' concerns about possible flooding were dismissed by authorities as "premature." The Sydney Morning Herald and The Age created a detailed timeline of what happened and analyzed data to uncover a series of failures that further complicated evacuation efforts.
Europe's Secretive Trade in Syrian Phosphates
Phosphate — a key ingredient in fertilizer  — is often exported from Syria to European countries. The trade has boomed in recent years as sanctioned oligarchs and war profiteers exploit legal loopholes to make a fortune. An investigation by OCCRP, Lighthouse Reports, the Syrian Investigative Reporting for Accountability Journalism (SIRAJ), and other partners explores the network and data behind this murky supply chain, digging into how some of the ships transporting these materials switch off their automatic location transponders — making the illicit trade harder to track.
Ukraine's Stolen Grain
A BBC investigation found growing evidence that Russian forces in Ukraine are "systematically" stealing grain. Speaking to local farmers, and analyzing satellite and shipping data, journalists in a country once seen as the breadbasket of Europe found evidence that much of the stolen grain first goes to Russian-annexed Crimea, and then is shipped to Syria or Turkey (although Turkey's Foreign Ministry claims it has yet to find evidence of Ukrainian grain heading there).
Refuge of Abortion Access
The historic Supreme Court decision ending constitutional protections for abortion has left millions of women in the United States without the ability to end an unwanted or dangerous pregnancy in their home states. The overturning of Roe v. Wade immediately created a sharp contrast between states where abortion clinics are still allowed to operate and those without any providers. A New York Times piece shows how, surrounded by neighbors that immediately banned the procedure, the state of Illinois has become an island of refuge for women seeking an abortion.
Noisy Cities
If you live in a megacity, you may have trouble sleeping. Noise pollution is a major problem in metropolitan areas and has a significant impact on public health by raising stress. An interactive project by a UK-based climate action initiative mapped data on levels of exposure to noise in London, Paris, and New York, to "visualize" how noise looks in three bustling global cities.
Carbon Footprint of Your Foods
What we eat comes at a cost: for our wallets, but also for the environment. It's well-known that meat has the largest carbon footprint, but would you fill your shopping bag with different products if you knew more about the ​​greenhouse gas emissions linked to their production and transport? To find out, try out this calculator from the Financial Times based on data provided by Carbon Cloud, which allows you to evaluate the climate footprint of almonds versus apples, blue cheese versus broccoli.
India's Mercenary Hackers
A special project by Reuters examined thousands of email records revealing how hackers based in India have been used by litigants to win lawsuits and arbitration battles. According to the reporters, these hackers attempted to obtain documents related to courtroom battles in 35 legal cases in the last 10 years. The aim? To give the hackers "access to targets' inboxes and, ultimately, private or attorney-client privileged information." Journalists found 75 US and European companies, three-dozen advocacy and media groups, and numerous Western business executives had been targeted.
Australia as 100 People
Census data is often dense, complicated, and difficult to make sense of, especially when collected by a nation of over 25 million people. To boil it down to its essentials, the Australian Broadcasting Corporation captured the most important takeaways of the country's latest population poll to show what the country would look like if it only had 100 people.
Thanks again to Marc Smith and Harald Meier of Connected Action for gathering the links and graphing them. The Top Ten #ddj list is curated weekly.
---

Peter Georgiev is a producer and editor for the "Panorama" program broadcast on Bulgarian National Television. He was previously GIJN's social media and engagement editor, and part of NBC News' investigative unit in New York. His reporting has been published by the Guardian, Deutsche Welle, and other outlets.
For a look at NodeXL's mapping on #ddj and data journalism on Twitter, check out this map.