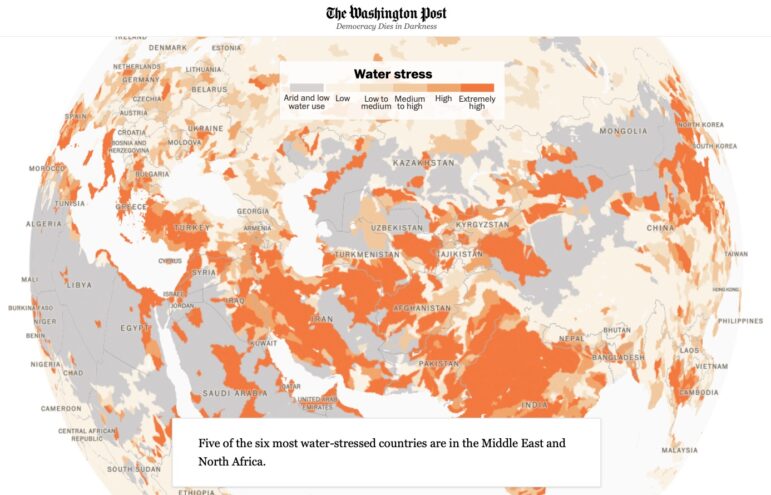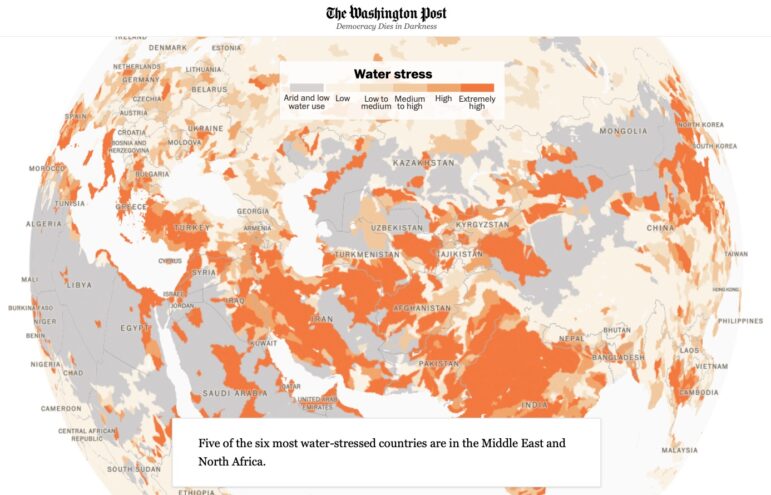 Image: Screenshot, The Washington Post
Data Journalism Top 10: Global Water Stress, Fentanyl Proliferation, Maui Fires
In the late summer 2023, heatwaves, water scarcity, and other climate change issues continue to provide plenty of data for journalists to scrutinize. Along with analyses on the Maui fires and increasing global water insecurity, new outlets looked at beach water temperature in Portugal and the heat-repelling power of awnings in Spain. This week, GIJN also highlights stories on the impressive vocabulary of Francophone rappers, the fentanyl crisis, and what the game of darts can tell us about why athletes keep getting better.
Global Water Stress
Two-fifths of the world's population currently lives in arid and water-stressed regions, and this proportion is rising as climate change disrupts "traditional" precipitation patterns. A team at The Washington Post analyzed newly released data from the World Resources Institute, which used a global hydrological model to project how renewable water sources — such as rivers and lakes — could affect various future scenarios of water scarcity. A striking figure among the data: only half of 1% of the world's water supply is fresh water in liquid form; the rest is saltwater or frozen into glaciers.
Proliferation of Fentanyl
Between 2014 — the first time border guards seized a stash of the synthetic opioid fentanyl on the US-Mexico border — and 2022, 325,000 people in the US died from overdoses of synthetic opioids, almost all of which was fentanyl. Reuters obtained and analyzed 10 years of US Customs and Border Protection (CBP) data on drug seizures and, supplemented with extensive reporting and interviews, produced a striking package of visualizations and facts that illustrate the scale of the problem — and how fentanyl is reshaping drug trafficking and the law enforcement efforts to curb it.
Does Rich Still Feel Rich?
A "once-in-a-lifetime reckoning" in how people in the US think about work-life balance, along with skyrocketing prices, have even millionaires and others in the top 10% of tax filers reporting that they worry about money, with some even saying they feel poor. Both developments have spurred Americans across the income spectrum — especially those with remote-work careers not tied to a physical office or location — to consider moving away from high-cost cities. With census data and responses to a nationwide survey on wealthy Americans, Bloomberg developed a comparison tool that enables readers to see how far their current salary would go in other cities and states.
Devastating Maui Fires
Many publications produced data and visual reporting on the devastating fires in Maui — the deadliest in the US in 100 years — that destroyed the Hawaiian town of Lahaina. But the Los Angeles Times' comprehensive and visually striking story stood out for its photography, visual timeline, explanation of weather patterns, and use of satellite images to tell the story.
Rappers' Delight, Joy, Glee, Pleasure
Swiss daily Le Temps analyzed thousands of Francophone rap songs to find out which rapper has the richest vocabulary. To discover the master wordsmith, Le Temps compared the number of unique words used by 50 artists, male and female (while admitting that, as a Swiss publication, this was a "totally subjective pantheon" dominated by Swiss Francophone artists). The winner, with 7,006 unique words, is Madagascar-born French rapper Rohff; the more globally familiar MC Solaar comes in 16th with 4,931. Looking at patterns over time, they also analyzed whether the new generation of rappers have sacrificed words for rhythm.
Why Athletes Keep Improving
The folks at The New York Times' Upshot investigated why top athletes across many sports seem to improve with each generation, continually beating their predecessors' records or feats. The team looked painstakingly at darts, basketball, and bowling scoring data to demonstrate how players have inched ever closer to perfection over the years — and why. It can come down to technology, increased participation, improvements in equipment, changes to dartboards or rules — but in some sports, such as bowling, perfection has become harder to attain.
Portugal Beach Temperatures
Using geographic coordinates of all of Portugal's beaches and surface temperature data from the Copernicus Marine Environment Monitoring Service, Lisbon-based daily newspaper Público built an interactive feature that enables readers to check water temperatures at beaches around the country — and to find out if the water is getting hotter. To find out whether hourly temperatures at a given beach were within "normal" range, Público calculated the mean and standard deviation of water temperatures for a given beach for all days of the year between 1993 and 2021. Also from Público, this story explains why the Portuguese coast is not getting as hot as the rest of the Atlantic north.
Cooling Spanish Streets with Awnings
Córdoba is among the hottest cities in Spain. Spanish-language daily El País looked at studies that researched the difference in surface temperatures between streets with awnings and those without. The time-lapse thermographic data found in one study shows that installing awnings can help reduce temperatures on pavements up to 14°C (25°F), and 6°C (11°F) on building facades.
Strategy for Penalty Kicks
A recent quarterfinal match between Australia and France saw the longest penalty shootout — 20 attempts in total — in the history of the FIFA Women's World Cup. The Guardian took a look at existing research on men's football to find out the strategies that could contribute to a successful penalty kick. Some factors that were considered in these studies: the run-up, power versus placement, shot position, and goalkeeper behavior.
Robberies and Auto Thefts in São Paulo
Brazilian news portal g1, in partnership with televsion news program Fantástico, analyzed robberies and vehicle theft data obtained from São Paulo's Secretariat of Public Security. Journalists found that the Metropolitan Region of the state had more than 46,000 cases in the first half of this year, out of 65,000 cases in the whole state. It also discovered that the city of Santo André has, by far, the most crimes while Pirapora do Bom Jesus and Salesópolis recorded the fewest cases.
Bonus: Mapping Budapest
This year marks Budapest's 150th birthday — at least in its present form, with 150 years passing since the unification of the Hungarian capital's three historic sections: Buda, Pest, and Óbuda. To commemorate this milestone, using mainly open source and publicly available data and MapBox, Hungarian data outlet Atlo created a suite of 51 maps of the city — visualizing a large range of physical features as well as human activity, from drought, canopy cover, and radiation to gender balance, protests, and surveillance cameras.
GIJN's Data Journalism Top 10 list is curated weekly. Send your suggestions to us.

---

Alexa van Sickle is an associate editor at GIJN. She was previously a senior editor for the foreign correspondence magazine Roads and Kingdoms. She has also been an editor at the International Institute for Strategic Studies and a publisher at an international law nonprofit in London. She is based in Vienna.
Eunice Au is GIJN's global team manager based in Budapest, Hungary. Previously, she was a Malaysia correspondent for Singapore's The Straits Times, and a journalist at Malaysia's New Straits Times. She has also written for The Sun, Malaysian Today, and Madam Chair.