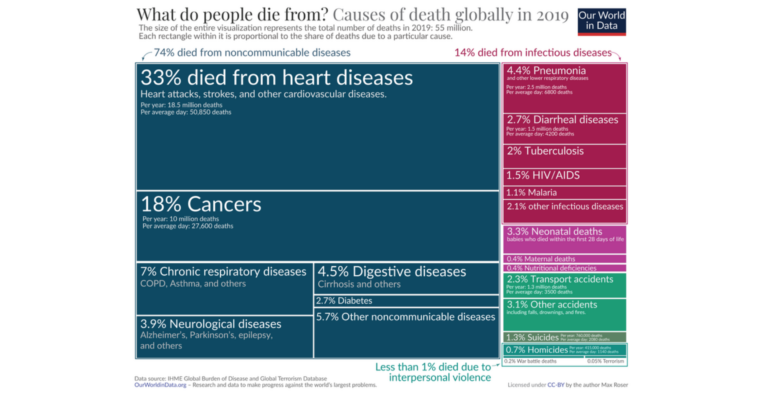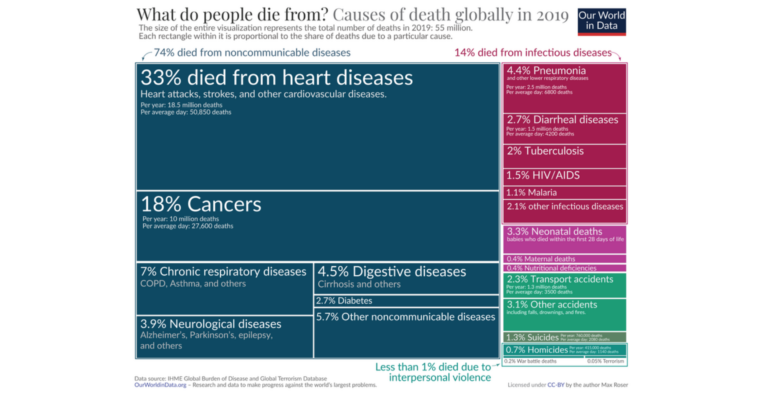 Our World in Data examined global causes of death to better understand worldwide health outcomes. Image: Screenshot, Our World in Data
Data Journalism Top 10: Global Causes of Death, Forced Disappearances in Mexico, German Citizenship Trends, and the Best Pizza in US
Renewed attention to the Native American boarding school system — hundreds that sprang up in the 19th century as part of assimilation policies — has yielded new data and archival evidence about the network and the abuse of children, which underpinned a comprehensive article on the issue by The New York Times. This edition of our Data Journalism Top 10 — spanning August 28 to September 10 — also includes a data analysis of the leading causes of death globally, a search algorithm based on more than 1,500 murders or forced disappearances allegedly at the hands of security forces in Mexico, and hundreds of cases of diplomats abusing domestic workers in the Philippines.
Mapping Native American Boarding Schools
The New York Times published an in-depth article on the traumatic — sometimes deadly — experiences of Native American children forcibly removed from their homes and sent to hundreds of boarding schools across the US, a practice that began in the early 19th century in the name of assimilation. Renewed attention to the system and a "new accounting" of its extent revealed that at least 523 institutions were part of this network, with at least 408 receiving federal funding. Central to the piece is an interactive map of boarding school locations and their proliferation over 150 years — using data from the National Native American Boarding School Healing Coalition and the Bureau of Indian Affairs's Federal Indian Boarding School Initiative Investigative Report.
Global Causes of Death
A team at Our World in Data dug into global databases on disease, terrorism, and more to determine leading causes of death and trends over time. Annual death rates have declined across all age groups, but surged during World War II and the AIDS epidemic. The fact that non-communicable diseases such as heart disease and cancer are the leading cause — taken together, responsible for one in two deaths — is, in a way, good news, because it means we are living longer; and violence, fortunately, is a relatively rare cause of death. The relevant importance of different causes of death can help us focus on the most preventable ones — for example by combating diarrheal disease, a far bigger killer worldwide than violence or terrorism. See this tweet thread by researcher Saloni Dattani, who worked on the charts, for more on what we can do with this data.
Forced Disappearances and Assassinations
From Animal Político, Data Cívica, and partner newsrooms across Mexico, comes this data-led investigation into assassinations and forced disappearances believed to have been committed by state or federal security forces. The project focuses on civilians and specifically "men and women with no links to organized crime," with young people, women, and protesters in the collection of more than 1,500 victims. They used an automated search algorithm to collect data from newspaper articles — which were then manually verified — together with human rights reports and case files, data from missing people's organizations, and interviews with victims' relatives. See the database here.
Diplomatic Impunity 
Diplomatic immunity has protected many diplomats who mistreat and abuse domestic workers from prosecution; their home countries are often complicit in their impunity, and data isn't easy to find. But the Philippine investigative site Rappler built a sprawling database, with incidents ranging from 1988 to 2021, by gathering public records, open data sources, court records, news reports, legal journals, and NGO case files, as well as exclusive interviews with survivors, lawyers, and labor rights activists. The findings: 208 migrant domestic workers in at least 18 countries have filed hundreds of complaints and cases against 160 diplomats.
Top Slice
It's a perennial question: where to get the best pizza? But if you live in the United States, the data team at the Washington Post has your back. It used 7.5 million reviews on the consumer directory site Yelp to come up with a formula for assessing the offerings at 80,000 small-chain and independent pizzerias. They also dug into regional specialities (from the crunchy, slightly charred crusts of New Haven to the colorful, creative pizzas of California), and got the views of experts, too. On the data side, they ranked outlets using "a simple formula that accounted for rating (most important), number of reviews (important) and how often reviews mentioned [a] particular pizza style (less important)." We also loved this story from the Washington Post, which dives into data from various sources to map how swimmers have tackled the "Triple Crown" of open water swimming, which includes the English Channel crossing (dubbed "the "Everest" of open water swimming), circumnavigating Manhattan, and California's Catalina Channel crossing.
Rare Earth Mining in Malaysia 
Malaysia wants to mine its untapped rare earth minerals — used in smartphones and televisions and needed for electric vehicles and wind turbines — to meet the global demand for green energy. But can it do so cleanly, wonders this comprehensive data and visual piece by Macaranga, a Malaysian environmental journalism site. In presenting detailed interactive maps and geoscientific, commodities, and minerals data, the site also illuminates the global context — the challenges of increased demand, concern over supply and prices, China's (70%) dominance in production, and the environmental risks of extracting rare earth elements.
Housing, Two Ways
With Australian housing costs at record highs, ABC's Story Lab took a closer look at the housing crisis — examining the rising proportion of housing costs amidst rising interest rates to determine the level of financial stress Australians are experiencing. Similarly, Nathan Yau at Flowing Data, gathered state-by-state data from the US on renting versus owning housing rates, cash versus mortgage purchases, and numbers of bedrooms, breaking down national, regional, and state-wide trends.
Spain, in Flames
Last year more than half of Spain experienced a "very extreme" forest fire risk, according to a data project from the Spanish outlet Civio. The team analyzed 19 million data points on forest fires from Copernicus and the European Forest Fire Information System — data which take into account variables including temperature, wind, humidity, and rainfall. They visualized the change from the early 1970's to create a map that shows how the risk has spread through the Spanish landmass over time, and allow readers to dive deep into local data. Check the detailed methodology here.
Rugby World Cup Team Profiles
For the 2023 Rugby World Cup in France, Le Monde created heptagonal spider maps of the 20 competing teams based on seven individual and collective markers. They collected data on international team records and 660 players to create a pattern visualizing areas of strength or weakness, such as attack, defense, and average player age. Rugby's most successful men's side, the New Zealand All Blacks, score well on all fronts, creating a more complete shape; the profiles of Uruguay and Georgia, on the hand, end up looking more incomplete and irregular.
New Germans, New Trends 
In Berlin province, 75,000 people have gained German citizenship over the last decade. Data journalist Christian Schlippes of the daily Berliner Morgenpost broke down countries of origin, the time it took to achieve the status, and age, producing an endlessly engaging visualization that illuminates a decade of wider events at a glance. After years of new citizenships led by former Turkish nationals, in 2019 UK citizens rose from a negligible position to briefly occupy first place as Brexit changed the game for the British in the EU. Since 2022, the largest group of new Germans are of Syrian origin, as those who arrived during the refugee crisis of 2015 have started to become eligible for citizenship.
---

Alexa van Sickle is an associate editor at GIJN. She was previously a senior editor for the foreign correspondence magazine Roads and Kingdoms. She has also been an editor at the International Institute for Strategic Studies and a publisher at an international law non-profit in London. She lives in Vienna, Austria.

Laura Dixon is an associate editor at GIJN and a freelance journalist from the UK. She has reported from Colombia, the US, and Mexico, and her work has been published by The Times, The Washington Post, and The Atlantic. She has received fellowships from the IWMF and the Pulitzer Center.