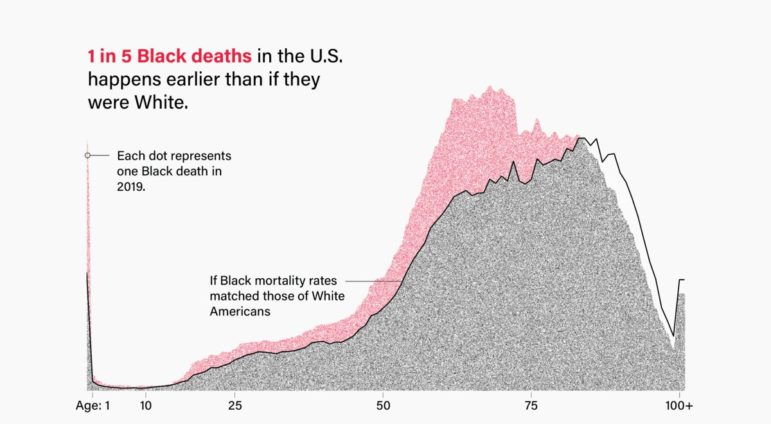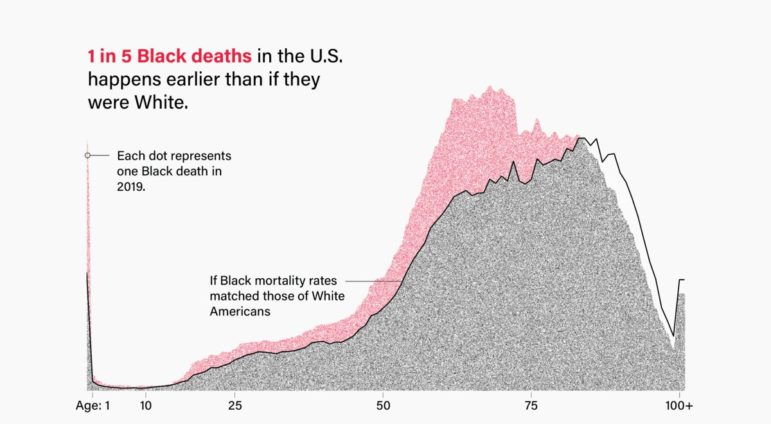 Data Journalism Top 10: Bitcoin Mining, Ida's Torrential Rains, and the Pandemic's True Death Toll
Read this article in
After months of deadly fighting, more than half a million people have been displaced by the conflict in Afghanistan, and there are warnings of an impending humanitarian crisis now that the Taliban have taken control of the country. Tracking the most popular data journalism stories on Twitter from August 30 to September 5, using NodeXL mapping and our own human curation, we found a series of infographics by Al Jazeera illustrating the scale of the looming crisis. In this edition, we also feature a New York Times investigation into Bitcoin's energy use, an examination of the US Black mortality gap by The Marshall Project, and a look by The Times (UK) at the varying success of actors who have played James Bond.
The Pandemic's True Death Toll
For almost two years, governments, NGOs, and news outlets have tracked the number of deaths due to COVID-19 around the world. The official death count just surpassed 4.6 million. However, The Economist devised a different model to calculate excess deaths during the pandemic, and its figures show the true toll could be between two and four times higher. That would mean that the pandemic may have actually claimed 9.3 to 18.1 million lives.
Bitcoin Mining
A decade ago, cryptocurrencies were not so complicated, nor so energy-hungry. People mining for Bitcoin — a digital currency created and exchanged independent of banks or governments — required a relatively simple computer setup, which many users had in their homes. Now, these miners (who lend their computing power to verify other users' transactions, so that the same bitcoin isn't spent twice) are building enormous farms filled with expensive, specialized machines. The mining process consumes an astonishing amount of electricity and generates more hazardous electronic waste than many midsize countries. To illustrate the scale of this growth industry, The New York Times analyzed historical data on Bitcoin and published this interactive project.
https://twitter.com/nytimes/status/1433893143896854577
The Black Mortality Gap
Black Americans die at higher rates than White Americans at nearly every age, according to an investigation by The Marshall Project, a nonprofit covering criminal justice matters. After analyzing mortality data, the outlet found that 1 in 5 African-American deaths happens earlier than if they were white. The racial disparity is highest for Black infants, who are more than twice as likely as White babies to die before the age of one.
https://twitter.com/MarshallProj/status/1434478057008640002
Torrential Rains
Flash floods triggered by Hurricane Ida caused chaos in the New York area and other US cities last week. Record-breaking rain submerged streets and swept away cars. Maps created by Reuters show how Ida spread north after first hitting the southern state of Louisiana. The outlet also used government weather data to compare the hourly rainfall in Central Park with similar events in the past.
https://twitter.com/ReutersGraphics/status/1433567276620521474
Humanitarian Crisis in Afghanistan
Although the Taliban captured Afghanistan's capital Kabul in August, the fight to take control of the country has been playing out for months, displacing over half a million people internally and prompting tens of thousands more to leave the country. In a series of infographics, Al Jazeera also highlights that 14 million people are facing food insecurity in the country, according to data from the World Food Programme. The charts capture the extent of the humanitarian crisis, which is likely to have a global impact.
Miami Condo Collapse
On June 24, a residential building in South Florida collapsed killing 98 people. The catastrophic accident prompted many questions about potential flaws in the design and construction of the building. Using a process called photogrammetry, The New York Times created a 3D model of the tower based on the original design drawings, reviewed documents, and interviewed experts to examine what may have gone wrong.
https://twitter.com/nytimes/status/1433454951905337345
Brazil's Military Schools
In Brazil, military colleges are among some of the best ranking public schools, and are financed with resources from the state budget. But an investigation by the news outlet Metrópoles, based on a freedom of information request, found that only 1 in 4 students enters these institutions by taking a public examination. The vast majority of places, it turns out, are reserved for relatives of military personnel. One expert told Metrópoles the system gave those with military connections "an absurd privilege."
https://twitter.com/LucasMarchesini/status/1434134065322598403
'No Time To Die'
Will Daniel Craig become the most lucrative James Bond actor this year? After being postponed several times, "No Time to Die," the next installment in the world-famous Bond series, premieres in many countries this September. For Craig, this will be his last time playing the role of the legendary British secret agent. The Times analyzed data on every Bond film so far and compared the successes of the actors who have played world's most famous spy.
Playing Spades
The card game Spades is played around the world. But it has a long history in the US African-American community, where it's been passed down from generation to generation. To explore the central role of Spades in Black culture, The Pudding published an ethnographic research project based on their own survey. The result is a remarkable data-rich visual essay designed in the spirit of the game.
Investigating Conspiracies
The rise of misinformation online has been a major challenge during the pandemic. News reports often focus on fake news spread on social media platforms such as Facebook and Twitter, but Amazon has a similar problem. An analysis by POLITICO, BuzzFeed News, and other outlets found that the platform has promoted conspiracy books that question scientific evidence about the pandemic. DataJournalism.com examined the various approaches and data used by reporters to investigate Amazon's troubling content.
Thanks again to Marc Smith and Harald Meier of Connected Action for gathering the links and graphing them. The Top Ten #ddj list is curated weekly.

---

Peter Georgiev is GIJN's social media and engagement editor. Previously, he was part of NBC News' investigative unit in New York. He also worked as a correspondent for Bulgarian National Television and his reporting has been published by the Guardian, Deutsche Welle, and other international outlets.
For a look at NodeXL's mapping on #ddj and data journalism on Twitter, check out this map.