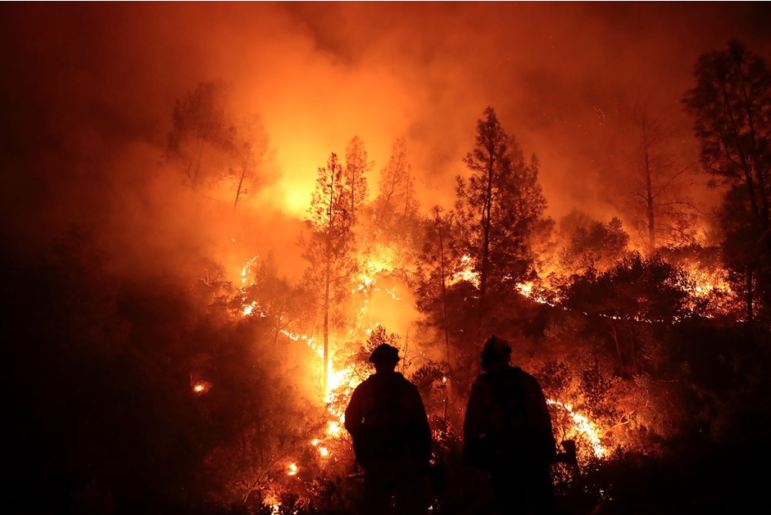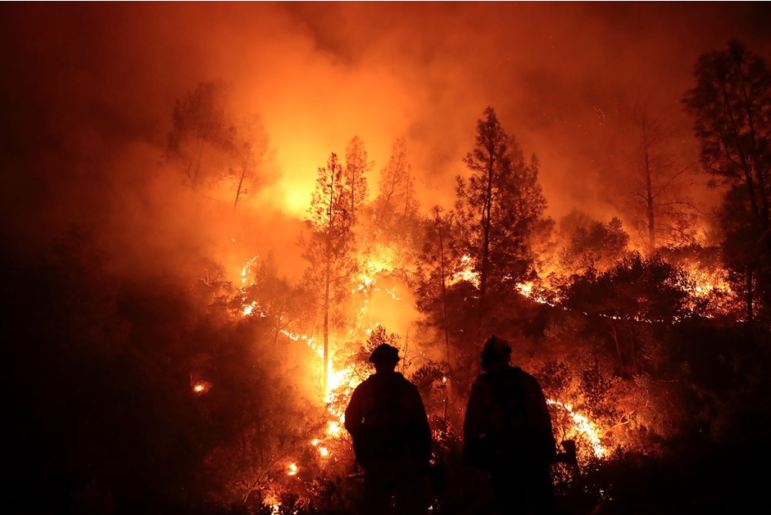 8 Ways Journalists Visualized California's Out-of-Control Wildfires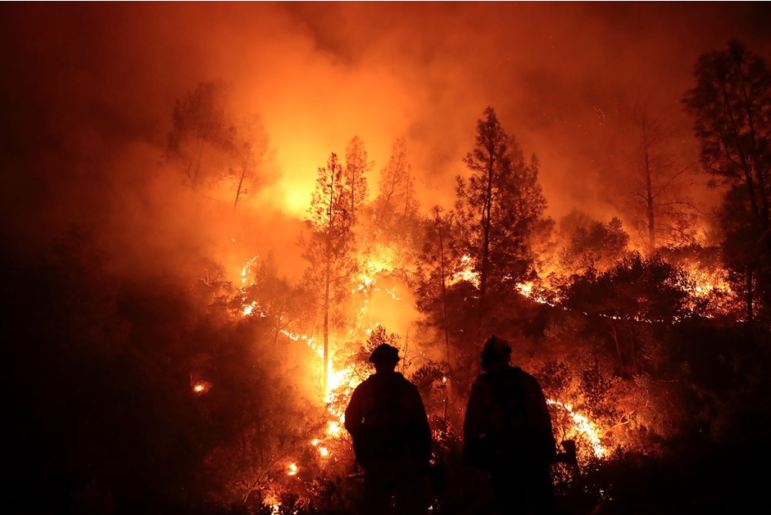 California officials and firefighters are becoming increasingly concerned that the drier, windier conditions spurred on by the warming climate will make wildfires more devastating and their seasons longer. The wildfire season in California this year has been among the worst ever, led by the largest blaze in state history, the Mendocino Complex Fire, which burned up nearly 500 square miles.
Despite dramatic scenes playing out on the news, it's not clear that enough people are paying attention to the root causes and consequences of these unprecedented wildfires.  Storybench rounded up eight ways US journalists are chronicling this year's fires.
A Closer Look at Wildfire Investigation Units – Wired
Wired's "Whodunit" piece takes a deep dive into the world of fire investigation and follows one of the country's most renowned fire experts, Paul Steensland, as he explains his methodology for finding the ground-zero of each complex. The article, written by Robbie Gonzalez, draws particular attention to the seemingly innocuous items that can lead to a large conflagration – a small match head or even a piece of scrap metal are cited as the most common igniters.
From flagging the burn zone to combing through acres of charred soil with powerful metal detectors, magnifying glasses and evidence collection kits, this is sleuthing of Biblical proportions. Like an episode of "How to Catch a Serial Killer," we learn not only of the tools utilized but of the anatomy of a wildfire. For example, readers can learn about the apex of a fire, its flanks and which of the two burns the fastest – perhaps something that could save the lives of those who must evade future paths of destruction. Other indicators within a fire's wake, like the desiccated leaves of treetops, often point in the direction of this elemental assailant.
Time-lapse of NOAA's Satellite Imagery Showing the Accumulation of Atmospheric Smoke – The Washington Post
This Washington Post time-lapse of smoke billowing across the US is incredibly fascinating and incredibly sobering. Scale is everything during coverage of wildfires, but seldom do we get to see satellite data of a smoke trail, comparable in scale to that of a hurricane, expanding across the country and over seas. The maps provided by NOAA show patches of red, which indicate active fire complexes, while the varying shades of browns and beige show us the concentrations of smoke being produced. Presenting the data in this manner makes the western US wildfires feel less like distant problems and more like imminent dangers on a national level.
Photojournalism on the Ground in Northern California – The New York Times
The New York Times brings us photojournalism from California that is both heart-wrenching and surreal. It's impossible to call such work antiquated when photos like these continue to offer us a sense of the fire's severity. In these apocalyptic-looking shots from areas like Santa Barbara and Santa Rosa, we get a true sense of how bleak the quality of life in the arid hills of Northern California is becoming. From sightings of fire tornados to thick hypoxic air and devilishly red skies, this is truly is hell on Earth for many of the state's residents.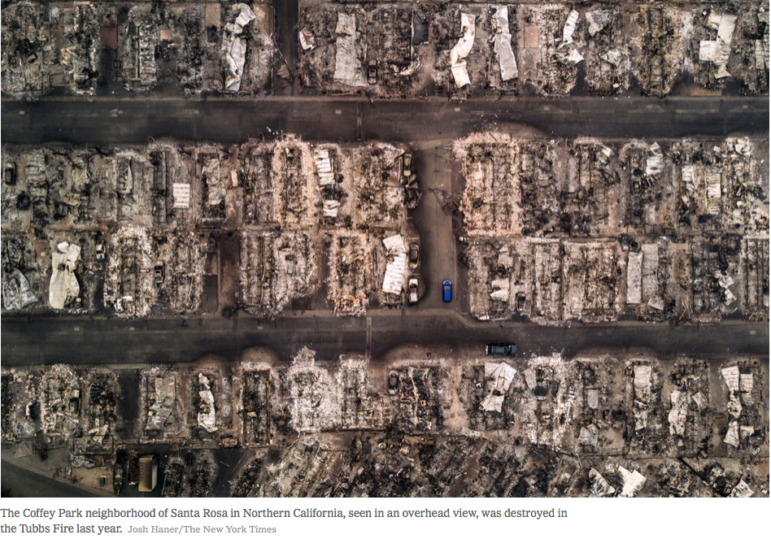 Timely Review of Drone Application as Firefighting Technology – CNET
CNET's recent piece on drones offers us a glimpse at the prospect of quicker response times for firefighters, who have to become more omnipresent with the rise in wildfire frequency across the state. This is wildly beneficial for a number of reasons. Namely, it reduces the need for manned aircraft, which is often costly for the state and dangerous for the response teams. Equally as important, drones at a bird's eye view can be programmed to monitor conditions that are essential to know for disaster management. For example, drones registering wind direction and intensity can help firefighters determine a system's future course, then issue necessary warnings to vulnerable communities (along with valuable infrastructure and energy buildings) even sooner. This may allow first responders to prioritize quadrants of the complex to quell first. All-in-all, technology may be keeping pace with some of these climatic repercussions. EdgyBees, which specializes in AR for cars and drones, is even piloting software that will allow drones to relay valuable orientation information to users.
Chart Correlating Population Growth in California with the Increase in Wildfires – Buzzfeed News
What's becoming increasingly clear: more urbanization means less natural burn area. For the average Joe, moving to California is a dream come true, but one needs to consider the repercussions of reduced forestation. Without natural burn areas, houses take on the role of tinder in the path of advancing wildfires. What's more, more residents bring with them an obvious consequence: more ways to start a fire. Buzzfeed News's Peter Aldhous created several charts to illustrate this correlation. What becomes clear from seeing these figures is an undeniable cycle: humans incite climate change to accelerate with greenhouse gases, leading to drier climates; more humans create more fire hazards that catalyze conflagrations. It's simple math, with profound consequences.

NASA's Latest Atmospheric Map from the Earth Observatory Shows How Fires are a Global Issue – CNBC & Fortune
It's hard not to think globally when seeing NASA's latest take on the western US wildfires from the organization's Earth Observatory. This map represents a myriad of aerosols traveling through the air, but pays particular attention to ash, smoke and dust – the red around California is black carbon. CNBC's breakdown of the NASA's recent posts includes it's disclaimer, reminding us that the data illustrated is predicated on mathematical models and predicted real-world weather conditions. One thing's for sure, the effects felt from from the California wildfire smoke will not discriminate based on country; the fires now will have global effects.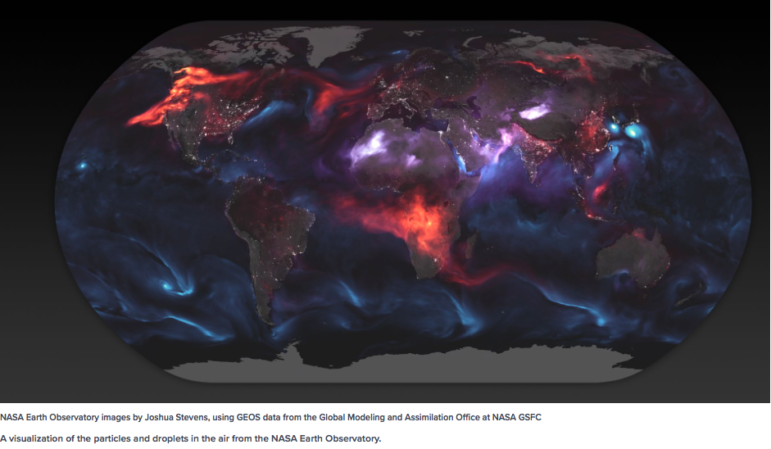 Video Analyzing Infrastructure's Relationship with Fire Frequency – The Verge 
Fire frequency in California isn't entirely caused by human objects and climate change. The Verge recently released a short entitled: "Why Wildfire Season Never Stops," which investigates the barriers, or lack thereof, that allow wildfires to rage with less and less hope of containment. Power lines, for example, are too often the culprit during heavy winds. With California's drier weather, knocking one power line over is as sure a start to a wildfire as flicking a standing match stick into a tinderbox. With regards to urbanization, Verge correspondents Rachel Becker and William Poor note that homes are "often bought and sold in fire-prone areas" (more than 40 percent of homes in California). Suffice it to say, where we build and how densely we build can affect fire duration and travel time. However, this can also include man-made buffers like golf-courses and football fields, which boast little to burn. But this isn't SimCity. Such changes will require quick and serious municipal decision-making, much of which don't have time for.
Video Through Other Major Wildfire Origins of California — Vox
Vox put together a crack team to create a short video that focuses on the connections between urban sprawl and fire. Their use of map overlay (1:24-1:42) between residents and that of areas most prone to fire even further elucidates this relationship, showing that the chief catalysts for fire's like Mendocino or the Carr complex are largely household items — in the case of Carr, a spark from a tire rim.
---
This post first appeared on the Storybench website and is reproduced here with permission.

Daniel Hentz is a graduate research assistant at Northeastern University's School of Journalism and contributes to Storybench. He has a master's degree in journalism and bachelors degrees in global studies and ecology and evolutionary biology.