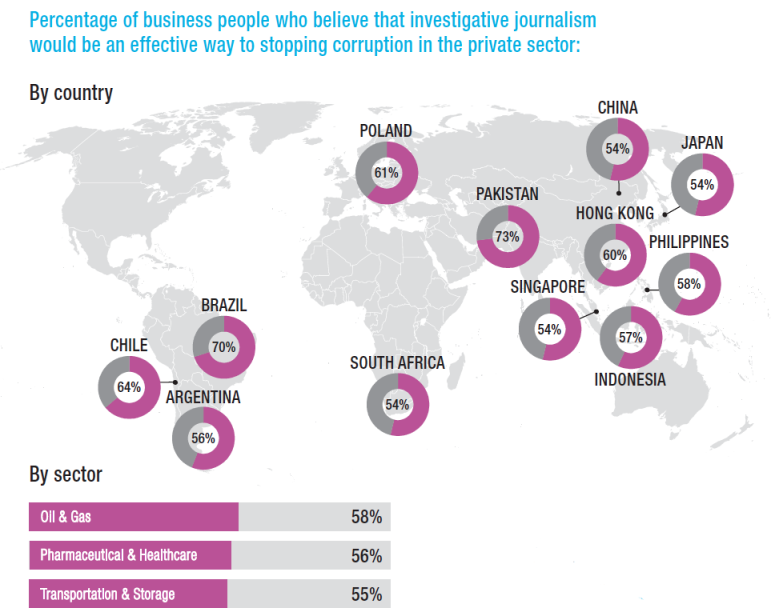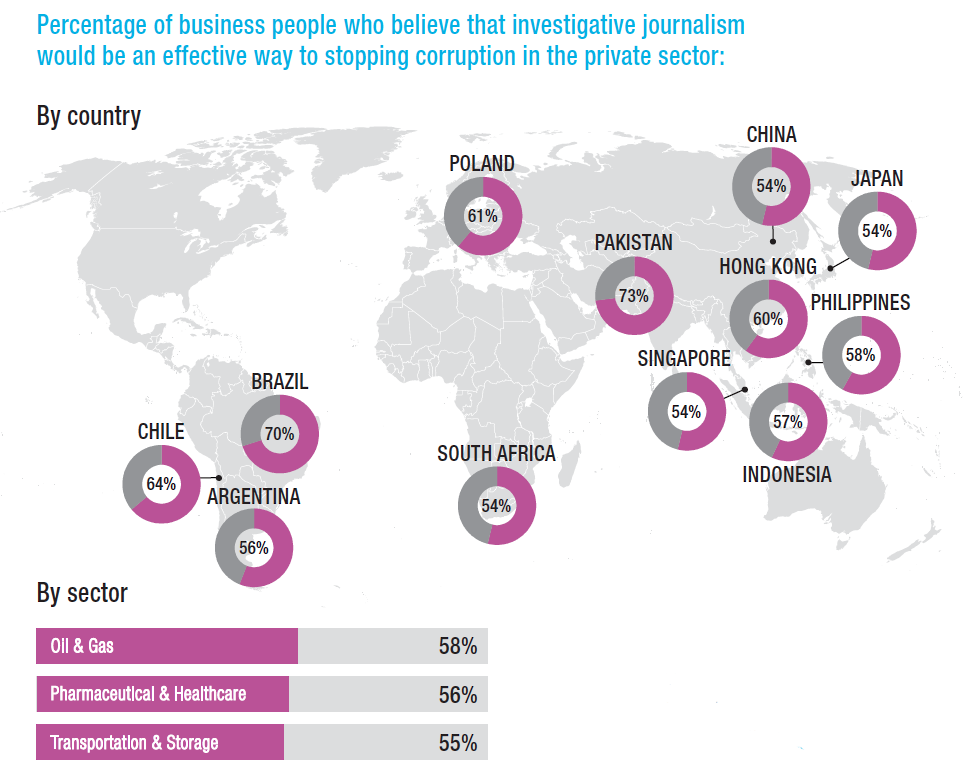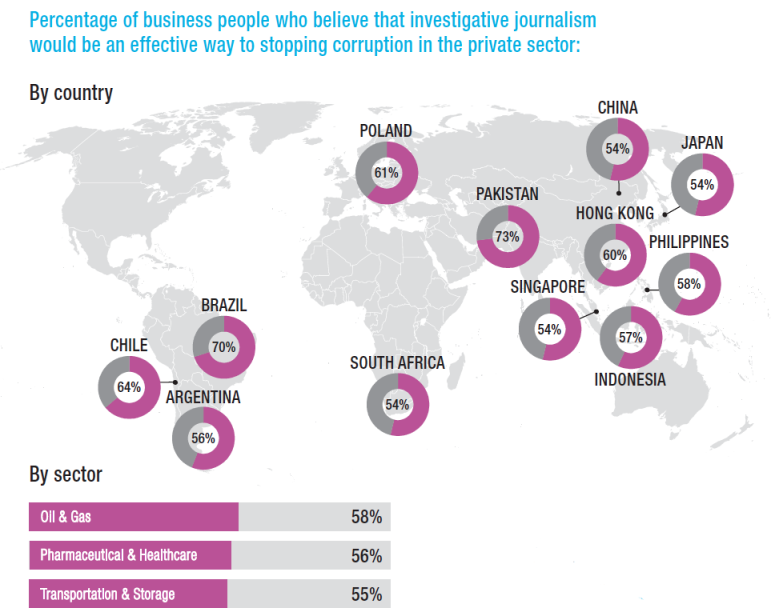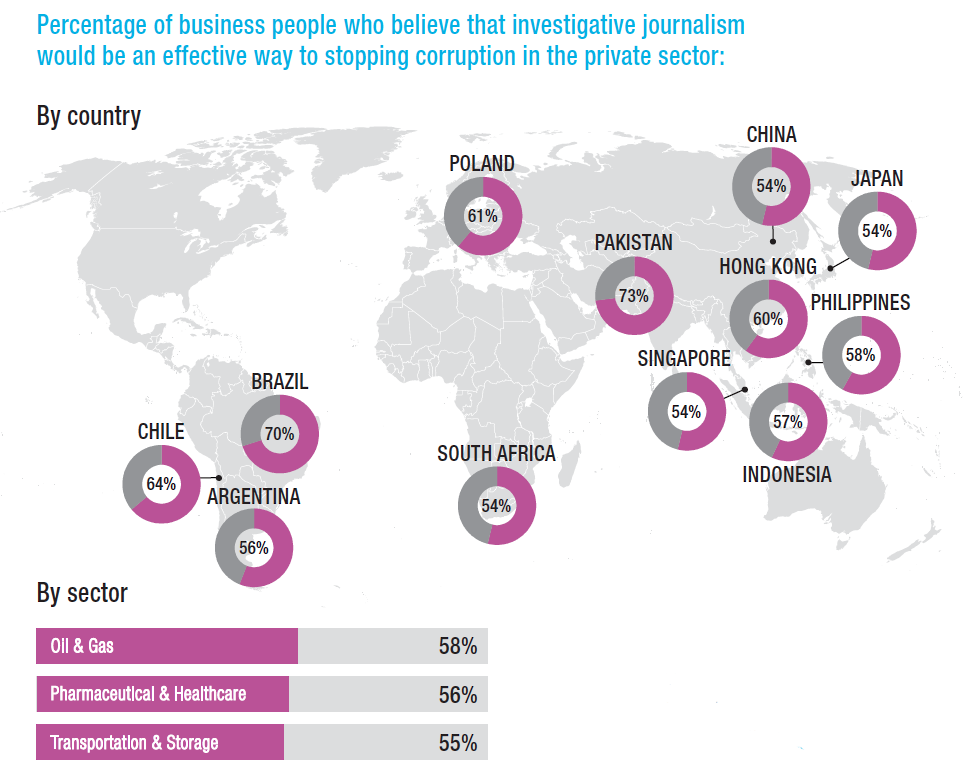 Business People: Investigative Journalism Best Against Corruption
In a never-ending fight for resources – with editors, owners, donors, and developers – we investigative journalists need to make our case more effectively than ever before. Despite knowing that what we do makes a difference, we often don't marshal the data and arguments that show why investigative reporting is worth the investment. Sometimes a direct impact is hard to see: corrupt institutions and abuses of power are hard to change with one story, and investigating powerful interests can be time-consuming, legally risky, and expensive.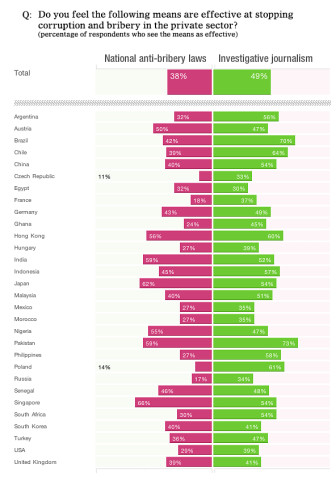 But increasingly the evidence is out there, and we at GIJN are working to showcase it around the world – making a global case that more resources, and more reporters, are needed for quality journalism that digs into systematic problems.
Here's one example:
Back in October, Transparency International, the anti-corruption NGO, released the results of an extensive survey of business people in 30 countries on the best tools to fight corrupt practices.  The survey got little attention at the time – but it deserves much more.
TI's survey, Putting Corruption out of Business, gathered responses from 3,000 business people across 13 sectors that included real estate, banking, forestry and mining.  The survey asked them to rank the effectiveness of six measures, from corporate due diligence to national anti-bribery laws to international treaties. What do you think came up on top, in country after country?
Investigative journalism.
Business people in 20 of the 30 countries surveyed chose investigative journalism as the most effective tool at fighting corruption. In 27 countries it was ranked higher than international agreements, and in 24 countries higher than national anti-bribery laws.
Among the countries ranking it highest: Brazil, Chile, Poland, the Philippines, and Indonesia. In Brazil, 70 percent of the respondents called investigative journalism the most effective tool against private sector corruption. This sentiment was evenly spread, too, among different industries: oil and gas (58%), pharmaceutical and healthcare (56%), and transportation and storage (54%).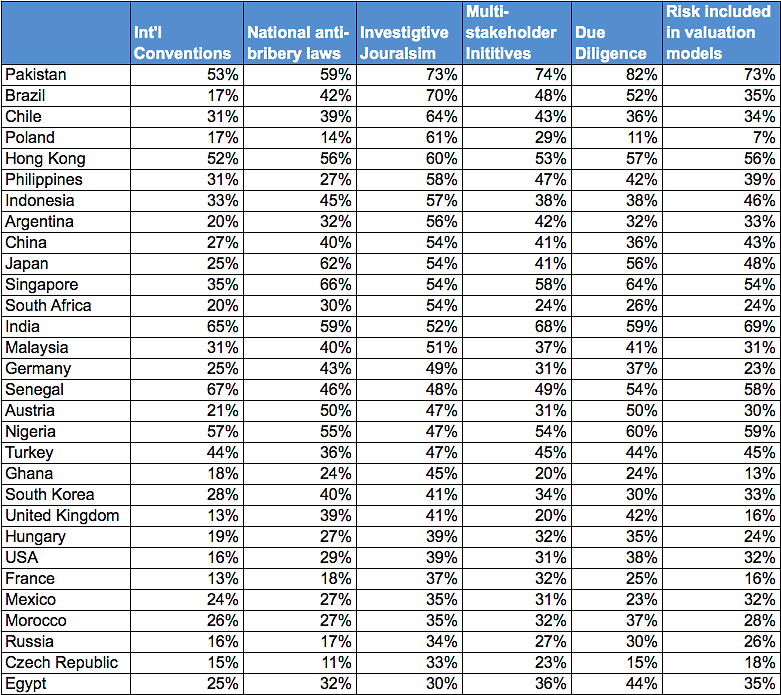 Those responding from Egypt, the Czech Republic and Russia had the least faith in the influence of the press. But even in the Czech Republic and Russia investigative reporting was rated as the most powerful measure to control corruption.
"It is clear that journalists are critical players in the anti-corruption fight," wrote Deborah Hardoon, Senior Research Coordinator at TI. At the same time, Hardoon noted that a watchdog press is just one key ingredient. "To stop corruption, investigative journalists must be able to work in an environment where whistleblowers are protected… where citizens reading the news do not tolerate corruption and demand better from their society and their leaders (and) where anti-corruption legislation is adequate and effectively enforced."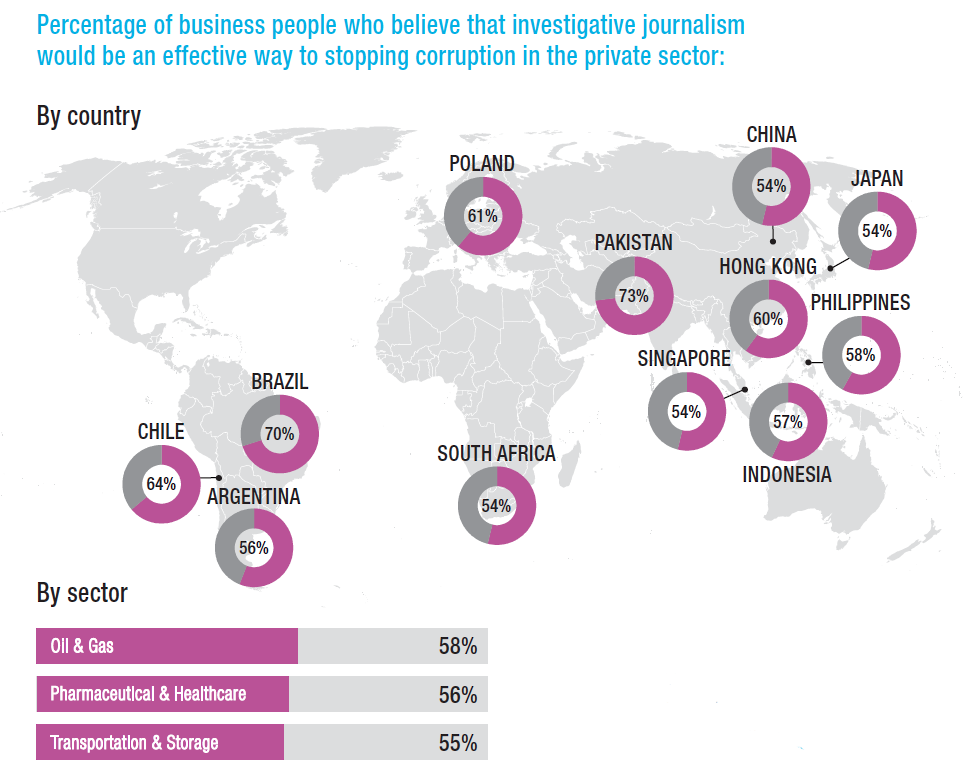 The survey was conducted from May-July 2011 and asked business people to rank six external measures on a scale of ineffective to effective in terms of preventing corruption:
International conventions on bribery and corruption
National anti-bribery laws
Investigative journalism
Multi-stakeholder initiatives involving business, government, and civil society
Due diligence, for example by business partners, governments and banks
Inclusion of corruption risks in investors' valuation models
So, what is it that the global business community knows that our own editors and media owners too often don't? That even when it's hard to see, investigative journalism is making a difference out there – and in many of the toughest places on Earth. That impact may not always be easy to translate into advertising dollars and web traffic, but as we search for new models, it's worth remembering that our work – done professionally and in the public interest – ranks among the most valuable contributions to a just and accountable society.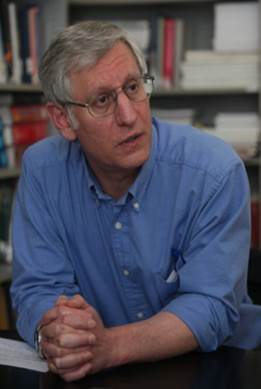 David E. Kaplan is director of the Global Investigative Journalism Network's secretariat. He is former director of the International Consortium of Investigative Journalists and chief investigative correspondent for U.S. News & World Report. Interested in more on TI's survey? Download its explanatory Excel file on methodology and the survey's complete data set. All graphics courtesy of Transparency International.