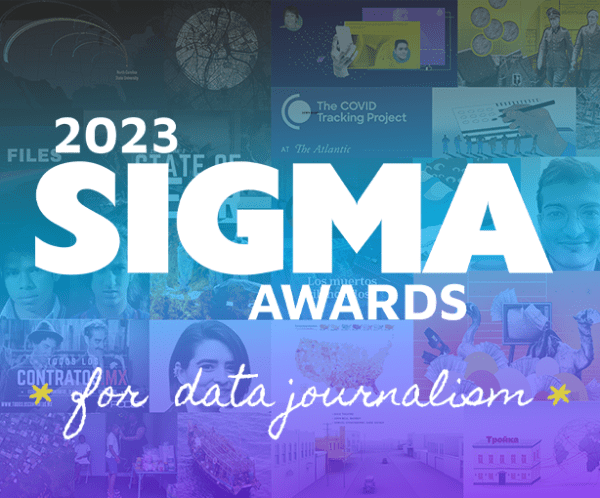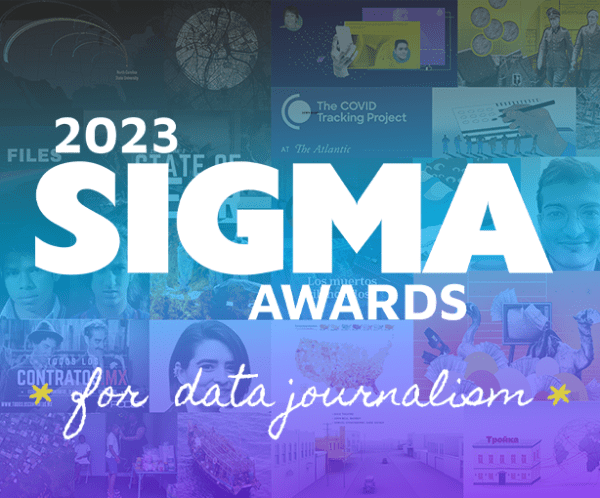 Honoring the Best in Data Journalism: Winners of the 2023 Sigma Awards
The Sigma Awards celebrate the best in data journalism worldwide. This year, 10 winners were selected from 638 entries, sent from 80 countries. Among the judges were the University of Miami's Alberto Cairo, Dataphyte's Joshua Olufemi, and the president of the Brazilian journalism organization Abraji, Katia Brembatti.
There were no subject categories this year, so jury members decided on the best work overall to come to a consensus on who should win. Winning entries focused on a diverse range of subjects: the war in Ukraine, air pollution, rising sea levels, political candidates, and road accidents impacting children on their way to school.
In terms of techniques, the winning projects used data, satellite imagery, gaming techniques, and 3D imagery to create compelling stories. Many were investigative — probing war crimes, digging into city data, using freedom of information requests, or cross-referencing databases to interrogate a subject.
The Sigma Awards site is a trove of information: the teams behind each of the winning projects detail their tools, techniques, and each project's impact, so dive in if you'd like to learn more about how they were done.
This was a mammoth reporting project to document potential war crimes committed in Russia's war in Ukraine from more than a dozen Associated Press journalists — including about half the reporters on its investigative team, plus data and verification specialists — and several staff from PBS FRONTLINE. The team built a database of wartime incidents that involved "likely" violations of international humanitarian law by analyzing open source images and satellite imagery, and using facial recognition apps, reverse image searches, and other reporting techniques. In the Ukrainian city of Bucha, the team flew drones across the sky multiple times to create a digital model containing layers of evidence, including locations of bodies, CCTV footage of Russian soldiers, and photographs to explore the scale of the violence unleashed upon the town. Judges called the project — which featured reported stories in text and video, and an interactive site that logged each incident — "great journalism" and a detailed exploration of how "wars are hideous moments of history."
The judges called this project an "extraordinarily compelling look inside the destruction of Ukrainian heritage sites." Reporters from ABC's Digital Story Innovation Team followed the efforts of volunteers to document the destruction of historic Ukrainian buildings, asking if important sites hit by shells or otherwise destroyed in war were being deliberately targeted. The team used a laser scanner and drones to painstakingly process over a billion data points. Then they built a "fly-through of the buildings using 3D javascript animation libraries." The resulting story gave readers a close-up look at the damage inflicted on Ukraine's historic buildings. The judges said the project is "a clear example of where data journalism can really add to our understanding of modern war and its impact, including documenting war crimes." The journalists' takeaways? "At the beginning of this project, none of us were 3D experts. But we were able to get our heads around the various different programs available and pull everything together. If we can do it, so can you!"
To examine what Russia's invasion of Ukraine looked like on TikTok on either side of the two countries' borders, journalists from NRK, Norway's public broadcasting company, launched an investigation into the differing digital narratives presented to users. Through the use of two fictional avatar characters, NRK found that while Russian TikTok users were shown videos such as a dog petting a duck, on the Ukrainian side of the border, users saw smoke plumes from explosions, accounts from soldiers on the ground, and addresses from Ukraine's wartime president. In other words, Russian TikTok users were not seeing the war. Judges said the duo behind the story had "turned an in-depth, technical investigation into how TikTok's algorithm shows or hides videos about the war against Ukraine, based on where people live, into a beautiful, organic, and captivating presentation." Read GIJN's Q & A with the authors of this investigation here.
Game of Votes — Cuestión Pública (Colombia)
It's only fitting that this data journalism project from Colombia — which investigates the connections between wealthy families and political campaigns — features on the byline credits not only data and investigative journalists, but also lawyers, designers, and musicians. It also manages what so many news outlets struggle to do when it comes to political coverage and vital digging into who is standing for office and what they stand for: it ensures that for readers, looking into political candidates' backgrounds is interesting and fun. Behind the shiny facade, though, there is lots of data, as the journalists cross-referenced, analyzed, and visualized information from 22 databases in Colombia and abroad, scraping open government databases on public contracting and the bills that passed through Congress. Game of Votes was also recognized at the WAN-IFRA LATAM Awards for 2022, as one of three investigations shortlisted for best digital project. At Sigma, judges praised how the project combined "great investigative data-driven reporting, a creative presentation, and the use of gamification as an interface to play with."
Jesse Coburn's investigation into dangerous accidents near New York City schools pulled in data from nearly one million car crashes over more than five years, and logged every collision within 250 feet (76 meters) of a city-run public school. His reporting revealed how the streets outside schools "threaten children," but also, according to the judges, "that the streets near schools serving poor students and students of color are seeing even more accidents." The judges also noted how Streetsblog — a small nonprofit, with just one person on the byline — had "leveraged the power of available public data and invested in a deep dive into understanding what was putting children in harm's way." Coburn, who also has writing credits in The New York Times, Harper's, Foreign Policy, and the Baltimore Sun, used New York City's open data portal for much of the information. He wrote that the project "shows how injustice can hide in even commonplace activities. Upon first glance, there may appear to be little of journalistic interest about the daily routine of children walking to and from school. Closer scrutiny showed the topic was beset by problems and inequities that deserved public attention."
Some 70% of the population of Uruguay lives in a so-called "coastal zone," including the residents of the capital, Montevideo, which lies on the north shore of the Río de la Plata estuary. But sea levels are rising and, according to this report "soon, as a consequence of human action and climate change, the geography of Montevideo will be different to how it is today." For this project, journalists at Amenaza Roboto — which specializes in tech, data, and climate journalism — worked with a geoscientist and a geospatial imaging specialist to investigate how the city's critical infrastructure will be impacted, and the effects on those neighborhoods most at risk of being absorbed into the sea if the effects of climate change are not curbed. Judges praised the project as "executed with vision," adding that the team's findings will "very likely shape Uruguay's climate-related policies for the years to come."
Still Loading — The Markup, The Associated Press, Outlier Media (US)
This investigation into internet speeds across the US found a number of providers disproportionately offering lower-income neighborhoods slow internet service for the same price as speedy connections they offered in other parts of town. The team filed 46 public records requests to determine the internet speeds for 1.1 million residential addresses for 45 cities. Reporters said they used an "often overlooked information source": the broadband availability tools from internet service providers' own websites, which they used to collect granular information on internet plans. They cross-referenced that information on price and speed with the socioeconomic data of the surrounding area to find out which consumers were receiving the worst value for the same monthly fee. The judges noted that "in laying out the scale and inequity of the issue, the Markup did outstanding work in the public interest."
The reporters behind this project found the evidence they needed to show how centuries of industrialization and racial inequities have shaped American cities in the soil itself. Yvette Cabrera, senior staff writer from the site Grist, which took the lead in this investigation, collected more than 1,600 soil samples in Santa Ana, California, and found that more than half of them collected in the lowest-income areas contained contaminants considered unsafe for children. The Logan neighborhood she visited has traditionally been home to large minority communities, which have suffered higher rates of cancer, asthma, and cognitive impairments. As well as soil samples, Cabrera and her colleague data journalist Clayton Aldern used archives and city data to back up their reporting. The team said the project "provides a model for how enterprising journalists can uncover the hidden history of relic industrial sites and soil-lead contamination," a story that is relevant in various parts of the world.
Two investigations into the mistreatment of migrants and refugees on Europe's borders were among the winners this year. One multi-partner project looked into how the European Union's border and coast guard agency, Frontex, used pushbacks in the Aegean Sea to return people to Turkey. Reporters used a Freedom of Information request and then conducted a data-driven investigation to confirm Frontex's involvement in 22 pushbacks concerning 957 people. Judges said that the investigation had been so persuasive and damaging that it led to the resignation of Fabrice Leggeri, executive director of Frontex, the day after publication. A second investigation looked into an incident in Melilla, Spain, in which 23 people died and 77 others disappeared. The judges said: "These projects are a testament to the importance of collaborative, data-driven investigative journalism in exposing abuses of power and holding those in authority accountable."
Additional Resources
Sigma Awards: 10 Lessons for Data Journalists Around the World
Editor's Pick: Top 10 Data Journalism Projects from 2022
Data Journalism: The GIJN Collection
---

Laura Dixon is an associate editor at GIJN. She was previously a freelance correspondent reporting from Latin America and her work has been published by The Times, The Washington Post, The Atlantic, and US News, among others. She has received grants and fellowships from the International Women's Media Foundation, the Pulitzer Center, and Journalists for Transparency. She is based in the UK.