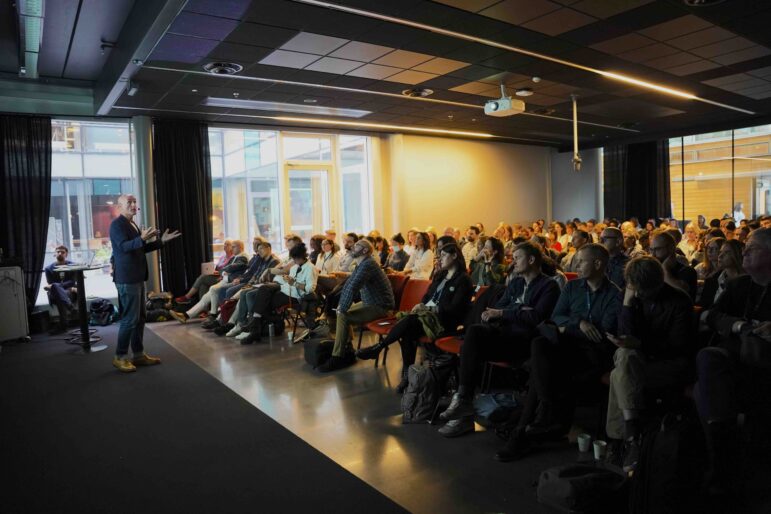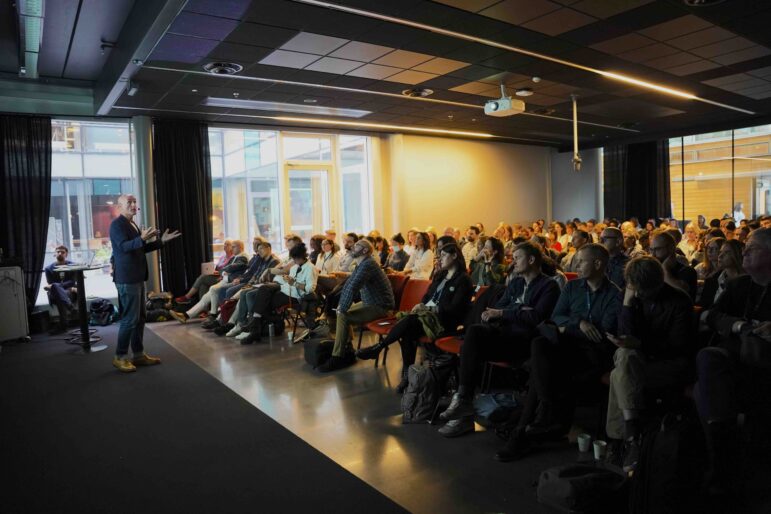 Tips on innovative investigative methods from Joachim Dyfvermark and the SVT reporting team. Image: Edvin Lundqvist for GIJN
Audacious Tricks to Track Smuggled Goods, Identify Illegal Fish, and Interview Reluctant Sources
Read this article in
Say you need a real address for a fraudulent shell company that only lists a post office box address. How about sending a letter to it with a GPS tracker device inside, and with your journalist business card taped to it for ethical transparency? The shady business executive might open it at a physical address that shows up on your tracker map, and perhaps even call you.
This is the kind of audacious, push-the-envelope methodology for which Mission Investigate — Sweden's premier investigative TV program – has become renowned, and which has helped them produce a series of impactful investigations.
In the session "Innovative Investigative Methods" at the 13th Global Investigative Journalism Conference (#GIJC23) in Gothenburg, Sweden, four current and past investigators with SVT's Mission Investigate spoke about the innovative methods that have helped their projects most.
The panel featured SVT data reporter and money laundering researcher Linda Kakuli, Mission Investigate journalist and producer Joachim Dyfvermark, and Axel Gordh Humlesjö, an award-winning investigative reporter at the program who specializes in organized crime and corruption.
Tips on Using GPS Trackers
In 2021, the Mission Investigate team learned that charities were losing millions of euros in income because recycling bins for donated toys and clothes were routinely plundered with alarming precision.
Humlesjö explained that their eventual "Dirty Clothes" investigation was especially important because police deemed the thefts low priority, and, knowing this, an organized gang had found a "zero risk" form of reliable criminal revenue.
Having learned that even inexpensive GPS tracking devices had become powerful and reliable, the team put soap bar-sized Yepzon devices into clothes and toys, dumped them into donation bins in affluent Swedish neighborhoods, and then watched the movement of those goods on their Yepzon phone apps.
In their first effort, the devices showed how the goods were moved to a warehouse near Stockholm, and then transported to the Baltics, but the batteries died just as they were about to reach their final destination in Lithuania.
"One important thing we learned is that the battery life of these trackers varies a lot depending on how often it connects," Kakuli explained. "So if you want to see where the tracker is often, the battery life will be much shorter."
Kakuli said the trick is to set a clear goal for your covert pursuit, whether it's to follow every movement of the goods for documentary video, or it's to discover the final destination, and to program the device's tracking app to only use its battery to achieve your story goal. You can also use the app's "History View" feature to see a summary of the tracker's past movements. And she suggested reporters could practice their battery life strategies "with your kids or even your dog at home."
By saving battery life — including allowing the device to "sleep" during the week they knew it would sit idle in a Stockholm warehouse — the team was then able to trace the goods to supermarkets and stores throughout the Baltic region.
The Confrontation Moment
Things didn't go as planned when Mission Investigate confronted a member of the Lithuanian clothes theft gang during a long stakeout. First, the two security guards they hired as back-up for the confrontation happened to be taking a breakfast break when the alleged gangster finally showed up, so they had to do it alone. They were also initially disappointed that the man gave no reply on the subject, but instead hurled a torrent of curses at them.
But they broadcast the confrontation clip anyway, and found that it quickly went viral on YouTube, because other Lithuanians found the man's oddly inarticulate swearing hilarious. The team was able to leverage the clip's popularity to highlight the seriousness and harm of the scheme.
"It became a meme; it even became a T-shirt," joked Humlesjö. "We solved the mystery of the thefts, but this became a really big success on television partly because of that clip."
On the Innovative Use of DNA Databases 
How can you show that stores are selling fish from an illegal fishing zone when the same species is legal from other ocean regions?
Dyfvermark had the difficult task of finding whether stores that claimed to sell legal cod from the North Atlantic were actually selling cod illegally caught in the heavily over-fished Baltic Sea.
Having read a science report about the DNA testing of fish stocks in Denmark, and having noted the rapid growth in DNA databases for numerous species of plants and animals, Dyfvermark tried a novel approach.
"I remember telling my editors: 'I want to try to DNA-test cod fishes!' It felt silly at the time, but they said yes, and it worked," he said.
Dyfvermark and his colleagues purchased cod filets from 14 stores, and sent the samples to a specialist lab. Noting distinct DNA markers for Baltic and Northeast Atlantic fish stocks, the experts helped the team to confirm that all 14 stores had sold cod illegally sourced from the Baltic Sea.
Dyfvermark said the project helped trigger several illegal fishing and mislabelling investigations in other countries, and a change in the sourcing practices of major supermarkets.
"DNA databases have grown so fast they are a great investigative source, and, of course, it is not only about fish, it is about meat, crops, and even people," he said. "And if it doesn't work with DNA, you can try to get an analysis of isotopes, but DNA testing is much cheaper."
The Show-Up-Anyway Hack
Dyfvermark said the team became so frustrated with company emails refusing to comment on investigations that they, in turn, refused to accept this common dodging practice. Instead, the team now counter-responds with an email that simply announces that the full Mission Investigate crew will arrive at the company office at a certain date and time. He says that, invariably, those companies will at least send an official to hear their findings and sometimes talk to them, on camera.
The Send-Them-Unsigned-Flowers Trick
Panel moderator Nils Hanson described a fun technique to coax potential sources who are hostile to news media to get in touch with reporters: to send them an unsigned bouquet of flowers. He credited the trick to the revered former Mission Investigate reporter Hannes Råstam.
"The trick began after Hannes called this potential source and sent him letters — no answer," Hanson recalled. "Then he heard that this person who was so important to his story 'hates journalists.' Then he came up with this idea: 'I'll send the man flowers' with an anonymous message that said nothing but 'Call me,' and his phone number. This guy called him up and became a very important source. The technique works because anyone just has to know: 'Who is sending me flowers?'"