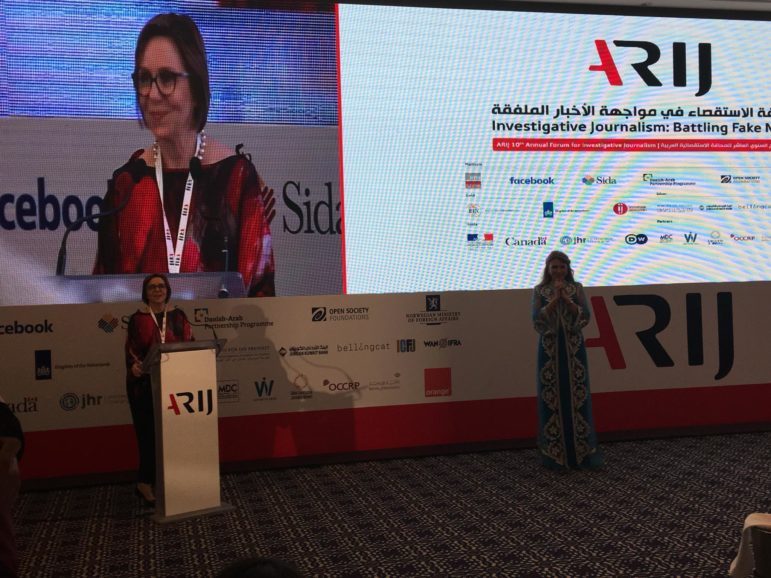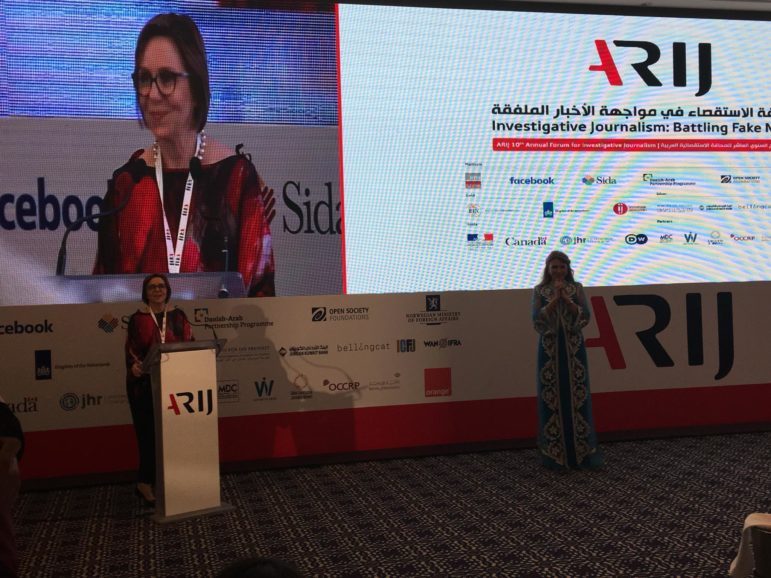 ARIJ Awards Top Investigative Journalists in Mideast, North Africa
Journalists from Egypt, Yemen and Jordan who exposed human rights abuse and state-run mass surveillance took top prizes for the best investigations in print, film and multimedia in 2017 at the 10th Forum for Arab Investigative Journalists this weekend.
The winners were announced at a gala dinner Sunday in Jordan, the final day of the conference, which was organized by Arab Reporters for Investigative Journalism (ARIJ), the region's only investigative journalism network, which has been promoting a culture of investigative reporting in Arab newsrooms since 2005.
This is the first year that ARIJ opened its competition to all investigative journalists in the Middle East and North Africa, not only those whose in-depth reports came after training and funding from ARIJ.
"This reveals the confidence ARIJ has in the international standards ARIJeans have reached," said Jordan's Rawan Damen, an award-winning journalist and media executive who headed the four committees judging the 2017 ARIJ Prizes. "It is a serious attempt to raise the bar higher in the next decade so that Arab journalists working on low-budget investigations can strive for big stories that compete with higher budget investigations by more experienced investigative journalists." 
BBC Arabic's Nawal Al-Maghafi, a Yemeni/British national, won honors for best long-form investigation for "Weapons of Mass Surveillance," in which she documented how governments in Algeria, Morocco and the United Arab Emirates use high-tech mass surveillance to monitor citizens. Western companies, including Britain's largest weapons manufacturer BAE, are among those selling surveillance technology to these governments. Human rights organizations have questioned whether a British company ought to be selling such equipment, much of it classified, to repressive regimes.
Mohammad Abu Deif from Egypt won best prize for short-film. In his investigation "Return Licensing" he documented the process of forging ownership papers and chassis numbers of Libyan cars and then turning them into Egyptian vehicles. He showed smugglers and car merchants dealing in scrap cars colluding with mechanics and officials to finalize the process and sell dangerous vehicles to Egyptians.
The top prize in print was shared by two investigations: "Loopholes in Egyptian and Greek Airports" and "Marital Rape."
"Loopholes," which had to be published under byline aliases, shows how traffickers exploited a lack of electronic surveillance — including eye and fingerprint scans — at Egyptian and Greek airports to smuggle out people.
In the rape investigation, Aya Nabil showed how Egyptian women cannot ask for divorce on the basis of marital rape because courts do not acknowledge such a complaint. Instead they must ask for "khulu," a divorce that deprives them of all rights.
Best prize for multimedia was shared by Dana Jibril from Jordan-based 7iber.com for her investigation "After Deportation" and by a team of five Associated Press reporters led by Maggie Michael, with Yemeni journalists Maad Al-Zikry and Ahmed Al-Haj, who went "Inside Yemen's Secret Prisons."
Jibril examined the mass deportation in December 2015 of 800 Sudanese who had sought refuge in Jordan as a way to increase their chances of being transferred to Europe.
The AP team documented how nearly 2,000 Yemeni detainees were beaten with wires, kept in filthy shipping containers and blindfolded for months by an American counterterrorism ally. The search for Al-Qadea militants has led to a network of secret prisons run by the United Arab Emirates and Yemen.
The jury awarded Egypt's Aisha Al-Gayyar from Kuwait's AlQabas newspaper, a certificate of appreciation for her investigation "Adulterated Education." Gayyar documented how eight student services centers violated their licensing terms by selling research papers to students, all of which escaped weak oversight by the Ministry of Trade and Industry.
Damen said ARIJ received 99 applications of which 27 from 10 states — Yemen, Egypt, Iraq, Lebanon, Tunis, Palestine, Bahrain, Kuwait, Jordan and the UK — were shortlisted.
She said the jurors were impressed by the risks Arab journalists took to tell their investigations in a region growing increasingly dangerous and beset by wars and unrest.
"The investigations we reviewed exposed truth surrounded by silence," Damen said. "All of them served the public interest by uncovering malfeasance, wrongdoing and abuses of power. The juries admired the persistence of the journalists in delving beneath the surface."
---

Arab Reporters for Investigative Journalism (ARIJ) is the first and leading media organization in the region dedicated to promoting investigative journalism in Arab newsrooms. The Amman-based organization was formed in 2005 to support independent professional journalism through funding in-depth projects, and offering training and media coaching. ARIJ helps journalists working in print, radio, TV and on-line media in Jordan, Syria, Lebanon, Egypt, Iraq, Bahrain, Palestine, Yemen and Tunisia.