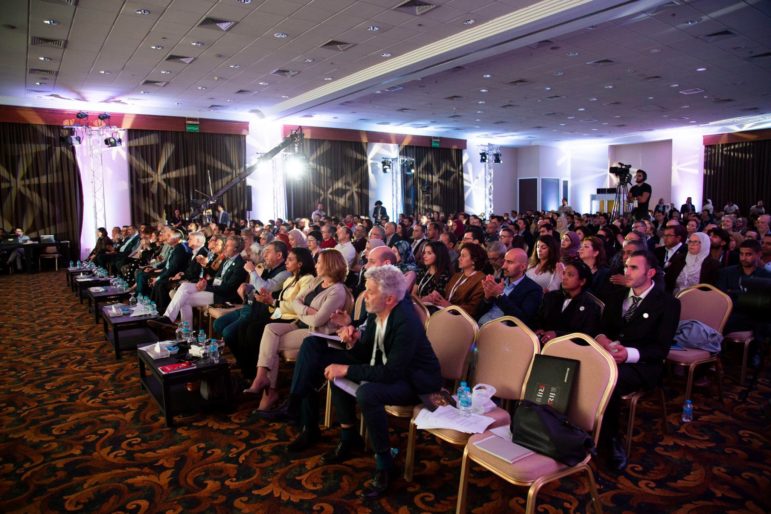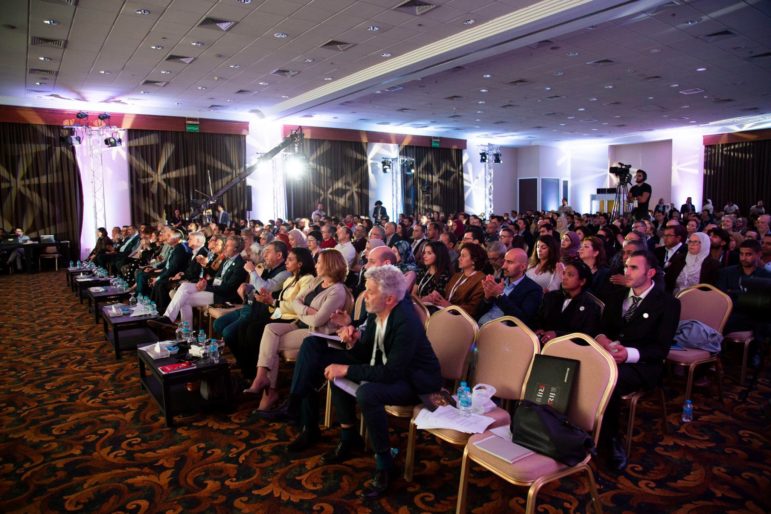 Khashoggi's Spirit Lingers Over Arab Investigative Journalism Conference
More than 450 journalists gathered at the 11th Annual Forum of the Arab Reporters for Investigative Journalism in Jordan earlier this month. The gathering took place just two months after journalist Jamal Khashoggi was brutally murdered at the Saudi consulate in Istanbul, as new details of his assassination continued to surface.  
Countries in the region — including Sudan, Iraq, Egypt, Syria, Saudi Arabia and Yemen — are considered the most dangerous places in the world for reporters, according to Reporters Without Borders. Throughout the conference, attendees voiced concern that Arab press is facing enormous and rising obstacles in the region, including imprisonment, prosecution, censorship and assassinations.
Khashoggi's editors, Fred Hiatt and Karen Attiah from The Washington Post, opened the session with a recorded message honoring the slain journalist.
https://www.facebook.com/ARIJNetwork/videos/367571133978013/
"He was incredibly warm, incredibly kind, incredibly generous," Attiah said on video to the conference from the US. "If this could happen to Khashoggi, the same could happen to any of us."
"If a journalist is killed, this is a threat to everyone,"Haitt added. Prior to the speech, the attendees observed a minute of silence to remember Khashoggi  .
But concern in the region's journalism world went far beyond the killing of Khashoggi, said Rana Sabbagh, executive director of host and organizer Arab Reporters for Investigative Journalism (ARIJ).
"This is happening almost daily in all parts of the Arab world. We live daily between oppression and repression and threats of losing our jobs or even being killed whenever we try to convey the truth.
"Tunisian press freedom is fine in Tunisia, but there are many pressures. My Tunisian colleague, sitting beside me, whispered in my ear: We are better off than many Arab countries, but we face increasing legislative challenges every day. Public relations campaigns make Tunisia look like a paradise for press freedom and that threatens our work, especially since international human rights organizations are ignoring us because we are better than others in their eyes."
Sabbagh continued her list of concerns by addressing Jordan, where she called new legislation for so-called e-crimes censorship. A draft cybercrime law is in the works. It would punish anyone who posts on Facebook, or tweets something the authorities could misinterpret. Ninety-five percent of Jordanian journalists admit to self-censorship.
In Yemen, 26 local journalists were killed and 13 reporters have been detained since the war began in 2015, according to Khaled Al Haroji, a former deputy of the Yemeni newspaper Al-Thawra.
"There were three daily newspapers in Yemen, and 300 other (publications); all of them were looted and stopped, in addition to killing, threats, torture and various kinds of multiple abuses," said Al Haroji .
Egypt and Syria
Meanwhile, Lina Attalah, the editor-in-chief of Mada Masr, said journalists in Egypt faced a difficult year, with legal attacks on press freedom, something underscored in the 2018 Freedom House Report. She spoke about the latest Cybercrime law in Egypt which not only restricts traditional media; it also considers any social networking platform media, if followers exceed 5000. Beyond the legal challenges, Egypt continues to be the one of the countries which detains the highest number of journalists, as well as commentators who voice controversial viewpoints on social media.  
Lina Chawaf, the editor of Radio Rozana, addressed the deaths of the 11 media workers who were killed in Syria in 2018.
"After all the exercises for the physical and digital safety of journalists, are these efforts sufficient? What about the post-mortem, who supports the journalist's family after his death?"
Shawaf underscored the importance of avoiding the death of journalists, not arranging for support after it happens.
https://twitter.com/juliansher/status/1068552657009340416?ref_src=twsrc%5Etfw%7Ctwcamp%5Etweetembed%7Ctwterm%5E1068552657009340416&ref_url=https%3A%2F%2Fgijn.org%2F%3Fp%3D105546
Lack of Support
Hazem Al-Amin, a Lebanese journalist and the co-founder of the nonprofit media house Daraj, said in an interview with GIJN: "Because of the (strict regulations) on Arab journalists inside their own countries, they find it very difficult to publish their investigations. Daraj provides an open platform for them to publish their work, but we also need some kind of support. The majority of Arab institutions which have the ability to finance and support with us, and other similar initiatives, (have particular) agendas and political leanings that make it difficult to work with them. Once you associate your name with them, it means you believe in their subjective editorial standards. "
The danger for journalists in the region was underscored the week following the conference. According to a post on his Facebook page, Al- Amin was detained by the Lebanese police in relation to an article published on the Daraj website a few months ago. He was released soon after.
https://www.facebook.com/hazem.elamin/posts/2042250535858853
The challenge in finding media houses that support Arab investigative journalists' work reflects what happened with one of the ARIJ18 award winners.
Saleck Zeid, a Mauritanian journalist, who won the award for short-form investigations for his piece about the slavery problem in his country, couldn't find any local outlet to publish the investigation. He ended up publishing it on his own Facebook page. Meanwhile, Omer Ashikh, a Sudanese journalist who investigated high profile figures in his country, is still trapped in Jordan, where he was attending the forum, afraid to go back home after receiving death threats this month. Ashikh was previously dismissed from the newspaper that he worked with after publishing a story that mentioned one of the publication's owners.  
The impressive award winners from Egypt, Yemen, Mauritania and the Gaza Strip exposed human rights abuses, slavery and corruption in their local communities, and were were honored for their courageous and distinguished work in the region, underscoring the importance for seeking truth against all odds.
Egypt's  Aly Elsotohy and Azza Moghazy won the first prize for long-form investigations for their in-depth report "Under Experiment." The short-form award was shared with Zeid from Mauritania and Aseell Sarih from Yemen for his report "The Journey of No Return." Aya Nabil won the best digital investigation for her report on Egyptian children who were raped, then left on their own with no counseling. The data journalists category went to Egypt's Maha Salaheldin for her report "Testing the Opposition in Parliament; Zero Result."
---

Majdoleen Hasan, GIJN's Arabic editor, is an award-winning journalist who has worked with Global Integrity, 100Reporters and Arab Reporters for Investigative Journalism. She was the director of an investigative journalism unit in Jordan and was the first Jordanian to file a case against the Jordanian government for denying her right to public information.  

Amr Hassan Sayed, GIJN Arabic staff writer, works as the Washington, DC, and is also a reporter for Al Jazeera Mubasher (Live). He has covered  the unfolding revolution in his native Egypt and other stories from from Tunis, Beirut, Istanbul and London.