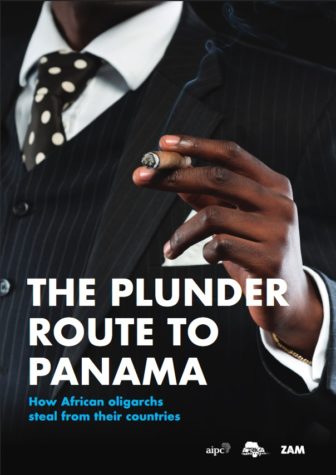 The report "Plunder Route to Panama: How African Oligarchs Steal from Their Countries" drew international attention in 2017. It was the work of a team of seven African journalists within the African Investigative Publishing Collective (AIPC) and was published worldwide. It showed how African leaders themselves are guilty of robbing the natural resources of their continent. Through such publications, the AIPC, a GIJN member, wants to mobilize international pressure against this type of leader.
"When are you starting on our kleptocracy?" an urgent Ethiopian voice — from safer London, not from Ethiopia itself — asks telephonically. "Your report was good. But we have been overlooked." The Ethiopian voice — African Hornet, she calls herself on Twitter — is referring to our African oligarchs report in which chapters from Mozambique, South Africa, Botswana, Togo, the Democratic Republic of Congo (DRC), Rwanda and Burundi expose wealthy rulers who, for decades, have been plundering the natural resources and state coffers of their countries, all in cooperation with mafias, shady companies and ditto accountants and lawyers.
When I, as coordinating editor of the team, explain to African Hornet that the search for evidence of theft of billions of dollars is a lot of work and that seven journalists — each of whom work under god-awful conditions — cannot really tackle more than seven countries at once, she sighs: "It may not be right to expect it all from you. But we do not have any investigative journalists in our country. Asking a question about our governing party's finances will get you arrested. Foreign — Western — journalists are better protected. They could do it. But they suffer from the Africa problem."
The Africa problem? "That you think of the whole of Africa as a mass of hungry, helpless little souls. Not seeing that there is social struggle between forces in Africa itself. Western media are always almost exclusively talking about development aid. While even that aid regularly ends up in the hands of our rulers." African Hornet sends me an article, recently published on the US-based Truthout website, in which author Devyn Springer describes this phenomenon.
African Hornet has a point. The image of a "mass of hungry little souls" is still a very important stereotype among "us" in "the West." Often, African oligarchs who rob their own countries are considered to be unimportant: weak, bribable quantités négligeables. A well-known progressive American commentator on Twitter has just stated that the misdeeds of African leaders are "minimal compared to what the multinationals do."
But the journalists in our collective see that differently. "It would be difficult for Shell to operate ethically in Nigeria," says Idris Akinbajo, editor of the respected Nigerian news website the Premium Times and one of the AIPC's founders. "They are forced to conduct themselves in a certain way." His colleague Emmanuel Mayah reported once how political leaders in the Niger Delta sabotaged a "free energy for the community" project run by Italian oil company Agip. Free electricity in the community was bad news to these politicians, who had interests in a company that sold generators.
Eric Mwamba from the DRC tells the story of how Canadian mining company First Quantum was given a choice by an adviser to President Joseph Kabila in 2010: either pay millions in bribes (and no ordinary tax) or lose your copper mine. The company, which felt attached to its good governance record, refused. It then saw its mine confiscated and — with hundreds of jobs lost — transferred to Kabila's good friend, shady mining tycoon Dan Gertler. Gertler's name was found more than 200 times last year in the offshore tax haven revelations of the Panama Papers.
Investigative journalism — digging into truths that the powerful would like to hide, denouncing social injustice and all that — is not the easiest profession. In countries like the DRC, only the bravest of journalists try it. AIPC members deal with intimidation and threats by politicians, bureaucrats, shady businessmen, their bodyguards, militias, and hardened criminals on a daily basis.
Editors and journalists working for the Premium Times regularly need to hide "underground." Mayah barely survived his undercover work among migrants and human smuggling syndicates that operate with impunity in Nigeria because of ties with corrupt politicians and bureaucrats. Mwamba is forced to live in exile: back in Kinshasa two years ago, he was promptly kidnapped and stripped of computer, money and papers by President Kabila's Agence Nationale des Renseignements. Chief Bisong Etahoben – who is, besides a senior investigative editor, also the traditional leader of the community around Limbe in southwest Cameroon – saw his Weekly Post newspaper go bankrupt after he denounced forest plunder by political leaders. Witholding of adverts, a smear campaign and sudden bizarrely high costs for a new publishing license did the trick.
Even "normal" journalism can cause problems. Francis Mbala, who still lives in Kinshasa, DRC, was arrested last year when he visited a clinic for a story about the treatment of malaria patients. "What do you mean, inform the public about malaria? What does the public need to be informed about malaria for?" the clinic's manager shouted at Mbala as he had him taken to the police judiciaire. Mbala spent three days in a cell. He was released after diplomatic intervention from the Netherlands, but he never got back his confiscated identity papers and phone.
That intervention from the Netherlands came about thanks to a very special alliance. The AIPC has found a partner in Amsterdam-based ZAM, a platform for African change and solidarity with social struggles in Africa. ZAM also supports, through the African Investigative Story Fund, investigative journalism on the African continent and publishes the resulting stories worldwide.
The latter is important, firstly, because the tentacles of African kleptocrats extend worldwide. And that is not only through shady businessmen like Dan Gertler and the dubious accountants and lawyers who are now in the spotlight thanks to the Panama Papers. Cameroon's autocratic leader, Paul Biya, himself spends very little time in his own emaciated country; his plane is parked for so long and so regularly at Geneva airport that he practically lives there. And he is not the only one.
"Why can't the rich at least do something about the huge holes in their own streets?" I once asked colleague Sage Gayala during a bumpy ride through Gombe, Kinshasa's elite residential area. Gayala laughed and explained to me that the rich do not actually live in Gombe: "They maintain the homes they have here, but they live in France." Current African political elites do indeed behave in a way that is very similar to that of former colonial rulers.
Kleptocrat apologists often use the "African" argument to defend the wealth of these leaders. "Why can't a black man have a swimming pool or a private plane?" they ask. "Surely there are white millionaires who have such things?" Followers of former South African President Jacob Zuma used this argument in their responses to questions about the luxurious residential complex that Zuma had built for himself with tax money. Leaders like Zuma like to shout "racism" as soon as their personal enrichment is the subject of critical commentary.
But, of course, Akinbajo, Mwamba, Mayah and Mbala don't mean that, just like Anas Aremeyaw Anas doesn't mean that when he exposes Ghana's judicial mafias with his undercover camera, and just like Tshireletso Motlogelwa and Lawrence Seretse don't mean that with their exposés on the looting by former Botswana president Ian Khama's family. The same goes for Estacio Valoi who braves Special Forces and police hit squads — official protectors of plunderers — on a daily basis in the forests and ruby fields of Montepuez in Mozambique. They don't think that drinking cocktails next to a swimming pool in an Armani swimsuit is a crime per se. It is not. Not if you pay for all those things yourself.
What they do object to is stealing, exploiting, oppressing, and arresting journalists who report these things. They object to selling raw materials, property of the country and all its citizens, for own individual profit. To channeling money from miners' pension funds to syndicates in Dubai. To dilapidated roads and railways, teachers without salaries and schools without books. To using malaria aid money mainly for lavish trips and conferences. If political rulers do such things, investigative journalists will write about it; whether those rulers are white or black.
Often, public outrage follows our publications. That is called "impact" in the investigative journalism profession: after all, we do not merely want to describe wrongs and injustice, but also to see change happen as a result. Such an impact should preferably be worldwide — this is where the partnership with ZAM comes in — because publishing only in Cameroon, for example, has little effect: the story of the Weekly Post above attests to that. Cameroon's people know already, are angry already. But you are gagged in Cameroon if you protest too much. Cameroon's internet went off for over three months last year when people started protesting rather loudly, and the regime still uses the same threat to keep new protests at bay.
Even in other countries the international impact of local stories matters. In Nigeria you can operate more freely as a journalist than in Cameroon, although the risks remain high, but the Nigerian powers that be will not feel too pressured by something written in the Premium Times. As Akinbajo puts it: "Our leaders will only listen if our stories are published in the West."
With that statement, he specifically refers to informing those in the West who consistently work with Nigerian and other African governments in development projects; who extend budget supplements, contracts and loans, make nice in bilateral talks and conferences, and invite kleptocrat leaders to their countries for visits. A multicultural camera team in New York once followed African diplomats who were in that city for a UN conference. The resulting news clip showed that these individuals, instead of showing up at the conference, had been shopping on Fifth Avenue: at the Jimmy Choo shoe windows and the jewelry stores of Harry Winston and Cartier.
African rulers depend to a large extent on their foreign, world-leading partners: international governments, donors, the World Bank, the International Monetary Fund. These, therefore, often have more influence on their behavior than the citizens of their own country.
In the course of his investigation into the disappearance of malaria aid in Ghana, Zack Tawiah took the bus from his hometown, Kumasi, to the capital Accra no less than five times (a journey of four hours each way) to get comment from health department officials. He ended up in front of a closed door five times, in spite of having arranged the interviews beforehand.
But officials working for Bill Gates' Global Fund to Fight AIDS, tuberculosis and malaria — the Geneva-based fund that hands over money bags to African governments to fight these diseases — experience a different attitude. "Once, we called the health minister on an Easter weekend, fearing that he would not be able to meet us," a manager at the Global Fund told us. "But he immediately came with his entire staff." (See the malaria investigation here.)
Tawiah is a journalist who has the interests of the malaria-plagued Ghanaian population at heart. The Global Fund manager comes from Geneva with money for the Ghanaian government. There is a difference.
The AIPC hopes that international partners will become less generous and demand more accountability vis-à-vis their African partner regimes, if they are informed more thoroughly and regularly about the misconduct of such rulers. That is why Akinbajo's statement — "Our leaders will only listen if our stories are published in the West" – has become the motto of the collective.
It is stated as follows on the AIPC website: "The AIPC's first and foremost objective is to place African investigative stories on the international agenda. This is for two reasons: firstly, because it can only benefit our continent if international role players receive more in-depth information about our countries and struggles; secondly, because our own leaders, dependent as they are on international support, care more when their deeds are exposed internationally. Consequently, informing international narratives will probably have an impact on social change in our own societies."
Our stories don't reach the whole world yet, but we strive to achieve this. We hope events like the official reception by King Willem Alexander and Queen Maxima in the Netherlands in 2017 of Mozambican president Filipe Nyusi will not be repeated. We endeavor to inform them, too, of the multimillion-dollar theft by Nyusi's ruling party officials of government bonds, in a country where many live near starvation.
African investigative journalists have already achieved significant successes in such endeavors. It is thanks to international fuss about illicit financial outflows, the Panama Papers and the revelations about the business empire of Kabila's family – next to which erstwhile dictator Mobutu's Swiss bank stash pales in comparison — that an initiative such as the Extractive Industries Transparency Initiative now exists; that the French possessions of the playboy son of the president of Equatorial Guinea were confiscated by the French judiciary; and that the Canadian Securities Exchange Commission and the Serious Fraud Office in the United Kingdom have started investigations into Joseph Kabila's close friend, mining tycoon Dan Gertler. Recently, thanks to the Premium Times, the shady US-based friends of the Nigerian oil minister were exposed. Journalists in South Africa dished up ex-President Zuma's kleptocrat "Gupta" network, and the –worldwide — publication of these stories helped to cause Zuma's exit. International companies like KPMG, McKinsey and Bell Pottinger, who had aided Zuma, lost international respect as well as customers.
There are ups and downs in our struggles. US President Donald Trump, for example, has, with his statement "I have friends who are going to your countries to get rich" made it clear that he supports all the wrong business in Africa. But investigations continue, and they continue to make African kleptocrats' partners and enablers uncomfortable. Spotlights are shining on DRC President Kabila's and his friend Dan Gertlers' letterbox companies in the Netherlands; questions are being asked about European budget support for the Kabila state. Investigations have played a role in the uproar about, and international discrediting of, Togo's authoritarian regime.
The AIPC, together with numerous other journalists and organisations of African citizens, wages this struggle with the full support of ZAM. We want to inform and inspire opposing forces against the kleptocrats worldwide, just the way African Hornet and so many others want (we also got demands for extension of our investigation into Nigeria, Sierra Leone and Equatorial Guinea). The facts brought to light by the AIPC and colleagues show that Africa is not a needy "mass of helpless hungry little souls" but a battlefield. And that it is important for anyone who is interested in Africa to choose who they partner with in that context.
As far as investigating Ethiopia is concerned, we cannot yet fulfil the wish of African Hornet. We are short of time, money and safety. But at least we have found the formula for further work: investigating in Africa, publishing worldwide. We do that as part of a "counterforce" against kleptocrat regimes, injustice and oppression — because that is what investigative journalism in Africa is about. Whoever wants to participate can support us through ZAM's African Investigative Story Fund. But just reading our stories is also good.
---
Be sure to check out the recently released West Africa Leaks from GIJN member CENOZO, the Cell Norbert Zongo for Investigative Journalism in West Africa, as well GIJN's Resource Center for more on Corruption and Asset Disclosure.
This article was updated to reflect the removal of South Africa's former President Jacob Zuma and a number of other recent changes. It was first published in Dutch in the essay compilation, Tegenkrachten (Counter Forces), edited by M Goslings and R Klomp and published by Ars Aequi this year, and is cross-posted here with permission. It is available in Dutch here.

Evelyn Groenink co-founded the Forum for African Investigative Reporters network of investigative journalists in Africa and served as its director between 2005 and 2011. She now produces, edits and publishes investigations by African journalists for ZAM Chronicle.