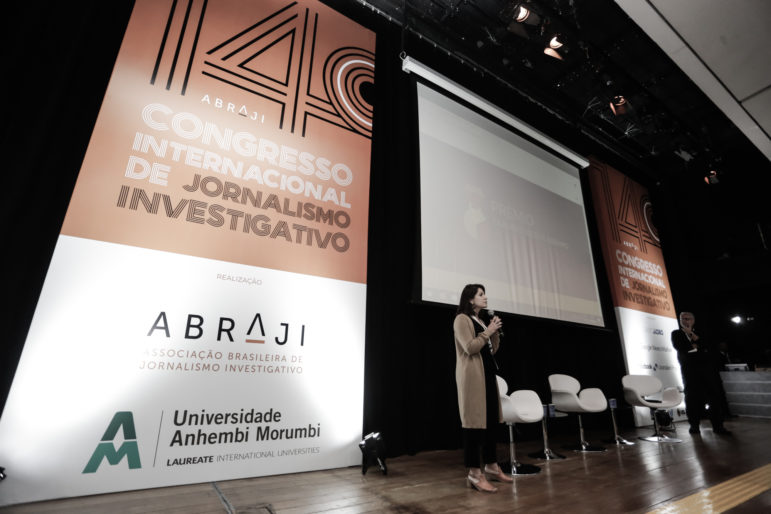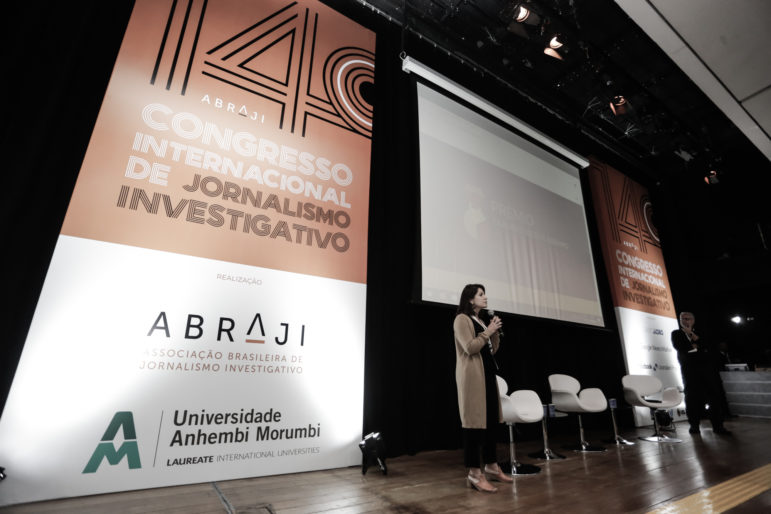 Over the past 20 years, Abraji has helped reshape investigative journalism in Brazil and around the world. Image: Courtesy of Abraji
Abraji: 20 Years Fighting for Investigative Journalists and Journalism in Brazil
Read this article in
Editor's Note: As GIJN member Abraji holds its 17th International Congress of Investigative Journalism, we look back at the origins of the group two decades ago, and how far it has come since.
The death of Tim Lopes changed Brazilian journalism forever. In 2002, a reporter for TV Globo — the country's largest television station — was kidnapped, tortured, and murdered while working undercover to investigate the sexual exploitation of minors by drug traffickers in a Rio de Janeiro favela.
The brutal crime shook the nation's press corps and prompted media professionals to seek safer conditions to practice journalism. It was in this context that the Associação Brasileira de Jornalismo Investigativo (or Abraji, its acronym in Portuguese) was launched.
The starting point grew out of an "Investigative Journalism: Ethics, Techniques, and Dangers" seminar, run by the newly formed Knight Center for Journalism in the Americas. After the event, which was held in Rio de Janeiro on August 31, 2002, journalist Marcelo Beraba invited 44 other journalists from different Brazilian media sites to unite around a professional association.
Beraba's call to action came in an email, and its ambitions were clear: "An institution formed and maintained by journalists, independent of newspapers and class entities, focused on the exchange of information between us, for professional training and retraining, for the deepening of knowledge and use of tools in the area of investigative journalism, for the formation of an archive and database, for the promotion of seminars, congresses, and professional improvement workshops."
David E. Kaplan, now GIJN executive director, was there representing the US-based Investigative Reporters and Editors (IRE). "This was an exciting time," recalls Kaplan, "to see Brazil's best journalists come together in solidarity and create an ambitious agenda for the future."
The formal creation of Abraji took place at the next seminar, in December 2002, when around 140 journalists gathered in the auditorium of the School of Communications and Arts of the University of São Paulo.
"There was an immediate motivation with the death of Tim Lopes in 2002. It was not, so to speak, the trigger, but it was the immediate motivation," explains Beraba, who became Abraji's first president. "Obviously, for that to generate something rational, in the heat of indignation and sadness over Tim's death, it was because we already had ideas about the need to have some kind of organization along the lines of IRE working in Brazil."
The initiative to create an entity to protect, support, and train Brazilian journalists gradually received the support of both national and international entities.
"My administration was an administration of implementation, of creating Abraji practically from scratch," recalls Beraba. "But we had important support from the Knight Center and the McCormick Foundation and with these resources we started to make bylaws and assemble a small professional team."
"I had just received a grant and took up the cause of these journalists as the Knight Center's first project," explains Rosental Calmon Alves, Knight Chair in Journalism at the University of Texas, Austin. "After the creation of Abraji, the Knight Center still financed the first years of the Brazilian association because we knew that there were the most important Brazilian investigative journalists there, who needed a professional structure."
First Steps of a New Organization
Since its inception, Abraji has remained faithful to its founding principles: professional training, defense of freedom of expression, and the right to access public information.
As soon as it was created, Abraji started organizing events. The first was held in March 2003, in the city of Londrina, and involved a seminar on techniques for covering organized crime, in partnership with the Knight Center and the State University of Londrina. Later, Abraji held a seminar on practicing journalism in risky areas and offered training in what was then called computer-assisted reporting (CAR) — data journalism — in Brazilian newsrooms.
"That same year, 2003, we held an international seminar on the right of access to public information in Brasília," Beraba recalls. This is where the idea of creating the Forum on the Right of Access to Public Information was born — a coalition of Brazilian civil society entities, media organizations, and researchers dedicated to lobbying for the right of greater governmental transparency. This network played a direct role in the passage of the Brazilian Access to Information Law (LAI, its acronym in Portuguese), which was enacted in 2012.
International Congress of Investigative Journalism
Along the way, Abraji has promoted a number of events and projects. Perhaps most notable among them is the Abraji Congress, which has been held annually since 2005. The conference is the largest gathering of journalists in Brazil and one of the largest in the world.
In 2013, Abraji joined with GIJN and merged the congress with GIJN's eighth Global Investigative Journalism Conference and the fifth Latin American Investigative Journalism Conference (COLPIN, organized by the Lima-based Instituto Prensa y Sociedad). The result was a record-setting 1,350 people from 93 countries in Rio. "That event set the standard for international gatherings of the world's muckraking journalists," notes GIJN's Kaplan. "With an extraordinary mix of reporters, editors, data and security experts, hackers, professors and students, and NGO staff, our Global Conference was never the same."
Abraji's 17th Congress is being held this week, from August 3 to 7, and includes more than 80 activities and nearly 200 speakers. For the first time, the event is being held in a hybrid format, with two free virtual days and two days of in-person panels in São Paulo. The conference also includes a separate day dedicated to data journalism workshops and lectures, called "Data Sunday."
Due to the COVID-19 pandemic, the 2020 and 2021 versions of Abraji's Congress were online and free of charge and totaled more than 10,000 subscribers. The last fully in-person conference, in 2019, was the second largest audience in Abraji's history, with roughly 1,200 people.
"The format has always been in-person, and we highly value the networking allowed by the event," explains Natália Mazotte, Abraji's the current president. "But after the pandemic, the value of online programming became clear as a way to especially include journalists from other regions. And, to maintain broader access and encourage the diversity of participants, we opted for the hybrid."
In addition to enabling networking within investigative journalists, assisting in professional qualification, and leveraging the exposure of the best reporting in Brazil, Beraba also highlights the importance of the Congress in pulling back the curtain on reporting methodologies — to show "how they did it," a cooperative, knowledge-sharing approach that he says was not previously common in Brazilian journalism.
Projects and More Projects
In addition to the Congress, Abraji organizes a variety of courses throughout the year, and also has several programs that help promote its principles of defending freedom of expression and the right of access to public information. Most of these projects are the result of partnerships between the association and other important Brazilian journalistic and civil society organizations. Among these endeavors:
Abraji also produces annual reports that monitor attacks on press professionals, communicators, and media outlets, as well as cases of attacks with a gender bias, which speaks to the perilous environment currently facing the Brazilian press. Since 2019, the monitoring has been part of the Latin American network Voces Del Sur.
Administration and Funding
"Abraji's main challenge is common to all nonprofit organizations in Brazil: long-term sustainability," explains Mazotte. "There is a low culture of philanthropy in the country, so it is not easy to get diverse sources of funding for the organization."
At the moment, the institution sustains itself through institutional sponsorships or direct sponsorships of its projects, membership dues from its 350 associates, and income from events. Future plans include the implementation of an endowment fund, which would guarantee Abraji's long-term viability and strengthen it to face new challenges.
The association's staff and leadership currently includes an executive board of 11 members, a three-member fiscal board, and a curatorial board composed of former presidents and a guest entrepreneur, in addition to 12 employees. Elections for a new executive board are held every two years.
"It is an association that is constantly renewed," says Cristina Zahar, the organization's executive secretary. "I think that's what makes Abraji the stronghold it is today."
A 20-Year Success Story
"I wish in my years of training and initiation into the profession of reporter, I had had an entity like Abraji," says Dorrit Harazim, an award-winning Brazilian journalist who was honored at the 5th edition of the Abraji Congress. She highlights the importance of the organization in the training of professionals over the years. "For its courses, seminars, workshops, accessibility, and permanent exchange of information, the entity, in 20 years, has already broadened the professional horizons for an entire generation."
The prospect of improving journalistic techniques beyond the classroom, which often lacks practical application — and learning about topics that are far from the rigid syllabus of Brazilian universities — has attracted many students. Rosental Calmon Alves recalls, for example, the workshops on CAR promoted by Abraji in 2003, a time when the practice was little known in the country. "Abraji was a pioneer, an explorer of the most current techniques for journalistic investigation," he says.
With its many projects across different areas, Abraji has become a standard bearer for both journalists and Brazilian journalism. In 2003, after only one year of existence, it won the Esso Journalism Award, the most important distinction given to press professionals in Brazil. In 2012, it received the ANJ Press Freedom Award, for its performance in training journalists, and for its seminal role in the passage of the Brazilian Access to Information Law.
"Abraji has surpassed our wildest dreams," says Alves. "It's not that investigative journalism didn't exist in Brazil before Abraji, but it sort of formulated the existence of a type of in-depth journalism that was not very clear to many Brazilian journalists. Abraji has helped to raise the standards of Brazilian journalism in these 20 years of operation."
For Harazim, Abraji's success grew out of the need for an independent institution, formed and maintained by journalists and focused entirely on improving their professional knowledge. "There was a pent-up demand, and we didn't know it," she explains. "So much so that, in just a few years, the tripod of the original mission was set — the defense of an LAI, of freedom of expression, and of our qualifications inserted in a new global context."
The association has also risen to a prestigious position among civil society organizations. It is common to see Abraji cited or its staff quoted in Brazilian media when there is news about threats to freedom of expression or attacks on journalists.
"Abraji has not only become an organization of professional journalists with an important voice in the Brazilian media scene, but also a standard for other associations in other countries," Alves says. He adds that the model used to launch Abraji — seminars followed by the formal creation of a press organization — has been replicated elsewhere in Latin America.
Abraji has likewise lived up to what was its initial reason for existence after the death of Tim Lopes: functioning as a safety guide for the press professionals. "Abraji ends up being a shield for journalists and vehicles under attack and, due to its legitimacy built up over the years, it manages to demand accountability from public authorities so that these attacks are investigated and fought," explains Mazotte. "An institution like this is essential for journalists to feel more secure and supported to carry out their work."
In a Polarized Brazil, What Does the Future hold?
The importance of safety and security for Brazilian investigative journalists is especially critical at this moment. According to its annual report, Reporters Without Borders said the aggressive rhetoric adopted by the government of President Jair Bolsonaro towards journalists and the media has "contributed to strengthening of a hostile and distrustful attitude toward reporters in society at large."
"I think in the last three-and-a-half years, the challenge has gotten bigger. All post-redemocratization governments had serious problems with freedom of the press and expression; none were friendly. But after 2019, when Bolsonaro took office, it got worse," Beraba says.
Thanks to a larger, troubling trend toward the erosion of democracy around the world and the advance of autocracies, Zahar says it has become even more important to defend journalism as a way of strengthening democracy in Bolsonaro's Brazil. "I see Abraji increasingly in the trenches of defending the rights of freedom of expression, press, and access to information," she says.
Included in these battles is a fight against disinformation campaigns, which have grown increasingly frequent on digital media. "We have all the problems of an information ecosystem without much moderation, which ends up contributing to the spread of misinformation and misleading content," explains Mazotte. "Abraji needs to find ways to adapt and deal with this complexity."
"Our role at this moment is to continue doing our work and always look for collective work together with other organizations," says Beraba. "I do not believe that an organization is capable of facing this current situation alone. Collective work is necessary, and Abraji has always been focused on this idea."
Additional Resources
Abraji's Security Manual for Covering Street Protests
Abraji Turns 15, Launches Fight Against Impunity
Brazil's Agência Pública: Where Journalists Innovate and Collaborate
---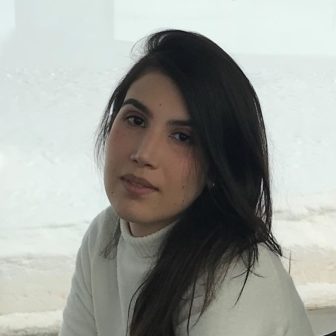 Ana Beatriz Assam is GIJN's Portuguese editor and a Brazilian freelance journalist. She worked for the newspaper O Estado de São Paulo as a freelancer covering a range of subjects, mainly with data journalism in the Politics section. She also worked with the Brazilian Association of Investigative Journalism (Abraji) moderating journalism courses.