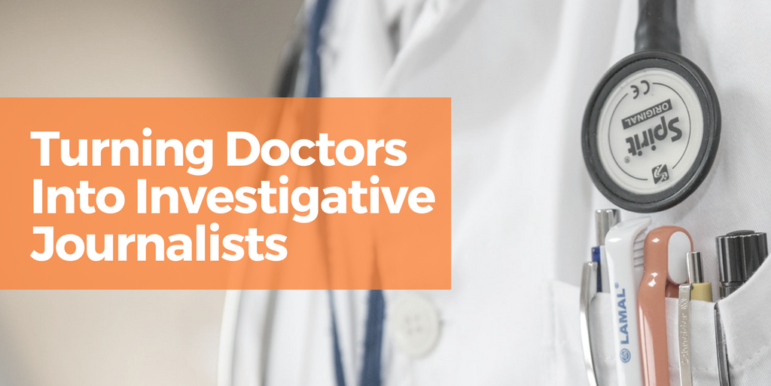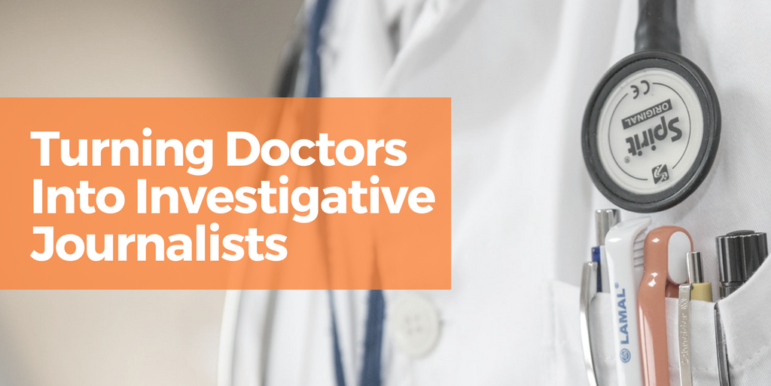 For years, the growing traffic in Canadian high school girls — picked up in Toronto's suburbs and pushed into the sex trade — was a secret story. Then, last winter, a journalist joined police investigating the traffickers and started speaking with the middle class teenagers who were their victims. On January 29, Seema Marwaha broke the story for the Canadian Broadcasting Corporation.
Dr. Marwaha wasn't part of CBC's investigative team. She wasn't even a normal reporter. She's a doctor. My colleagues and I at the University of Toronto were in the midst of training her to work as a journalist. She'd heard about the trafficking problem through her work in the community.
The University of Toronto has now trained 17 doctors and health professionals along with 58 other specialists to work as journalists, some of whom have quickly become award-winning reporters. As their bylines and credits pile up, we're starting to ask: What more can this new kind of beat reporter do to support investigative journalism's new golden age?
The emerging ecosystem of collaborations, outlets and funding models convening this month in Johannesburg for the Global Investigative Journalism Conference (#GIJC17) is edging towards a talent crunch. Over the next decade, increasingly complex investigations will need a pipeline of journalists with deep subject matter knowledge, but most journalism schools are still turning out generalists who, unlike reporters of the past, probably won't even keep staff jobs long enough to learn a beat.
Five years ago, we launched a new kind of journalism school to fill the hole: The Fellowship in Global Journalism at the University of Toronto's Munk School of Global Affairs. We only recruit subject-matter experts, few of whom have any journalism experience. Over eight months we usher them into careers as independent journalists by mentoring them closely as they cover their beats for our media partners around the world.
We've graduated 75 with 15 more in the pipeline this year — a mix of doctors, lawyers, religion scholars, scientists, architects, military officers, economists and others from around the world. Their expertise yields fast impact. Before even graduating, our fellows have broken 698 stories for our media partners – 19 outlets that now include The Washington Post, VICE, Quartz and The Boston Globe – along with other outlets like The New York Times and The Guardian.
Their performance after graduation underscores the hunger for more specialized reporters. The Dallas Morning News hired one public health doctor after our fellowship who went on to receive an Emmy, a Knight Fellowship and was a Pulitzer finalist — all within her first three years in the newsroom. Within a year of graduating, a Canadian criminologist we taught received a National Magazine Award honorable mention for his first investigative story. A climate change engineer we recruited from Colombia has become one of his country's leading environment reporters.
Even as other J-Schools struggle to find internships for their graduates, many of our small band have been snapped up by The Financial Times, The Wall Street Journal, the CBC and VICE – as well as a think tank in India and the Dutch foreign ministry. Others mix their professional day jobs with journalism, like The New Yorker's Atul Gawande.
New investigative outfits should be working with them, too.
Consider the 17 doctors and health professionals we've turned into reporters. It turns out that we launched our program at the very moment that many med schools were trying to change the way young doctors work. They now teach "narrative medicine" so doctors can better understand patients through their personal stories, and "knowledge translation" so health scientists can communicate new discoveries in a way that actually changes health care. Canadian medical schools even encourage fourth-year residents to take time away from the clinic altogether in order to study some public dimension of their work – like epidemiology, policy or journalism.
The doctors who come to us want to do more than service journalism; they want to investigate problems that most reporters miss.
Ryan Hoskins, an emergency room physician who had worked on global health policy with Medecins Sans Frontieres, travelled to Russia to investigate reports of Putin's crackdown on HIV/AIDS treatments. His story ran in Foreign Policy on November 22, 2016. Chethan Sathya, a surgical resident, discovered a brewing fight between U.S. health inspectors and the owners of shisha parlours, over whether waterpipes are as dangerous to teenagers as cigarettes. His story ran on CNN on July 7, 2014.
And because our physicians are thinking like investigative journalists, they're breaking counter-intuitive stories that even other doctors miss.
In 2016, the suicide epidemic among Canada's indigenous youth attracted reporters from around the world, and mental health professionals piled on with their recommendations. Amitha Kalaichandran, a pediatrics resident in our fellowship, found a different story: Indigenous kids saving their friends with their own, effective mental health interventions. Dr. Kalaichandran flew up to a remote Canadian community for the piece, which she and a local youth leader broke nationally in Maclean's Magazine on April 5, 2017.
Zika became a household word in October 2016. But we'd heard about it a month earlier, when a public health nurse in our fellowship heard chatter in her field pitched the first story on it — so early, in fact, that no one picked it up.
In the past year, some of our physicians have moved beyond reporting individual stories to challenge the professional cultures of both medicine and journalism – prompting us to ask what deeper contributions doctors and other experts can make as journalists.
Blair Bigham, an emergency room resident and flight paramedic who broke more than 20 stories during our eight month fellowship last year, now gives journalism seminars to more senior doctors at medical conferences across North America. (He also just led an investigation for The Toronto Star on problems in Canadian universities' mental health services.)
And Seema Yasmin, a public health doctor whom we taught in 2014, just left her job as a health reporter for The Dallas Morning News – where she'd put her earlier experience at the U.S. Centers for Disease Control to use covering Ebola. She's now a Knight Fellow at Stanford, researching ideas for a news service that would cover public health crises better.
Imagine a talent pool of physicians around the world, pitching and serving the kinds of investigative news outlets convening in Johannesburg.
Or a new outlet, staffed by investigative journalists, working with a global network of health professionals trained as reporters – investigating health stories for media partners around the world. Imagine integrating that with solutions journalism, continuing medical education and journalism training for more health professionals.
The stories are certainly out there.
So, it seems, are the doctors.
---

Robert Steiner is director of  the Fellowship in Global Journalism and Professor of Global Practice at the Munk School of Global Affairs, in the University of Toronto. He will be speaking on the panel Scholars, Doctors, Journalists — Collaboration Across Fields at #GIJC17 in Johannesburg this month. You can reach him at robert.steiner@utoronto.ca.