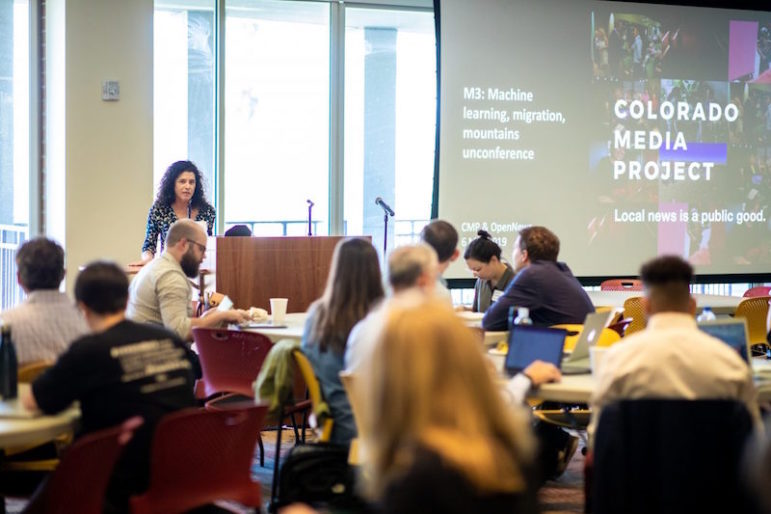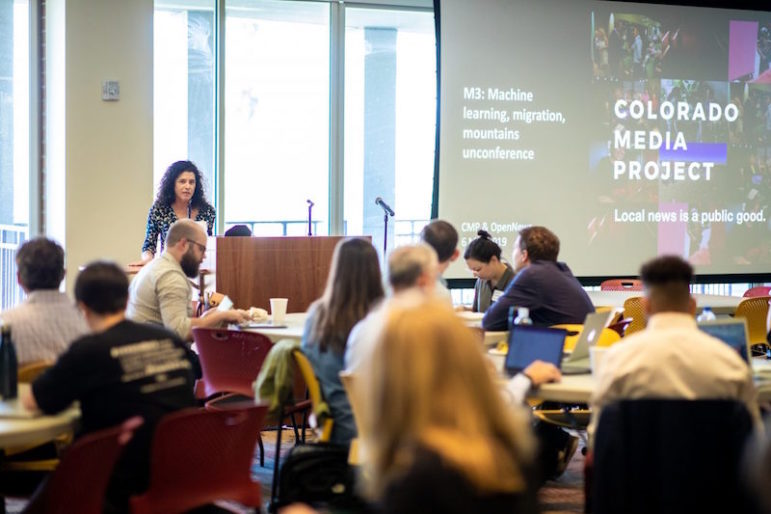 The Colorado Media Project's "Unconference" in May (with Nancy Watzman at the mic). Photo: Alyson McClaran for Colorado Media Project
A Model Collaboration That's Working to Rebuild Local News in Colorado
Look at the local journalism scene of almost any metropolitan area in the US, and you'll find a similar set of players facing a similar set of challenges. One remaining daily newspaper, facing still more cuts and cratering print advertising. A few TV stations, buttressed by advertising but facing mergers and uncertain investment in journalism. A public radio station, supported by residents but not immune to the industry's crises. Maybe a startup or two trying to scope out a new vision. And it's all darkened by a cloud of drip-dry revenue, broken trust in media, and important stories already going unreported.
It's a lot of problems and not so many people trying to address them — mostly the journalists trying to keep their jobs in the first place.
But in Colorado, hundreds of people — journalists, professors, students, business folk, local foundations, and more — have stepped up to do something about it. And they have a few ideas for where to start.
The story of the Colorado Media Project is more than the story of Colorado Public Radio's acquisition of Denverite from Spirited Media, or the Colorado Sun's creation by former Denver Post staffers and crypto-money. It's more than the Rocky Mountain News' closure or the private-equity strip-mining of The Denver Post. It's… kind of a long story, even though it just began last year.
One of the best ways to picture the Colorado Media Project will soon be on the third floor of Rocky Mountain PBS's new headquarters, where the state's largest newsroom — comprised of some 75 people across nine journalism organizations, sharing space, equipment, and ideas — will be located come summer 2020.
The goal is to "recreate a major newsroom like the past major newsrooms, but in a different vein because each would remain independent but be able to collaborate together," said Laura Frank, the vice president of journalism at Rocky Mountain PBS. (She's lived several of these market changes: An investigative reporter at the Rocky, she founded early local news nonprofit I-News when the paper shut down in 2009. It merged into the PBS organization in 2013.)
Another way to visualize it is through the early-stage discussions hosted by the University of Denver last year. These meetings included cross-sections of those groups I mentioned above, featuring talks by national journalism problem-solvers like NewsMatch's Jason Alcorn, Independence Public Media Foundation's Molly de Aguiar, and the American Journalism Project's John Thornton.
"We considered the path of potentially buying The Denver Post. We talked to folks with foundations, private investors, venture capitalists — just people with money," said JB Holston, the University of Denver's Ritchie School of Engineering and Computer Science dean and a longtime media entrepreneur and executive. "The conversation pivoted to 'we could sit around and wring our hands and say 'this sucks,' or we could figure out what else we could do.'"
Nine years after the Rocky Mountain News closed, the Post's dramatic layoffs — made iconic by the newsroom group photo with silhouettes replacing those gone — grabbed the attention of people who weren't already tuned into the local journalism crisis in Colorado. But it wasn't just about the Post. "We all love the paper and want it to be back at its glory days, but in the meantime there is a whole ecosystem that is going to need support," the Colorado Sun's Eric Lubbers said. He'd left the Post as director of innovation and said reporters he still knows there participate in the Colorado Media Project's meetings and initiatives.
The list of "what else we could do" has already been substantially explored in the project's first year with a research project that brought in Boston Consulting Group, DU researchers, and more project managers and consultants to do a landscape scan, conduct market research, and propose business plans. But there's still more to do.
The team is led by Nancy Watzman and orchestrated by the University of Denver and the Gates Family Foundation, among many others. (FYI, that's a local Colorado foundation, not that other one in Seattle.) They're now working on:
• A revenue-sharing option for readers to buy a single pass that unlocks journalism on a swath of sites — inspired by, of all things, the local ski-fan favorite Epic Pass, and with funding from the Membership Puzzle Project;
• The Rocky Mountain PBS coworking space, which will also offer access to in-house technology and subsidized rent for the first five to seven years — this would house the Associated Press, Chalkbeat Colorado, the Colorado Sun, the Colorado Independent, the Colorado Freedom of Information Coalition, the Colorado Press Association, the Open Media Foundation, and the Colorado Media Project itself, with public radio station KGNU potentially joining as well;
• A September hackathon called Migrahack tackling immigration coverage with journalists, programmers, and community members;
• Research into the viability of public information districts and the arts and culture journalism landscape;
• I'm sure there's more I'm leaving out, but basically trying to research and test solutions in Colorado's context to strengthen local journalism as a community effort.
"This is coming at time where we can really make a difference with this next level of community involvement, which we just haven't needed in the past where traditional business models were working. But we have to make sure we grab this opportunity and do something with it," Watzman said. "I keep joking with [the project's participants] that they're the unicorn all the national folks are looking for."
She joined the project full time in April after leading the editorial output of the Knight Commission, which led to the Knight Foundation's multimillion dollar commitment to rebuilding the local news ecosystem. After living in the state for more than 20 years, Watzman — who also has worked at the Internet Archive and the Sunlight Foundation — had never worked in the local journalism space. Now she was in charge of coordinating journalists, foundations, academics, and several other partners to figure out a path forward for local news in Denver and Colorado more broadly. Four entities — the Gates Family Foundation, Democracy Fund, the local Bonfils-Stanton Foundation, and most recently the Membership Puzzle Project — have given the Colorado Media Project nearly $2 million to go forth and test new local news things.
"We don't know what the future media landscape is going to look like in a year, two years, five years," Melissa Davis, the vice president of strategic communications and informed communities at the Gates Family Foundation said. "But the role of the project is to try and be a place where the outlets can come together and think about the issues."
The Colorado Media Project has made some progress already, including a study of 2,000 news consumers in Colorado (and their willingness to pay for news), a ten-year business plan for the Colorado Sun, funding to support Denverite's move to Colorado Public Radio, new digital app prototypes, and an analysis of the state of nonprofit news in Colorado. All its research is shared with the public as it's conducted by neutral parties (the University of Denver, BCG, independent consultants) — it's not exclusive to any one news outlet.
"By putting our egos at the door and going into it thinking, 'what are the needs being unfulfilled and how can we get there' … [and] being able to get access to some real research into who's out there, who's reading news, what the potential paying audience is for other ways to make revenue — that's all stuff we were going to be doing on our own but have it in the group setting," Lubbers of the Colorado Sun said. The Sun, after launching on Civil's blockchain grants, now has almost enough members to make up close to 70 percent of those grants after one year.
The other major move the project has helped support was Denverite's shift to Colorado Public Radio after Spirited Media announced it was selling off its individual local sites and pivoting to consulting. Already financed in part by its supporters and local funders, CPR initially wasn't exactly sure what to make of the CMP — but its association with the project paid off.
"We weren't sure where they fit in the philanthropic funding pool, but whatever fear there might've been has worked out in the opposite and positive way," Stewart Vanderwilt, CPR's new president after his predecessor stepped down from a 40-year run, said. Without the project's connections, "we would not have been able to bring Denverite into CPR. They facilitated those conversations to make that happen."
The Bonfils-Stanton Foundation was one of those connections. It had provided CPR with funding a few years ago to boost local coverage of Colorado arts and culture, one of its grant-making areas, but kept running into obstacles, president Gary Steuer told me. CPR's previous leadership changed its mind, Denverite had expressed an interest in refocusing on arts coverage with funding, and the foundation even considered developing its own news outlet — but being able to hop onboard with other local funders and patrons was hands down the most promising option.
Steuer has proudly attended all the CMP's talks and meetings for local funders. "It seemed to us that we should not be out there trying to 'solve' the cultural journalism challenge in a vacuum," he said. "That challenge is part of a larger challenge with local news, and I was thrilled to have our work plugged into something larger."
Bonfils-Stanton gave $150,000 toward the Denverite-CPR happy union (along with $50,000 to CMP to study the local cultural journalism landscape and $50,000 to Rocky Mountain Public Media to develop a cultural journalism aggregation hub through CMP). Now, Vanderwilt is looking forward to taking more advantage of the project's resources.
"What I really hope is that we use the combination of the resources, expertise, and experimentation that could take place inside the Colorado Media Project and the platform that is Denverite to test them in the market," he said.
How do you get all these journalists in one room — and on the same page? How do you determine which outlet will test which idea? Having a neutral third party with as generic of a name as the Colorado Media Project helps; so does having an anchor foundation's commitment to grease the wheels, both in the local journalism and philanthropic communities. The resounding sentiment across seven participants interviewed was the project as an entity's value in ensuring that this was a collaboration, not a selfish grab by any party.
"It was the leadership of the Gates Family Foundation and the University of Denver, those two entities getting together and saying we're going to lead the charge and gather our philanthropic colleagues and forge a path," Rocky Mountain PBS' Frank said. "There has been lots of gnashing of teeth, but there has not been coordinated action, and that's beginning to happen in a way it hasn't happened before."
The Gates Family Foundation's Davis wanted to be clear that no one entity owns or controls the project. "The role we can play is looking at things from the 10,000-foot view. The ecosystem is a lofty view. What we're trying to do is support the people actually doing the work and call the questions about 'are we being as inclusive, as collaborative, as community-focused as we can?'" she said.
Still, an idea like the group paywall Epic Pass has the risk of creating tensions in any local market. Participants are on board "philosophically," Lubbers said. "The real key is going to be what happens when you get all these different kind of ownership setups … and what happens when you have to crack open the books and figure out how to share revenue. That's something we haven't answered yet."
But as corny as it sounds, at the end of the day, none of the outlets are going to be moving away from Colorado anytime soon. They're hopefully going to live with one another, and the teamwork of the Colorado Media Project helps put that in motion. "By this happening in our community, we're creating lasting connections among the people who are solving problems, developing new initiatives, and I think having that neighbor-to-neighbor approach is really going to have lasting value," Vanderwilt said.
Can this be adopted elsewhere? It's taken a number of special ingredients to get this far: an anchor foundation with time and money to devote, a third party who happens to be an expert in this subject matter and also familiar with the local landscape, a university to power through some potentially pricey research and convene these meetings, and the patience and willingness of all the participants involved. Those are less universal than the decline of local news outlets, which is happening all across the country.
"It would be great if there were 50 of these around the country," DU's Holston said. "This didn't take a ton of capital. It just took a lot of willingness on the part of a lot of different folks to collectively figure out what we should do, where are the gaps, and how we can fill them."
---
This article first appeared in NiemanLab and is reproduced here with permission.

Christine Schmidt is a staff writer at NiemanLab after having been its 2017 Google News Lab Fellow. She's worked previously at The Dallas Morning News, NBC4 in Los Angeles, the Hartford Courant, and a short stint at Snapchat.