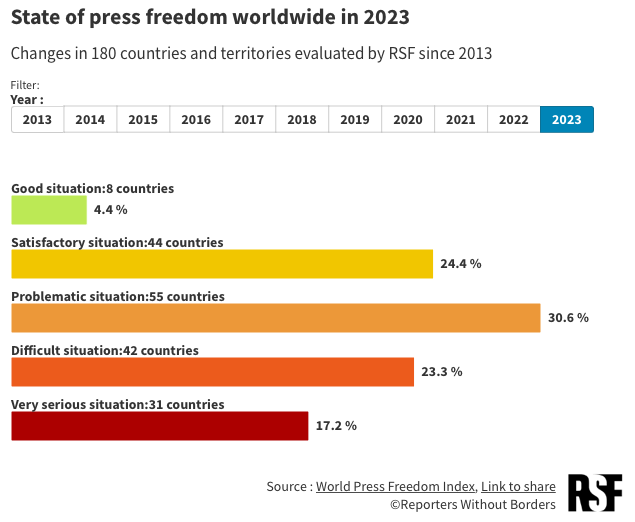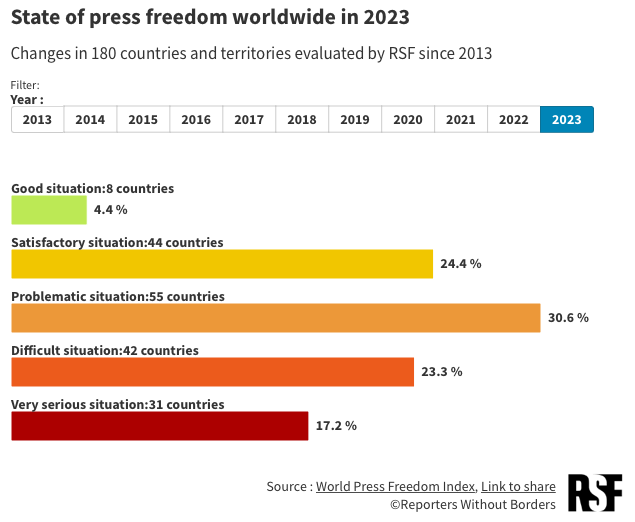 Image: Reporters Without Borders
2023 World Press Freedom Index: Journalism under Threat from 'Fake Content Industry'
The 2023 World Press Freedom Index, released annually by Reporters Without Borders (RSF), highlights the increasingly perilous situation for reporters on every continent, as journalists face political, social, and technological threats. The report was released on World Press Freedom Day, which GIJN marked with a specific look at how investigative journalists are confronted with challenges to their work in Latin America, Africa, Central Asia, and the Middle East.
In this 21st edition of the Index, RSF Secretary-General Christophe Deloire noted the volatility of the country rankings, with major increases and decreases in the state of press freedom. "This instability is the result of increased aggressiveness on the part of the authorities in many countries and growing animosity towards journalists on social media and in the physical world. The volatility is also the consequence of growth in the fake content industry, which produces and distributes disinformation and provides the tools for manufacturing it," he said in a statement accompanying the Index's release.
Spotlight on 'Fake Content' and Propaganda
A dominant theme of this year's analysis of global press freedom is the onslaught of inaccurate and misleading information plaguing media environments. According to RSF, 118 out of the 180 countries in the Index reported that "political actors in their countries were often or systematically involved in massive disinformation or propaganda campaigns." In addition, RSF called out concerns about the ongoing spread of false content in the wake of Elon Musk's takeover of Twitter, the rise of AI-generated content and photos, and a disinformation industry operating on an unprecedented scale.
The Index also called out the oppressive reach of propaganda inside Russia, which has fallen to 164th out of 180, nine places lower than last year's ranking. "In record time, Moscow has established a new media arsenal dedicated to spreading the Kremlin's message in the occupied territories in southern Ukraine," RSF noted, "while cracking down harder than ever on the last remaining independent Russian media outlets, which have been banned, blocked and/or declared 'foreign agents.'"
Worrying Trends, Few Bright Spots
In the world's five main regions, RSF found very little good news about the state of press freedom. After Costa Rica's ranking slipped to 23rd, neither North or South America now have a single country whose press freedom status is rated as "good." (Canada, rated "satisfactory" at 15th, is the highest in the Western hemisphere.) The US fell three places this year to 45th, after the murders of two journalists. The alarming amount of murdered and disappeared journalists in Mexico pushed it further down the ranks to 128th. Brazil, however, jumped up 18 places, to 92nd, after the electoral defeat of President Jair Bolsonaro, whose administration was notoriously hostile toward the independent press.
The Europe and Central Asia region continues to enjoy the best press freedom environment overall, with one out of seven nations rated "good." Germany dropped five places, to 21st, after a record amount of attacks on and arrests of journalists. Norway remains atop the global rankings again in 2023, with four of the top five rankings going to Nordic countries. But this region also includes a number of very low rated countries, including Kyrgyzstan (122nd), Kazakhstan (134th), Uzbekistan (137th), Tajikistan (153rd), Turkey (165th), and, finally, Turkmenistan (176th), which barely eked out a higher score over perennial press freedom scourges like Iran (177th), Vietnam (178th), China (179th), and North Korea (180).
While Africa has few nations rated as having a "very serious" problem with press freedom, it nonetheless has the highest percentage of countries rated as "problematic" and "difficult." Namibia (22nd) tops the continent while Egypt (166th) and Eritrea (174nd) rank the lowest. In addition, RSF notes that the vast Sahel region of Africa is in the process of becoming a "no-news zone."
But the Asia-Pacific region continues to present the worst crisis for press freedom. More than half of the countries here have been given the worst rating by RSF. India, notably, has dropped 11 places since 2022 and now sits at 161st, putting it in the bottom 10% of nations worldwide. In post-Taliban takeover Afghanistan, where reporters — especially women reporters — have had their rights rolled back, press freedom dropped to 152nd. While Myanmar, the world's second biggest jailer of journalists, comes in at a dismal 173rd.
Additional Resources
GIJN Marks World Press Freedom Day with Insights from Investigative Journalists Under Threat
Document of the Day: 2022 Global Impunity Index Finds 'Vast Majority' of Murders of Journalists Go Unsolved
Document of the Day: 2022 World Press Freedom Index
---