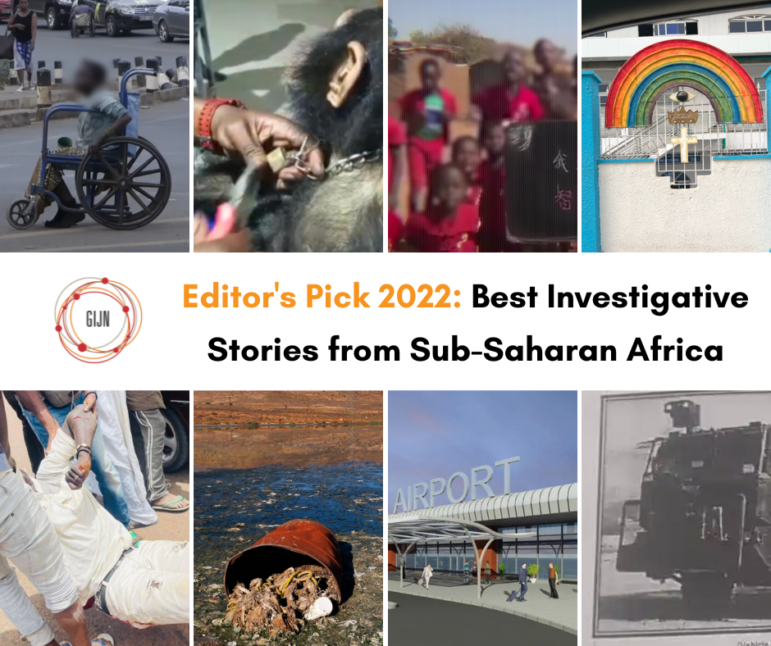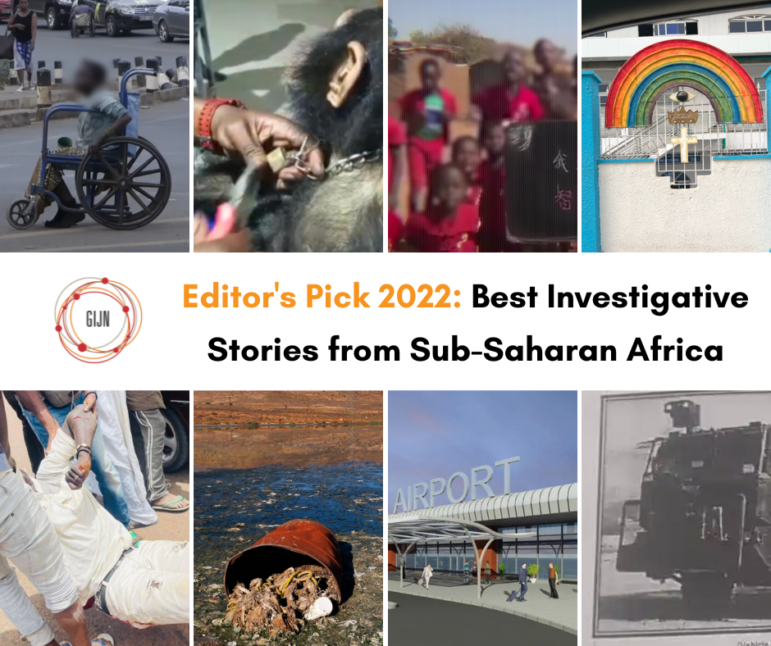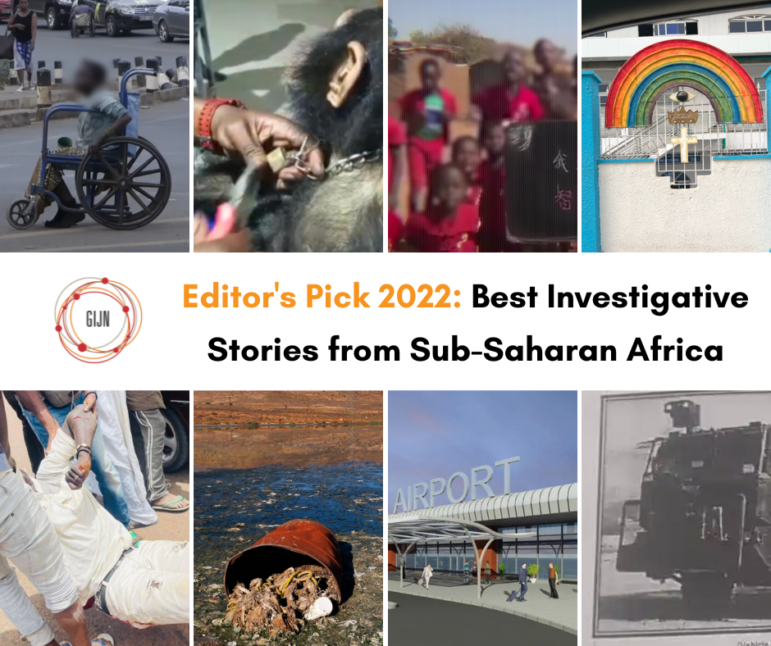 Every month, GIJN curates some of the best investigative stories out of sub-Saharan Africa and publishes them in our monthly newsletter dedicated to the region. In 2022, 61 stories from 20 sub-Saharan African countries made it to our shortlists for January-November (by the time of publishing this article, we hadn't selected the stories for December). Most of the stories that have made it to this Editor's Pick are from those monthly shortlists.
The stories we have picked demonstrate the curiosity, ingenuity, bravery, and technological know-how of Africa's top investigative journalists and teams. But they also show the perils of trying to do impactful investigative reporting on a continent fraught with challenges that often impede the capacity of journalists to produce their best work. Below is a list of stories we consider to be the best by sub-Saharan African investigative journalists in 2022.
The practice of trafficking disabled children from Tanzania to Kenya and forcing them to beg on Nairobi's streets might have continued unabated — had BBC Africa Eye's Njeri Mwangi not become suspicious enough to look into the growing numbers of young, wheelchair-bound street beggars. Mwangi's curiosity sparked a cross-border investigation that revealed how a Nairobi-based human trafficking gang was tricking poor parents in Tanzania into giving up their children — by claiming they would provide them better living conditions and that they would be sent a cut of any earnings. Instead, the children were forced to beg by day — handing the money over to their minders — and live in squalid, prison-like conditions by night.
Thanks to the investigation, the traffickers were arrested, authorities and civil society organizations in Kenya and Tanzania grasped the scale of the practice, and 78 of the victims were returned to Tanzania. 
Oscar Nkala's investigation's for the Oxpeckers Centre for Investigative Environmental Journalism revealed a criminal network smuggling live baby primates. The baby primate trade, he explained, is a by-product of the roaring illegal bushmeat trade in the Democratic Republic of the Congo (DRC) — gorilla meat is cheaper than chicken or beef, and certain body parts, such as hands and feet, are used by healers to enhance potions. Other young primates might end up in pet shops or zoos in Dubai. Nkala infiltrated an illegal bushmeat trade network in the DRC's capital, Kinshasa, which in turn connected him to the supply chains on which the primate business thrives. He also dug up critical details, such as the markets for the bushmeat and the primates, prices, the weaknesses in law enforcement that the gangs exploit, and the big-picture implications of this trade for the survival of some endangered species. 
This story faced intense competition for this slot from Khadija Sharife's investigation for the Organized Crime and Corruption Reporting Project (OCCRP), which tracked and revealed an illicit lion bone trading network that spans from the world's only commercial lion farming industry in South Africa to a notorious wildlife trafficking group in Asia.
Early this year, the UK's Press Gazette wrote that BBC Africa Eye's approach to investigations in Africa had helped "change the face of journalism" on the continent. And with the kind of effort they put into their stories — such as this exposé about exploitative, racist clips produced by Chinese video-makers — it's hard to disagree. Using a series of open source investigation techniques and social media research, journalists Runako Celina and Henry Mhango figured out that the videos — in which, for instance, African schoolchildren are instructed to chant racist statements in Chinese, to be uploaded to social media or sent as greetings — were being filmed in Malawi. They then worked with a Chinese journalist on an undercover investigation that provided the breakthrough they needed to reach the victims.
The investigation, which also shed light on a video-making industry that exploits vulnerable children across the continent, sparked protests in Malawi, as locals demanded the arrest of those responsible. Eventually, authorities in neighboring Zambia arrested Lu Ke, one of the men allegedly producing the videos, and extradited him to Malawi. Lu Ke is currently on trial.
So revered is religion is across Africa that leaders of churches or mosques are rarely questioned, let alone challenged. Nigerian journalist Fisayo Soyombo from the Foundation for Investigative Journalism (FIJ) set that norm aside and spent months investigating the conduct of officials at places of worship in Nigeria. After changing his appearance enough to assume a different identity, Soyombo went to various churches and mosques pretending to be a gay man in search of spiritual redemption.
According to the seven-part series, six of the eight places of worship he visited "fed him with a litany of fake prophecies before demanding cash and material possessions from him." Soyombo's account of his findings is captured in parts one, two, three, four, five, six and seven of his serialized story on religious scams. (He also gives credit to the two churches he notes treated him humanely.) FIJ says the investigation also spawned more than 60 similar accounts from individuals who say they had fallen victim to officials from places of worship in Nigeria.
Drawing Borders (Zimbabwe/Mozambique/South Africa)
This three-part series by Linda Mujuru and Gamuchirai Masiyiwa for the Global Press Journal offers exposes illegal activities tied to Zimbabwe's porous borders with its relatively better-functioning neighbors, Mozambique and South Africa. In part one of the series, Mujuru shows how economic uncertainty in Zimbabwe has fueled criminal activity in Mozambique, including smuggling, corruption, and cattle rustling, and strained health services. Part two, by Masiyiwa, documents the impact that stricter immigration policies in South Africa are likely to have on Zimbabwe's large diaspora there, and the expected ripple effect on a Zimbabwean economy already on its knees. The final part of the series details the consequences for families. Many who migrate disappear — they may die, or end up trafficking or in prolonged detention, or fall victim to the challenges of living far from home without the social safety net of family, relatives, and community.
In this July story from the Center for Collaborative Investigative Journalism, peppered with eye-catching photographs, Cape Town-based Steve Kretzmann shows the impact of South Africa's failure to treat its sewage. As he reported, thanks to the collapse of about half of the country's sewage treatment plants, every year billions of liters of raw or partially treated waste find their way into the rivers and oceans of Africa's second-largest economy. What Kretzmann does to great effect is complement the data that underpins this investigation with old-fashioned field reporting. The resulting collection of stories drives home some of the wider costs of this crisis: how sewage is changing the flavor of fish caught from Cape Town's Black River; the dwindling chances for young people to live near bodies of water; and renowned beaches being abandoned. 
With each passing year, journalists in Africa further blur territorial borders that once limited the scope of their investigations, by working through collaborations with colleagues in other countries. This cross-border investigation by the Norbert  Zongo Centre for Investigative Journalism (CENOZO) is a demonstration of the power of joint investigations. In this two-part series, Wilson Smiths from Nigeria, Zubaida Mabuno Ismail from Ghana, and Mohammed Kabba from Sierra Leone work together to uncover COVID-19-related fraud, allegedly committed by officials in two of their countries. They reportedly found that these officials were taking advantage of a WHO-approved mandatory testing program to extort money from travelers — with the help of private companies. The mini-series, part two of which you can read here, also documents the relatively positive travel experiences from Sierra Leone that show what is possible when officials act in the public interest.
In late December 2021, after we had already made our editor's pick for that year, the Platform for Investigative Journalism — Malawi (PIJ) published a detailed investigation into how a local businessman had corruptly circumvented the established procurement process to secure lucrative government contracts. Among the deals: providing water cannons at highly inflated prices. Throughout 2022, the team at PIJ kept tabs on the story and continued to dig and connect the dots. Nearly a year later, their efforts paid off: on November 25, 2022, authorities in Malawi announced that the country's Anti-Corruption Bureau had arrested the country's vice president over his corrupt dealings with the businessman.
Additional Resources
Editor's Pick: 2021's Best Investigative Stories from Sub-Saharan Africa
Largest-Ever African Investigative Journalism Conference Digs Into New Tools, Using AI, and World-Class Exposés
GIJN Africa: Data Centers for African Journalists
---

Benon Herbert Oluka, GIJN's Africa editor, is a Ugandan multimedia journalist. Benon is a co-founder of The Watchdog, a center for investigative journalism in his home country, and a member of the African Investigative Publishing Collective.