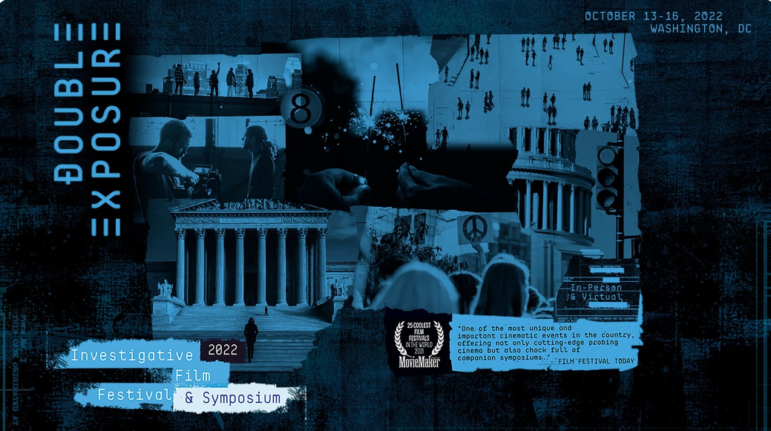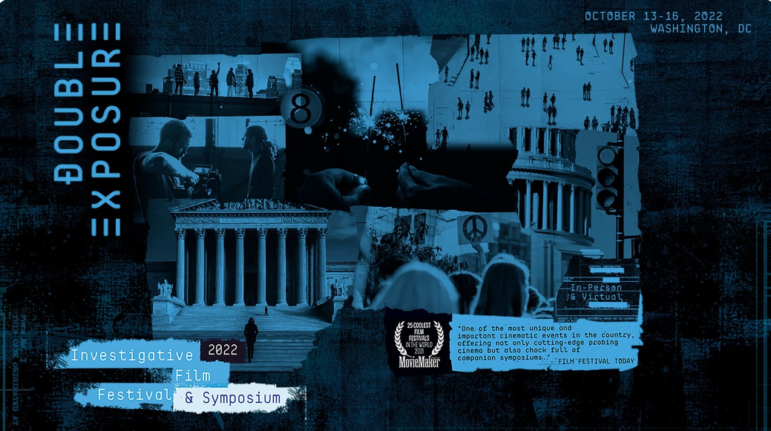 2022 Double Exposure Festival: 'Death of Democracy' Films Point to a Growing Threat
Read this article in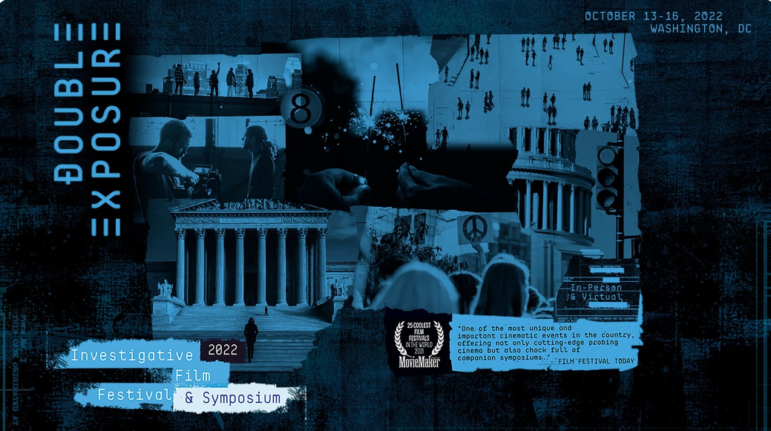 Documentaries investigating threats to democracy were a common theme of both the film lineup and panel discussions at the annual Double Exposure (DX) film festival in the US.
Presented by GIJN member 100Reporters, the four-day, hybrid DX 2022 event showcased 12 outstanding investigative documentary features and six short films – on topics from college hazing to the rapid US military withdrawal from Afghanistan – as well as a parallel symposium, in which journalists and directors discussed the techniques and challenges behind their projects.
Several films presented evidence of phenomena that should be unthinkable in any democracy — such as high court judges consulting mafia bosses on how they should rule, government officials divulging the home addresses of journalists to the targets of their investigations, and ordinary teenagers framed by state intelligence agents for criticizing the government in private. The documentary projects reflect an alarming slide in democracy and human rights around the world in recent years.
"What I learned from the citizens of Myanmar is what it feels like to get democracy, and then how it feels to have it taken away again," said Corinne van Egeraat, producer of "Myanmar Diaries." This film by the Myanmar Film Collective revealed life and resistance in the Asian nation since a military coup ended its fragile representative government on February 1, 2021.
On this theme, the festival also selected "The New Greatness Case," which documents the criminal prosecution of ordinary young Russians for opinions in online chat groups, and "The Killing of a Journalist," which explores both the assassination of investigative reporter Ján Kuciak in Slovakia and mafia-style corruption that infected its government.
"We noticed that a number of the documentaries that made it into the festival were about democracies witnessing their own undoing," noted Diana Jean Schemo, founder and co-director of Double Exposure. "How do you capture a big change like that in a way that people can relate to it?"
The opening scene of "Myanmar Diaries" succeeds in this through a jarring juxtaposition: homemade footage of an energetic aerobics class on February 1, 2021 also captures — in the background — military vehicles moving into the city, on their way to topple the government. In addition to footage of violence and repression by the junta in the months following, the film also documents mass protests, civil disobedience, and very personal stories in a suddenly-closed society. It shows ordinary residents loudly banging cooking pots outside kitchen windows to protest the arrest of their neighbors.
For Western audiences, "Myanmar Diaries" also serves as an important reminder of how good, and fragile, democratic freedoms really are, no matter how many other problems their societies might face.
"My husband and I lived in Myanmar from 2012 to 2017, making films about the transition to democracy, and beginning to teach young filmmakers," said Van Egeraat, a Dutch filmmaker. "It was awesome to be around young people who had never experienced freedom before. The internet had just been introduced to the country; there was even a human flights film festival there. But since the day of the coup, the military junta has been terrorizing its own people."
Navalny's Persecution in Prison
The DX Symposium was led by a panel discussion of Daniel Roher's "Navalny," a documentary about the persecuted Russian opposition leader that was screened on October 12, in a pre-festival event in collaboration with CNN. The panelists included the chief investigator at Alexey Navalny's Anti-Corruption Foundation, Maria Pevchikh, whom GIJN interviewed in 2021.
The film outlines some of the techniques investigative journalists used to expose the Russian government's involvement in the use of a chemical weapon to poison Navalny in 2020.
While at the festival, Pevchikh also provided a live update on Navalny's treatment in a Russian maximum security prison, following his sentencing to more than 11 years in prison on multiple trumped-up charges. "He was released from solitary confinement a few days ago, but, yesterday, he was resentenced and sent to what they call a punishment cell for refusing to wash a prison fence," she explained. "He has already spent 43 days in a punishment cell — two meters by three meters, with nothing but a mug and a book and a stool with no back. Even the bed he can't rest in — it is chained up from 6am. He would be sent there for things like this: one button on his prison uniform was undone, even though his prison uniform is too small for him."
Drew Sullivan, co-founder of the Organized Crime and Corruption Reporting Project (OCCRP) and a partner in the "The Killing of a Journalist" project, said he hoped the film would represent a "wake-up call" for Slovakian citizens and journalists. It exposes the runaway corruption behind the murder of journalist Ján Kuciak and his fiancée Martina Kušnírová in Slovakia in 2018.
"Democracy is like a garden, and it has to be tended — and I think Slovakians forgot about that for a time," said Sullivan. "Their standard of living was high, and they didn't understand that their garden was rotting underneath them, and that, really, an organized crime gang was running their government; selling out their country."
Tips on Documenting the Death of Democracy
A few of the practical tips that emerged from the "Death of Democracy" documentary panel included these:
Use translations to unlock citizen content already posted online. Van Egeraat said her team was struck by the volume of revealing online video content about Myanmar's resistance that outside journalists had simply not noticed. "We found that there is so much citizen journalism footage online in Myanmar — and none was being used by regular news outlets simply because it had not been translated into English," she explained.
Establish credibility with local sources through other investigations, or collaborations with respected local newsrooms. "Getting credibility – so people trust that these are journalists who will really do something with our information – allowed us to get access," said Sullivan of his project on the slaying of Ján Kuciak and his fiancée. "We found that working together with others, and just doing the other stories, and being aggressive upfront, helped us build credibility so people would approach us."
Pay attention to seemingly small court cases, arrests, and surveillance associated with dissent. In 2017, Russian investigative reporter Vasily Polonsky just happened to be in the courtroom when 10 young people were being prosecuted for their Telegram chats – and his documentation of those proceedings helped lead to "The New Greatness Case" film. "No one knew what was going on with this case, but I happened, by accident, to be present for the very first hearing in court," Polonsky recalled.
Manage audience expectations on the time it takes to get rid of autocracy. Sullivan stressed that it can take years for representative governments to rid themselves of individuals and policies tied to prior authoritarian regimes — and that journalists need to clearly point to the true causes of corruption and mismanagement, especially ahead of elections.
Six Notable Films from DX Festival 2022
"Myanmar Diaries"
Produced by 10 anonymous Burmese filmmakers — five men and five women who remain anonymous in the credits for safety reasons — with help from Scandinavian partners, this film reveals the violent repression and civic defiance that followed Myanmar's military coup in February 2021. It digs up and translates video clips from citizen journalists and social media that show courageous acts of defiance, and also shows evidence of armed resistance training in remote areas.
"The Grab"
This complex and troubling follow-the-money documentary was awarded the coveted Opening Night screening slot at DX 2022. Produced by award-winning filmmaker Gabriela Cowperthwaite, the film follows an eight year investigation by the Center for Investigative Reporting into government schemes to quietly seize food and water resources "at the expense of entire populations." It begins with the Chinese government-funded purchase of America's Smithfield Hams in 2014 — making China the owner of about 25% of America's pig population — and then uses a trove of leaked corporate documents that reveal similar government-backed deals around the world, ruthlessly targeting foreign resources to deal with anticipated domestic civil unrest.
https://www.youtube.com/watch?v=Z_lHWaagjXc
"The Killing of a Journalist"
Produced by OCCRP and Final Cut for Real, this film explores the assassination of investigative journalist Ján Kuciak and his fiancée Martina Kušnírová in Slovakia in 2018, and reveals the mafia-style government corruption behind it. Among its shocking revelations is that judges asked organized crime figures how they should rule in related cases.
"The New Greatness Case"
Directed by Anna Shishova, this documentary explores Russia's first criminal prosecution of chat group members on the Telegram messaging platform — a test case involving 10 young people who wished only to chat about the environment, but found themselves jailed on charges of a plot to overthrow the government. As one DX moderator noted: Just the facial expressions of one 17-year-old accused (as seen in the trailer below) offers a portrait of the fear and confusion felt by the victims of autocracy around the world.
"Mariupolis 2"
Having made one documentary about separatist attacks on the Ukrainian port city of Mariupol on 2016, Lithuanian filmmaker Mantas Kvedaravičius returned in early 2022 to document renewed attacks associated with Russia's invasion, but was killed during the battle. The new film reflects an effort by his collaborators to complete his courageous work there, showing the tragedy and heroism in a city under sustained attack.
"Retrograde"
Directed by Oscar-nominated filmmaker Matthew Heineman, "Retrograde" documents the rapid US military withdrawal from Afghanistan, and its impacts on local soldiers, drivers, and interpreters who quickly found themselves under Taliban rule. It depicts the near-impossible challenges faced by US Green Beret soldiers, the families of their local allies, and one despairing Afghan general.
Other outstanding investigative documentary features at DX included:
In one telling scene from "The Killing of a Journalist," a huge Slovakian crowd protesting the murder of Ján Kuciak hears the following message over the loudspeakers: "Even the bravest journalists are not redeemers of democracy alone!"
Van Egeraat commented: "Let's all become great gardeners for democracy, and help journalists."
Additional Resources
2022 DIG Festival Awards: Projects on Private Militaries, Assassination, and a Dictatorship's End
Double Exposure Film Fest Showcases Documentary Tradecraft
How Reporters Exposed the Spies Implicated in the Navalny Poisoning
---

Rowan Philp is GIJN's senior reporter. He was formerly chief reporter for South Africa's Sunday Times. As a foreign correspondent, he has reported on news, politics, corruption, and conflict from more than two dozen countries around the world.