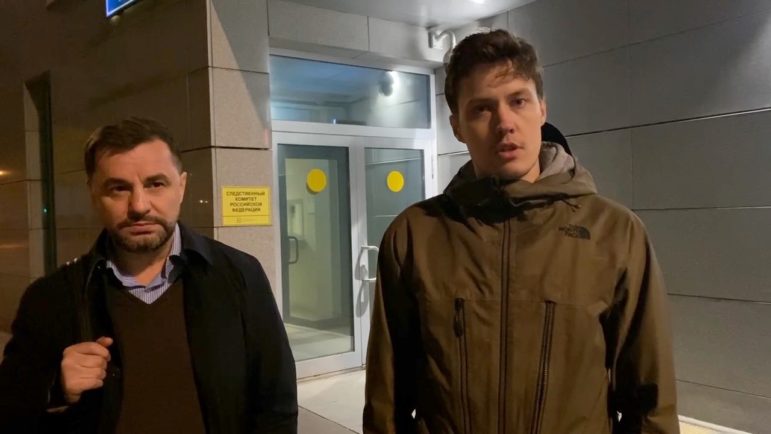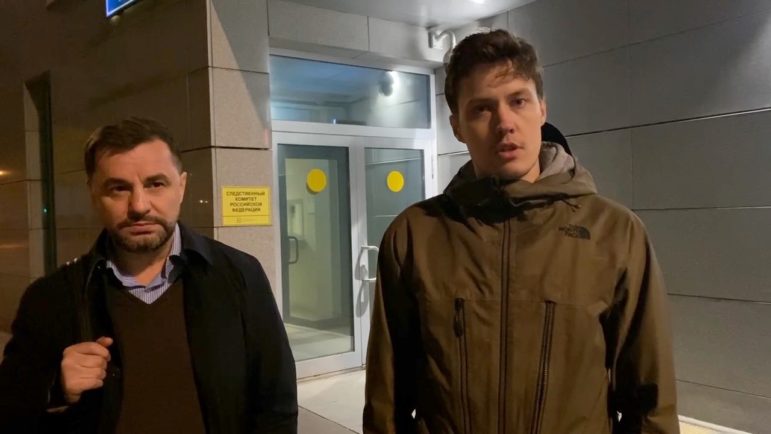 Roman Anin, the editor of Important Stories, with his lawyer, Vasily Grischak, after a search and interrogation at the Moscow's Investigative Committee on April 9, 2021. Image: Courtesy
What to Do When Authorities Raid Your Home
Read this article in
Editor's Note: In early April, Russian authorities raided the Moscow apartment of Roman Anin, editor of IStories, one of the few watchdog media outlets left in Russia.  GIJN condemned this attack on Anin, who is widely regarded as one of the world's top investigative reporters, as did press freedom groups worldwide. In response to the raid, IStories' lawyer Vasily Grischak gave a briefing to journalists on how to deal with this invasive tactic. IStories' Julia Krasnikova turned his tips into a guide in Russian, which GIJN has translated below into English. While some of his advice relates to Russian law, much of Grischak's tips are relevant for journalists worldwide.
On April 9, officers from the Main Investigative Directorate of the Russian Investigative Committee, supported by operatives of the Federal Security Service (FSB), came to search the house of our editor-in-chief Roman Anin. The search lasted for almost seven hours. The newsroom of IStories was searched simultaneously.
The cause was the investigation The Secret of "Princess Olga:" What's the Link between Rosneft's Igor Sechin and One of the Most Luxurious Yachts in the World? which was published by Novaya Gazeta in 2016 [and written by Anin].
Roman has already twice been summoned for police interviews. So far he is a witness in the case, but his status can change to a suspect at any moment.
On April 14, the same Investigative Committee officers broke into the student magazine DOXA. Searches, interviews, and a house arrest followed under the formal pretext of an "injunction warrant."
This is another round of pressure on independent journalism. What can we do about it? At a minimum we can support each other by drawing maximum attention to what is happening. But journalists also have to know what they must do if there is a knock at the door.
The core of our advice today relates to how you should behave during a search. Experience shows that the officers are slightly more restrained when they see that a person knows their rights.
The recommendations listed here are compiled from attorney Vasily Grischak's presentation, which he gave to the employees of IStories.
Important Preparation Steps
Find a lawyer to call in case of an emergency, and have them in mind before you need them. Learn their number by heart in case your phone is seized and you have to make a call from an unknown device.
Memorize the phone numbers of your editor-in-chief and any other significant people who you can call to notify them where you are and what's going on.
Be careful about the security of your accounts, but don't over-complicate your password system: You have to have access to some online services even if all of your devices are seized. If you have a MacBook, encrypt the disk using FileVault. For a Windows PC use BitLocker.
During the Search
Call your lawyer immediately.
Try to calm down. It takes time, so if the officers meet you at the entrance to your high-rise apartment, suggest taking the stairs instead of the elevator. If they knock on your door while you are inside, don't rush to open the door. Ask them to show their police IDs and the search warrant via the spyhole. While they do that, you have time to contact your lawyer or your editor-in-chief and to try to calm down.
Put your phone in your pocket. Then it formally becomes a personal belonging, so to seize it, the investigator would need another warrant for a personal search.
If the investigator restricts you from communicating with other people (get a specific "Yes" or "No" answer to whether you can do this) and state: "If you want to seize my phone, you have to conduct a personal search." The personal search must be conducted by an officer of the same gender. If the officers have broken all of these rules — note it down (below we explain where to do this in the "remarks" section of the search minutes paperwork, and why it matters).
If they allow you to take a picture or make a written copy of the search warrant – that is good, do it.
Find out the grounds for the search. They must state what they are looking for. If they don't respond after several requests, this is worth noting.
If they start breaking or breaching your door, that is, generally, OK. However, it shows that the officers have the intention to act rough.
The search must be conducted in the presence of two attested witnesses. Make sure you talk to them. Explain that you are a journalist, and you assume the search is related to your work. Ask them to pay attention to the activities of the police and to follow every step of the officers.
If some of the witnesses seem suspicious to you — for example, if it seems that they know the investigative team — you can demand to replace them. There's a chance they would not respond to this, but then you write a remark about another violation of your rights.
Insist on a consecutive search (room after room and not just dispersing around the apartment at will) and the presence of the attested witnesses at every step. If this is not followed, you should note that in the remarks.
Remember, that if you live with another person, the devices, documents, and belongings of your flat mate or relative can also be seized. Unfortunately, this is legal.
Important Documents
The investigator must present the search minutes — a record of what has happened — to you. Read it attentively. It should state:

The date.
The time when the search began and ended.
The addresses (including the witnesses' addresses).
Full names and signatures of the participant of the search (the investigative team, operatives, witnesses, etc.). If something was written indiscernibly (with bad handwriting, etc.), demand that it be typed out or re-written.

All empty fields in the minutes form have to be crossed out (use the Z symbol), so that nothing can be filled in later.
The minutes form contains a "Remarks" section. If it says "no remarks," cross that out and write your remarks down. If there is not enough space, mention: "Remarks added in additional sheets," and state the quantity of extra pages.
You must receive the copy of the minutes. It should be the same as the original. If the copy is missing something (signatures or remarks), then write in the receipt form: "Minutes copy not received."
What Are the Remarks and How Do You Write Them?
Your remarks should mention all the points when your rights were violated or you have reasons to assume they were. Later, on the basis of your remarks, you can launch a complaint into the actions of the officers. This will add paperwork for the investigators and add documents for the judges.
All your remarks help create a "paper trail." Think of them as of threads in the safety net for you and the lawyers who will protect your rights.
Remarks Can Mention Anything
The search lasted from … to … and we did not get food and water.
No IDs were presented.
There were the following concerns regarding the witnesses, but our request to replace the witness was not met.
The officers wandered around without supervision.
The request of … was denied.
Personal search was conducted with … violations.
After the Search
If the officers invite you to an interview at the station, refuse, telling them that would require a formal summons.
If they threaten to take you by force, it's better to comply and go to the station. Otherwise, they may handcuff you and you would then be formally detained, which is not what you want.
However! This is a violation. You must mention this in your remarks on the search minutes.
If they use force against you — comply. Otherwise you are at risk of violating Article 418 of the Criminal Code — use of force against a public officer.
If you are interviewed as a detained person, the main rule is not to speak without your lawyer. Respond to all questions with "Article 51 of the Russian Constitution" or "Article 41 of the Criminal Procedure Code" — the right to remain silent. Do not agree to the free legal aid lawyer!
They must give you a phone call. If they don't — mention this in the remarks (you probably get the gist by now).
If you have an illness and need special medication, mention that in the minutes and ask them to provide the drugs you need. If they don't — mention in remarks.
After the interview they must give you a copy of the minutes. The principle is the following: read it through carefully, cross out the empty spaces (Z), and state all your remarks in the corresponding field. They must issue a copy of the minutes for you immediately. If they say they will provide it later, demand it immediately.
What Should You Do If It's Not a House Search but an Attempted Personal Search On the Street?
The main rule is: if you are not detained, you don't go with them.
They can't stop you for a personal search without grounds. The officers must introduce themselves. If they approach and say: "Come with us, we have some questions," you should immediately respond: "Am I detained?" If they say they merely want to identify you, you can show your ID on the spot and you don't have to go anywhere.
If they detain you, they must fill in detention minutes. As soon as you are detained, you may require your right to a phone call. Make sure everything is put in the minutes  — you can add remarks. If they conduct a personal search minutes should be issued as well.
The officers are obliged to explain the grounds for your detention.
If they give you one reason and then try charge you with another, that's deceit; Mention this in the minutes and then file a complaint of illegal detention.
Take a mental note if there are CCTV cameras outside or other witnesses , such as passers-by. This may be needed for witness statements related to your detention later.
Another important rule: Don't play rough and don't carry a chip on your shoulder. Try to be polite when possible. And we sincerely hope that you won't be needing to follow these recommendations.
Additional Reading
My Favorite Tools with Russia's Roman Anin
GIJN Resources: Safety and Security
How to Successfully Defend Yourself in Her Majesty's Libel Courts
---

Julia Krasnikova is the social media editor for IStories. Previously, she developed the crowdfunding project "Become a Co-Participant" for Novaya Gazeta in Moscow. Prior to that, she worked for the internet newspaper Realnoe Vremya (Kazan), organizing the news department and developing the newsroom's social networks.