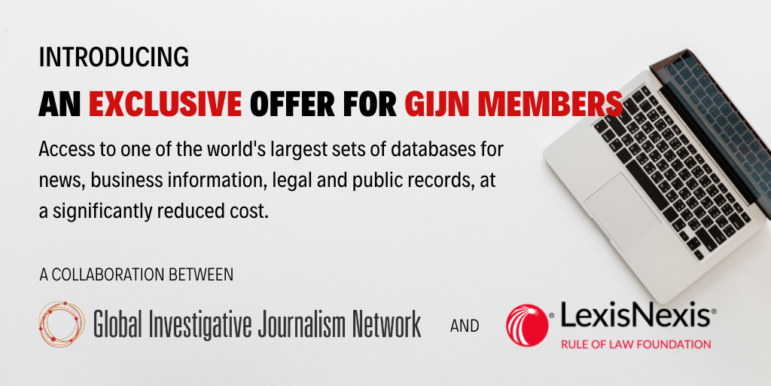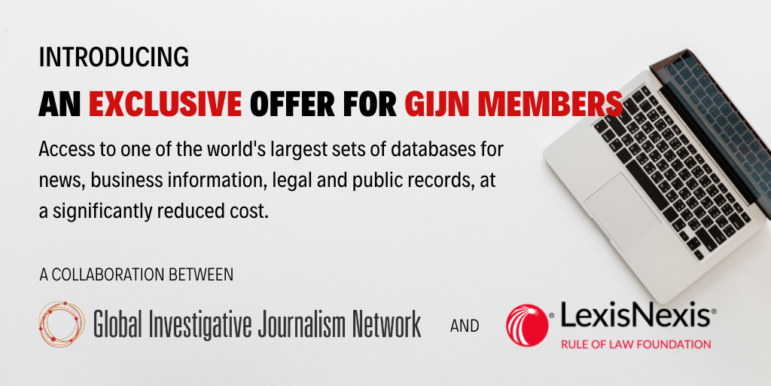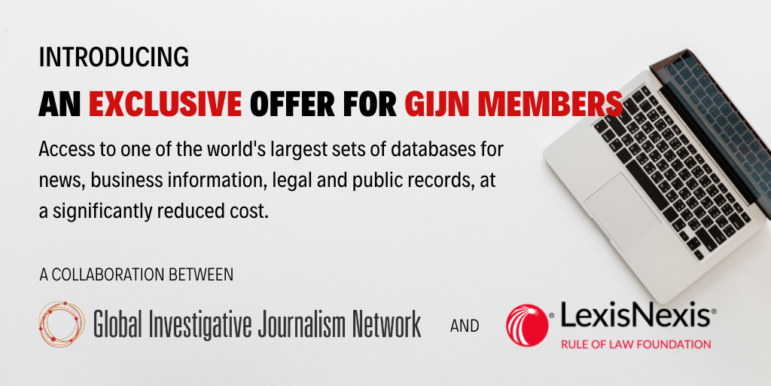 The Global Investigative Journalism Network is pleased to announce that it is now offering its members an exclusive arrangement with leading global data and analytics company LexisNexis: access to one of the world's largest electronic databases for legal and public-records related information and for news and business information. This is the most comprehensive set of tools at a significantly reduced cost that LexisNexis has ever offered to journalists. The collaboration is with the LexisNexis Rule of Law Foundation, which has just been established by LexisNexis.
"We are grateful to the Rule of Law Foundation for offering GIJN and its members this extraordinary opportunity," noted GIJN Executive Director David Kaplan. "By granting low-cost access to the vast holdings in LexisNexis, the Foundation is providing the world's most enterprising journalists with unparalleled access to news and public records. This will strengthen watchdog reporting worldwide on corruption, lack of accountability and abuses of power."

Commenting on the collaboration, Ian McDougall, President of the LexisNexis Rule of Law Foundation, said: "Investigative journalists around the world help governments operate in fair and transparent ways, tackle corruption, poverty and disease, and protect people from injustices.  At the same time, they are also helping to increase awareness and understanding of the rule of law."
The information available for GIJN members includes:
Lexis Advance

®

News from over 26,000 licensed news sources from international, national and regional newspapers, magazines, journals, newswires and broadcast transcripts—including archives going back 40 years.

Lexis Advance® News and Legal with

access to 60,000 news and legal sources in more than 17 languages,

plus legal research in more than 40 practice areas, and a comprehensive collection of federal and state case law.

Lexis Diligence® (with the information from either Lexis Advance News or Lexis Advance News and Legal) adds the ability to

search an entity or person that you want to investigate. Results will be returned based on adverse news, adverse or negative filings against the person or entity as well as any Sanctions or PEP (Politically Exposed Persons) information that will help in understanding the risk level of the entity.

The Global Investigative Journalism Network (GIJN) is an international association of 173 nonprofit organizations in 75 countries that support, promote and produce investigative journalism. GIJN and its members organize the seminal event in international investigative reporting, the biennial Global Investigative Journalism Conference, which will be held this September 26-29 in Hamburg, Germany. In addition, GIJN conducts training, provides resources and consulting, runs a Help Desk and Resource Center, and publishes the latest tips and tools on investigative reporting in eight languages per day.
LexisNexis Rule of Law Foundation is the not-for-profit entity established by LexisNexis Legal & Professional to further achieve its corporate mission to advance the rule of law around the world. The foundation plans and executes projects which enhance one or more of the key elements of the rule of law: transparency of the law, access to legal remedy, equal treatment under the law, and independent judiciaries. These projects focus on a range of local, national, regional and multiregional jurisdictions around the world.
For more information contact: Anne Koch, GIJN Program Director.