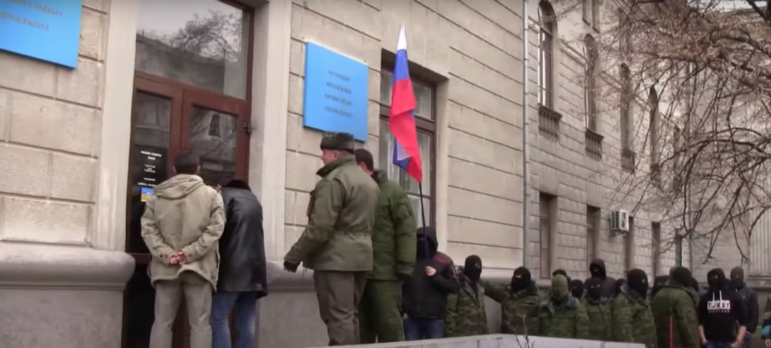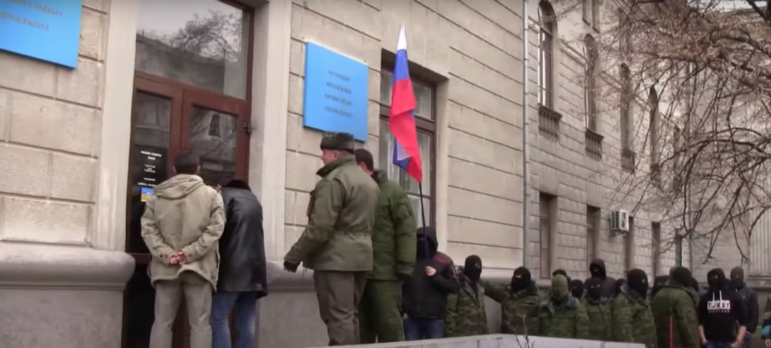 As Russian troops invaded Crimea in 2014, masked gunmen ransacked the office of GIJN member Crimean Center for Investigative Center. Its staff ended up fleeing to Kiev. Image: Komtv.org
Essential Steps for Journalists in Emergency Situations
Journalists receiving threats may have to flee their homes in a matter of a few hours. Conflicts, though, are often foreseeable and that's why those in fragile regions should have an exit plan in place and crucial documents ready to go. These documents will not just help reporters with travel, when needed, but may also help them to move to a safer region or country. Below, we've listed what documents to gather as well as which organizations support journalists with relocation.
Documents to Have Ready
Have the original or physical copies of the documents listed below.
Passport, national ID card, driver's license.

Look at the expiration dates. If they are close to expiration by a few months, renew them immediately if possible.
If you have several identification documents, keep them in separate places in case you lose one of them.

Birth certificate (or any official document proving date and place of birth).
Others: marriage certificate, university degrees (diploma, proof of graduation and attendance, grades), press card, professional certificates, vaccine certificate, other medical documents.
Save the following information in one document, in English, on a Cloud service, and on your smartphone, ready to be copy-pasted for anyone you need to send it to:
Full legal name, place, and date of birth.
Passport number, as well as issue number and expiry date.
Current location — although be careful about sharing this in online messages.
Email address.
Phone number and, if different, WhatsApp and Signal numbers.
Place of employment/proof of employment with local and foreign organizations.
If you have a trusted friend or contact abroad, consider sending them digital copies of some of these documents and information for safekeeping.
Personal Documents
Make digital copies of photographs and anything else you consider important and would want to keep a memory of.
Save everything to a Cloud service you trust.
Preventative Measures
Apply for a tourist visa in a safe foreign country, in case you need an easy, temporary way out.
Contact international organizations you have worked with in the past (newsrooms, online magazines you freelanced for, NGOs you've consulted for or worked for).

Ask for a record or proof of your work in English (example: A signed document from an editor-in-chief or human resources representative attesting to the work you completed and the dates of employment or freelancing).
Ask if they have connections at the national government level and whether they could vouch for you if you applied for refugee status in that country.
Ask for supporting electronic documents in English and a contact person at the organization to help with your case as the situation unfolds.

Contact international professional organizations you are a member of and ask for a letter of support and proof of membership or involvement, in English.
Look into pathways for asylum and refugee status in other countries, starting with those where you have an immediate family member (parent, grandparent, sibling, spouse, child).

If you are not sure where to start you can contact the embassies of countries you are interested in to ask them about the procedures;
You can also contact refugee aid organizations so they can help you understand the legal framework to become a refugee in another country.
Digital & Physical Safety Steps
Organizations to Contact
Below is a list of organizations that provide emergency assistance to journalists who are in danger due to their work:
Committee to Protect Journalists (CPJ) "provides support to frontline journalists, and rapid response assistance to journalists who are injured, imprisoned, or forced to flee because of their work." The fastest way to contact them is by email (emergencies@cpj.org).
Canadian Journalists for Free Expression (CJFE) offers financial support under these conditions:
"The applicant must be a journalist, verifiable by either an IFEX member or an organization that provides emergency assistance.
The amount granted typically ranges from $500 to $1,500 CAD (US$400-$1,200)
Journalists are eligible for a maximum of two separate grants from CJFE.
CJFE accepts only applications in English."
CJFE financial support may include legal fees when journalists are detained, medical expenses, transportation costs to safety, and resettlement costs in a safe country.
Free Press Unlimited (FPU) may cover short-term support for journalists who are not able to work, or costs to temporarily flee an unsafe or vulnerable situation. You can apply here. According to FPU's site, the requirements are:
"You are a media organization or a practicing media professional;
Your emergency situation is a direct result of your work as a media professional;
You recognize that this assistance is not structural but provided on an incidental (one-time) basis;
You recognize that the aim of our support is to resume your work as soon as possible;
Your situation can be confirmed by at least two trusted sources outside of yourself."
Freedom House runs an emergency assistance program. To inquire about submitting an application, contact them by email (info@csolifeline.org).
International Federation of Journalists (IFJ) offers a Safety Fund, which you can apply for here.
International Media Support (IMS) offers a safety package that includes "24/7 hotlines, safe houses, safety fund, safety equipment, legal assistance, emergency assistance," and more.
International Women's Media Foundation (IWMF) has an Emergency Fund that assists with psychological and medical care, temporary relocation assistance (3 months), and legal aid. You can apply for funding here. You must meet these criteria.
Journalisten helfen Journalisten (Journalists Helping Journalists). To apply for relocation with this German-based organization, write to them by email (jhjgermany@t-online.de).
Reporters Without Borders (RSF) asks journalists at risk to send requests for assistance to assistance2@rsf.org or call +33 1 4483 8466.
International Fellowships
If time allows, journalists who need to leave their country until tensions have eased can also apply for one of these international fellowships, which often help with the visa procedure and offer a stipend and housing.