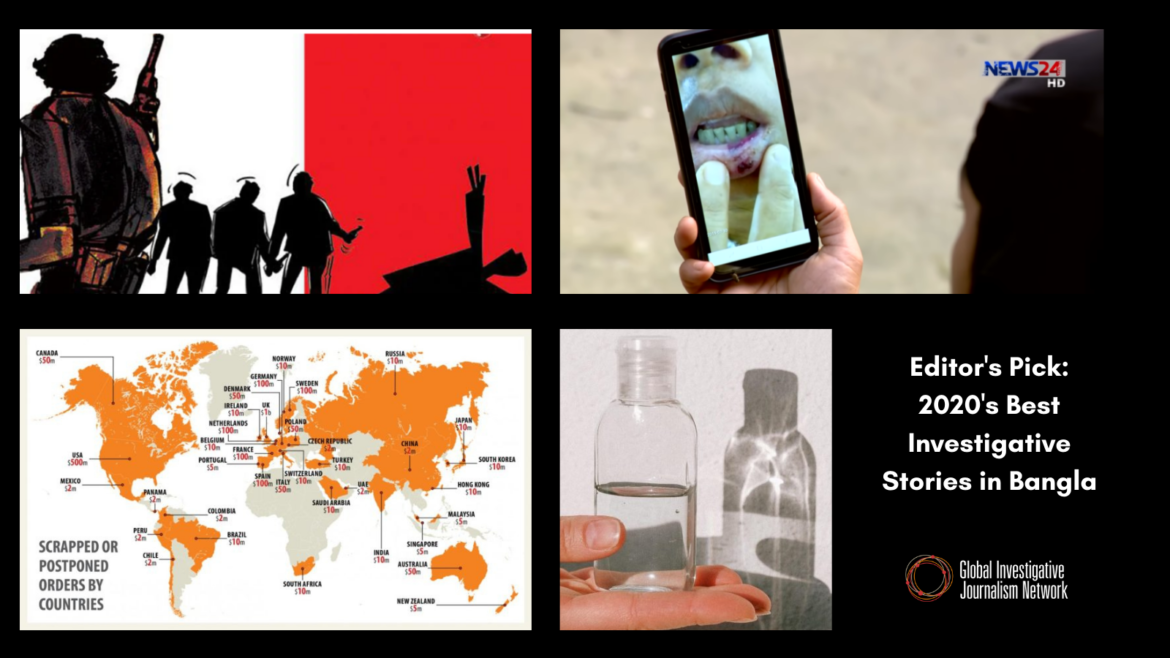 Investigative journalism is never easy, and 2020 has been a particularly difficult year for the Bangladeshi reporting corps. More than 1,000 journalists in the country contracted COVID-19, but this was just one front that they had to fight. There have been job losses, pay cuts, and economic uncertainties related to the pandemic; there was also self-censorship in newsrooms and fear of the Digital Security Act (DSA), which can be used to criminalize free speech online. Amnesty International said more than 800 DSA cases had been filed in the first nine months of 2020 alone, "with many of the country's most prominent editors and senior journalists being increasingly targeted."
Despite the challenges, we know from curating the top stories for GIJN Bangla's monthly bulletins that investigative reporting has been flourishing in some areas. It's something that has been noted by reporters such as Irani Bilkis Khan.
"Investigative journalism is making great strides," Khan said in a recent Facebook post about a national reporting competition by Dhaka Reporters Unity, a professional body that represents about 1,800 journalists. "Even in the general category, most award-winning reports are investigative, and submissions in the investigative category have also increased significantly."
The reports exposed corruption, revealed cases of corporate greed, documented the torture and abuse of migrant workers, questioned the culture of impunity for extrajudicial killings, and told previously unknown stories of women experiencing extreme health conditions as a consequence of climate change.
The relentless efforts of these reporters did have a tangible impact, bringing corrupt individuals to justice, saving taxpayers' money, and holding corporations and the powerful to account. Here are some of the stories that mattered most in 2020 for the 215 million Bangla speakers around the world.
Every day, hundreds of villagers of Shyamnagar Upazila, in the southwestern Satkhira district of Bangladesh, bathe, wash their clothes, and collect drinking water from saline-contaminated ponds. A decade ago, Cyclone Aila ravaged the coast, poisoning groundwater sources with salt. Since then, the situation has only gotten worse. While this story was known, how the salinity was affecting the thousands of women and children in the area remained untold. That was until Jesmin Papri, a reporter from the online portal Jagonews24.com, spent four months investigating, traveling through coastal villages to interview 60 women of different ages. She found 25 women who had their uteruses surgically removed after suffering from infection and disease linked to the water. She visited hospitals and clinics, gathered public records, and talked with doctors and health workers to explore why women — and even young girls — were suffering from vaginal infections as a result of exposure to saline. While medical experts told her removing a woman's uterus is not the best treatment, the investigation found that the need to remain active in a poor family, as well as a lack of proper medical guidance, meant many women felt they had no other option.
At the onset of the pandemic, demand for hand sanitizer skyrocketed. In Bangladesh, leading local brands increased production, while many new companies emerged in a rush to cater to the growing need. Parvez Nadir Reza, an investigative journalist at Ekattor Television, was skeptical about the quality of some products. He collected various samples and had them tested in a Dhaka University laboratory. The lab found alarming results for one top brand which reportedly accounts for more than 90% of the domestic hand gel market. The lab found that the company was using methanol, a form of alcohol that is toxic for the skin but cheaper than the recommended reagents, such as ethanol and isopropyl alcohol. The journalist then took 18 samples of different hand sanitizers — including the top brand — to the Bangladesh Council of Scientific and Industrial Research. Researchers there not only confirmed the findings, but also discovered that other companies failed to follow World Health Organization guidelines for producing alcohol-based hand sanitizers. The company in question was fined and ordered to withdraw all hand sanitizers of that batch from the market after the authorities raided its warehouse.
In another exposé linked to the coronavirus outbreak, Searchlight, Channel 24's investigative team, aired a report on fake COVID-19 tests which had been carried out at a Dhaka-based hospital. The reporters found that among the hundreds of samples the hospital collected from patients each day, only a handful were sent to a designated government lab for testing. They claimed the hospital provided fake certificates for others, while charging high fees for a test that was supposed to be free. The investigation also found that while the hospital had been approved by the health ministry as a "COVID-19 dedicated facility" — and that top officials from a number of different ministries attended the signing of the coronavirus contract — it was operating without a valid license. The owner of the hospital was politically influential, and regularly posted selfies with celebrities, key officials, and political leaders. The hospital's owner was ultimately arrested over the allegations while attempting to cross into India wearing a burqa.
Clothing manufacturing is one of the driving forces of the Bangladeshi economy, employing around 4 million workers, most of them women. But soon after the pandemic hit, news started to leak out about big retailers canceling huge orders, putting exporters and workers' livelihoods at risk. The Daily Star gathered and crunched data to understand the gravity of the problem and how it was impacting the industry. Reporters found that 1,931 buyers, mostly from North America and Europe, had either delayed, put on hold, or canceled orders worth $3.7 billion in the first three months of the pandemic. They interviewed 20 suppliers who had already paid for the raw materials for orders, taking out bank loans to meet the expenditure, and were now struggling to pay their workers. While some buyers began reinstating orders by late May, the majority were "asking for massive discounts for products already produced or delaying payments by six months to a year," the report found. Reporters approached the major buyers and workers' rights organizations only to find that the brands "turn a deaf ear to compliance."
On July 3, Al Jazeera's 101 East aired an investigation about the treatment of migrant workers in Malaysia during the coronavirus lockdown. It revealed how the Malaysian authorities were confining migrant workers behind barbed wire, testing and fingerprinting them, and arresting anyone without valid documents for deportation. The journalists found workers "out of work, forced to live in cramped conditions," while some were "starving and dependent on charities to survive." Rayhan Kabir, a Bangladeshi migrant featured in the documentary, provided visual evidence of workers being taken away by police. He also described the inhuman treatment used when one of his friends was arrested. Police later arrested Kabir for criticizing the government and deported him, even though he had valid documents. Kabir was greeted as a hero in Bangladesh, and his treatment by the Malaysian authorities sparked outrage. Rights groups also condemned his arrest and accused the government of suppressing media freedom after authorities questioned Al Jazeera's journalists and raided their office.
More than 400 Bangladeshi women migrant workers have died abroad since 2016, a third of them in Saudi Arabia. Aired in January 2020, this investigation by NEWS24 documented nearly a dozen cases in which women migrant workers reported suffering rape and torture, or in which families believed the workers were killed in the Middle East. Rogue recruiting agents had lured the women abroad with false hopes of well-paid jobs and the opportunity to perform Hajj, a dream for many poor Muslim families. The story tells how women workers have been beaten by their employers, sold from one family to another, raped, and later deserted by their own families and forced to work extraordinary hours; in many cases, the women were never paid what they had been promised. Reporters also questioned how authorities of both countries have failed to protect workers from such abuse. The investigation also featured women who had found success overseas, underscoring that the fate of migrant women was largely dependent on the behavior of their employer.
Forging an identity is a common form of fraud in many parts of the world. But manipulating a secure national identification system to steal another person's identity was something practically unheard of in Bangladesh. So it came as a surprise when Jamuna TV's Investigation 360 team revealed that a group of petty criminals had stolen the identities of an entire family in order to sell valuable property belonging to them. It took seven months for the investigative team to expose the weakness of the registration system. They found that even though the fraudsters already had identity documents, the system could not cross-check biometric information while issuing new cards in another name. Local officials did not verify the information either, relying instead on certificates from elected local representatives as proof of identity. The National Identity Card is mandatory in Bangladesh, where it is used for voting as well as accessing essential public services. The report led to the arrest of the alleged fraudsters, an official investigation, as well as a review of the existing registration system.
Look at the picture above and imagine what it might cost for each structure of bamboo and corrugated iron sheets. How about paying 20 million Bangladeshi Taka (BDT), or $235,000 — excluding the price of the land? Needless to say, the figures raised a few eyebrows when Asif Zaman of Deepto TV exposed the case in a report aired in March 2020. According to the report, the land was selected by the project director in charge of building the schools, in collusion with local middlemen. Zaman's investigation revealed documents showing that the middlemen agreed to share the money they would receive for the inflated price with landowners. In all, the report claimed the costs at three potential sites had been exaggerated. The investigation also found that the education department concerned proposed increasing the cost of the entire project by BDT 4.5 billion, with most of the increase for acquiring land and the structures built on them. The purpose of the project was to increase the rate of education and reduce school dropouts among children. But spiraling costs in development projects is a major problem in Bangladesh, leading to waste of taxpayers' money.
In this report, Ahmed Zayeef of leading Bangladeshi daily Prothom Alo investigated seven alleged incidents of extrajudicial killings, events often classified by law enforcement agencies as death in the "crossfire." Zayeef interviewed families of the victims and studied case records and probed official reports to find families; knocking on doors to seek justice, including those of police, the courts, and the National Human Rights Commission, often to no avail. The investigation examined the role of different organizations to show how law enforcement agencies refused to file charges brought by the families. Instead, officials filed several cases claiming the people concerned were killed by gunfight and or in the crossfire between criminal groups — a narrative they failed to prove. The report suggests that the home ministry investigated only two cases and no action was taken on the findings. Eleven agencies investigated another complaint made in court, but all of those involved were acquitted. In interviews, top officials denied the allegations, saying that there had not been any extrajudicial killings and that "agencies open fire to defend themselves when attacked." The investigation lists many of the extrajudicial killings alleged to have taken place under different Bangladeshi governments, but in many cases justice remains elusive. Given the high stakes involved, investigations into extrajudicial killings are rare in Bangladesh, making this investigation particularly notable for the reporter's bravery.
---

Miraj Ahmed Chowdhury is the editor of GIJN in Bangla. He also oversees programs and communications at the Management and Resources Development Institute (MRDI), a leading media development organization and GIJN member in Bangladesh. He has 14 years of experience in journalism, mainly in broadcast.