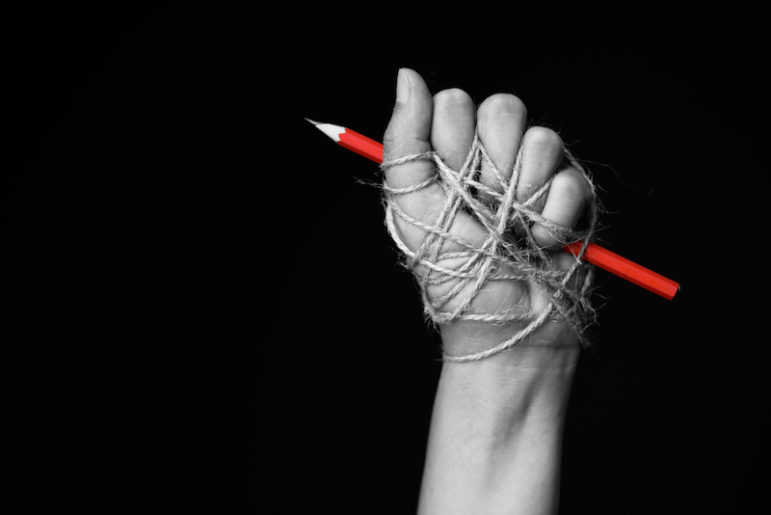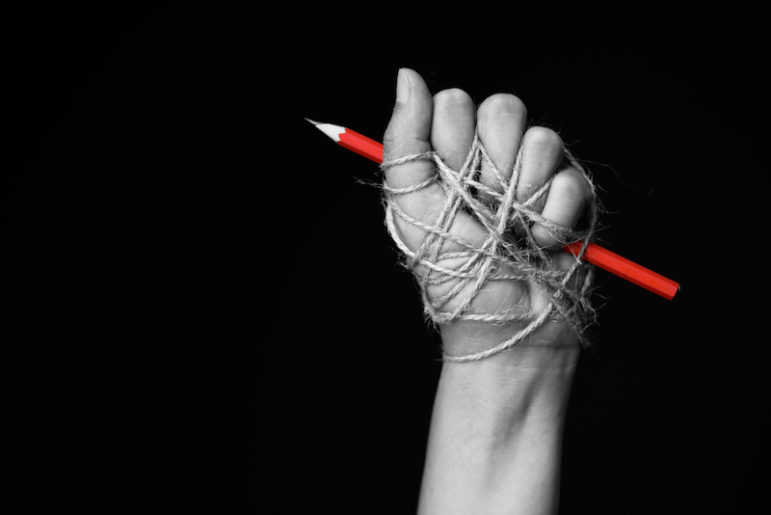 When Autocrats Attack: How Journalists Around the Globe Are Fighting Back
Read this article in
Russian investigative journalist Ivan Golunov was arrested on June 6, 2019 on drug-dealing charges, although, he says, he has never even smoked a joint. While behind bars, he became more popular on social media than president Vladimir Putin. It was only after he was released, five days later, that he learned about an unprecedented and massive journalistic solidarity campaign, both national and international, that resulted in prosecutors dropping all charges.
Golunov's case is just one among many, all over the globe. Reporters, especially the most independent, critical, and investigative ones, are at the receiving end of autocratic governments' intolerance of dissent. These type of rulers have been around much longer than journalism and democracy, and their methods are well-known. What's new is the use of the internet and social media platforms to undermine journalists' credibility, combined with a more sophisticated application of legal instruments and bureaucratic punitive measures.
But there is hope. Those very same networks and tools are also being used by journalists to fight back. They shared some of their stories during panels at the 11th Global Investigative Journalism Conference in Hamburg last week.
Trolls, Lies, Sanctions, and Bans
Social media platforms allow autocrats to speak directly to the public and amplify their versions of reality and propaganda campaigns at a faster pace, a louder volume, and around the clock. With Facebook, Twitter, or YouTube, they may think they can ignore the traditional intermediaries of information. But the best journalists are not just mere messengers. They play a fundamental role, by seeking a plurality of voices and sources to find out what is true. Their stories often question and contradict the official narratives.
Take Rodrigo Duterte, for example. As mayor of a conflict-ridden city in the Philippines, he was used to ruling with an iron fist without the local compliant media saying anything about it. "It was a shock to him, when he became president, that independent media questioned him," says Rappler's managing editor Glenda Gloria. She describes him as a "feudal character" not used to various voices and as the "macho president" who goes after women journalists but also senators and chief justices.
One of the first measures Duterte took was banning all journalists from entering the presidential palace and covering him. At the same time, an online army of pro-Duterte trolls and influencers started growing and shaping public opinion against those who were most critical, like Rappler, with aggressive disinformation campaigns that also hurt their advertising revenue.
What could Rappler do about it? Investigate it, expose it, and take it to Facebook, which has massive influence in the Philippines. The company took down 300 pages. It was something, but still not enough. Rappler was also forced to look for new sources of income as advertisers pulled back for fear of retaliation. It started crowdfunding campaigns and communicated with its community of readers and followers about the distress its team faced, which, besides the online attacks, Gloria describes as a combination of "the bureaucracy mobilized and law weaponized" against them.
In the past 13 months, 11 court cases or investigations have been opened against Rappler, and several of its members have travel bans and fines that have cost them more than US$50,000. Maria Ressa, its CEO and executive editor, has been arrested twice. "We will hold the line. It's the kind of payback [our supporters] deserve," says Gloria.
In Peru, an army of followers and party members of former president Alan García came after journalist Gustavo Gorriti and his team of reporters at IDL-Reporteros, blaming them for his suicide. García shot himself when authorities came to question him about his involvement in Brazilian conglomerate Odebrecht's sophisticated scheme of bribes to government officials and politicians across Latin America to get public contracts. Gorriti has been one of the key journalists investigating and exposing the Car Wash scandal, as it is now infamously known.
The hate campaign against these journalists on social media was brutal. The hashtag #DeathtoGorriti stirred furious mobs that showed up at the offices of IDL-Reporteros in Lima. Some of the messages targeted at Gorriti were also anti-semitic.
"The only thing you do is fight intelligently. We investigated the trolls, who they were, their background, who was paying them, and we published that," said Gorriti.
They also sued some of the bullies for "defamation, calumny, and hate crimes." Gorriti got the idea from a Finnish journalist who did the same thing and won in court. He knows very well that the Peruvian justice system is not "clean and perfect"; in fact he has continuously exposed corruption within it, but by taking this first step, some of his enemies retracted.
More than Journalism
The idea of using the same "tools of destruction" that autocrats utilize to persecute journalists is a controversial one. But it may also be naive to think that just by doing more reporting and publishing more stories, the battle can be won: "I wonder, is good journalism enough?" said Sheila Coronel, the Dean of Academic Affairs of Columbia University's Graduate School of Journalism.

"Sometimes we have to take some actions, [do] more than journalism," says Swe Win, an independent investigative journalist and editor in chief of Myanmar Now, who spent seven years in jail. In one of his most recent battles, he didn't use the law against his enemies; he employed an even older tactic: writing letters to key authority figures, including Buddhist monks.

In Russia, as soon as Golunov was arrested, his colleagues at Meduza, an independent media outlet, started working 24/7 to get his case on everyone else's radar. They shared his exposé (on the country's mafia controlling funerals) with other journalists across the globe, and they created a social media campaign demanding his immediate release.
The response was striking, both inside and outside of Russia. The three biggest business newspapers in the country, who usually compete against each other, printed the same front page in support of Golunov. His pieces even came out in gardening and fashion magazines. Regional media followed with more investigations on the funeral industry in their areas.
The solidarity campaign on all social platforms soon prompted others to get involved: celebrities, musicians, writers, and ordinary people showed up and formed a single picket line (the only form of protest in public spaces allowed without previous authorization) at the gates of the Investigative Directorate of Police in Moscow. It was the pressure from all sides that turned around the legal situation for Golunov.
Cyberspace is the territory many journalists feel they need to defend most adamantly from autocratic governments' controlling and manipulative efforts.
Many aren't doing it directly, but using public relations or private strategy firms. According to Ressa, there are several global disinformation networks across many countries operating through different companies. Ressa recently spoke with Christopher Wylie, one of the whistleblowers in the Cambridge Analytica case. She quoted him as saying that the Philippines and other Global south countries had been used as "petri dishes" because they have laxer regulatory controls, and once these companies discovered the tactics that worked, they would "port" it over to the western countries.

In other places, it is the state or the ruling party that controls everything. In China (where journalists and media need government permission to work and Facebook, Twitter, and YouTube are banned), censoring and punitive tactics are hardening: there is a crackdown on VPNs, the administrator of any chat on Weibo or WeChat can be liable in any legal action, and even Winnie the Pooh (used in mocking memes of Xi Jinping) has been forbidden. "It's funny but it's not funny," says Professor Yuen Ying Chan, from Hong Kong University.
That's why in her hometown, the Water Revolution (dubbed after Bruce Lee's philosophy "be like water") is on fire these days. She says people are not willing to give up their freedoms so easily. They understand the power of the internet and social media, and have been using it to help organize the protests. For journalists in Hong Kong, the pictures and videos taken by citizens have been indispensable elements in visual forensic reporting done by both local and foreign journalists on how the protesters are being repressed.
"Our future is in the digital space," says Mahfuz Anam, editor of the Daily Star in Bangladesh. Its website has ten times more readership than the print version.
It is online, he says, that his country's press freedom is currently being threatened due to a new digital security law. According to Anam, with the excuse that they need to protect people from violent content shared across sites and social networks, this law gives the police unprecedented power to clamp down on free and independent media. He worries that fear of ending up in jail may result in high levels of self-censorship.
"This space is really my space, it's your space," Anam told other reporters at the conference, and asked them to defend it as a global united front. He questioned the "self-complacent and self-serving" attitudes of many in the profession: While journalists have been busy focusing on revenue and learning the latest tools and trends in data and investigative techniques, autocrats have been advancing their own agendas. "If journalism per se comes under repressive environments, then none of our technical abilities will succeed."
---

Catalina Lobo-Guerrero is GIJN's Spanish Editor and a freelance journalist. She has reported on politics, armed conflict, human rights, and corruption in Latin America, mostly in Colombia and in Venezuela, where she was a foreign correspondent for three years.