If we do not do that, then what exactly is the purpose of journalism?
God forbid we take on the weaker institutions, the weaker individuals, while letting the strongest ones off the hook only because they can forcefully fight back.
A day before I started work at The Boston Globe in the summer of 2001, I read something startling. It was a column by The Globe's own Pulitzer Prize-winning columnist, Eileen McNamara. She wrote about the case of John Geoghan. He was a priest. Geoghan had been accused of abusing as many as 80 children. It was shocking. So I read closely.
The column detailed how the attorney for the survivors—those victimized by the priest—had asserted that the cardinal himself, Cardinal Bernard Law, knew about this priest's repeated abuse and yet continued to reassign him from one parish to the next—notifying no one, not the parish priest and certainly not the parishioners, that a priest known to have committed sexual assaults would serve in ministry at their church.
Those were the allegations of the plaintiffs' attorney. But the attorneys for the Church called those allegations baseless and irresponsible.
And then Eileen ended her column by saying the truth might never be known because the internal Church documents that could reveal the truth were under court seal.
When there are allegations of grave wrongdoing, we can't settle for the truth never being known.
We needed to know, and that is what propelled me—and my colleagues at The Boston Globe—to launch our investigation and to file a court motion to unseal those internal documents that would tell us what the Church was so determined to keep secret.
The first question we sought to answer, of course, was whether the Cardinal himself knew of this priest's abuse and yet reassigned him to other parishes despite consistently strong evidence of serial abuse of children. The answer to that question proved to be an unequivocal yes.
We also wanted to know if there were other abusers like this priest? Beyond that, did the Church knowingly place abusers into parishes where their history of abuse was kept secret—and where they abused again? Was concealing abuse and reassigning priests the Church's actual policy and practice? The answer to all those questions turned out to be an unequivocal yes.
The result of excavating the truth was a public good. Children were made more safe.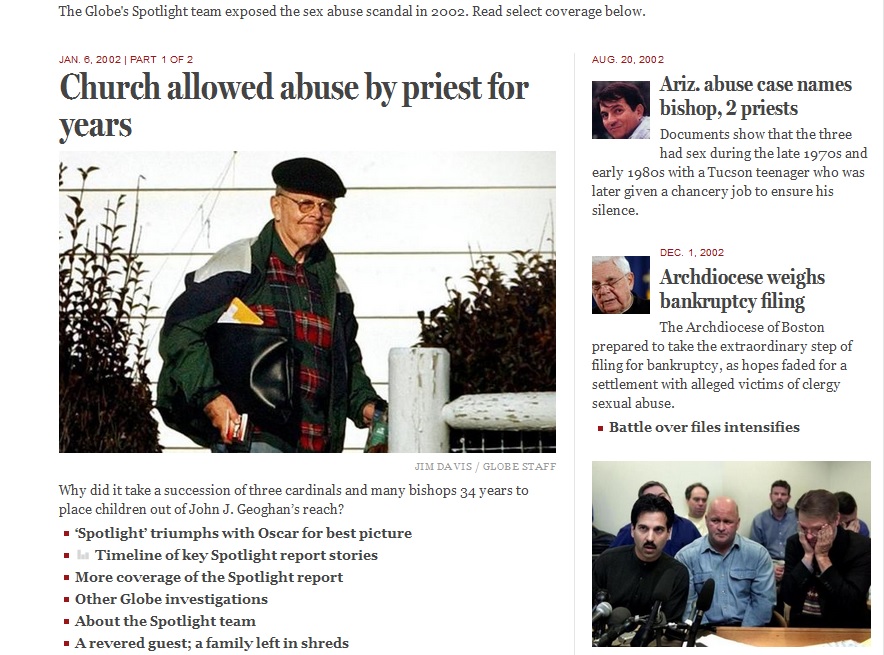 Well after our first story was published in January 2002, I received a letter from Father Thomas P. Doyle, who had waged a long and lonely battle within the Church on behalf of abuse victims. He wrote this: "This nightmare would have gone and on were it not for you and the Globe staff. As one who has been deeply involved in fighting for justice for the victims and survivors for many years, I thank you with every part of my being.
"I assure you," he wrote, "that what you and the Globe have done for the victims, the Church and society cannot be adequately measured. It is momentous and its good effects will reverberate for decades."
There is a lesson in Father Doyle's letter: The truth is not meant to be hidden. It is not meant to be suppressed. It is not meant to be ignored. It is not meant to be disguised. It is not meant to be manipulated. It is not meant to be falsified. Otherwise, wrongdoing will persist.
I kept Father Doyle's letter on my desk in Boston until the day, four years ago, that I left to join The Washington Post. It served as a reminder of what brought me to journalism and what kept me in it. And as a reminder of the work we as journalists must always do.
It is the work that occupied Christopher Hitchens over a lifetime and that still animates so many in the profession to which I've dedicated 40 years.
For all of my style differences with Christopher, what we shared transcends all that. We shared a common purpose.
Thank you for listening and for all you do to assure that Christopher's ideals endure.
---
This post first appeared on the website of Vanity Fair and is reproduced with permission.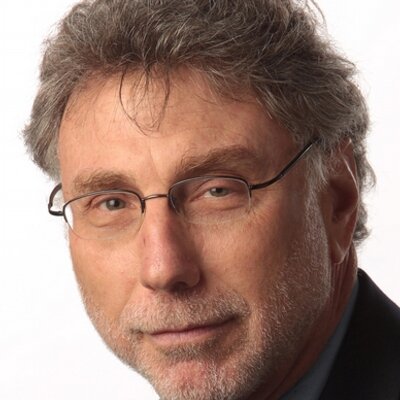 Marty Baron is executive editor at The Washington Post. Before joining the Post, he was editor of The Boston Globe for 11 years. Under his leadership, the Globe won six Pulitzer Prizes—for public service, explanatory journalism, national reporting and criticism. The paper won the Pulitzer for Public Service in 2003 for its investigation into a pattern of concealing clergy sex abuse in the Catholic Church.