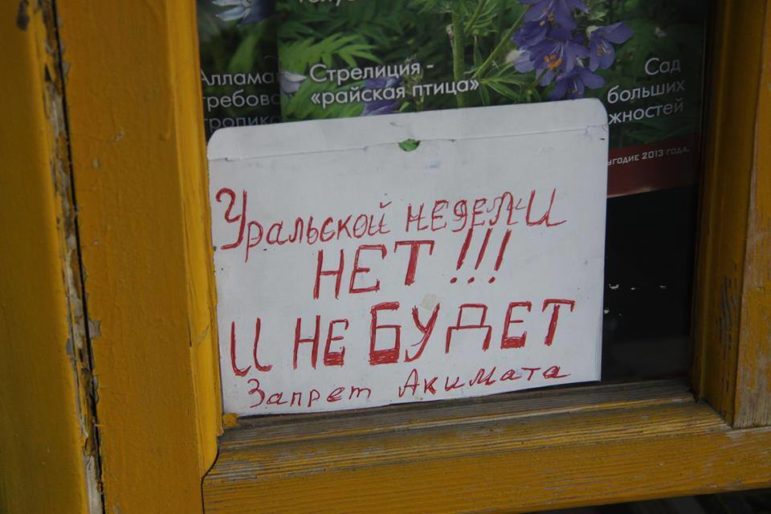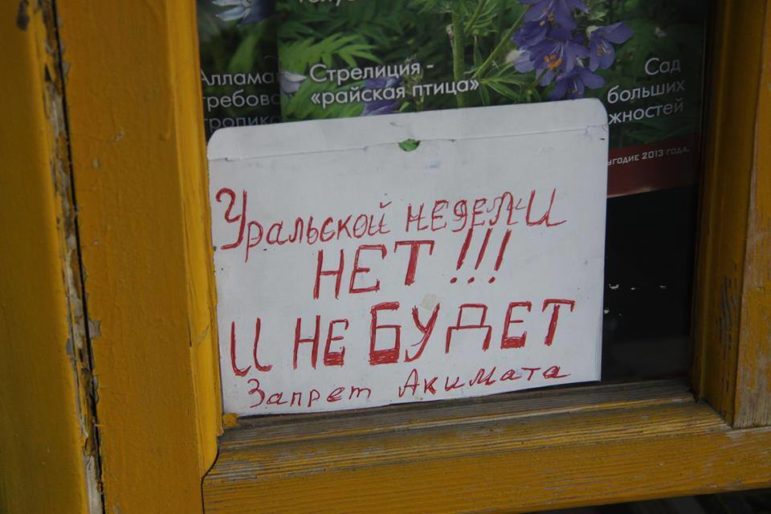 Three years after recovering from an attempt on his life, journalist Lukpan Akhmedyarov ditched his day job and began running a business.
But he soon felt the itch to return.
"I discovered that in an unfree country it is easier to be a journalist than it is to be an entrepreneur,"Akhmedyarov said. "At least we have a lot to write about."
Journalism has never been easy in Kazakhstan. And Akhmedyarov's hometown, Oral – better known by its Russian name Uralsk – feels as distant from the rule of law as it is from the capital, a 2,000 kilometer drive away. Akhmedyarov and the newspaper he edits, Uralskaya Nedelya (Uralsk Week), have rarely known a moment's peace.
On June 23, five reporters with the newspaper were taken in for questioning as they set off for Uralsk's central square to cover one in a series of impromptu nationwide protests. The tiny rallies were held at the urging of self-exiled opposition figure Mukhtar Ablyazov, a tireless nemesis of the aging martinet President Nursultan Nazarbayev.
Akhmedyarov, 42, was the first to be nabbed as he left his home on the outskirts of the city. His colleague, mother-of-two Maria Melnikova, said she was held for 10 hours without food or water after being scooped up on Uralsk's central square.
The journalists were later released without charge. On the same day, dozens of people were bundled into police vans while trying to attend gatherings in Almaty and Astana.
"Our entire staff of reporters was detained," Raul Uporov, the paper's long-time photographer and web editor, told Eurasianet. "They even took our intern. As far as we could work out, the rally in Uralsk did not even take place."
Under Kazakhstan law, preventing journalists from carrying out their work is a crime. But the local authorities who have waged war with the newspaper since its inception in 2001 have plenty of experience circumventing such legal niceties.
The journalists were formally hauled in by police over a comment left under a video on the weekly newspaper's YouTube channel agitating people to attend the unsanctioned rally.
Much-criticized changes to the media law passed at the end of last year make outlets accountable for, among other things, social media comments posted by third parties. Uralskaya Nedelya may yet serve as a testing ground for applying this repressive provision.
According to the Uralskaya Nedelya founder and publisher, Tamara Yeslyamova, the paper faces at least five lawsuits annually. They are mostly initiated by local authorities.
The lawsuits are filed, she said, "with the express aim of destroying Uralskaya Nedelya."
Local judges overwhelmingly rule against the newspaper, which at one point was printed 500 kilometers away in Atyrau due to government pressure on the local print house.
At the end of last year Uralskaya Nedelya paid $20,000 in court fees after three cases were decided in favor of local authorities. Two other cases are yet to go to court.
These outlays threaten the very existence of an outlet which had a financial surplus until two years ago, thanks to profits from advertising.
Exacerbating the struggle for survival is the more general decline in demand for paper-format media, which has caused the collective, like so many others around the world, to slash circulation and concentrate resources into developing the website.
"You can't go against the technological revolution," Yeslyamova told Eurasianet during a recent interview at the paper's offices.
"When I first printed the paper with 100,000 tenge (then just over $600) in advances for advertisements, I promised our readers we would come to them once a week without fail. We kept that promise. But these days people do not want to wait a week for our information."
At the center of most of the newspaper's battles with local authorities has been Akhmedyarov. He is widely regarded as one of Kazakhstan's most uncompromising journalists and an outspoken critic of Nazarbayev.
To some, both he and his newspaper symbolize a spirit of rebellion that has infused the northwestern part of modern-day Kazakhstan since the days of the Russian empire.
"People here are wired slightly differently. They say as they think. They are blunt, sometimes harsh," said Sanat Urnaliyev, who spent three years in several stints as a reporter at Uralskaya Nedelya as well as five days in a police cell with Akhmedyarov in 2011 after the pair held a two-man anti-Nazarbayev picket in the city center.
"I began buying Uralskaya Nedelya just to read his articles," said 33-year-old Urnaliyev, who is now RFE/RL's Kazakh service correspondent in the region and was also detained on June 24. "They tried to kill him but couldn't. I think he is probably invincible."
Four men were sentenced in the attack in which Akhmedyarov was stabbed multiple times and shot twice with an air pistol, but the organizer was never identified.
Uralskaya Nedelya has long believed the assault was planned by provincial authorities as a long-running confrontation came to a head.
"We had a non-relationship with the regional governor of the time," Akhmedyarov said.
Baktykozha Ismukhambetov, who briefly chaired Kazakhstan's lower house of parliament in 2016, had already reached retirement age by the time he took up the post of governor of West Kazakhstan oblast in 2008. He was used to commanding respect wherever he went.
Akhmedyarov had at that point left the newspaper to begin a brief and ill-fated tenure as the news editor at a privately owned regional television channel.
"It was Ismukhambetov's first press conference. At the end of it he said: 'You all ask such nice questions. Doesn't anyone have any difficult questions?'"
The invitation was too tempting for Akhmedyarov to resist.
"I said: 'There are two major facilities being built here – a hospital for cancer patients and a school in the suburbs. Both of them are being built by your son-in-law. Your sister has been appointed as the director of the school, even though it has not been built yet.'"
"I saw his mood drain as the words fell out of my mouth," Akhmedyarov recalled, pulling a face in imitation of the governor's appalled expression. "Then I asked him: 'Tell me, do you have any other relatives that have partaken in the devouring of budget resources?'"
Ismukhambetov exploded, calling the question "unethical" in a tirade that ended with a slammed door. Akhmedyarov was sacked by his boss before he had even got back to his office. He soon returned to his former stomping ground.
Although Uralskaya Nedelya focuses mostly on issues of local interest, it is also a national bellwether of sorts.
According to Tamara Kaleyeva of the media watchdog Adil Soz, many of the other regional media outlets that are financially and editorially independent have softened their reporting after years of relentless pressure from government. Among these, Diapazon, based in the western city of Aktobe, was once sued 22 times in a single day.
It is the lawmaker's pen and the judge's gavel that remain the main enemies of the independent press in Kazakhstan. Near-fatal attacks like the one on Akhmedyarov are the exception, not the rule. But the outcomes of this assault on freedom of expression – fear and self-censorship – are the same, according to Kaleyeva.
"In Kazakhstan, we like to say that we don't kill journalists – we are far too civilized for that," she said. "Instead, through the courts, we kill journalism."
---
This post first appeared on the Eurasianet website and is reproduced here with permission.

Chris Rickleton is AFP's Central Asia correspondent based in Almaty, Kazakhstan. He has served as editor for Global Voices Central Asia, staff writer for EurasiaNet, English editor at Kyrgyzstan's Kloop Media and assistant professor in the Department of International and Comparative Politics at the American University of Central Asia.