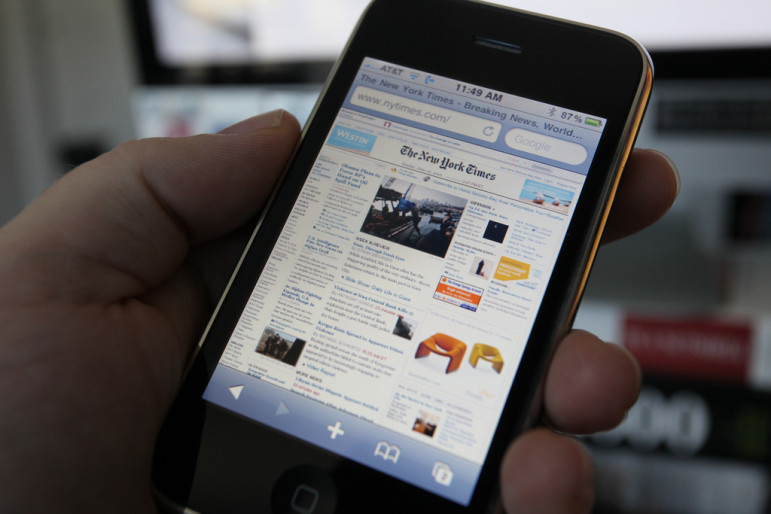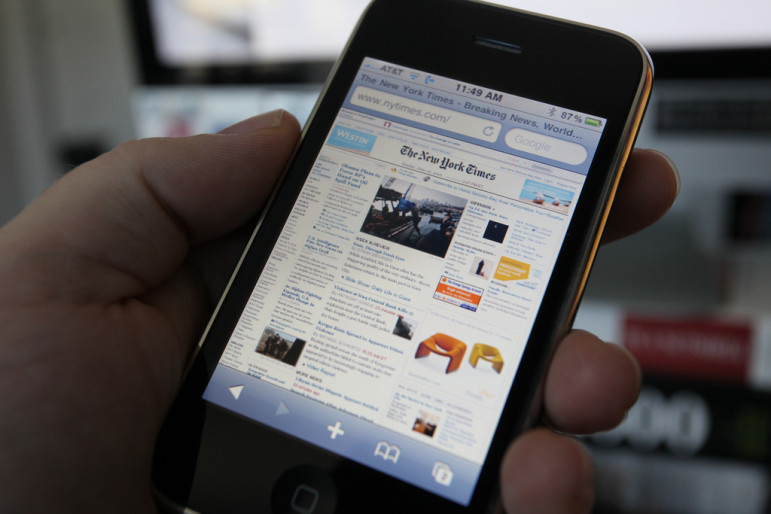 After years of predictions that this year would be the year of mobile, finally it has arrived. So here are some numbers that should prompt strategizing and action by digital media publishers.
1. Web traffic from mobile devices was up 78 percent year over year in mid-2013, and 109 percent over 2011, according to Ayaz Nanji, writing in Marketing Profs.
To cite one prominent media example of the trend, ESPN has been registering more than half of its traffic from mobile. For publishers the message is clear: you need a mobile app or mobile-friendly version of your content or your audience will leave you behind.
2. In 2013, for the first time, Americans spent more time on their mobile devices every day than on the desktop, according to eMarketer.  Mobile's share of daily time spent, 19.4 percent, is the only category that grew in the past year: television, desktop computers, print and radio all declined, as they have each year since 2010.
3. As of the fourth quarter of 2013, almost half of Facebook's $2.6 billion in total revenue came from advertising sold on mobile devices. This is the world's largest social network, with half a billion daily active users. Facebook has made it clear that it is betting heavily on mobile. Why? Because about three-fourths of its users are there. (As a point of comparison, three-fourths of Twitter's audience and 65 percent of its ad revenues come from mobile. )
(If there were any doubt about Facebook's focus on mobile, we need only point to the $16 billion it just bet on WhatsApp, a mobile messaging service, but that's another story.)
Although Facebook is still behind Google in total digital advertising, it passed Yahoo in 2013 to take the No. 2 position in the category, largely on the strength of its push into mobile.
4. We have been hearing for a long time about the decline of brand advertising on the web (as opposed to direct-response advertising based on clicks or other actions). eMarketer estimates that this year display ad revenue will grow faster, 19.5 percent, than any other digital format (search, lead generation, classifieds, email, mobile messaging). This is good news for advertisers who want to strengthen their brands and for publishers who depend on high-end advertising, such as business-to-business, luxury goods, automobiles and high-end travel. Bad news if they're not adapting their content to mobile.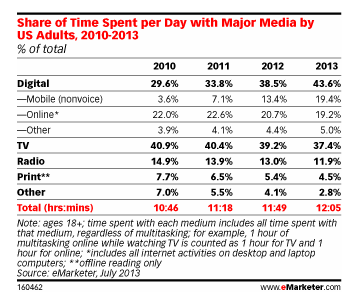 5. People are buying a lot on mobile devices, even big-ticket items. IBM did a study of buying habits of American consumers on Black Friday, the day after Thanksgiving, for 2013. What they found is that shoppers using Apple's mobile operating system for tablets and smartphones spent $127.92 per order, compared to $105.20 per order for Android.
Purchases made through Apple's mobile devices sales reached 18.1 percent of all online sales — yes, all online sales — which was five times more than Android. Apple would not comment to IBM on the reason for its dominance in this area. But evidently, its interface makes it easy and pleasant to buy.
If you are a digital publisher and do not have a mobile-friendly format, you could be missing out on traffic, advertising, paid subscribers, donors (for NGOs) and other paying customers for your services. So, publishers, do you have an app for Apple's devices?
6. If you have a video channel on YouTube, you should know that 40 percent of YouTube's traffic now comes from mobile devices, which is up by 25 percent from a year earlier, according to a report in TechCrunch. Publishers don't make a lot of money from YouTube unless they can secure a sponsor for their video channel. But given the increase in mobile viewing, there could be an opportunity there.
7. About 20 percent of all digital advertising is sold by one machine to another through programmatic ad buying, and it is growing rapidly, according to the Internet Advertising Bureau. Can you say "disintermediation"? Publishers are being cut out of the relationship between ad buyers and and ad sellers. How will this affect how you train and pay your sales teams? What are you doing about it now?
Start now
What small and large digital publishers ought to learn from these figures is that the public is moving so quickly to mobile consumption of news and social sharing that they need to take action.
In this kind of environment that requires rapid shifts in tactics and strategy, small news organizations that live only on the web have an advantage. They can move faster without having to worry about generating revenue to service debt or other legacy costs.
The rise of mobile and the rise of social media sharing represent a huge opportunity for those who are ready for it. And a huge missed one for those who are not.
---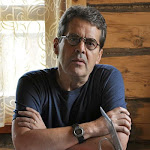 James Breiner is visiting professor of Communication at the University Tecnológico de Monterrey in Mexico. He is former director of the Global Business Journalism program at Tsinghua University in China, and founding director of the Center for Digital Journalism at the University of Guadalajara in Mexico. He has spent three decades in the newspaper business, including as publisher, editor, and investigative team leader.