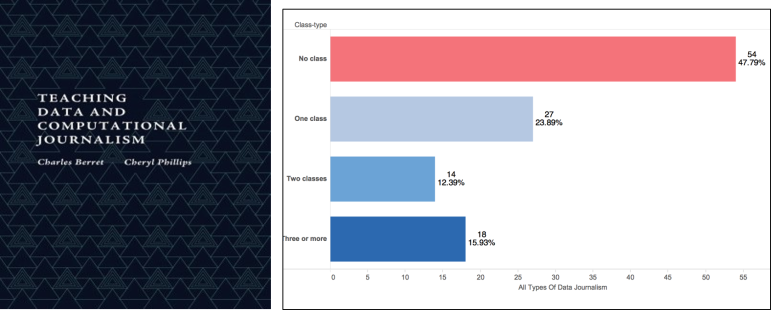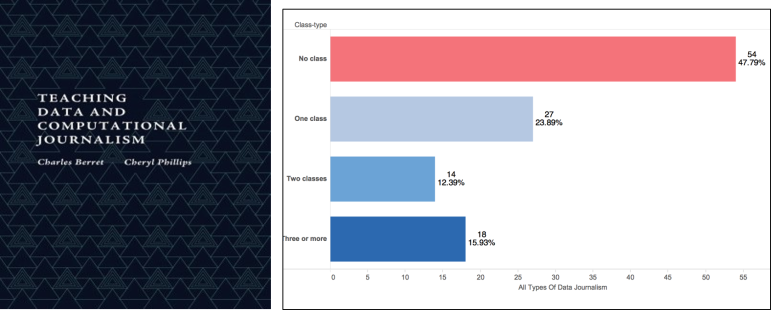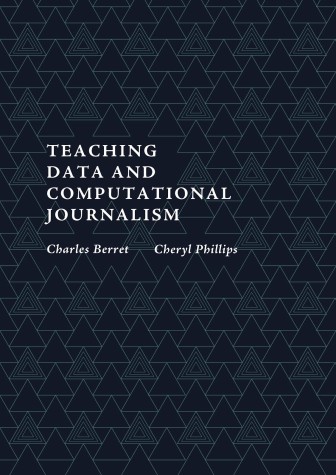 Data journalism is thriving worldwide, but is American journalism education keeping up? Funded by the Knight Foundation, our research team set out to survey and analyze the state of data journalism education in the U.S. today.  The results are being published and available online as a free report, Teaching Data and Computational Journalism, that provides model curricula for a range of computational and data journalism courses, including a model for a graduate lab-based degree in emerging media.
Our hope is that this research will illuminate the state of data journalism education with the ultimate aim of empowering journalists' investigative capabilities and imaginative potential for creating new forms of data-driven journalistic narrative. Though our study focused on American journalism programs, we have crafted our report to include findings and curricula that we intend to be relevant to data journalism educators and journalists internationally.
We began our research with a few central questions: What types of data journalism courses are taught at universities throughout the United States? How widely are data journalism courses taught? How do data journalism educators, data journalists and students of data journalism access the field today and what changes do they recommend for the future?
Data Journalism Classes at U.S. Universities, 2016
To understand curricula nationwide, we collected information about 113 journalism programs in the United States accredited by the Accrediting Council on Education in Journalism and Mass Communications (AEJMC).  This number represents about a quarter of the programs in the country. We combined that with a series of in-depth interviews with professors, professional journalists (many who teach data journalism as adjuncts), students and recent graduates.
Of the 113 programs we researched, 59 offer one or more data journalism courses encompassing a wide range of topics, from how to use spreadsheets to analyze data for investigative journalism, to courses in web scraping, building news apps and advanced data visualization.
Of these 113 programs, 93 offer multimedia instruction with an average number of three courses offered per program. But far few offer courses in data analysis or data visualization and advanced data journalism courses are rare. Of the 59 programs we found that teach at least one data journalism class, 27 of the schools offered just one course, usually taught at the introductory level. Fourteen journalism programs offered two classes.
Only 18 AEJMC-accredited journalism schools offered three or more classes in data and computational skills. This is dismaying for students who seek advanced positions in data journalism. Some of the data journalists we interviewed reported that their news outlets struggle to find candidates qualified for the growing number of positions requiring an advanced knowledge of statistics, mapping, data visualization and complex online databases.
At least part of the reason for the dearth of advanced courses is that it is hard to find faculty who can teach these courses.
Despite these challenges, there is considerable interest in making changes. At least 11 of the universities we studied reported that they are considering or planning to add coursework in data journalism. This growing interest reflects one of the central premises of our research: data literacy will make for journalists who can better investigate complex issues and report them more critically.
"What we're really seeing now is that this is a durable change in the structure of information, and therefore a need to durably change a journalist's knowledge in order to carry out their core democratic function," said Steve Coll, dean of the Columbia Graduate School of Journalism. "Not to build a business model, not to reach more people, not to have more followers, but to actually discover the truth—you need to learn this."
---
Joscelyn Jurich is a Ph.D. candidate in Communications at Columbia University, where she was a research assistant on Teaching Data and Computational Journalism. The report is by Charles Berret, a Ph.D. candidate in the Communications program at Columbia University, and Cheryl Phillips, Hearst Professional in Residence at Stanford University's Department of Communication, with additional research from Max Foxman, a Ph.D. candidate at the university's Graduate School of Journalism.