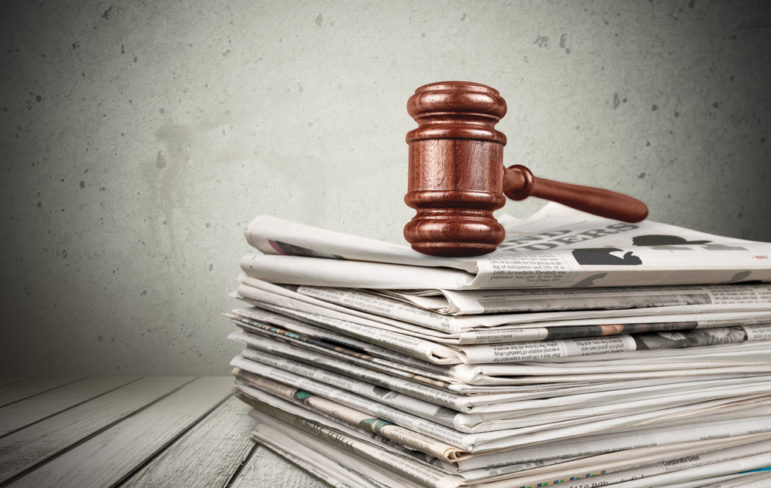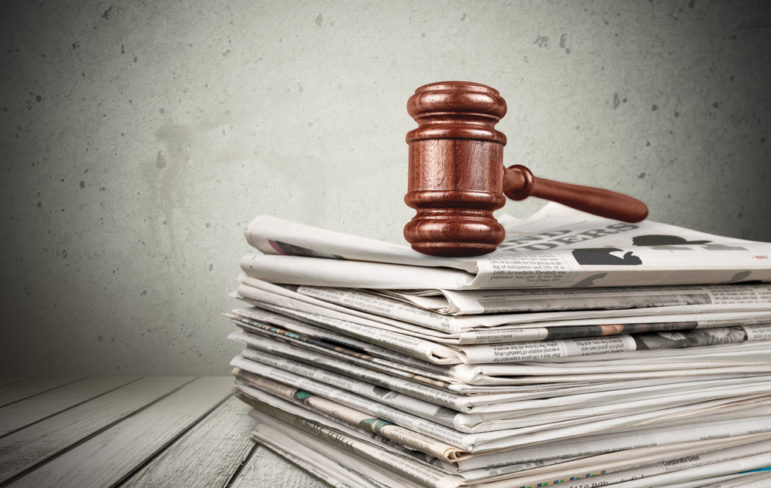 Stopping the Scourge of SLAPPs and Legal Harassment of Journalists
Awarding the Nobel Peace Prize to a vocal Nazi critic, German journalist Carl von Ossietsky, in 1935 was a warning sign of what four years later would become a conflict that took more lives than any previous war in human history.
It was not until 85 years later that a Nobel Peace Prize would again be awarded to a journalist — two, in fact — possibly signaling that unless things change, humanity may be standing on another precipice.
In October, the Nobel Committee awarded the Nobel Peace Prize 2021 to Maria Ressa of Rappler and Dmitry Muratov of Novaya Gazeta for their courageous fight for freedom of expression that was "representative of all journalists who stand up for this ideal in a world in which democracy and freedom of the press face increasingly adverse conditions."
But humanity has made quantum leaps in its search for peace since World War II. A few months after the war ended, the United Nations (UN) was created, vowing never to allow such atrocities to happen again. In 1948, the UN adopted the Universal Declaration of Human Rights (UDHR), a milestone human rights instrument that paved the way for more than 70 human rights treaties. In its preamble, the UDHR recognizes freedom of expression as central to democracy and lasting peace.
Ossietsky's was a time before the internet. In the last few decades, journalism has been supercharged by technology. Access to vast digital databases have led to whistleblowing on a monumental scale. The birth of data journalism allied with transnational collaboration has given us the Panama Papers and the Pandora Papers. Fact-checking journalism arose to resist disinformation. Today's accountability journalism is amplified by activism and unafraid to challenge abuse of power on a scale the world has not seen before.
Yet the moment journalists and activists shed light is the moment they become targets. Our legal systems have not yet evolved to provide them with adequate protections. The last few years have seen a record number of imprisoned journalists worldwide, as today's choice of weapon by many governments that engage in disinformation and corruption is to manipulate laws — and especially criminal laws — and turn them against those who disseminate information of public interest. Vulnerable groups include journalists, environmental and other activists, human rights defenders, fact-checkers, bloggers, academics, monks — all who publicly express an opinion that those in power do not like.
Among the most frequently used forms of legal coercion are SLAPPs ("strategic litigation against public participation"), which aim to intimidate journalists into abandoning their investigations. SLAPPs are meritless or excessive in nature, with disproportionate claims for damages. For example, Malaysian politician and UMNO party president Ahmad Zahid Hamidi, who is facing more than 40 corruption charges, is seeking a staggering $53 million USD in damages from Malaysiakini, an award-winning independent news outlet and MDIF client, for their coverage of his corruption trial. With no regional human rights mechanism such as a regional court in place, Asia is among the toughest places for journalists to work.
Legal harassment including threats of litigation regularly upticks prior to elections, one MDIF client explained. Many SLAPP-type lawsuits are initiated by government officials and politicians, even though these are occupations that "inevitably and knowingly lay themselves open to close scrutiny of their every word and deed by both journalists and the public at large" and, as such, "must consequently display a greater degree of tolerance," as held by the European Court of Human Rights in Lingens v. Austria.
The practice of abusing legal systems by those in power to silence critics has reached global proportions. Its damage is far-reaching, and curbing it is an imperative for democracy and maintaining peace.
Antidote to Silence: Beyond Anti-SLAPP Laws
"There is no better antidote to silence but to continue talking. Today, when freedom of expression and freedom of the press are under threat in El Salvador and much of Central America, the word is also resistance," said Carlos Dada, co-founder of El Faro, an MDIF client, in his acceptance speech of the Antoni Traveria Freedom of Expression Award awarded to El Faro in October 2021.
Concerned with the increasing toll legal harassment takes on our independent media clients, this year we conducted a survey on their exposure to such campaigns. While our sample may be small, it is representative of a larger pattern that calls for urgent action.
A typical example of an MDIF client — a seasoned investigative outlet that routinely exposes abuses of power such as corruption — confirmed that they regularly face multiple concurrent SLAPP-type lawsuits. Almost without exception, and often simultaneously with SLAPP lawsuits, media are also subjected to other forms of legal harassment — especially selective and carefully-timed visits by tax inspectors and other excessive fiscal, labor, safety, and regulatory audits. As one MDIF client remarked: "It isn't a question of if we will face another lawsuit, but when."
Such as the case of El Faro. In what appears to be a systematic effort to silence its criticisms of President Nayib Bukele and his government, El Faro and its journalists have been simultaneously subjected to defamation lawsuits by public figures, an order to shut down operations, death threats, illegal surveillance, multiple wide-ranging audits, and accusations of money laundering, some lasting for several years. The situation is so dire that, in February 2021, the Inter-American Commission on Human Rights ordered the Salvadoran state to take precautionary protective measures in relation to 34 journalists and managers that make up El Faro's staff, finding them in a serious, urgent predicament and their rights to life and personal integrity at risk of suffering irreparable damage.
Particularly harmful is the criminalization of journalists for their work. A recent study found that 63% of all SLAPP cases against human rights defenders involved criminal charges. Institutions including the Council of Europe and the UN, OAS, and OSCE international freedom of expression mechanisms, as well as the International Press Institute and Committee to Protect Journalists and many other press freedom organizations, actively recommend the abolishment of criminal defamation laws. Criminal defamation is not a justifiable restriction on freedom of expression, not even for fighting disinformation. As noted in a recent Columbia Journalism Review article: "The history of defamation is certainly one in which people in power try to slap down critics."
There are many ways criminal codes are used to silence speech besides criminal defamation. Malaysiakini has been convicted of contempt of court because of online comments by its readers criticizing the judiciary. In India, journalists have been increasingly subject to criminal investigations, initiated via so-called "first information reports," commonly drawn by the police in serious criminal offenses. Rana Ayyub, who is known for her investigative reporting critical of Indian Prime Minister Narendra Modi and his government, is facing charges of fraud and money laundering for alleged misuse of funds she received for COVID-19 relief. Abuse of tax laws is another alarming global trend. For example, Cambodia closed down dozens of media using the thin pretext of tax and administrative violations.
Guatemala provides an example of the extreme level at which the criminal legal system may be abused. Via a court order, El Periodico and its founder Jose Ruben Zamora are prohibited from writing about and "disturbing" (and Zamora from physically approaching) several female public figures, including a former first lady who later became a presidential candidate, and an incarcerated former vice president. The legal ground for the court orders is the Law Against Femicide and Other Forms of Violence Against Women; the real reason for the restrictions is courageous professional journalism that, despite threat of imprisonment, continues to disobey court orders that violate and distort the purpose of the law. As Inter American Press Association President María Elvira Domínguez commented: "Regrettably in Guatemala, there are precedents of public figures that unduly use laws created for other purposes to gagging news media that investigate and denounce or give opinions about corruption in the public administration."
Zamora explains that litigants rarely use regular means of redress, such as the right to seek correction or publish a reply. This preference for escalation over correction is prevalent and found around the globe.
Freedom of expression is not an absolute human right; it can, under certain conditions, be restricted, such as to protect legitimate interests, including the rights of others. But the criminalization of journalists is often carried out under the guise of protecting such legitimate interests: countering disinformation, protecting national security, or countering terrorism. A growing number of governments is maintaining or adopting laws targeting journalists and activists, demanding they register as "foreign agents" if they receive funds from abroad — as if to suggest that they are in some way traitors for not being solely funded by local sources.
The scale at which criminal justice systems are used to silence speech has prompted former UN Special Rapporteur on Freedom of Expression David Kaye to urge UN states to repeal any laws criminalizing journalism.
Irreparable Damage
At one point during former Guatemalan President Otto Pérez Molina's term in office, Zamora and his newspaper El Periodico were defending close to 200 SLAPP-type cases over their investigations exposing corruption. El Periodico was targeted because of the impact of its reporting; the newspaper's investigations were instrumental in the "Guatemalan Spring" that led to the arrest of more than 80 government officials in 2015, including a former president and former vice president. Close to 40 cases remain open. Another MDIF client, Polish newspaper Wyborcza, has been subject to several dozen such cases, with around 20 still outstanding.
Defending so many legal cases is costly. Even though most charges are dismissed, as one client explains, SLAPPs are initiated with the intent of creating expensive litigation that is complicated for the defendants, protracted, and undermines their right to a fair trial. High claim amounts trigger significant initial legal costs for the defense. Direct costs to the media organization are tangible and indirect damages run in multiples to direct costs. The impact of lawsuits radiate out across the media organization's operations, including "scared and threatened advertisers, difficult access to financing, lost business," as one MDIF client explains.
Legal harassment also comes with a serious non-monetary toll. SLAPP-type abuses also aim to damage the reputation of targets and their relationship with the audience. One MDIF client said: "The pro-government propaganda empire uses these lawsuits before a ruling is issued, and regardless of their ultimate result, to smear our reporters."
Post-traumatic stress disorder is not uncommon; inflicting psychological harm is one intention of litigants. Legal cases "are mentally draining, rendering us unable to focus on work, which is the objective." One client explains that even if the chances of winning are high, the case itself may affect the entire newsroom, in particular younger reporters. The impact is detrimental not only to direct victims of SLAPPs but on their families as well. As one MDIF client said: "The process itself is a punishment."
Multi-sectoral discrimination adds another layer of harassment, as the powerful seek to fuel violence against vulnerable groups such as women, minorities, and LGBTQ+ communities for political gain. A UNESCO discussion paper points to a sharp increase in online violence against women journalists around the world, revealing how these attacks are now "inextricably bound up with disinformation, intersectional discrimination, and populist politics." Online violence then moves offline, UNESCO finds, enabling and reinforcing legal harassment of women journalists.
Another vulnerable group — fact-checkers — are also being heavily attacked and threatened in countries like Brazil, Mexico, Greece, the Philippines, and India, as one client notes. Often housed in small, independent nonprofit organizations, they are especially vulnerable to legal threats.
This wide-ranging legal harassment is a global trend requiring an urgent solution, as made clear in research conducted by WAN-IFRA and the Open Society Justice Initiative. This was also set out more recently by the EU-Citizen Network, reports by the JURI Committee, and special rapporteurs Roberta Metsola and Tiemo Wölken, at the first ever UK anti-SLAPP conference held in November 2021, and initiatives such as Fact-Checkers Legal Support Initiative.
Momentum for Swift and Global Action
Daphne Caruana Galizia, a Maltese investigative journalist, blogger, and anti-corruption activist, shook the state of Malta with her revelations of corruption implicating powerful figures in the government, banks, and the police. She was silenced with a car bomb in 2017. At the moment of her assassination, she was the target of 47 criminal and civil lawsuits. Her death was a wake-up call for the international community, and led to a motion to adopt an anti-SLAPP law at the European Union level.
Such legislation is key to the survival of journalists and independent media. But it is only one part of the solution.
One MDIF client describes the playbook followed by autocratic governments as they seek to silence free speech in the following way: "A change in administration leads to an institutional capture of both the regulatory authorities (such as the tax department and the police services), and significant sections of the judiciary, as well as the media. They work in concert to attempt to intimidate independent voices." For example, in an emotional video of Caruana Galizia captured in 2013, she described how it took police only a few hours to show up at her door with an arrest warrant issued by a court magistrate after she had published an article the authorities didn't like.
Another MDIF client, who has successfully warded off a number of SLAPPs, confirmed that the likelihood of plaintiffs losing meritless cases before the national courts decreased in their country due to the gradual takeover of the judiciary by the ruling political party.
Such abuses of the legal system violate international human rights law. Engaging with SLAPPs or tolerating the abuse of legal powers is in stark contrast to the states' international obligations, understood, at a minimum, to be those expressed in the UDHR and the International Covenant on Civil and Political Rights. Under these provisions, states are obligated to respect and protect, among other rights, the right to freedom of opinion and expression, the right to seek, receive, and impart information and ideas, the right to peaceful assembly, the right to a fair trial, and the right to life.
Our overwhelming concern — drawing on 25 years of experience investing in independent media and investigative journalism — is that abuses of all kinds must be addressed if a solution is to be found: if only some aspects of abuse of the legal system, such as human rights abuses in the courts, are addressed, unfriendly governments will simply move to whatever other legal mechanism is at their disposal. This could be excessive fiscal, labor, safety, regulatory, and other laws governing media operations, an antiquated law found on the statute books and bent to a new purpose, or a new law could be adopted, such as fake news ordinances that have been increasingly used to stifle free speech since the start of the COVID-19 pandemic.
A holistic approach, one that understands the tools and schemes of abusive governments and addresses them completely and without hesitation, is urgently needed. At minimum, there should be a swift independent process and mechanism for redress, as well as a range of sanctions to prevent and punish engagement with and tolerance of any abuse of legal power to stifle free speech, in combination with soft law measures for funding pro bono legal aid and providing financial and psychological support to victims.
It is our hope that a motion to adopt the first ever regional anti-SLAPP treaty at the European Union level will trigger the adoption of a global treaty protecting free speech and public participation, thus unlocking the doors to a better future for all.
This story was originally published on the website of the Media Development Investment Fund (MDIF). It is republished here with permission.
Additional Resources
SLAPP Fight: How Journalists Are Pushing Back on Nuisance Lawsuits
How to Successfully Defend Yourself in Her Majesty's Libel Courts
India: Using Legal Action to Silence Journalists
---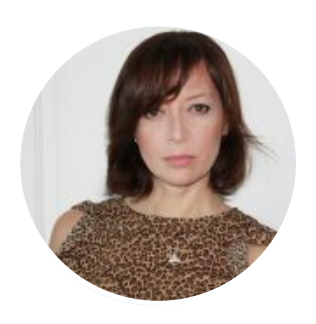 Snezana Green is senior legal counsel at MDIF and a University of Oxford and Chevening Scholar. She holds a MSt (LLM) with honors from the University of Oxford, UK, and a JD from the University of Belgrade, Serbia. Fluent in English, proficient in Spanish, and native in Serbo-Croatian, Snezana is currently based in Central America and Florida.