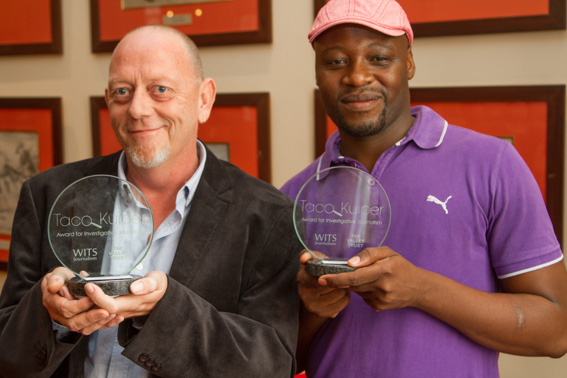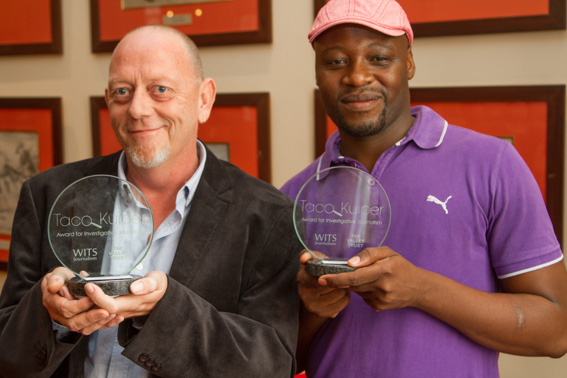 This year's winners of the Taco Kuiper Award for Investigative Journalism in South Africa, Paddy Harper and Sipho Masonodo of City Press, for a story about how members of the teachers' union sells jobs.

The just announced 9th Taco Kuiper Award for Investigative Journalism is South Africa's highest prize for investigative journalism. The award recognizes "outstanding examples of journalism, that reveal untold stories, hold the powerful to account and question those in public life." 
GIJN is pleased to reprint below the awards speech by Wits University Journalism Professor Anton Harber, given March 27 in Johannesburg. In it, Harber talks about the challenging time for South Africa's rich tradition of investigative journalism and gives a recap of the best submissions. The reports cover a wide range of topics, from Ritalin overuse, the conditions in hospitals and schools, university and school initiation abuses, to water and rhinos. Enough to get you inspired!  — The Editors 
---
We gather at a challenging time for journalism and particularly investigative journalism. Under financial strain and political pressure, influenced by media owners who don't always see the value and importance to their investments of investigative reporting, we often ponder whether we can sustain the time and resources needed to do this work. All the institutions of accountability in our society are taking strain, and we face a state increasingly influenced by securocrats and their powers of surveillance. This makes it more important than ever that we have reporters who probe, question, expose, uncover and rake the muck that flows beneath the surface of our complex and rich society.
Having spent much of the last few weeks consuming the entries to this competition, which represent the best and boldest stories of last year, I can tell you with confidence that we still are fortunate enough to have a cadre of journalists who have the courage, dedication and skills to play their role in holding to account those who wield power and authority.  There are old foxes and young terriers, in the biggest newspapers and the smallest radio stations, in the big cities and the small towns, tackling parochial stories and the big national ones, but they are there ensuring that at least no one can say they did not know there was crookery or thievery or dishonesty or malfeasance.
And when we despair that sometimes our political structures seem immune to these exposés, we need to remind ourselves that investigative journalists have in recent years brought down at least one cabinet minister, two police commissioners, the chair of the SABC and SAA and others in the private sector, refused to let the stink of the arms deal and Nkandla be blown away, exposed the attempts to cover up what happened at Marikana and given notice that the nuclear power deal will not happen without due scrutiny. We are here today to thank and honour the investigative reporters who do this, and hopefully strengthen and encourage them.
This year we received more entries than ever before: 58 of them (compared to 35 last year). Twelve came from television, four from radio, 37 from newspapers, one from a magazine, one from an investigative organization, one from a freelance writer, one from a blogger and – for the first time – one from an independent documentary filmmaker.
Two panels assess these entries. The first, which sifted through all the entries and drew up the shortlist, consisted of:
Sarah Carter, of CBS's 60 Minutes, Margaret Renn, our Taco Kuiper Fellow in Investigative Reporting, and Joe Thloloe, former editor, veteran journalist and current head of the Press Council.
The second panel then focused on the top contenders. It included Margaret Renn and Joe Thloloe again, along with former editor and highly respected political commentator Justice Malala, former Supreme Court of Appeal judge Tom Cloete, and myself, as convener.
They have asked me to make some general remarks on the entries. One of the reasons for the high number of entries was that some entrants found ways around the rule that limits an outlet to two submissions and an individual to one. The rule will be tightly implemented next year to ensure editors choose their best.
A concern, however, was the rise of what I call factional reporting, where different outlets give diametrically different versions of the same story because they have sources from different sides in a dispute who are peddling different agendas. We have five entries on the fighting within SARS, with five different versions of what was happening, which can only leave audiences confused. One can think of other recent examples, such as the Hawks story, which point to a disturbing pattern. We know that all sources have agendas, and many good stories have come from such sources, but journalists have to go beyond their agendas to establish the truth and must be careful of allowing themselves to be used by one side in these disputes.
With only a couple of exceptions, we were disappointed at the general level of radio and television entries. Too many of them offered what one expects from daily reporting and did not go that extra, investigative mile.
Although the political stories usually get the most attention, and there was no shortage of stories about corruption and tenderpreneurialism,  the judges noted the wide range of topics, which included sport, Ritalin overuse, the conditions in our hospitals and schools, university and school initiation abuses, water and rhinos. We were also pleased to see a number of new, younger voices alongside the older hands.
In general, the judges noted the sign of more careful editing. There were some stories which could have been told better, but overall this aspect showed more care than we have seen in recent years.
Now let's get down to the 10 entries which made our shortlist, all of which are examples of excellence in investigative reporting. In no particular order:
1. Graham Coetzer and Susan Comrie of MNet's Carte Blanche, for Goldfinger
The Carte Blanche team looked at the full chain of illegal gold mining, from those who raid old shafts under extraordinarily dangerous conditions and earn a pittance from it, to those who trade in this contraband and make billions from it. They showed us a school principal who uses his school premises to trade illegally and they revealed a VAT scam at the heart of this trade, which brought home the fact that it is us taxpayers who are being ripped off.
2. Bongani Fuzile and Mphumzi Zuzule of the Daily Dispatch with Mandela Funeral Scandal
The Daily Dispatch continues to punch above its weight with an exposé of those who took advantage of the Mandela funeral to enrich themselves. We saw many stories of corruption and theft among the politically connected, but this one was particularly repellent because it involved Mandela's funeral. The Dispatch's original and thorough work has led to charges being laid against the executive mayor of Buffalo City, her deputy, the Speaker, the ANC regional secretary and local business owners.
3. Freelancer Sean Christie for Under Nelson Mandela Boulevard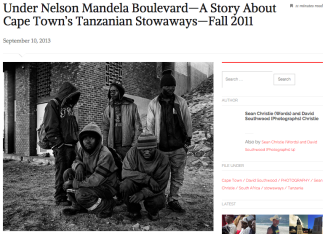 This was a most unusual entry and I want to show it to you as one cannot fully appreciate it without the optics. Freelancer Sean Christie spent much time spread over three years getting to know a group of men who live under this Cape Town bridge, and who stowaway on ships to smuggle heroine around the world. He did it without the resources of a newsroom behind him and it involved an adventurous trip through the continental underworld. It is beautifully written, powerfully photographed by Dave Southwood, magnificently designed and full of touching details to make a memorable piece of narrative journalism.
4. Rowan Philp of The Witness for Inside SA's R10-billion cable theft racket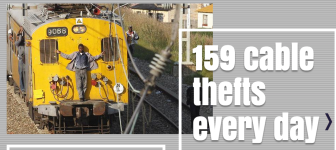 We all know about the problem of cable theft, but Rowan put together a comprehensive take-out over three days which showed how the thieves work, how widespread it is and introduced us to both the perpetrators and the investigators. It was well reported, well written and well displayed.
5. The Sunday Times team of Stephan Hoffstater, Mzilikazi wa Afrika and Piet Rampedi for How Arms Dealer Bankrolled Zuma
Familiar faces at this award, the Sunday Times team gave us the missing links in the story of President Jacob Zuma's implication in the arms deal. The thieves had fallen out with each other and what emerged was the code words and all the sordid details of how arms dealers appear to have bought Zuma.
6. Rehad Desai and Anita Khanna of Uhuru Productions for Miners Shot Down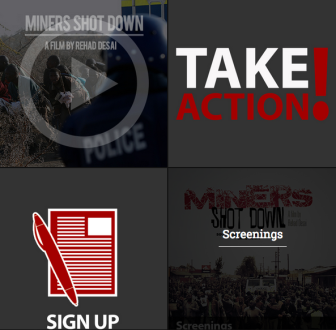 This powerful documentary is the first feature-length film entered into this competition. Rehad Desai worked long and hard as an independent filmmaker to piece together a view of what happened on that fateful August day, presenting a narrative which challenges the official view and makes for riveting viewing.
7. The City Press' Jeanne van der Merwe and Sipho Masondo for their SABC Boss Lied to Parliament
Fake CV's were a theme of 2014. Acting on a tip-off, these journalists used the Promotion of Access to Information Act to show that the SABC chair had faked her credentials. It took a while, but she was forced to resign.
8. Also from City Press, Sipho Masondo and Paddy Harper's story How Sadtu decimates our education system, one school at a time
Masondo and Harper  started by investigating a local murder and this led them to uncover a national scandal of great importance to our education system, giving a detailed account and examples from all over the country of how members of the teachers' union sell key positions in schools. There has long been talk of this practice, but City Press blew it open. To her credit Minister Angie Motshekga immediately asked for an inquiry.
9. And two from the Mail & Guardian's amaBhungane team:
a) Transnet tender boss's R50-billion double game, by Lionel Faull and team amaBhungane
The amaBhungane team is the Debrett's of the South African kleptocracy. Debrett's lists British peers, while amaBhungane gives us the equally arcane web of links of power and money between the Guptas, the Zumas and their respective associates. Here – with their regular thoroughness – they did it to show who was secretly benefitting from a massive Transnet tender.
b) Eskom's never-ending tender, by Lionel Faull and Sam Sole
This was an exposé – impressive in its detail – of the shenanigans behind Eskom's endless delays in issuing the tender for maintenance at the Koeberg Power Station. Perhaps most enjoyable was an Eskom board member's Facebook celebrations as she was wined and dined by the French bidder, unwittingly showing sensitive documents on the dinner table.
There you have it. Two finalists from City Press, two from the Mail & Guardian, one for the Sunday Times, two from independent freelancers, eight print and two broadcast.
Before I get to the short shortlist, the judges have chosen to make a special mention. Sean Christie's entry was not investigative journalism strictly speaking, so it was not likely to make our final cut, but it was exceptional narrative and imaginative journalism that did tell us a great deal that we don't know and need to know. The Valley Trust have generously agreed to a special once-off prize in recognition of this work.
Next step was for the judges to do a short shortlist of the final contenders. It came down to these three, again in no particular order:
The Mandela Funeral Scandal, by Bongani Fuzile and Mphumzi Zuzule of the Daily Dispatch
How Sadtu decimates our education system from City Press' Paddy Harper and Sipho Masondo
Miners Shot Down by Rehad Desai and Anita Khanna of Uhuru Productions
All are powerful, important pieces and it's not easy to choose between them. I remind you that what we are choosing is an outstanding exemplar of investigative reporting. This year's runner up, who takes home R100 000, is:
Rehad Desai and Anita Khanna for Miners Shot Down
And the winner, of the country's biggest journalism award of R200 000 is:
City Press, Sipho Masondo and Paddy Harper, How Sadtu decimates our education system, one school at a time.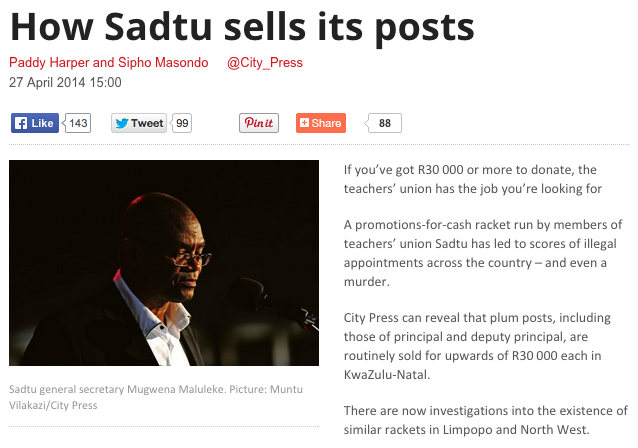 These two journalists did exactly what we ask for from investigative reporters. We all know the importance of fixing our education system, and they have exposed one of the known – but unspoken – problems at the heart of the system. It was important work, brilliantly executed and carried through to the full. We can only hope that the story and this award help empower the minister to take strong action.
---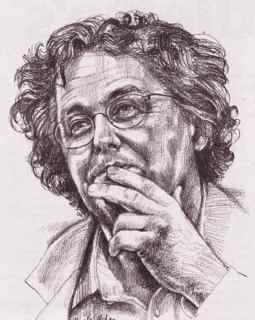 Professor Anton Harber directs the Journalism and Media Studies Programme at Wits University in Johannesburg, South Africa. He served for ten years as editor of the The Weekly Mail (now the Mail & Guardian) during which he was prosecuted numerous times under the State of Emergency laws. He serves on the GIJN board of directors.