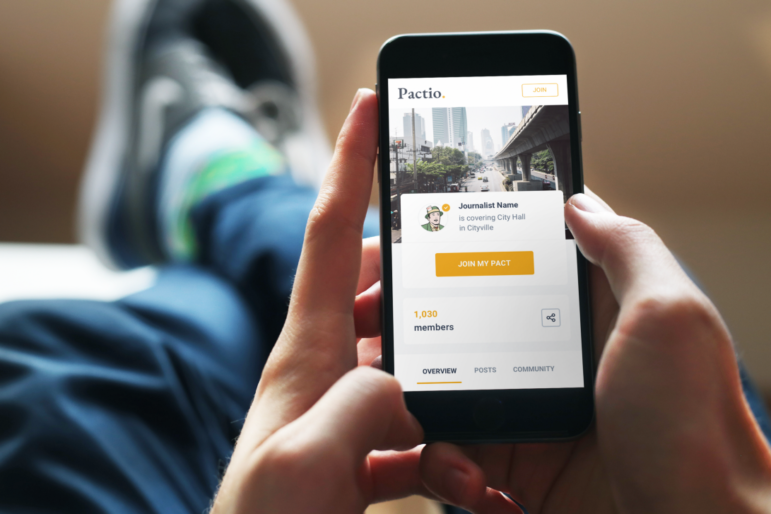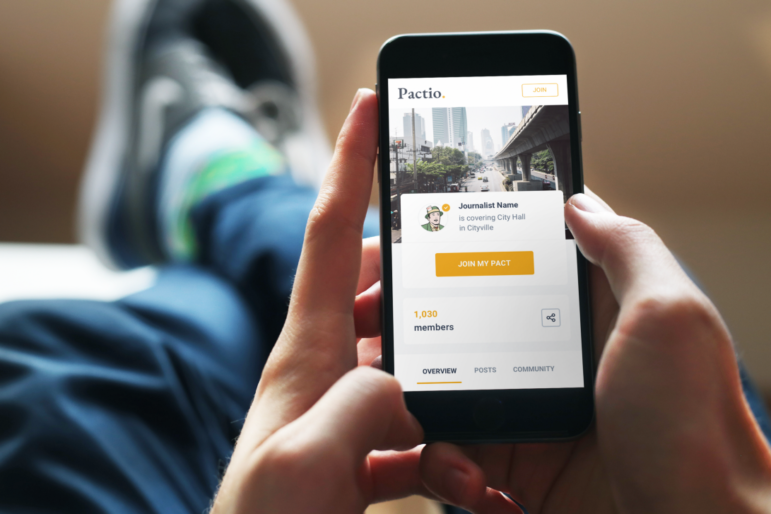 Pactio: Where Loyal Readers Follow — and Fund — Their Favorite Reporters
A majority of Americans may find "the news media" broadly to be untrustworthy. But they feel differently when asked about the news outlets they regularly read.
That's a gap Pactio wants to address.
"There's been lot of frustration that trust in news organizations, and institutions, is declining, and the root of that problem is that, in general, people tend to trust their fellow human beings more than they trust institutions and organizations," said Adriano Farano, who will be based out of Stanford and is working on Pactio, a funding and reporting platform for individual journalists, as an entrepreneur-in-residence at the Lenfest Institute.
Farano began exploring the model for Pactio after the 2016 US election. "So I thought, how about we create a place where an individual journalist can form some sort of 'pact' directly with their audience? You have a reporter who says, 'I'm going to cover this issue, I'm going to be independent, it's just me covering this beat and I'm asking you to support that work.'"
How Pactio works in practice is a mix of the crowdfunding strategies deployed by journalism funding experiments, such as the now-defunct Spot.Us and Beacon Reader, and the focus on committed, paying readers shouldering one-person shops like Toast founder Daniel Mallory Ortberg's Shatner Chatner or the many independents on Patreon.
Farano outlined a representative use case: a local arts and culture critic, for instance, who's seen her purview significantly restricted at her diminishing paper and wants to maintain the depth and breadth of coverage she'd been doing before her organization's downsizing. But she's built a loyal readership over the years. She might join Pactio's platform, where she can continue to write pieces she thinks are important to her readers — the Pactio platform includes its own CMS — and, more importantly, begin to build a circle of member/readers interested in offering feedback on her incremental reporting updates and hearing about her thought processes, and will give a few dollars monthly to support the work. Or an experienced city hall reporter might put out daily dispatches, such as a write-up of a good dataset they just discovered; maybe a rough cut of an interview they've done with the mayor but haven't written up yet. Someone covering a local school district could be a fit for Pactio, Farano said, but so would someone covering the opioid crisis nationally.
Pactio intends to provide participating journalists professional liability insurance as well as coaching on how to reach the audiences who'd be interested in their reporting.
Membership pricing will likely be three-tiered, with subscriptions offered for $3, $5 or $10 per month (at $3 to $5 dollars per month, a journalist with a thousand or so followers could make a living in many parts of the US), according to Farano.
The journalist keeps 70 percent and Pactio keeps the other 30 percent, which will go towards payment and transaction infrastructure costs, the liability insurance, marketing and Pactio's profits. At the moment, Pactio is self-funded; Lenfest has recently given Pactio a $30,000 grant. Farano hopes to pilot the Pactio platform starting at the end of April with a small number of handpicked journalists, and open the platform up to more throughout the year, starting in the US. Pactio will welcome freelancers or staff writers at news organizations alike, Farano said, though it's probably easiest for unaffiliated journalists. Nor will all the work supported by Pactio members be required to be published exclusively on the Pactio platform.
Farano cited work done by New York University's Membership Puzzle, and in particular its recent initiative around Join the Beat, which coincided with his own thinking and user research leading up to the creation of Pactio.
"The idea is to lower the bar for the financial viability of high-quality journalism in general and beat reporting in particular," he said. "In a way, we're borrowing a lot from all of those membership models in the industry that have been finding sustainability, slowly but surely. We work in the membership model more than the subscription model, in that the primary motivation for people to support a journalist on Pactio is the fact that they want your reporting to exist in the first place." Farano expects a majority of the material a reporter publishes via Pactio will be made visible to non-paying members, but reporters will be allowed to make any content of their choosing available to paying members only.
Farano wants Pactio to scale. How will he and his eventual team handle giving the marketing and coaching support he promises as part of Pactio, to hundreds or thousands of beat reporters across an increasingly wide range of subjects? Farano pointed to one of his earlier ventures, the Europe-focused Cafébabel, which relied on volunteer contributors, who'd then get editing from Cafébabel staff editors, to write and translate stories.
"We put together documentation, we had YouTube videos, we had offline and online events. There was a lot of horizontal knowledge sharing," Farano said. "We'd want journalists using Pactio to feel like they're part of a community. We want to make sure the right mechanics are in place. The first hire we're going to make is the one in operations in order to make sure all of these sharing mechanisms are as fluid as possible, to support the journalists in their work."
(Longtime Nieman Lab readers may remember Farano from his most recent startup, Watchup, which was acquired by Plex last year.)
Farano believes a combination of timing and the focus around funding individual projects, ended up hampering earlier crowdfunding platforms like Spot.Us. Pactio may come at a time when there are still enough people with enough money interested in supporting and paying for journalism, in addition to their Netflixes and Spotifys and their Amazon Primes. The prices Farano is suggesting for Pactio are on par with the membership rates of many other digital local news startups (and well below the average prices for digital subscriptions to newspapers), though a membership to an individual beat reporter on Pactio is obviously getting you a narrower, if perhaps deeper, slice of coverage.
As more and more organizations turn to reader support for revenue — whether framed as memberships or as subscriptions — does Farano worry Pactio could be launching right before a plateau? Pactio, Farano argues, operates in a different space.
"When I was doing research, one guy told me, 'I identify as liberal, I don't trust a site like CNN, because I don't know who their shareholders are, I see those content recommendations personalized for me under their stories that feel doubtable. Therefore it's easier for me to decide I don't trust them,'" he said. "What we are hoping is that this will change to the system altogether. In this system, I support an individual, who's a human like me, who doesn't have all the layers of complexity that a brand would come with."
"We think this is the way to go for a new generation of the subscription model," he said.
---
This post first appeared on the Nieman Journalism Lab website and is cross-posted here with permission.

Shan Wang is a staff writer at the Lab. She previously worked at Harvard University Press and has reported for Boston.com and the New England Center for Investigative Reporting. One of the first news stories she ever wrote was about Muggle Quidditch for The Harvard Crimson.