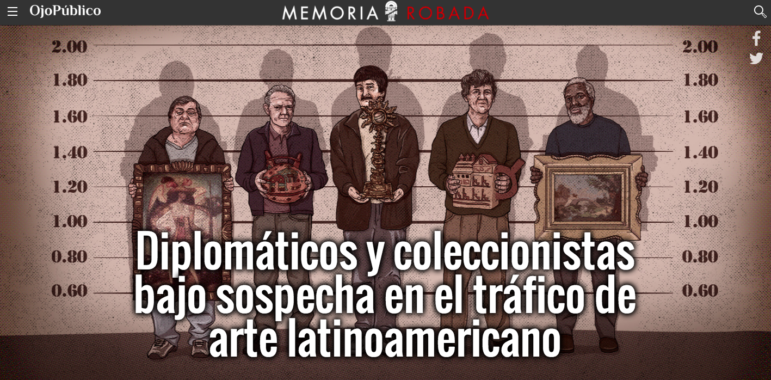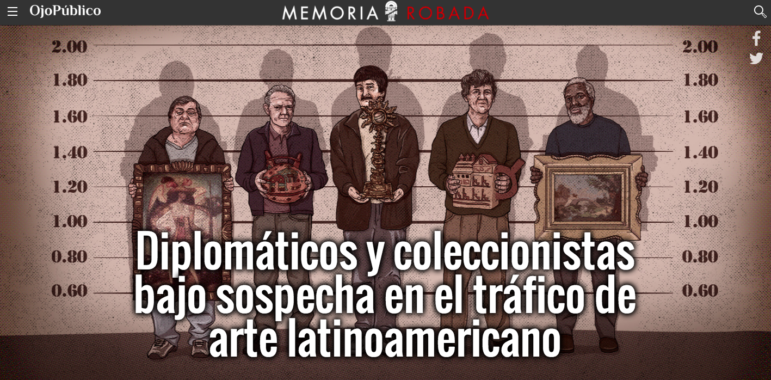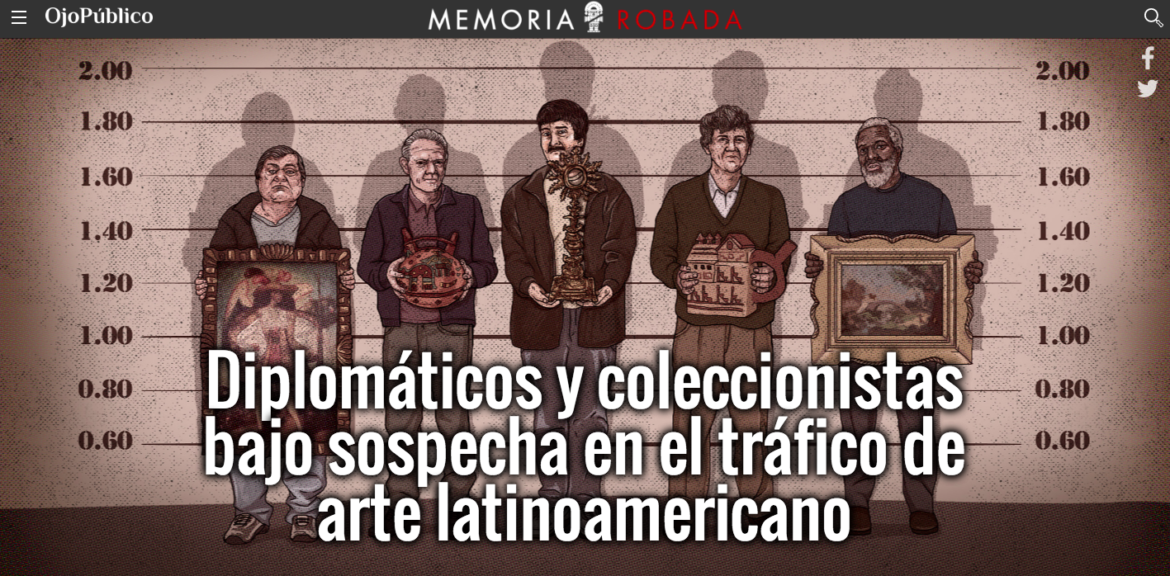 "Stolen Memory" is the investigation that led to the creation of the first journalistic platform that collects massive data on illicit trafficking of cultural artifacts from Latin American countries. It is a project of Peruvian digital investigative journalism site Ojo Público, which invited four important media in the region to participate in a transnational and collaborative investigation.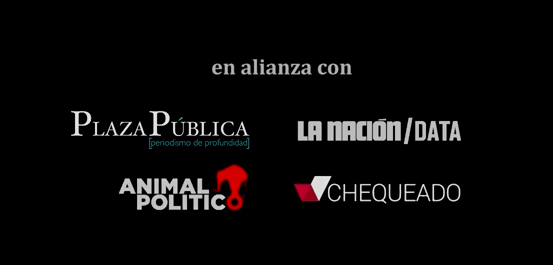 The team of journalists, documentary filmmakers, graphic artists and programmers from Ojo Público, were joined by reporters from Plaza Pública in Guatemala, La Nación in Costa Rica, Chequeado of Argentina and Animal Político of Mexico. The team worked on this ambitious project for six months and it has already been published in two installments with regional focus and various articles with a national focus corresponding to the country of each participating media outlet.
"The investigation began with cases in Peru, but it soon became clear that the trajectories were cut by the country's borders. Like other issues of organized crime, the trafficking of cultural heritage can only be understood with a global perspective," said David Hidalgo, director of Ojo Público, to the Knight Center for Journalism in the Americas.
In this regard, Hidalgo emphasized, this transnational investigation "reveals the most serious figures and cases of trafficking of cultural heritage in Latin America that connects everyone from antique dealers and politicians in Buenos Aires to drug traffickers in Guatemala, and from collectors under suspicion in Mexico to diplomats in Costa and Peru."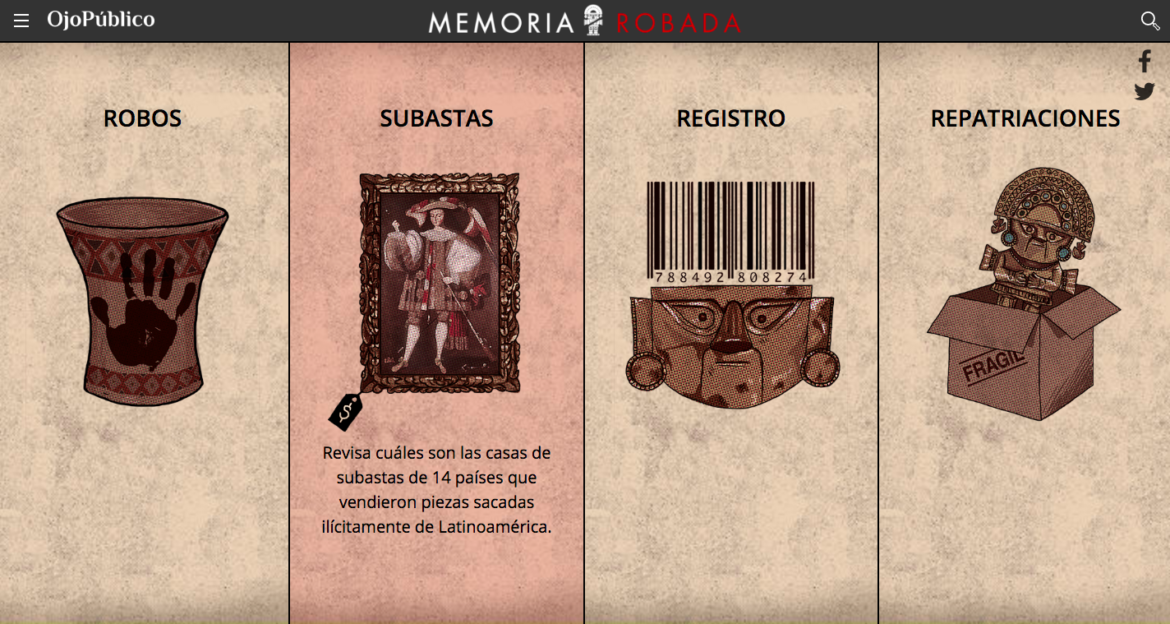 Additionally, the database of this special journalistic project, which is free to access, also includes the first census of cultural heritage goods that have been stolen, auctioned and repatriated from Peru, Guatemala and Costa Rica, according to documents from ministries of culture and other entities. It also includes a search engine and documents, which are free to use, that facilitate the cross-checking of information to identify pieces that have been stolen, auctioned and recovered in the region.
The idea is that this database is progressively enriched with contributions of new media from other countries who are interested in the topic and can complete the bigger picture on the continent and in the world. To develop this journalistic tool, they built a database that organizes more than two million pieces of data, obtained from official reports, in four categories: robberies, auctions, property records and repatriations.
Fabiola Torres, editor of data analysis at Ojo Público, told the Knight Center that there is no global database that is accessible and updated concerning stolen cultural heritage, the agents involved or information about the recovered goods. "Unlike database services of private art with commercial purposes, Stolen Memory is free to access and seeks to track transnational schemes of illicit trafficking of cultural goods from Latin America to the United States and Europe," Torres explained.
For example, in the second installment – which includes information verified by Ojo Público and its collaborators at different official and private institutions and entities in the region – discovered an Uruguayan antique dealer who marketed stolen works from his business in Argentina, but was never punished and is still free. They also revealed the connection of three diplomats involved with the robbery of pieces of cultural heritage and a family of fake importers of handicrafts who are trapped in the U.S.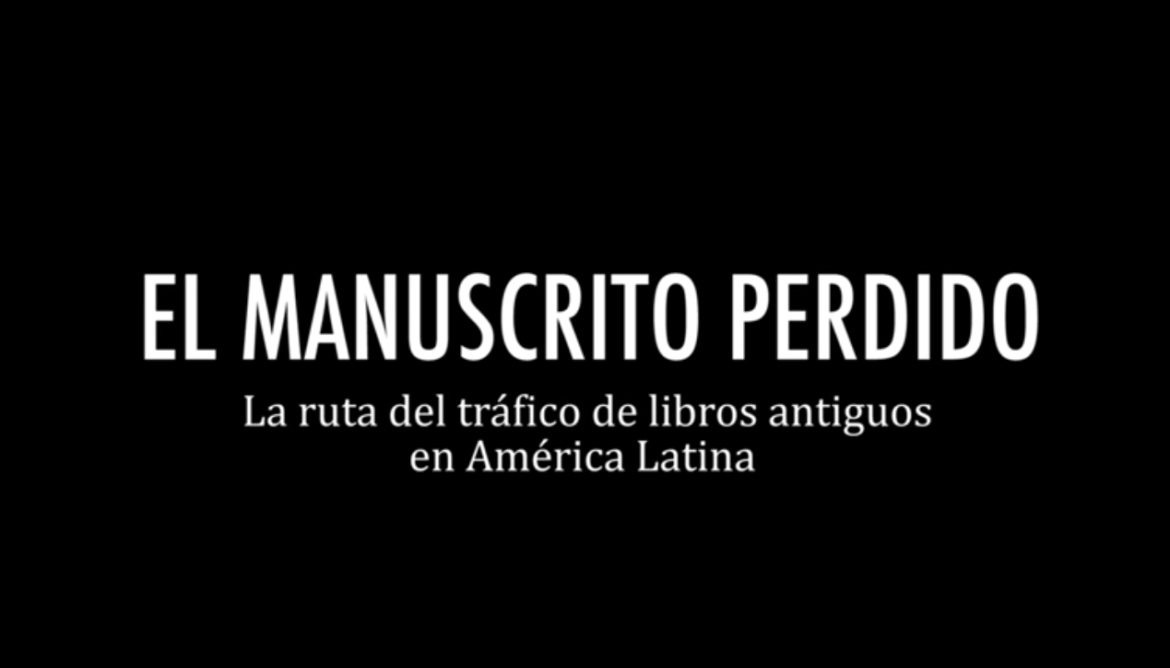 In addition, the investigation includes two short documentaries of some emblematic cases. One of these, for example, reveals the trafficking route of a rare religious manuscript in Quechua from the 18th century stolen from the National Library of Peru. Thanks to a researcher, it was found by chance in the Dunbarton Oaks library, a research center in Washington, D.C. that belongs to Harvard University.
The case addressed in this documentary involves librarians who were accomplices in Peru, puts an antique dealer's market in Argentina under new suspicion and reveals lax admission of valuable pieces of Latin American cultural heritage by major cultural centers in the United States.
The platform of this new journalistic project, developed by the programming team at Ojo Público, brings together information from various sources, including the 39,000 stolen works of art from 132 countries that were reported to Interpol, as well as reports from cultural ministries and prosecutors in Peru, Guatemala, Costa Rica, Mexico and Argentina.
The analysis of this information made possible, for example, the identification of auction houses of 14 countries that sold pieces illegally taken from Latin America. "The volume of Latin American pieces sold to collectors of the major capitals in the world is even greater than the 4,907 cultural objects that Interpol is now looking for as stolen in all of South America, Central America and Mexico," according to one of the reports that forms part of the Stolen Memory series.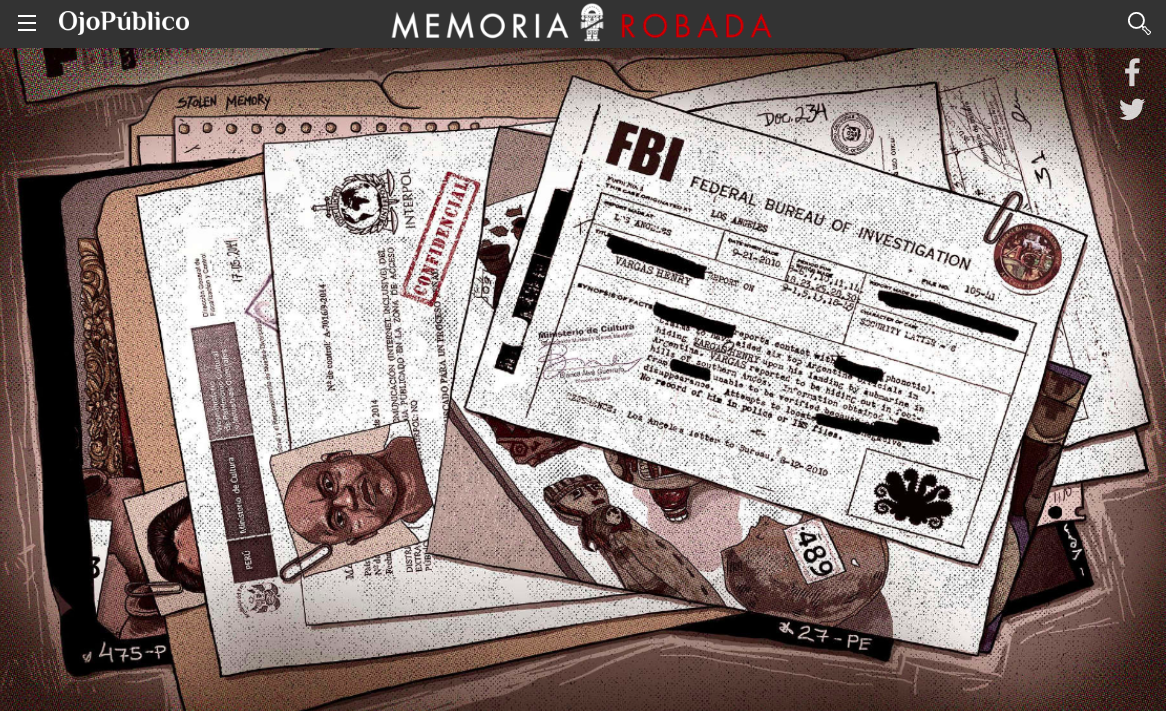 The investigation also incorporated the official record of 268,000 goods of cultural heritage of Peru into the platform. Additionally, it was able to identify that 7,000 cultural goods were stolen from Peru between 2008 and 2016, and that only a part were returned by authorities of 22 countries to Peru. Additionally, returns were also made to Guatemala and Costa Rica.
To achieve this, the journalists from the five media outlets, under the direction and coordination of Hidalgo and Torres, requested the release of thousands of documents through requests for access to public information in Peru, Guatemala, Costa Rica, Argentina and Mexico. In Lima alone, they made 112 requests for access to information to the Ministries of Culture and Foreign Affairs, to the Armed Forces and Police, among other public institutions.
"This is a partial sample of the truth dimension of this problem, but it is an important contribution, because in many of our countries the information is not organized or accessible," Hidalgo said. As a preview of what's coming, Torres said a thorough analysis of the roots of the problem will be addressed in the next installment.
The project from Ojo Público had the financial support of the International Women's Media Foundation and the Fund for Investigative Journalism.
---
This story was originally published on the Knight Center for Journalism in the Americas' website and is reproduced with permission.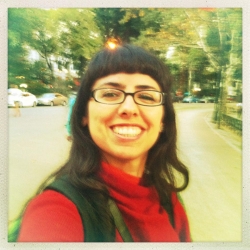 Paola Nalvarte is a Peruvian journalist and documentary photographer living in Austin, Texas. She focuses on covering and writing about the Andes region. In Peru, Paola worked in the Lima office of the Italian news agency ANSA, on the economic news desk of the daily Expreso, and the Peruvian newspaper El Comercio.