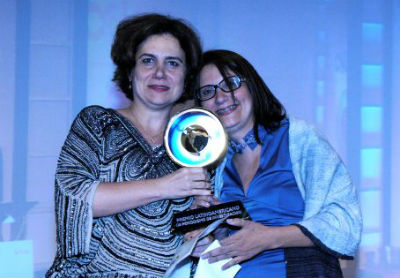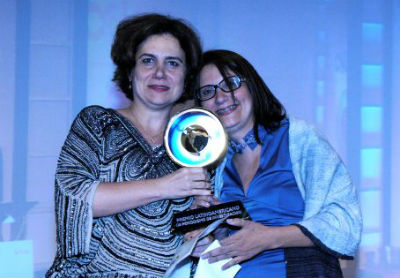 First place at the Latin America Investigative Journalism Awards went to Andreza Matais, José Ernesto Credendio, and Catia Seabra, of the daily Folha de Sao Paulo.
Journalists from Brazil, Peru Top List of 2012 Latin American Investigative Journalism Award Winners
Impressive, world-class reporting was honored this week at the 2012 Latin American Investigative Journalism Conference (COLPIN) in Bogota, Colombia. Winners and honorable mentions of the annual Latin American Investigative Journalism Awards alike took on political corruption, multimillion dollar frauds, and government abuse and mismanagement. The conference drew more than 200 people from 15 countries and showcased a sophisticated array of investigative techniques, data journalism methodology, and gutsy reporting under often extremely tough circumstances.
Here's a look at the winners, drawn from the announcement by the award's sponsors, the Instituto Prensa y Sociedad (Press and Society Institute, or IPYS) and Transparency International:
First prize went to Folha de Sao Paulo journalists Andreza Matais, José Ernesto Credendio and Catia Seabra for a series of stories that led to the resignation of the President of Brazil's Chief of Staff.
For the 2012 edition, 209 investigative pieces published in the press, radio, television and Internet, coming from 19 countries in the region, were nominated.
The series of stories that brought down Dilma Rousseff's Chief of Staff were developed by the team of Brazilian journalists in "a classic piece of investigative journalism," the competition judges said. The reporters started with a simple and isolated piece of information: the purchase of a luxury apartment in Sao Paulo, and began an investigation that led to the discovery an illicit enrichment scheme. A few days after the publication, Antonio Palocci resigned from his position as Chief of Staff.
The reporters received an award of US$15,000 during a special ceremony at the Latin American Investigative Journalism Conference in Bogota, Colombia, from 12 – 15 October.
Second and Third Place
Members of the jury, comprised of Gerardo Reyes and Tina Rosenberg (United States), María Teresa Ronderos (Colombia), Fernando Ruiz (Argentina) and Marcelo Beraba (Brazil), also announced the names of the journalists that won second and third place, receiving an award of US$10,000 and U$5,000, respectively.
"Condemned Children," by Jose Luis Costa and Adriana Irión from the Brazilian newspaper Zero Hora was awarded with the second place. This multi-year effort culminated in a reconstruction of the history of each of the 162 young people that were held in a detention centre for minors. Several of them ended up dying violently or went back to lives of crimes after their detention. The journalists' investigation sped up the announcement by the national government to promote reforms for the treatment of youngsters in detention centres.
Third place was given to the series "Black Fishing" by Milagros Salazar from the nonprofit investigative center IDL Reporteros, Peru. This effort made extensive use of databases, street level investigation and document analysis. Her work uncovered a failed auditing system in the powerful Peruvian fishing industry, the second largest worldwide. The stories revealed dubious, multi-million dollar discrepancies in the fisheries reports, thus damaging fishermen and the national budget.
Honorable Mentions
The jury also granted 13 honorable mentions for:
The Schoklender case by Daniel Santoro, Nicolás Pizzi, Luciana Geuna, Lucio Fernández Moores, Omar Lavieri and Rodolfo Lara, of the newspaper Clarín (Argentina).
Maestro Mehir by Sergio Carreras of la Voz del Interior (Argentina).
Itamaraty Secrets by Rubens Valente, Fernanda Odilla and João Carlos Magalhães of Folha de São Paulo (Brazil)
Holocaust at the Colonia de Barbacena Hospital by Daniela Arbex of Tribuna de Minas Gerais (Brazil)
The Business of Higher Education by Verónica Torres, Gregorio Riquelme and Juan Andrés Guzmán of CIPER (Chile)
The Man that Managed Half of the Country from Jail by Luz María Sierra and Luis Ángel Murcia of Semana magazine (Colombia)
The Rivas Mine by José Adán Silva and Luis Manuel Galeano of the Nuevo Diario (Nicaragua)
The Presidential Family Reserve by Moisés Martínez and Octavio Enríquez of La Prensa newspaper (Nicaragua)
The Juan Hombrón Land by Lina Vega, Santiago Cumbrera and Ereida Prieto-Barreiro of La Prensa newspaper (Panamá)
The Iran-Venezuela Case by Laura Castillo, Fabiola Zerpa, David González and Angel Zambrano of El Nacional newspaper (Venezuela)
The Bad Time for  the Stock Traders by Corina Rodríguez of Bloomberg (Venezuela)
Identity Cards Cuban Style by Adriana Rivera of El Nacional newspaper (Venezuela)
Electric Traps by Cesar Batiz of Ultimas Noticias newspaper (Venezuela)
Read the Spanish version of this press release here.