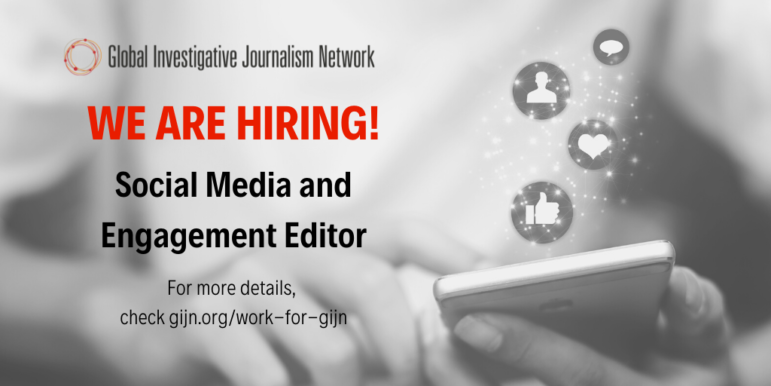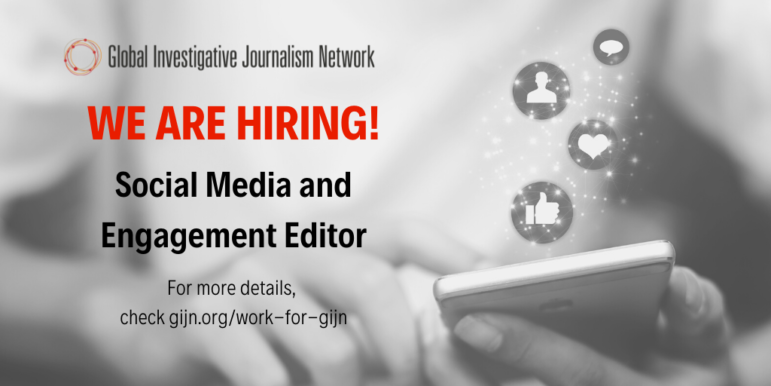 Position: Social Media and Engagement Editor, Global Investigative Journalism Network
This job is now closed.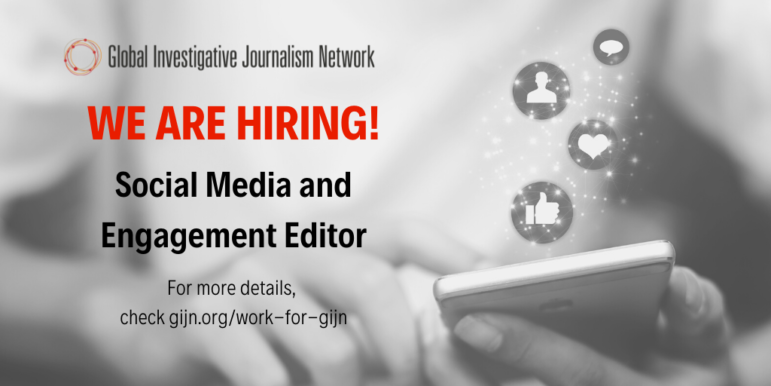 GIJN, a dynamic nonprofit, is looking for a Social Media and Engagement Editor to aggregate and distribute investigative tips, tools and resources over its outreach platforms. Duties include aggregating, writing, and posting daily on the organization's Twitter, Facebook, Instagram, and LinkedIn accounts, assisting in the copy and production of English newsletters, and expanding the online reach of GIJN to journalism and related communities. This is a full-time position. The successful candidate will work closely with GIJN's Deputy Director and Program Manager.
GIJN is an association of 235 organizations in 89 countries dedicated to spreading and advancing investigative journalism around the world. This is a unique chance to be at the center of the global hub servicing the world's investigative journalists at a time of unprecedented opportunities and challenges.
Applicants must have a solid understanding of investigative and data journalism. Experience and skill with social media are a must. GIJN is a distributed nonprofit, and this is a remote position: the successful candidate can be based anywhere with a strong broadband connection.
GIJN is staffed by an extraordinary multicultural team based in 21 countries. You'll work in a collaborative network that is having an impact every day on the front lines of journalism.
Responsibilities and Duties:
Aggregating and writing social media items, and distributing on social media (Facebook, Twitter, Instagram, and LinkedIn) the best available content on tools, methods, data sets, opportunities, and innovative practices in investigative and data journalism;
Promoting GIJN's stories, resources, and events to relevant journalism and related organizations;
Growing the audience of GIJN's social media platforms, compiling and reviewing reach and usage metrics to further inform social media and engagement strategies;
Assisting in the copy and production of English newsletters;
As time allows, assist with other GIJN tasks such as conference preparation.
Requirements:
Applicants should have at least one year of demonstrated work in social media in a newsroom or journalism-related organization;
Excellent English writing and editing skills;
Strong organizational skills and a detail-oriented personality;
The ability to work remotely and comfortably in a global, virtual, highly diverse cross-cultural team;
Self-motivated with good communication skills;
Ability to multitask and meet multiple deadlines.
Knowledge of WordPress, Mailchimp, and Canva is a plus;
Understanding of investigative and data journalism.
Location: Flexible. GIJN is a virtual nonprofit. You'll need good, dependable broadband.
Salary: Estimated US$3,000 to US$5,000 per month, depending on location, cost of living, and experience.
Note: GIJN is a strong believer in diversity and welcomes applicants regardless of race, color, creed, religion, gender, sexual orientation, national origin, ancestry, citizenship status, or disability.
To apply, fill in the embedded application below.