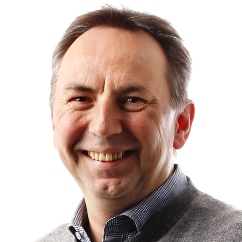 Jan Gunnar Furuly is a staff reporter at the daily Aftenposten in Oslo, Norway, and chairman of SKUP (The Norwegian Foundation for Investigative Journalism).
He has worked at Aftenposten, Norway's leading quality newspaper, since 1990. He started his career in the local paper Finnmark Dagblad in the arctic part of Norway.
During his time in Aftenposten he has worked with a wide spectre of news stories and for nearly four years worked as managing editor of the news room. He is news reporter at the culture and debate department at the moment.
Board member and web editor at SKUP (Norwegian Foundation for Investigative Journalism) since 2002, chairman since 2012.

He was the main organizer for SKUP of the fifth Global Investigative Journalism Conference 2008 at Lillehammer, Norway, which gathered over 500 participants from 88 countries. The conference is returning to Lillehammer in October next year.
Member of GIJN's volunteer committee since it started.
Chairman of Norwegian Environmental Journalists 2000-2003. Member of the administrative council of International Federation of Environmental Journalists 2000-2003.
Lecturer in investigative journalism/computer assisted reporting since 1996 for colleagues and students in Norway and more than 20 other countries.
As a candidate for the new board in GIJN, he says:
I have attended all the global investigative journalism conferences since Copenhagen in  2003, and have seen the great importance of these events and the GIJN network that has been created over the years.

This movement has helped both me and other colleagues here in Norway to investigative and break a lot of global stories over the years, and we have been glad to assist foreign colleagues whenever they asked us for a helping hand.

SKUP organized the global conference in 2008 at Lillehammer, and we are eager to take the task of doing it again in 2015.

As a board member and chairman of SKUP I have been involved in finding sponsors to fund travel grants for a high number of foreign participants to the GIJC conferences in Geneva (2010), Kiev (2011) and Rio (2013).

I was also partly involved in making and executing the program for all these conferences.

If elected I will continue to work for the benefit of the whole network, to spread the ideals of investigative journalism to all corners of the world and to be there to help colleagues everywhere. Together we stand much stronger!

SKUP is among the oldest members of the global investigative journalism movement, founded in 1990, dedicated to promoting investigative journalism in Norway and other parts of the world.

SKUP has for soon 25 years organized an annual weekend conference for investigative reporters and editors in Norway, with speakers and participants from all over Scandinavia, Europe and also with annual guests from the U.S. and other parts of the world. SKUP regularly offers workshops and training in various investigative methods. The foundation's website offers unique documentation on a decade of investigative journalism and projects in Norwegian media.