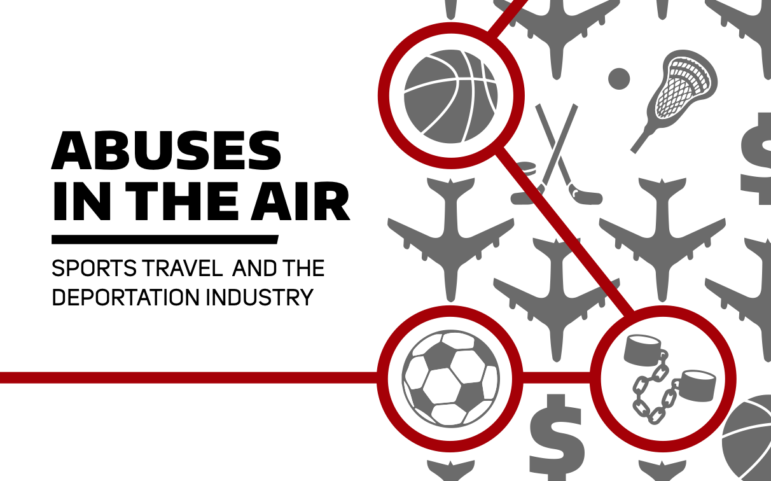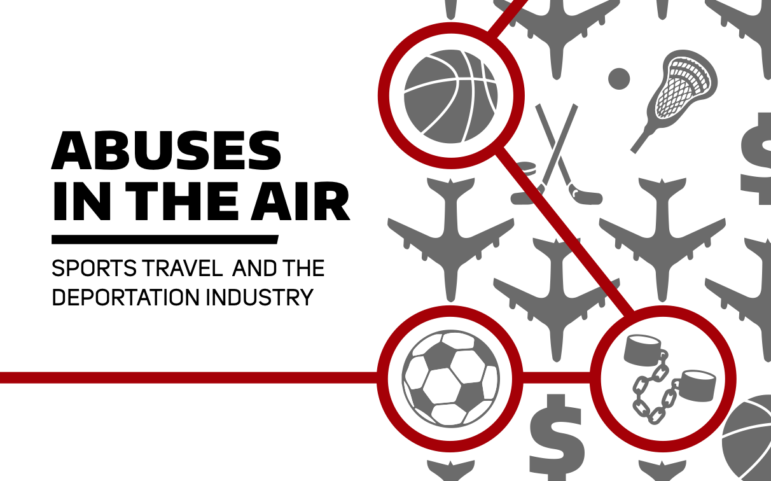 Investigating Ties Between the US Deportation Industry and Sports Travel
This investigative study was originally published by the University of Washington Center for Human Rights. It was authored by Angelina Snodgrass Godoy with research from Guadalupe Alexander González, Trevor Helmy, and Lukas Illa. GIJN is reprinting an abridged version of UWCHR's full research document with permission.
Every week, thousands of migrants are shackled at the hands and feet and forced onto deportation flights to destinations across the globe. While the flights are contracted by US Immigrations and Customs Enforcement (ICE), most are run by a shadowy network of private charter companies that operate with no effective oversight. In some cases, migrants are beaten or brutalized aboard the plane. In others, the planes transport them to situations where they are likely to experience harms as grave as torture, assault, or even enslavement.
These practices violate US law, international law, and written policies of the Department of Homeland Security (DHS). Yet — although abuses have been documented in human rights reports, described by journalists, discussed by legal scholars, aired in federal court, and reported through internal DHS mechanisms — neither DHS, nor the FAA (Federal Aviation Administration), nor the US Congress has taken any meaningful steps to stop abuses aboard deportation flights. Indeed, this remains a lucrative and largely secret business, in which contractors have billed US taxpayers for over US$1 million per flight, received COVID-19 bailout funds despite operating in an industry which boomed during the pandemic, and may even receive payment whether they fly or not, under a guaranteed minimum payment scheme similar to that in place at many private detention centers.
Yet while condemnation of for-profit immigration prisons has grown in recent years, far less attention has been paid to the practices of private companies who transport migrants around the US and across the globe. This report aims to peel back the secrecy surrounding their operations, in particular, by illustrating how connected they are to everyday entertainment activities which are beloved by so many Americans.
In fact, the same companies that contract with ICE to carry out deportations provide charter flights to dozens of collegiate and professional sports teams, from the National Football League, Major League Soccer, National Hockey League, National Basketball Association, and many collegiate sports organizations. Touring musicians, too, are flown to concerts by the same companies. From musical acts to athletic stars, many of Americans' most-admired figures travel not only with the same companies, but often on the very same planes on which migrants experience abuse, which are rapidly reconfigured for luxury travel. As human rights attorney Kathleen Bergin has written, this means that "athletes must accept that they are sitting in a seat perhaps last occupied by a migrant bloodied from abuse, or a parent taken from her child."
In this report, we document links between major sports teams, private companies, and specific planes on which abuses occurred. Our intention is not to excoriate entertainers — we understand that most athletes and musical performers are likely unaware that they have been flying in planes that double as airborne torture chambers — but simply to make these facts transparent. The secrecy that surrounds deportation flights has allowed too many of us to distance ourselves from the abuse funded with our tax dollars. Understanding the connections between our government, air charter companies, and some of the most well-known institutions in our midst may help us begin to unravel these knots, untangling our complicity in the practices that draw profit from migrants' pain.
Methodology
UWCHR has been conducting research on deportation flights for several years, releasing the first major report on abuses in this industry in 2019. As part of this work, we have used the Freedom of Information Act to obtain copies of multiple versions of ICE's ARTS (Alien Repatriation Tracking Service) databases of flights; invoices submitted by contractors and subcontractors for key flights; records of all flight-related abuses reported to DHS' OIG (Office of Inspector General) and CRCL (Office for Civil Rights and Civil Liberties); numerous internal documents from ICE Air Operations, including the Data Management Plan, manifested I-216s (records of transferred people and property) and End of Mission reports for specific flights, and other documents that shed light on the process of deportation by air. We have also analyzed reports of in-flight abuses logged in legal documents; media reports; and research by immigrant rights organizations, noting patterns of repeated abuses.
UWCHR researchers used airplane tracking sites (top) to follow deportation flights via tail numbers, and then linked those same planes to known instances of sports team travel (above).  Images: Screenshot, Twitter
To connect the abuses documented in these records to individual flights, we used ICE's ARTS Database and data compiled by Witness at the Border from 2019 to 2021 to determine the details of flights on which reported abuses occurred. We then compared these flights to information on Twitter accounts that track chartered aircraft for sports teams to discover if the same planes were being used in sports transportation. We only include cases here where we were able to pinpoint specific flights with a high degree of certainty, although we believe these are illustrative of a much broader trend.
We only include cases here for which the abuse was sufficiently well documented to identify the specific flight by exact date, and where only one flight on that date matched the departure and destination cities known to have been involved. We have not attempted to research connections between these companies and musical artists, although the companies boast that they exist, because less reliable information is publicly available about artists' travels.
Key findings
UWCHR researchers explored the relationship between ICE and the charter companies ICE contracts with to perform such flights. As we tracked relationships between ICE, brokers, and charter flight companies, we found an overlap between deportation flights and luxury transportation for celebrities, executives, and athletes. By rapidly reconfiguring the seating arrangements, the same deportation charter companies switch planes back and forth between the mass transport of shackled prisoners and the provision of high-end air travel experiences.

Sports travel: In focusing on sports travel, we found air travel practices vary from league to league, and even team to team. However, many professional and collegiate sports teams are using the same private and charter companies that ICE contracts with. For example, half of all US-based National Hockey League teams had contracts with Swift/iAero (a company that holds several large contracts with ICE) for air transportation in 2021, including the Arizona Coyotes, Boston Bruins, Carolina Hurricanes, Chicago Blackhawks, Columbus Blue Jackets, Dallas Stars, Florida Panthers, Nashville Predators, New Jersey Devils, New York Islanders, Pittsburgh Penguins, and St. Louis Blues.

Abuses aboard flights: UWCHR categorizes abuses on deportation flights into four categories: refoulement, torture, denial of due process, and double punishment. Sports teams which use the same travel companies as ICE are often flying on the same planes where abuses occur. Unfortunately, there are many examples beyond the two below:

A plane used to deport Haitians, violating the principle of non-refoulement, was used next day by the Missouri State football team , the day after that by the Southern Illinois football team. (We can only imagine players, ready for a game, sitting in the same seats as people shackled and handcuffed — hours apart).

The plane that carried Camila Diaz, a trans woman seeking asylum in the US who was denied and deported to El Salvador where two months later she was found murdered by police, has transported the major league soccer team Sporting KC to matches; it has carried basketball teams from the University of Virginia, Penn State, and Syracuse Universities to games and tournaments; and it took the University of Wisconsin's track and field team to at least one (competition).
Lack of oversight. This report notes that the mechanisms for oversight and accountability are not working. Neither ICE nor DHS have taken action, despite awareness of abuses reported, to stop or prevent future abuses. The courts have taken no action to hold ICE accountable for abuses or safety lapses on deportation flights, in part because ICE has arranged the flights through a structure that deflects responsibility. Furthermore, federal government agencies in charge of ensuring safety and legality of air travel have taken no known action to investigate abuses on ICE  flights, and Congressional oversight has failed to produce any appreciable result.
Additional Resources
Icarus Flights: The Powerful New Flight Tracking Tool
Planespotting: A Guide to Tracking Aircraft Around the World
How to Track Aircraft Around the World: A New GIJN Reporting Guide
---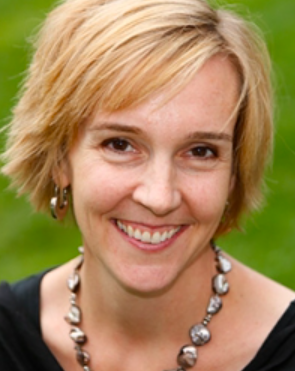 Angelina Snodgrass Godoy serves as the Helen H. Jackson Endowed Chair in Human Rights and is the founding director of the Center for Human Rights. She is a professor in law, societies, and justice at the Jackson School of International Studies. Prior to pursuing her doctorate, she worked at Amnesty International.