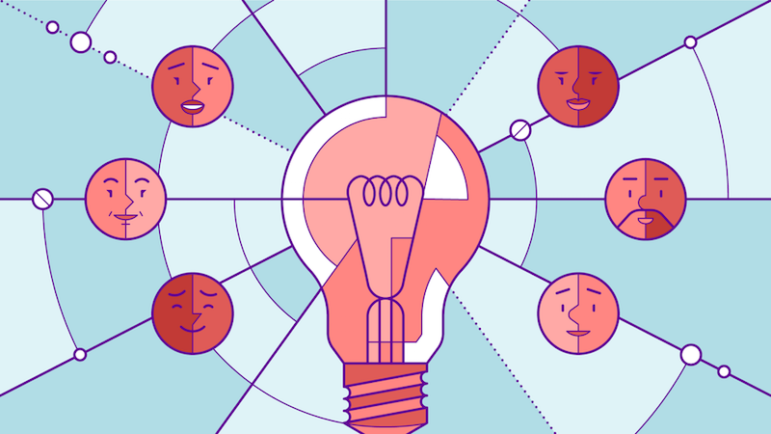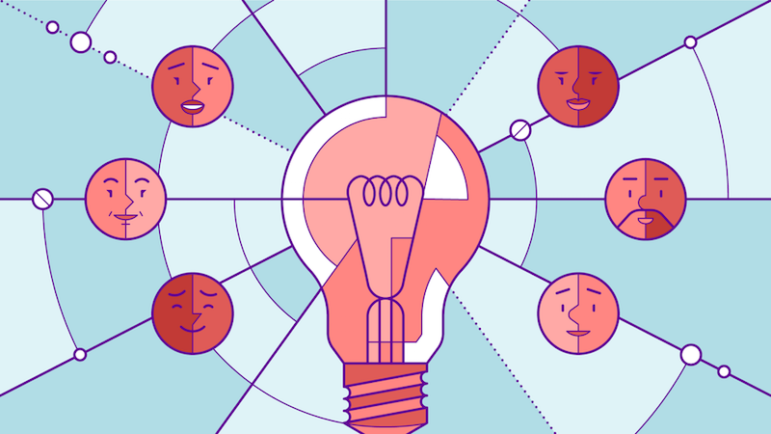 How Networked Reporting Can Boost Your Reporting — and Your Source Pool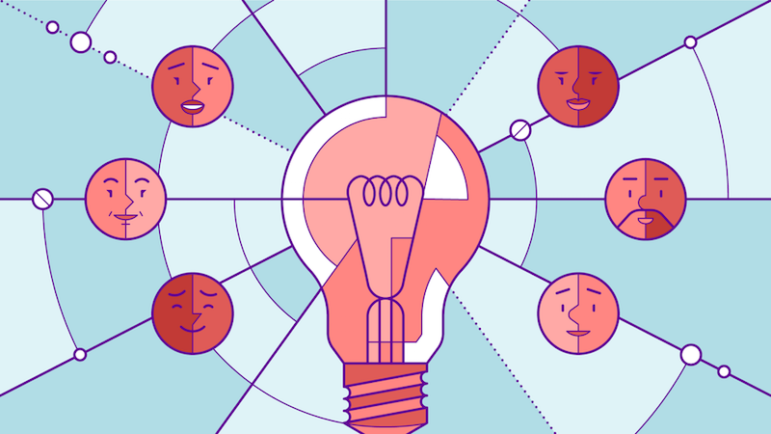 When Reveal reporters Will Carless and Aaron Sankin started reporting in 2018 on how white nationalists viewed Fox News host Tucker Carlson, they turned to a new corps of volunteers called the Hate Sleuths to add to their research.
A couple dozen Sleuths helped by working their way through several online message boards and social media sites, such as 4Chan and Gab, looking for mentions of Carlson and sharing what they found with the Reveal team for The Hate Report weekly newsletter and articles. Carless, a Reveal reporter who is based in Brazil, interviewed the Fox host and drew on the volunteer contributions for the Hate Report's December 7, 2018, piece on Carlson and the "overwhelming support" the host draws in alt-right media.
It was the latest of the Hate Sleuths' contributions to a beat called "the new face of hate in America," which Carless and Sankin cover for Reveal from the Center for Investigative Reporting. They now have about 50 "sleuths."
Reveal brought the volunteer corps idea with them to a six-month journalism experiment called Join the Beat, one of the communities of practice of the Membership Puzzle Project. (Editor's Note: The Membership Puzzle Project is a public research project into membership models.) They wanted to see if their most passionate, engaged readers could help them cover their sprawling beat, which crosses time zones and disciplines.
The answer so far is yes. The Sleuths' early research also informed reporting for the September 28 Hate Report edition about an anti-kosher app called KosChertified?, which was airing ads on alt-right podcasts. The next week, The Hate Report offered an update: Apple had pulled the anti-kosher app from the App Store.
"It's being able to effectively clone ourselves to go out and do more reading and more research and more listening," said Carless.
Making a Beat a Network
Reveal's approach won't work for every beat, but the idea of tapping audience knowledge gets to one of the core elements of beat reporting: finding people who know and care about subjects and drawing on that input to inform and improve journalism.
Join the Beat, an idea from press critic, NYU associate professor and Membership Puzzle Project director Jay Rosen, pushed that idea to a next level: If a beat is a network, how can reporters more effectively tap into that network to strengthen quality, trust and audience loyalty?
For six months in 2018, we explored these ideas with 10 reporters from the United States, Canada, the Netherlands and Scotland. The reporters worked for mission-driven startups (like The Ferret in Scotland and The Discourse in Canada), metro dailies (The Durham Herald-Sun and Toronto Star), Southern California Public Radio/KPCC and path-breaking digital organizations ArsTechnica, De Correspondent in the Netherlands, Reveal and Technical.ly Baltimore. I brought the group together via video conference to:
• Compare processes;
• Report on their experiments and hear from guest speakers including Terry Parris Jr., who described how ProPublica built engagement into its reporting groundwork and field reporting, and Hannah Wise from the Dallas Morning News, who showed how a Facebook group for the newspaper's subscribers added connections; and
• Brainstorm on how they could invite people into their beat research and reporting (this was mostly conducted individually and in reporting pairs).
Meeting every two weeks as a group, trading notes in between and talking over ideas with me one-on-one across time zones, reporters hashed out the promise and the obstacles to improving their reporting by incorporating active outreach and inviting people who knew and cared about their subjects. As we learned about beat networking, we also learned more about the realities of building a community of practice — the more time and support reporters were able to bring to Join the Beat, the better their results. As Mathew Ingram wrote for Columbia Journalism Review about the project:
"Good journalists have always reached out to readers and experts for help with reporting, but the internet and in particular the social web have made this kind of crowd-'sourcing' much easier. To be effective from a journalistic point of view, however, reporters and the media outlets they work for have to be very clear about what they want to get out of crowdsourcing, as well as how they structure it, which can take a lot of effort before the reporting even begins."
Participant Maite Vermeulen of De Correspondent, our partner newsroom, asked members for help as she prepared to relocate to Lagos, Nigeria, as a base for her migration beat. They answered with story suggestions, names of contacts, book recommendations and practical advice, which she continues to mine.
After her move, Vermeulen continued to involve members, facilitating a discussion between them and a migrant she had interviewed about why people continue to head to the EU despite warnings that they shouldn't go. For another story, on the role of voodoo priests and curses in human trafficking, she and her colleagues had discussed how to bring more people with relevant experience into conversations on the topic.
After De Correspondent published the story, a member of the platform named Maria posted in the comments section, identifying herself as a voodoo priestess who had helped trafficking victims. "I have helped, and can help, them to step out of this horrid slavery, through religious rituals and treatments. But Dutch people didn't, and sometimes still don't, take it seriously." This resulted in a lengthy discussion between reader and reporter, who verified Maria's expertise as a voodoo priestess and asked for examples of how she had helped victims of human trafficking in the Netherlands. Maria elaborated extensively in the comments on the type of rituals she led and responded to other readers' questions.
Vermeulen thinks her newsroom has a head start on such interaction because people pay voluntarily to be members and the organization considers them stakeholders and participants in the journalism. The time she spends in deep exchanges with member comments, in explaining how she does stories and in asking for member input is considered a required part of her job, not an extra. (Correspondents are expected to spend at least 30% of their working time engaging with De Correspondent members and experts with relevant expertise outside the organization.)
"Maybe that should be emphasized: This is the journalism," Vermeulen said. "You should just think about it as a really big group of sources."
What the Audience Knows and What We Learned
Join the Beat didn't invent these ideas. Journalist and author Dan Gillmor's "my audience knows more than I do" philosophy from covering Silicon Valley decades ago became a guiding idea for participatory journalism over the decades. Engaged journalism is an emerging discipline, with ProPublica as an exemplar of employing these methods as part of discovery, not just distribution.
Yet beat networking requires a different flow of communication from the "we publish, you comment" approach: journalists asking audience members or stakeholders as reporting germinates or proceeds; reporters managing responses or input from a network as part of the production process.
In simple steps and through major initiatives, we found these insights:
Newsletters Are a Natural and Effective Way for Beat Reporters to Connect With Their Most Committed Readers
The Hate Report had already aggregated a community of interest for Reveal around the hate beat, and the creation of the Hate Sleuths boosted their readership and newsletter subscribers significantly. ArsTechnica space reporter Eric Berger launched The Rocket Report focused on the launch industry as part of Join the Beat. He quickly attracted thousands of subscribers, including a few who answered his call to share links to articles or studies that he could then share with newsletter readers, crediting the users who submitted them.
Reporters at The Discourse in Vancouver, Canada, reached out to readers as the site launched a solutions-focused newsletter on wildfires. Reporter Lauren Kaljur called the exchange "a really powerful process. Anytime through this work you ask people, 'What are you not hearing about?' — people love that question. They come up with so much more material to think about."
Beat Networking Can Build on Simple, Easy Steps, on Your Own Website or Social Media
Technical.ly Baltimore's Stephen Babcock tied a reader call-out for ideas to a regular editorial calendar announcement ("here's what we're covering next month"), earning more responses than he'd seen from other digital call-outs and at least one good story on Maryland cybersecurity. Technical.ly expanded the editorial calendar call-out across all its markets the following month.
The Toronto Star's Nicholas Keung, a veteran reporter on the immigration beat, relaunched the paper's long-running Facebook immigration page with a new focus on soliciting input from the group's 1,200-plus members. While new initiatives can raise the ambition of beat networking, many reporters are already attracting people keen on what they're covering, and ready to be asked to help out.
Your Audience Might Want to Join Your Mission, Not Your Topic
The Ferret, a nonprofit investigative journalism platform in Scotland that is set up as a cooperative, initially aimed its Join the Beat efforts at its environment coverage, but found its audience responded more to its focus on accountability reporting as Scotland's major newspapers struggled. Rachel Hamada, The Ferret's head of community engagement and innovation, said the site is "now working out how to include environmental explainers in our coverage as that was a really clear message back from our readers — they want clear information about key topics from recycling to nuclear energy that they feel is unbiased."
The Discourse, which was engaged in audience research and community listening, came to Join the Beat with a focus on specific topics such as the environment and sustainability. Through community listening sessions and surveys, The Discourse's journalists and leaders learned that their audiences were more interested in coverage of underserved communities in specific geographic areas, and by the end of our experiment had reshaped their strategy around those community interests.
In reporting back to readers via her newsletter, CEO and founder Erin Millar told community members that "we realized that our most successful stories were the result of reporters with strong relationships rooted in place. We doubled down, and went local." The Discourse relaunched with a focus on three communities: Scarborough, Ontario; the urban indigenous community in British Columbia's Lower Mainland; and Cowichan Valley, British Columbia. You can read The Discourse's full story on its relaunch here.
"It's really an antidote to what people are feeling, which is a disconnect or frustration with what they're seeing in the media," reporter Lauren Kaljur said in describing her "moment of insight" about the profound value of consulting readers and stakeholders in the early stages of reporting. "It reinforces that this is really about your needs."
Journalism's OS Needs an Upgrade to Support Beat Networking and Other Two-Way Exchanges
News still functions primarily as a system of gathering and publishing or broadcasting, with participation as an add-on rather than built in. Join the Beat's successes came from reporters whose colleagues (editors, other reporters, or social media specialists) helped think through and troubleshoot the logistical challenges — whether to use Google Forms, ScreenDoor or email for audience exchange, for instance. Several reporters struggled with the time demand of processing responses from their network — wrangling SurveyMonkey or Google Forms responses — and getting back to those sharing information.
At KPCC, transportation and commuting reporter Meghan McCarty Carino regularly tapped American Public Media's Public Insight Network, a database of people who sign up to be news sources, with help from the newsroom's engagement director Ashley Alvarado. Yet when some queries drew dozens of responses, the work of sorting through them could be overwhelming. Carino sees much more potential for participatory journalism and the possibility of connecting the many different kinds of experts and consumers so that they can talk with one another and not just her. She noted: "I feel the biggest impediment is the routine, the habit — getting it to be something that doesn't just take time" without contributing to the core work of reporting.
Even Vermeulen from De Correspondent, whose official duties include engaging with the organization's members, said she's still seeking ways to structure her communication with those members to make the most of her time, and benefited from the arrival of an engagement editor to aid her efforts.
As a discipline loosely described as engaged journalism grows, people doing this work are drawing on resources from Gather, a collaborative project run by the Agora Journalism Center and funded by the John S. and James L. Knight Foundation and Democracy Fund. Many are learning from the new newsletter guide website from the Lenfest Institute, the Shorenstein Center at Harvard University's Kennedy School of Government, and Yellow Brim.
Despite their enthusiasm for Join the Beat's concepts, several of our reporters hit bumps or dead-ends — changing assignments, competing production demands, or practical challenges in managing responses from audience members. The Durham Herald-Sun launched a Facebook group and invited community members and experts in to explore gentrification as a year-long project, "Story of My Street," but housing reporter Zachery Eanes was reassigned and unable to follow through on his enthusiasm for working even more closely with city residents during Join the Beat. Both the successes and the fizzle-outs taught reporters some things, and, as the experiment wrapped up, most felt they had gotten insight into the payoff of beat networking.
Stephen Babcock at Technical.ly Baltimore said his insight came in "looking at a beat less as a topic area, and more like a group of people. Once you kind of have that framework, it creates this idea that these are people who can become sources, provide you information — they're literally your readers, but they're also these people who can contribute to what you're doing."
More Sources of Light
At Reveal, Sankin and Carless  invited people to join their beat via call-outs in the Hate Report newsletter, signed them up via a Google form, developed "rules of the road" with help from an editor and CIR's lawyer, and went through a screening process and enlisted a coordinator — also a volunteer — to help organize and communicate with the Hate Sleuths.
Carless was a bit skeptical about working with volunteers, but became enthusiastic after he read through initial responses to the Hate Report call-out. Among those who wanted to sign on: a retired librarian, a 22-year-old who wanted to do something about hate, a professor working on similar issues in Canada, and dozens of others.
Another enthusiast was Carolyn Knoll of San Francisco, who'd retired after 40 years in the real estate industry handling property closings. She signed up to help and also applied for and won the role of volunteer coordinator. Conferring frequently with Carless and Sankin, she handles some of the communication with the Sleuths, reminds them to meet deadlines, and does other organizational tasks — the kind of close attention and feedback on the volunteer view that helps the reporters work with the Sleuths.
The work doesn't take much time (a few hours some weeks, much less during others), Knoll said, but appeals to her get-involved instincts and appreciation of Reveal's work. After retiring, she joined the Peace Corps and later worked as a National Park Service volunteer coordinator in Hawaii — experience that's helping Reveal manage a growing cadre of volunteer Hate Sleuths.
Why volunteer? Knoll said the Hate Sleuths come from lots of different backgrounds, but "I would say all of them are extremely concerned about the hate in our culture right now. They're new, they just found out about the Hate Report, they just want to help out."
Indeed, community members have many different reasons for wanting to participate and help news organizations, as Stephanie Ho and Emily Goligoski described in depth in "Why Your Community Members Want to Aid Your Reporting and 25 Jobs You Can Ask Them to Do." Some want to be heard; others can't donate money but want to help with their labor; others, like the Sleuths, want to be part of something bigger.
Knoll helped as the Reveal team worked through the logistics of including volunteers in the work of a high-profile and high-heat beat. Sankin and Carless come up with tasks for the Sleuths, along with time estimates; Knoll pitches in with feedback, communication, deadlines and other organization.
Now that the group is vetted and organized, Carless sees potential for the Hate Sleuths to help often and in significant ways as the reporters and volunteers get to know one another and build both experience and results. The Sleuths might be trained on making public records requests, and even brought together for in-person gatherings sometimes. Overall, he said, "it's a research multiplier."
Sankin also thinks the initial efforts only touch on what's possible, not just in getting help with tasks to help Reveal keep up with burgeoning hate activity, but also in tapping audience members for insights to shape the reporting's direction.
"I was a beat reporter for 10 years and had great sources who I could go out and ask for things, [but] I was always driving the line of inquiry," Sankin said. By drawing on the Hate Sleuth volunteers to search out information, he said, "We can kind of shine a bunch of torches into a corner and see what we find."
---
This story originally appeared on the website of The Membership Puzzle Project, a public research project into membership models by the Dutch journalism platform De Correspondent and New York University's Studio 20 Program.

Melanie Sill managed the "Join the Beat" program for the Membership Puzzle Project. She is a former top editor and news executive for KPCC/Southern California Public Radio, The Sacramento Bee, and The News & Observer of Raleigh, and works in North Carolina as an independent editor and news consultant.
Note: Stephanie Ho, Emily Goligoski, Jay Rosen, Jessica Best, Ariel Zirulnick and Lukas Kouwets also contributed to this post.