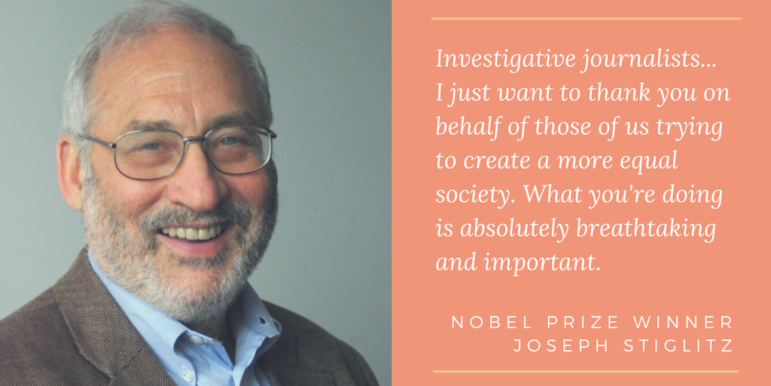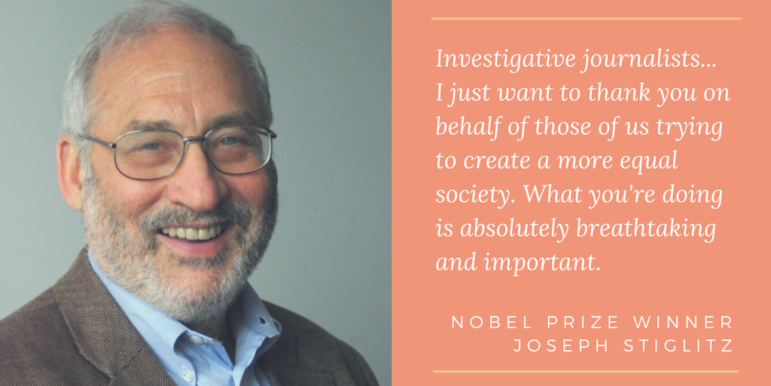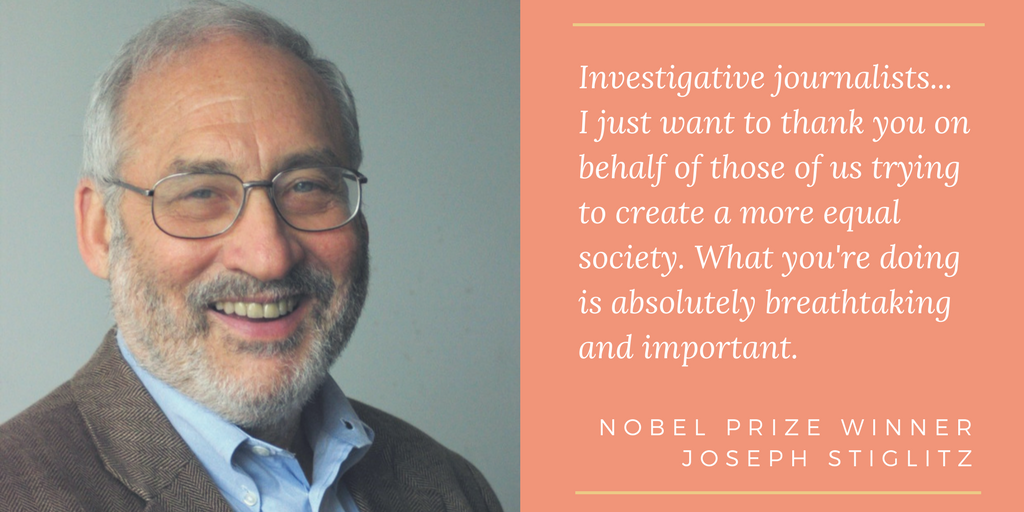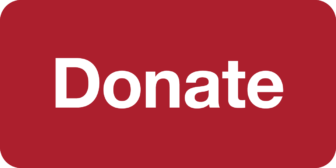 Dear Friends, 
When Nobel Prize-winning economist Joseph Stiglitz spoke to our Global Investigative Journalism Conference last month, over a thousand journalists got a needed pat on the back. Around the world, our colleagues face lawsuits, physical threats, prison, online harassment, crooked owners, and a glaring lack of resources. And yet we persevere, breaking stories and exposing abuses of power in more and more countries each year. Last month, we brought together watchdog journalists from a record 130 countries to Johannesburg, where they heard Professor Stiglitz say: "Let me congratulate you… This kind of work is really important for our society, and it is really making a difference."
Won't you join Professor Stiglitz in supporting our work? We're the Global Investigative Journalism Network (GIJN) and our job is providing truth-telling journalists with the training, strategies, and networks that hold the powerful accountable and give voice to those who otherwise have none. Your support today can help us meet the tremendous demand for these capacity-building efforts in the months to come. Will you join me in supporting GIJN with a gift today?
The need for investigative reporting that watchdogs the powerful has never been clearer — from the global Paradise Papers to Russian hacking of the US election. As Professor Stiglitz said in his keynote, "It's the kind of corruption that will keep investigative journalists working today busy for another 50 years."
GIJN is the network of networks that ties together the world's muckrakers. We work in five languages every day to bring resources to journalists in 100 countries. Over the past five years, our global team has responded to over 4,000 requests for assistance. Thanks to your support, we gave travel grants to a record 300 developing country journalists to join us in Johannesburg, where they learned cutting-edge techniques to follow dirty money, trace hidden assets, analyze data and  form cross-border networks.
Your support makes these kinds of programs — that provide knowledge, skills, and vital connections – possible for journalists around the world, including those working under repressive and violent regimes. There's much more we can do – but we need your support. Will you help us with a gift to GIJN today?
Thank you for your consideration. On behalf of the board, staff, and members of GIJN, we sincerely appreciate your support. Despite all the challenges ahead, we see the forces of accountability and transparency pushing back, and we believe that better days are ahead.
With gratitude,
David E. Kaplan
Executive Director/GIJN
P.S. Your donation is tax deductible in the US – click here to put your gift to work today!