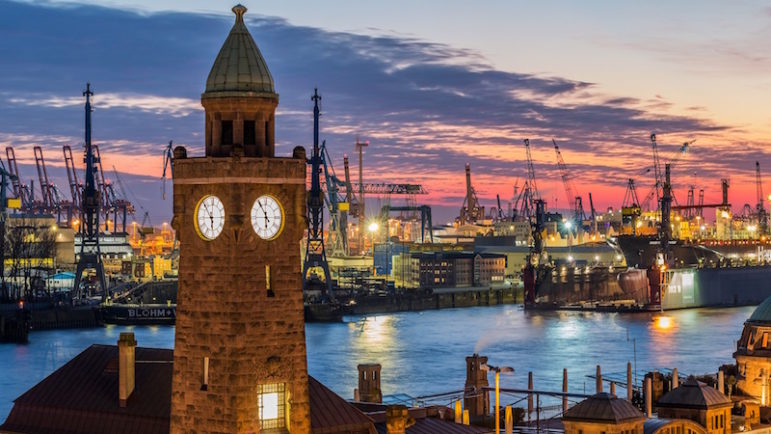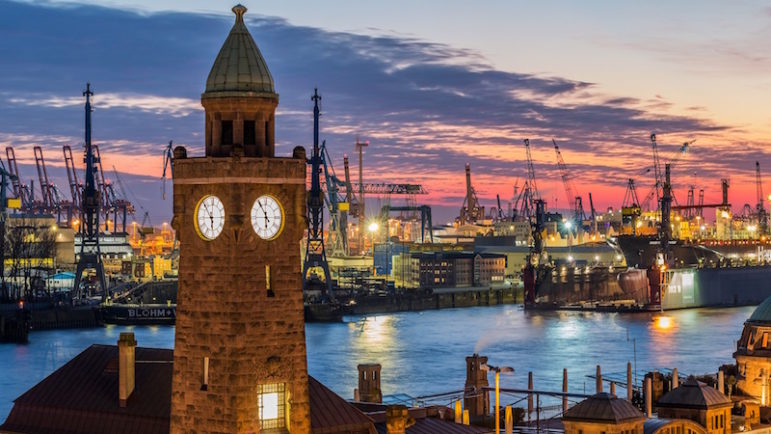 "Moin! Ne steife Brise von vorn gifft mi jümmer koole Ohrn." Sounds like German, but not quite? You are absolutely right! This line from "Nordisch by Nature" by the famous Hamburg hip-hop band Fettes Brot is written in Plattdeutsch (Low German). This is not just a dialect but an official language that is spoken in Hamburg and other parts of Northern Germany. Just remember the first word, "moin," and you'll be well-prepared for your trip to the 11th Global Investigative Journalism Conference in Hamburg, Germany's gateway to the world. "Moin" means "hello," and you can use it all day, from dawn to dusk.
Actually, the song is full of useful insights for your stay in Hamburg. Take this line: "A strong breeze is always cooling my ears down." Of course, we don't know what the weather will be like on September 25–29. But, yes, it can be quite cool: The average high in September is 18° Celsius (64° Fahrenheit), and the average low is 9° Celsius (48° Fahrenheit).
Nevertheless, we have prepared a warm welcome for the approximately 1,500 attendees from around the world, starting with a reception on the evening of Wednesday, September 25. Don't want to wait that long? Check out our Spotify Playlist and turn up the volume!
Recommended Reading
Most German media houses produce news in their mother tongue. But in recent years, big cross-border investigations have opened them up to a much more international view. The most famous example is the Panama Papers, which started with a leak offered by an anonymous "John Doe" to Süddeutsche Zeitung's investigative reporter Bastian Obermayer (a speaker at GIJC19). On SZ's international website, you can find articles on this in English.
There was also the Ibizagate affair, which led to the resignation of Austrian vice chancellor Heinz-Christian Strache and the end of the coalition between the conservative ÖVP party and the right-wing populist FPÖ party. Ibizagate was an extraordinary example of collaboration between competing media outlets in Germany: Reporters from Süddeutsche Zeitung worked with reporters from Spiegel, Germany's foremost news magazine, whose headquarters serves as one of GIJC19's venues. Spiegel's most important stories can be found on the magazine's English website. Some of the most recent articles include one on the collapse of Maracaibo, an oil-rich town that was known as the Dallas of Venezuela, as well as reporting on the deep extremist roots of the top candidate from the right-wing populist party AfD in the state of Brandenburg.
Also important to mention is the CumEx Files investigation, led by German nonprofit newsroom Correctiv in cooperation with NDR, Zeit, and other media outlets. In total, 38 reporters in 19 newsrooms across 12 countries collaborated on this investigation.
While in Hamburg…
If you're lucky and get to spend a few extra days in Hamburg, you'll find a bustling nightlife, mainly in the St. Pauli district, as well as many cultural offerings. We've listed some must-sees on the GIJC19 website. Here are some extra recommendations of events taking place during the week of the conference:
Childcare and More
We are also very happy to announce that, for the first time, the GIJC will be offering professional childcare. It is free of charge for all attendees. Nieman Lab recently mentioned this in an article calling for the journalism industry to invest in childcare. You can find detailed information on childcare at GIJC19 here.
Furthermore, you will find lots of practical information on the GIJC19 website:
Not Coming to GIJC19?
For those of you who won't be attending the conference, we're offering a livestream from two rooms, the Holcim-Auditorium and Room 2.104 (with some exceptions). You can see which events are taking place in these rooms by looking at the online schedule — click on the "Filter by" button, choose "Locations" instead of tracks, and select these two rooms.
To watch the livestreams (or watch the recordings later on), head to either GIJN's YouTube channel or Netzwerk Recherche's YouTube channel.
There will also be two public panels featuring GIJC19 speakers:
Investigative Journalism as the Elixir of Democracy – Friday, September 27, 5:00-6:30 p.m., Patriotische Gesellschaft (hosted by the Ministry of Culture and Media of the Free and Hanseatic City of Hamburg). With Bastian Obermayer, Oliver Schröm, Pavla Holcova, Patricia Evangelista, and Adrian Feuerbacher.
Journalism in Exile: The case of Saudi Arabia – Thursday, September 26, 7 p.m., KörberForum (hosted by the Körber Foundation). With Safa Al Ahmed, Katrin Sandmann, and Georg Mascolo.
You can also follow along with the #GIJC19 hashtag on social media, and any of GIJN's social media social media channels, GIJN's website, and the GIJC19 website for real time conference coverage of panels, Q&As with speakers and, as always, intriguing case studies, resources, and tips and tools. 
We've very much looking forward to meeting you all in person in Hamburg. Here, they say: "Nicht lang schnacken, Kopp in Nacken!" – which basically means: "Keep it short and simple and have a drink!"
---

Günter Bartsch is the managing director of Netzwerk Recherche, Germany's nonprofit association of investigative journalists, founded in 2001. The organization seeks to improve the quality of media coverage using methods of investigative reporting.